Foreship: A Guiding Design Light amid a Quagmire of Regulations
By Greg Trauthwein
As the maritime regulatory regime evolves quickly, ship owners increasingly require guidance to help them navigate an ever-changing technical quagmire. Finland-based Foreship is a force in this regard.
Finnish maritime prowess is legendary, particularly when it comes to the cruise ships and polar vessel sectors. Foreship aims to continue this legacy, an employee-owned company with a specialty in ship design and engineering. In an industry that is mobile and global, Foreship's rapid rise is a testament not only to its Finnish roots but also to the evolution cycle of the maritime industry itself. Vessel owners and operators are today besieged with a glut of new regulation which effect technical demands onboard ships and boats, and maintaining specialized knowledge in-house is not always practical or efficient.
Enter Foreship, a company that started with three people in 2002, growing to more than 80 people today. While the company logged more than 1,000 reference projects in its first decade alone, projects spanning across cruise and passenger vessel, commercial cargo and offshore segments, the company's 'bread and butter' is the cruise sector.
"We customize our services to fit what the customer actually needs," said Mattias Jorgensen, Business Development Director, Foreship. "If we see a growing demand – as we did with ballast water management and also with energy efficiency and hybrid technology – we will grow to fill it. In fact (earlier this year) we hired a head of new technology (Jan-Erik Räsänen) who has about 20 years of experience in dealing with battery, energy efficiency and energy storage."
This experience could prove particularly timely, as Jorgensen said that there is a groundswell of demand for increased battery and energy storage technologies onboard cruise ships. "You have seen many such projects on ferries, but not so much on cruise ships But it is out there, it is coming," said Jorgensen. While battery technology and energy storage is emerging, the requirements for ballast water management systems (BWMS) are here and now.
BWMS
With the ratification of the BWMS rules by the International Maritime Organization (IMO) in September 2016, Foreship has noted an almost immediate and marked increase in inquiries from vessel owners in need of assistance to fit a system onboard.
"As the Ballast Water Convention is now finally ratified, we see now an increase in interest in technical solutions and services," said Jorgensen, estimating that inquiries have grown four fold since ratification.
The Ballast Water Management Convention enters into force on 8 September 2017 and requires all ships affected to have a treatment system on board to neutralize invasive species discharged in ballast water in time for their "first IOPP renewal survey." Most ships will therefore need a BWTS between 2017 and 2021.
"We have a project with Norwegian Cruise Line (NCL), advising them on the implementation of their ballast water solution," he said. NCL had already chosen the Alfa Laval's PureBallast 3.1 BWMS solution, and Foreship was brought in to advise on the implementation, which includes producing all of the classification drawings, assisting in getting approval from class, and spearheading coordination among the owner, the manufacturer and the shipyard to get the system onboard and installed smoothly.
At the time of the interview, an agreement was in place with NCL for five ships – Norwegian Dawn, Pearl, Sky, Jade and Spirit – while Foreship was working toward a pact to cover the entire NCL fleet.
But like a snowflake, no two BWMS retrofits are alike, and Jorgensen cautions that the worst mistake to make as a fleet owner is to assume that a 'one-size-fits-all' approach will work, even for sister ships.
"The biggest challenge is that you have to look at each ship individually," he said. "Even if they are sister ships, after they have been in operation for 10-15 years there are differences. You have to look at each ship individually and fit the system that is right for that ship: it's never plug and play, it always has to be analyzed from a ship point of view, and also from an owner point of view to determine what is best solution for that (specific) ship."
Adventure Cruising @ the Poles
The current boom in the global cruise sector has evolved to the extremes, the North and South poles to be exact, and a number of companies are racing to take ships into waters which were previously inaccessible to all but the heartiest explorers. But with promise comes potential peril, as the business case for taking 1,000 souls on a 'bucket list' trip for tens of thousands of dollars per head must be tempered with the responsibility to keep them safe in the event of an accident.
Enter the Polar Code from the IMO.
IMO adopted the International Code for Ships Operating in Polar Waters (ie: Polar Code) to make it mandatory under both the International Convention for the Safety of Life at Sea (SOLAS) and the International Convention for the Prevention of Pollution from Ships (MARPOL). The Polar Code entered into force on January 1, 2017.
While the Polar Code is intended to cover the full range of shipping-related matters relevant to navigation in waters surrounding the two poles – ship design, construction and equipment; operational and training concerns; search and rescue; and, equally important, the protection of the unique environment and eco-systems of the polar regions, according to Markus Aarnio, SVP & Co-Founder, Foreship, compliance with the code is not as arduous as it may sound, particularly if a ship will not be built to break ice.
"Many people think that the Polar Code is something that can be very difficult ... but truthfully it can be something difficult, but it can be something that is really easy," said Aarnio.
He said that the way in which the vessel is ultimately outfitted depends on where and when it will sail. For example, if you're sailing in an area where historically you only see ice 1 percent of the time, you don't design the ship to break ice, you design the ship for the conditions that it will sail in the other 99 percent of the time, he said.
The Polar Code covers the full range of design, construction, equipment, operational, training, search and rescue and environmental protection matters relevant to ships operating in the inhospitable waters surrounding the two poles. Currently Foreship has a couple of references in this regard, including an agreement fo parts of the basic design as well as design, purchasing and production assistance of the Endeavor class luxury expedition yachts being built at MVWerften Shipyard in Germany
When considering building a ship to Polar Code, Aarnio advises a few critical areas to consider:
Hull form: If you want to break ice, the hull is affected because the propulsion and the rudders will be different. "There is a small penalty on the power, but with minimal icebreaking capability than the impact is not that great at all."

Ice Strengthening/Ice Class: With the Polar Code you don't need ice class, but if you want to go to further extremes, ice strengthening – which adds to the ship's weight and power requirement – could be affected.

Stability: If the ship will be in these areas during the very cold times, you must factor in the weight of ice formation on top of the ship and the effects of this ice mass on ship stability. "You need stability margin for the ice on top of the ship."

Life saving appliances: Pending sailing pattern, if the ship is a heavy duty polar code ship it means there will be a need for extra food, clothing and survival gear on the lifeboats, for example. In addition, there could be the need to carry tents and food for setting up camp on the ice.
The Polar Code, similar to the ballast water management system, is not a one-size-fits-all proposition, rather it depends on the type of ship, the number of people onboard, and the projected sailing profile. "In the best case scenario, there are minimal effects; in the worst case, it's an entirely different ship," said Aarnio.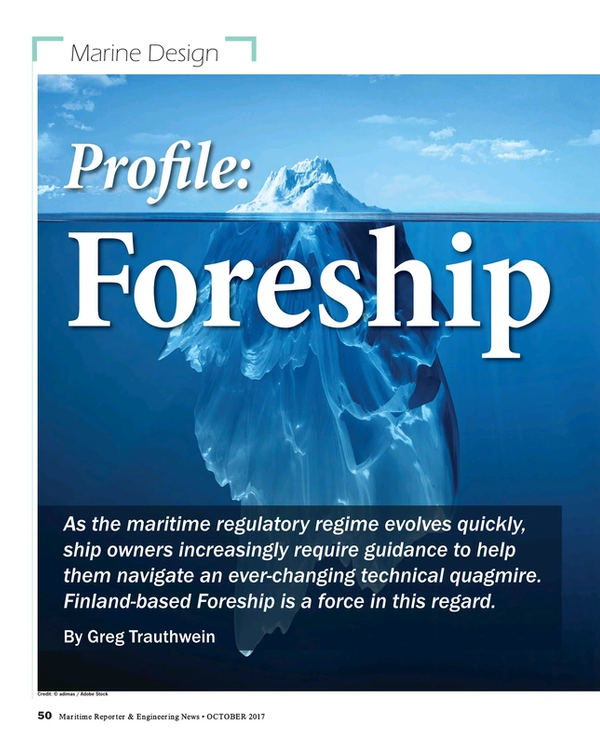 Read Foreship: A Guiding Design Light amid a Quagmire of Regulations in Pdf, Flash or Html5 edition of October 2017 Maritime Reporter
Other stories from October 2017 issue
Content