Subchapter M: Top 5 Moves to Make Now
By Kevin Gilheany
In 2004 Congress reclassified towing vessels as vessels subject to inspection. Thus began a lengthy process of regulation drafting by the U.S. Coast Guard, with a great deal of input from the towing industry. In 2011, the Notice of Proposed Rule Making was published giving the public its first look at what has become known as Subchapter M. Over 3,000 comments were received by the Coast Guard on the Proposed Rule. After five years of responding to those comments and revamping Subchapter M, on June 20, 2016 the Final Rule was published. This new regulation is expected to impact over 5,000 towing vessels, and they have until July 20, 2018 to get into compliance. With the years of discussion and debate behind us and many important compliance decisions to be made, for many in the industry these next few months represent their last chance to determine their optimum path to compliance.
Sub M Mythology
As with other modern regulations that provide options and flexibility, Subchapter M has created a new industry, as well as a great deal of confusion for those not directly involved in the sausage making. This confusion has given rise to a number of myths about Subchapter M. Here I will try my best to dispel some of the major ones.
Myth 1: Companies were not given until 2022 to get all their vessels into compliance. They were given until July 20, 2018 to get all of their vessels into compliance. The Coast Guard gave themselves until 2022 to issue Certificates of Inspection (COIs) to all those vessels.
Myth 2: If a company currently has a safety management system (SMS) it does not have to go with the Third Party Towing Safety Management System (TSMS) option. The biggest decision for towing vessel operators will be whether they should go with traditional Coast Guard inspections of their vessels, or to adopt a Towing Safety Management System (TSMS) and use a Third Party Organization (TPO) to conduct their audits. The TSMS option is a choice which has nothing to do with whether a company has an SMS or not. Companies will be free to indicate their choice for each vessel on the Application for Inspection.
Myth 3: Towing vessel crews will have to know, and prove that they follow, any policies and procedures in the TSMS that pertain to them. The regulations require the auditor to determine how well towing vessel crews are complying with their stated policies and procedures.
Myth 4: Audits of the TSMS may not be the same as those of voluntary SMS programs due to the fact that the regulatory expectation is clear, and that TPO external auditors will be acting as agents of the government and will therefore have increased scrutiny and liability. Additionally, in the wake of the sinking of the Steam Ship El Faro, an Alternate Compliance Program vessel, the Coast Guard released the "Action by the Commandant" report on December 19, 2017. The report states, among other issues, that the Coast Guard failed to adequately oversee the Third Party in that case, and that the Coast Guard is fully committed to rectifying those shortcomings. The Commandant agreed with Safety Recommendation #30, contained in that report, calling for the establishment of headquarters level Third Party Oversight Office, as well as a Third Party National Center of Expertise, "to conduct comprehensive and targeted oversight activities on all Third Party Organizations and Authorized Classification Societies that perform work on behalf of the Coast Guard."

In addition to this increased oversight of the Third Party Organizations, operators should bear in mind that the Coast Guard will come every five years to conduct an Inspection for Certification on each Third Party TSMS boat to verify Subchapter M compliance and conformance to the TSMS.
Myth 5: All TPOs are not the same. A TPO should not be chosen by price, or perceived ease of use, alone. Careful research and review of processes are essential.
Myth 6: Companies do not have to use their current, all-inclusive, SMS as their TSMS. Whatever is approved as the TSMS by the TPO, basically has the force of law. This is in addition to everything else in Subchapter M. A standard industry SMS can be reduced by 52% and still meet the regulatory requirements of a TSMS. Think risk assessment.
Myth 7: It is not the Coast Guard's position that companies should go with the Third Party TSMS option, although that may be the opinion of some Coast Guard individuals.
Top 5 moves to Make
Here are the top five moves to make now to get on the right course:
Move 1: Avoid groupthink and peer pressure and make a well-reasoned decision on the TPO v. Coast Guard compliance option which represents the optimum path to compliance for your company.
Move 2: Get each towing vessel surveyed for Subchapter M, preferably by someone with Coast Guard marine inspection experience.
Move 3: Establish a system of logs and records, such as a Towing Vessel Record (TVR), as well as a compliance management system. Compliance management is not safety management. Relying on a TSMS alone, unless it has been specifically designed to ensure comprehensive compliance with Subchapter M, may not cover all the regulatory requirements. Get the captains to start doing it now. They will not magically become experts on July 20, 2018.
Move 4: For companies choosing the Third Party TSMS option, streamline the TSMS to reduce the risk of nonconformities. Use a tool such as a Safety Management Workbook to get crews to learn the policies and procedures. For those captains that need reminding, let them know that not following the TSMS policies and procedures could not only get the boats shut down, but they could lose their license for it under 46 CFR part 5.
Move 5: For those choosing the Third Party TSMS option, conduct careful research and interviews with all TPOs before signing that TPO agreement.
The Author
Kevin Gilheany is a retired U.S. Coast Guard marine inspector, and owner of Maritime Compliance International, LLC, (MCI).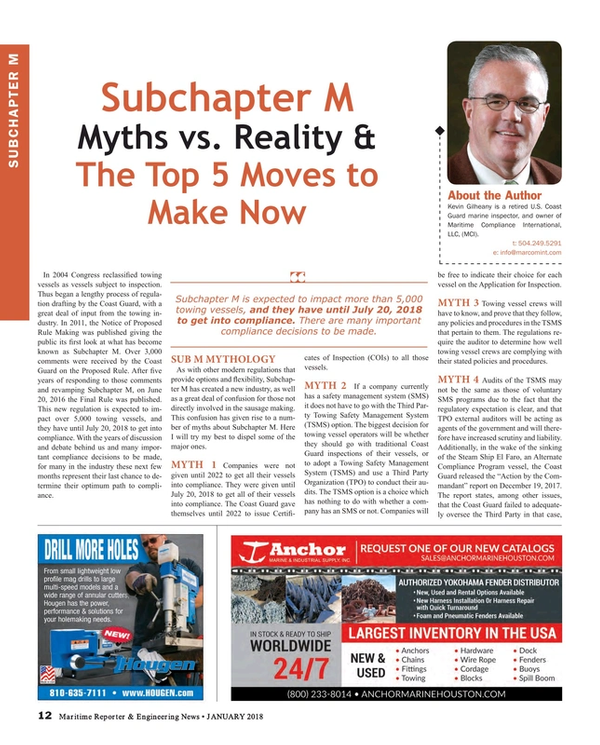 Read Subchapter M: Top 5 Moves to Make Now in Pdf, Flash or Html5 edition of January 2018 Maritime Reporter
Other stories from January 2018 issue
Content