Interview: Fredrik Johansson, Tillberg Design of Sweden
Greg Trauthwein
Tillberg Design of Sweden has been a central player in the six-year quest to envision, design, build and launch The Ritz-Carlton Yacht Collection brand. It has had a hand in all design aspects, from vessel exterior and interior, down to the service organization and the crew uniforms, as Fredrik Johansson, MA, Partner, Executive Project Director, explains.

"Everything was designed from scratch with one thing in mind: the guest experience," is how Fredrik Johansson neatly summarizes the quest to deliver the Ritz-Carleton brand to the water. The ship, when delivered from Hijos de J. Barreras Shipyard in Vigo, Spain, later this year, will measure 624 ft. in length with 11 decks, able to carry 298 passengers and 246 crew in unrivalled style.
The mission to bring the ship from drawing board to the world's seas was started nearly six years ago when Johansson was invited to Marriott's headquarters to present his team's vision of the vessel, a cruise ship in name but a private yacht at heart. While the plans have changed along the way, the mandate to Johansson and his team was clear from the start, as he remembers the leaders of Marriott saying that they wanted 'the anti-cruise ship.'

The Ritz-Carlton Brand
Like 'Rolls-Royce' or 'Gucci,' the Ritz-Carlton name is a universally recognized symbol of style and excellence, and Tillberg Design of Sweden's mandate to bring that brand to life on the water is unique in that it has had a voice and a hand in the cumulative package. To Johansson, the outstanding design aspect of this ship is "The entity as a whole. From the first impression when you see the ship on the horizon, down to the final design detail and service when you step onboard."

Image: Ritz-Carlton Yacht Collection; Tillberg Design of Sweden
Johansson joined this venerable design house 25 years ago, and has had his hand in a number of signature projects, including the Queen Mary II newbuild. He was one of three partners that executed a management buyout of the firm in 2006, and just last year the partners opened the door to a few key financial interest partners, and today the firm numbers more than 100 employees.
Today he is the point of the spear for Tillberg Design of Sweden, building relationships and getting in on the ground floor of projects to ensure that the project and contract is structured correctly before handing off to his design teams for the details.
While citing 'people' as an organizations strength has become somewhat cliché, in the case of Tillberg Design of Sweden it is a particular point of focus, particularly as the red-hot cruise market maintains momentum, cruise ship build slots become rare and pushed further into the future, and as new, less-experienced shipyards enter the picture.
"The situation in the cruise industry today is unique," said Johansson in assessing the market's current pace. "We had a similar situation in the late 1990s, but today it is unheard of; the owners want their ships built now," but the build slots are increasingly tough to get. Build dates sliding years into the future is a design issue in and of itself. "It is a challenge trying to design something today that will be launched in five years and then sail for 20 years," said Johansson, noting that the design has to be relevant and technically flexible. That's why it is "more important than ever to have an experienced and competent team that can ensure the contracts are structured and executed well."
While it could be surmised that the Ritz-Carlton vessel would be more 'intimate' and 'private', Johansson says that he sees that trend evolving, even on the larger cruise ships and land-side destinations. "Even the larger cruise ships are (starting) to offer a more personal, intimate experience," as designers of cruise ships increasingly monitor and incorporate design and service trends seen on land facilities, Johansson said.
While there are inherent challenges in any vessel design and construction project, Johansson considers the task to build the overall brand for the Ritz-Carlton vessel and service the greatest challenge of this specific project. But with all of the moving parts and personnel, the detailed design and high tech onboard, he likes to bring it back to the basics.
"You have to be methodical, punctual and precise in all that you do from the outset," is how he neatly summarizes his team's success in this unprecedented period of cruise industry growth. "Today everyone is in such a hurry … they want it quickly, and we have many projects in motion. The key is having experienced people to properly structure and execute the project. As a company, we have to grow on the design side, but also on the project management side."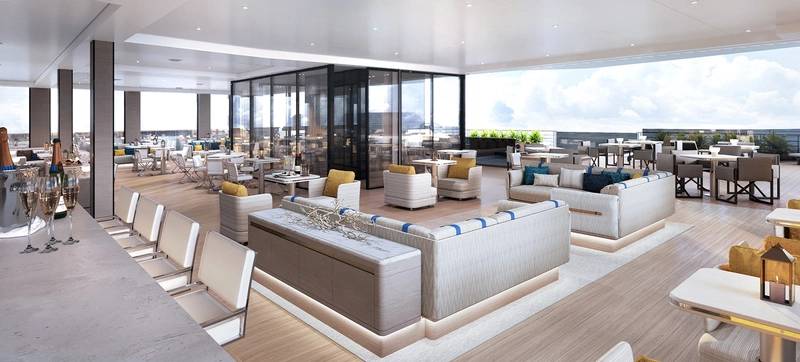 Marina Lounge. Image:Tillberg Design of Sweden
Read Interview: Fredrik Johansson, Tillberg Design of Sweden in Pdf, Flash or Html5 edition of July 2019 Maritime Reporter
Other stories from July 2019 issue
Content