Interview: Douglas Prothero, CEO, The Ritz-Carlton Yacht Collection
Lisa Overing
As privately owned, luxury yachts near the size of the average cruise ship, behold a new option, which is anything but commonplace: The Ritz-Carlton Yacht Collection. At 624 feet and 11 decks, her exterior profile resembles a sleek superyacht design, not a cruise ship on the horizon. Launched in October 2018 at Hijos de J. Barreras Shipyard in Vigo, Spain, the flagship of the new brand is now in outfitting and interior finishing.
The project was co-managed by The Ritz-Carlton Yacht Collection, Marriott and Tillberg Design of Sweden. With a considerably longer shake down period than most cruise ships, delivery is expected for year end with the first cruise departing Fort Lauderdale for the Caribbean in February, 2020. The build cost of the vessel was not disclosed.
Douglas Prothero, Chief Executive Officer The Ritz-Carlton Yacht Collection, is a seasoned mariner, boatbuilder, ship owner and finance professional experienced in yacht charter, adventure cruise and shore excursions. He previously ran Capital Canada, a boutique investment bank in Toronto.
Ritz-Carlton announced The Ritz-Carlton Yacht Collection as their its extension in 2017. With headquarters in Miami and offices in Spain and Malta, Prothero drafted seasoned veterans from every sector of the cruise industry for The Ritz-Carlton Yacht Collection, which is a totally new offering especially for the loyal luxury traveler.
"We're putting the brand in places where it otherwise wouldn't appear, often where there will never be a Ritz-Carlton," said Doug Prothero. "We could safely say we are creating a new type of cruiser."
Over half of the passengers booked indicate they're new to cruising, according to Prothero, whose business model is contrarian compared to other cruise ships, but that is by design as part of a totally different guest experience.
There are no show lounges, rather classical music, jazz and local performers. Shore excursions are highly curated, with a concierge team onboard delivering a perfectly customized experience for the most discerning traveler.
"We're not trying to do seven ports in seven days," said Prothero. "We'll do four ports in seven days or six or seven ports in 10 days," he said.
The target cruise yacht client has been most places in the world, possibly even on their own yacht. Itineraries include smaller, more exclusive ports.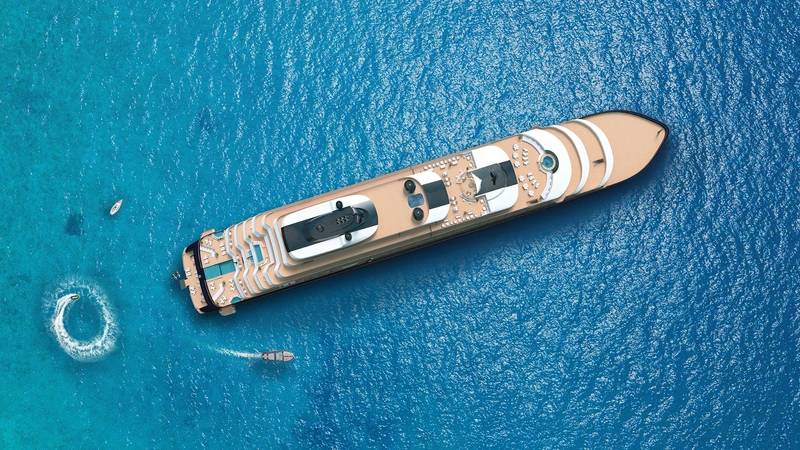 Photo credit: The Ritz Carlton Yacht Collection
High-end land excursions include: browsing a museum in Montenegro with its curator; private kayak tours off the coast of Reykjavik, Iceland; visiting a winery in Bordeaux with The Ritz-Carlton Yacht Collection sommelier; or learning to grow baby oysters on a private farm in Sete, France.
While most cruise ship guests roam the average cruise ship spending cash in casinos, bars and other profit centers, The Ritz-Carlton Yacht
Collection's all-inclusive fare includes meals and beverages from $5,800 per person for a seven-night Mediterranean voyage. Luxury suites with private terraces tempt guests to not even leave their posh cabin, lest it be to enjoy a cigar in the humidor or intelligent conversation with the onboard art curator. With the highest guest to crew ratio in the industry of 1.21, 246 crew are at the behest of 298 guests, maximum.
Consistent with the interior layout for a megayacht, The Ritz-Carlton Yacht Collection is designed for guests to enjoy social areas without losing their privacy, with suite terraces and public areas providing generous alfresco space.
Referencing the beach club trend on megayachts, Prothero says the stern of ship has a superyacht marina providing real access to the sea.
"The loft suites are unique, there are no terraces on the loft deck," said Prothero, explaining regulations curtail smaller ships putting verandas on lower passenger decks. So duplex suites were designed with a lower level bedroom sporting a panoramic window and an upper level terrace.
With less miles in a typical voyage, itineraries allow more overnights in port, similar to a yachting lifestyle. Shorter voyages also mean consuming less fuel.
"We will be good stewards of our environment in our operations," said Prothero. "We will reduce plastic. We believe those should not be remarkable things, they should simply translate to our daily lives. From the outset we believed the need to focus on our footprint and chose from the early days to design our yachts to burn only low-sulfur MGO."
While the itineraries include some remote destinations, Prothero doesn't see entering the expedition cruise ship market at this time. The brand will debut in the Caribbean, with the first two cruise yachts sailing the Caribbean, Latin America, Canada/New England, Mediterranean and Northern Europe. Future cruises include transit all the way through the Saint Lawrence Seaway into the Great Lakes.
"We'll be the only luxury player there," said Prothero. The cruise yachts will be able to call at cities like Chicago but also explore the far edge of Lake Superior.
The Great Lakes hold a special place in Prothero's heart. While he now lives in Coconut Grove, Fla., Prothero, 55, was born in Port Stanley, Canada near Toronto. From a maritime family, Prothero went to sea at a young age and became a captain and shipbuilder.
"During one transit of the St. Lawrence Seaway, as we were about to enter a lock, both my mobile phones were ringing," said Prothero. "I said, 'It's time to get off the ship.' That's when I stopped going to sea on a regular basis. That gave me time to grow the business."
A steady, progressive size of vessels and responsibilities enabled Prothero to take this journey with The Ritz-Carlton Yacht Collection. Doug Prothero was a small adventure cruise ship captain who started and operated several maritime businesses, including shore excursion businesses for the cruise industry.
"My first true sailing adventure was on Cuidad de Inca, ex Maria Assumpta, a British square rigger," said Prothero, who was on workboats all his life until sailing on that ship, which was the oldest sailing ship in the world at the time.
"Itinerary planning on the Great Lakes is second nature to me," said Prothero. While he went through the locks as a captain, Prothero also traveled all five Great Lakes as a child, swimming as his parents worked.
"My father, Frank Prothero, was a great, at times, eccentric role model for me. He was a prominent maritime voice of commercial fishermen for more than 30 years. He embedded my love of the sea. My mother was the publisher and my father would compose and typeset. Together they published a monthly trade magazine, a local newspaper and 25 books. They have one of the largest archives of maritime photography of the Great Lakes region, working fishermen and sailors that we hope can be moved to a museum."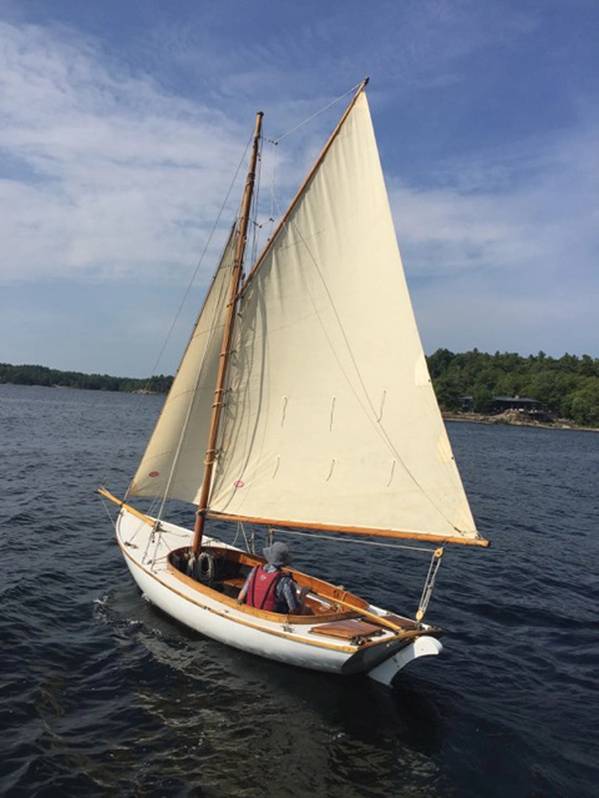 In his spare time, Prothero enjoys working on his own boats. Until recently, he had a 100-foot schooner. He still has a 25-ft. Rinker and a 20-ft. Herreshoff classic gaff rigged sloop. Photo credit: The Ritz Carlton Yacht Collection
In his spare time, Prothero enjoys working on his own boats. Until recently, he had a 100-foot schooner. He still has a 25-ft. Rinker and a 20-ft. Herreshoff classic gaff rigged sloop.
"The Herreshoff has one lunger Farymann diesel engine," he said. "It was quite a task to find an old timer who knew what they were looking at to rebuild it. She is a real classic beauty."
And where does the founding partner of The Ritz-Carlton Yacht Collection vacation when he is not planning an incredible voyage and cultural experience for the world's most affluent travelers?
"I like to go sailing and camping," said Prothero. "I mean serious, backcountry camping. I love the outdoors and the most remote parts of it. Work is never far from hobby."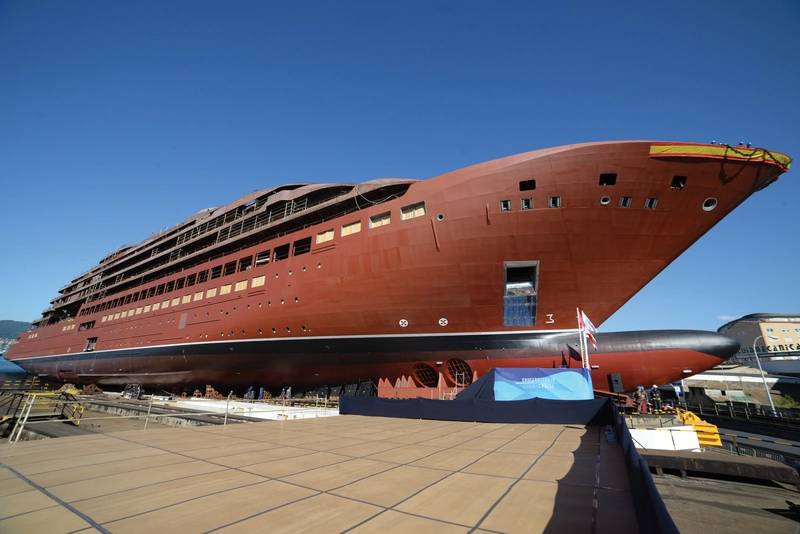 Photo credit: The Ritz Carlton Yacht Collection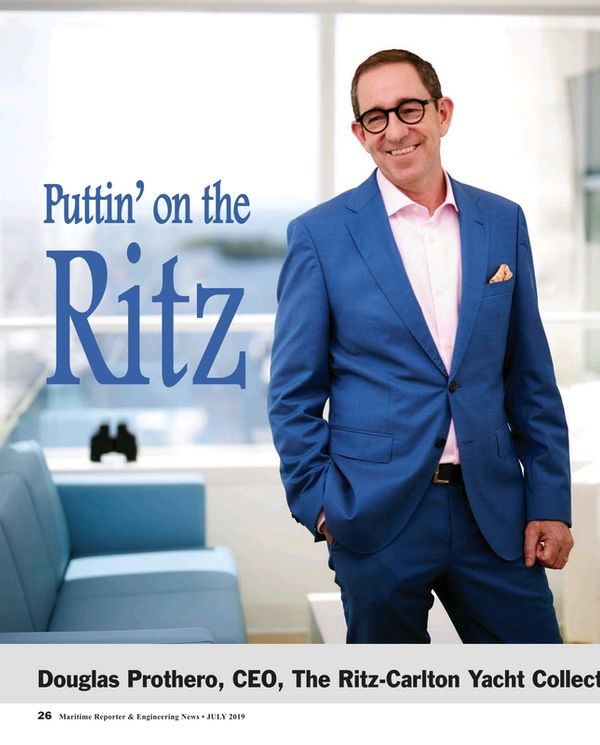 Read Interview: Douglas Prothero, CEO, The Ritz-Carlton Yacht Collection in Pdf, Flash or Html5 edition of July 2019 Maritime Reporter
Other stories from July 2019 issue
Content