Containership Fires
Matthew Bonvento
Incidents involving container ships, although not new, have made the news much more frequently of late. In 2011 the Container Incident Notification System (CINS) was established to allow container ship owners to self-report incidents that might be of concern the other members of the group, and today CINS has 17 vessel owner members.
The cases of the Yantian Express, Maersk Honam, MSC Flaminia, MSC Daniela, are some of the most recent examples of container ship fires. The rise in the rate of container ship fires, approximately one every 60 days according to a report by the TT club has highlighted an underlying issue that has been of industry concern for quite some time: misdeclared or improperly stowed cargo.
The National Cargo Bureau, a not-for-profit organization with a mission of safety of life at sea is a leading industry expert in Cargo stowage, inspection, and vessel stability. Since it's inception it has assisted vessel owners by ensuring that cargo is stowed on board properly and safely.
The experts at NCB were the perfect choice to assist container ship owners in addressing the burgeoning problem. The project started with NCB agreeing to exam 100 containers free of charge for Maersk in the wake of the Honam disaster. How this was different than the standard NCB inspection is that these containers were being imported. Too often containers that have made it ashore, without any cargo damage, are ignored upon discharge. Despite the container discharging without incident it was unknown if the cargo was mis-labeled, mis-declared or improperly stowed. In order to get more meaningful data NCB expanded its offer to the other Board members of CINS to 500 containers. Members of CINS realized the value of this cargo inspection procedure.
The results were sobering. Of all the containers including HAZMAT and General Cargo (Non-HAZMAT) containers there was a 55% failure rate. Of that:

• 69% of the imported HAZMAT containers failed the inspection,

• 44% had cargo that was improperly secured,

• 39% of the containers were not properly marked or placarded, and

• 8% had cargo that was mis-declared.

Mis-declared or mis-placarded cargo runs the risk of being stowed improperly, not segregated according to the IMDG, or stowed in such a manner that the cargo may generate enough heat to auto ignite.
Other issues noted were the amount of documentation errors. Whether intentional or not these types of errors can mislead the carriers to improperly stow a container. Documentation errors can vary in severity from simple errors in information provided by the shipper, to miscategorized cargo, to quantity discrepancies. Any one of these items is a cause for a container failing inspection.
The response from carriers has been swift and just. In August of this year Hapag Lloyd announced that effective 15 September 2019 any mis-declared cargo may cause the shipper to be fined $15,000 in addition to any costs associated in rectifying the situation. From their website "To ensure the safety of our crew, ships and other cargo onboard, Hapag-Lloyd holds the Shipper liable and responsible for all costs and consequences related to violations, fines, damages, incidents, claims and corrective measures resulting from cases of undeclared or mis-declared cargoes." This is in direct response to the Yantian Express, that suffered a severe fire in January of 2019.
Evergreen shipping line has announced that it will fine anywhere between $4000 and $35,000 fines per container that is mis-declared. OOCL has also announced a fine scheme. Now that the shippers have started to realize the danger of mis-declared cargo, we can expect to see further fines from carriers and more stringent enforcement.
This enforcement may come from the U.S. Customs and Border Patrol. One reason that Customs may choose to inspect a container is for a Statistical Violation Hold, or when the goods and quantity listed does not match with the expected weight. Goods found with an incorrect manifest may also be held. Anything found that is out of the ordinary may trigger further delays in cargo delivery.
National Cargo Bureau customers have a significantly less rate of problem containers versus those who do not utilize NCB. NCB customers only have 7.4% of issues with containers being exported meanwhile other owners have a 38% chance of problems with containerized cargo. Having a second set of eyes is never a bad thing.
With the SOLAS requirement for carriage of Water Lance's on board, operators should consider the purchase of several portable water monitors to reach container fires that may start higher in the stack.
Once again, these tools, without proper training and drills the crew will not be ready to use them in the event of an actual on-board emergency. Part of this training should include the use of International Dangerous Goods Code as well as Material Safety Data Sheets to ensure that the crew knows how to utilize these resources to ascertain how a particular cargo fire is to be fought.
In an industry where ships are increasing in size, a fire on board can be much more devastating to more cargo owners than ever before. Shippers need to exercise diligence now more than ever and carriers unfortunately have to better prepare for the worst in the case that shippers fail to do their job.
About the Author
Matthew Bonvento is the newest Assistant Professor in the Department of Marine Transportation at the United States Merchant Marine Academy in Kings Point, New York. Professor Bonvento is a graduate from SUNY Maritime College where he holds both a Bachelor of Science in Marine Transportation as well as a Master of Science in International Transportation Management. He also holds an Associate in Applied Sciences in Maritime Technology.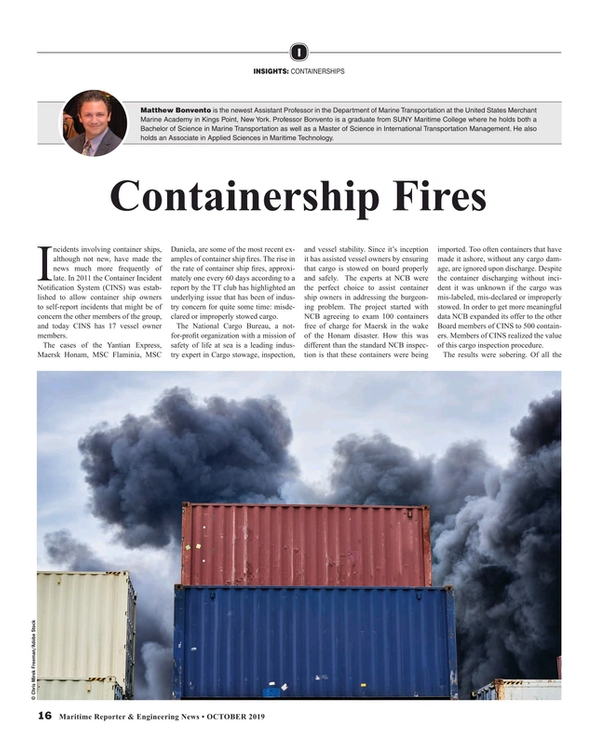 Read Containership Fires in Pdf, Flash or Html5 edition of October 2019 Maritime Reporter
Other stories from October 2019 issue
Content