Interview: Lasse Petterson, CEO and President, Great Lakes Dredge & Dock
Greg Trauthwein
The dredging market in the U.S. is strong and growing, a bright spot for U.S. shipyards, with increased funding for critical infrastructure projects and port dredging at the federal and state levels. Great Lakes Dredge & Dock, the country's largest dredging company, has invested mightily in new dredgers at U.S. yards. Lasse Petterson, CEO and President, shares insights on the strategy ahead.
You have sat at the helm of Great Lakes Dredge and Dock for just over three years. What attracted you to the position when you joined in 2017?
I have worked around ocean and maritime industries most of my career and found the challenge to lead GLDD to be a wonderful opportunity. GLDD has a very long term successful history of 130 years to build on and a well recognized brand name and reputation for tackling and accomplishing difficult projects. Initially what attracted me to GLDD was the imbedded safety culture that completely aligned with my experience and commitment as well. This safety culture makes getting our employees home safely every night the highest priority.
Dredging is a unique and quite necessary business, as we have learned during COVID when we were among the first businesses to be named as an essential service. Dredging combines elements of ocean and coastal environments in addition to actually accomplishing fairly precise excavation in unknown sea floor conditions.
How would you describe your management philosophy?
My management style has evolved with experience. I have learned a lot in my short time at GLDD about dredging but even more about the talented people that work for "the bullseye". There is definitely a Great Lakes way" of doing things that emphasizes safety, efficiency, and innovation. We have a very experienced management team and an equally eager next couple generations who we need to get more involved.
One of the things I have focused on is to engage more with our wonderful client, the U.S. Army Corps of Engineers, who is tough but fair, exactly what we need in terms of defining a reliable marketplace. And there are many stakeholders who we need to partner with and with that in mind we are opening regional offices around the country to better engage with on short and long term challenges.
Looking back, what were your primary goals coming in, and how is GLDD most the same … and most different, from when you took the helm?
My goals were to help GLDD get back on solid footing after a few rough years attempting to diversify into other businesses that did not go well. We refocused our operations and rationalized our dredging fleet and shed some of the businesses that did not really fit GLDD. We have had a very good run but also believe we are just getting started.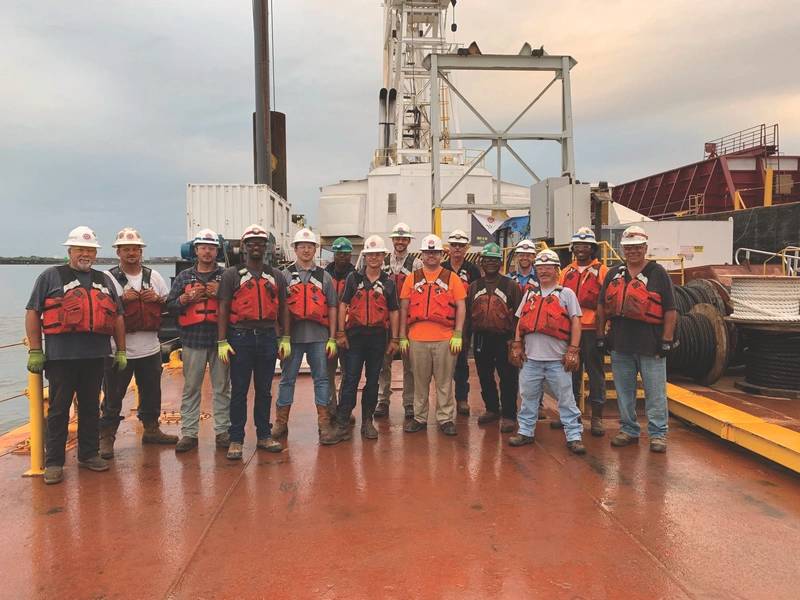 Crew aboard Dredge 58. Photo: Great Lakes Dredge & Dock
When you look at your company and the markets you serve today, can you give us a "State of the Market?"
The U.S. dredging market is strong and improving. The Federal government has provided the Corps record annual budgets, there is a lot of funding for coastal protection, and Governors have taken a greater interest in their seaports and coastal areas. Our international market is weak currently, but it tends to be more cyclical and retain an interest in that market and expect that we will return at some point in the future.
Where, specifically, by region or market sector, do you see opportunity today?
There are significant investments being made on the East and Gulf Coasts in the U.S. particularly for port deepening and coastal projects.
How has the current COVID-19 pandemic materially impacted your company to date?
Owing to the discipline of our preexisting safety culture, we were able to quickly adapt and implement safe operating procedures for our crews and employees. We have restricted travel and have been working remotely from our corporate offices since April. We have made extra precautions to reach out to our crews on their shift changes as well as their time off practices. We did not have any cases for the first three months, but have had several encounters with positive tests, leading to crew changes and idling vessels while being disinfected. But since we have had such good discipline at all levels we have been able to execute the protocols, take care of the employees as a priority, and then get back to work. I have to complement both the SIU and Operating Engineers unions who have been terrific partners through all this.
What do you consider to be the number one technology/innovation that enables a dredger to do its work more safe, efficient and cost-effective?
While there are many technologies and innovations that can help drive efficiency and cost effectiveness, safety is a core principal that only works when all parts of the company embrace the concept that we will do everything in our power to protect our employees. This is my attitude that is shared by my senior management and extends to deck level and office workers alike to make sure no one gets hurt.
Automation & Autonomy: There has been a palpable movement throughout maritime to advance automation and autonomy. How do you see this impacting dredging operations?
Automation has impacted almost every phase of the dredging operation not only from the production standpoint but also from the project inspection by our clients who are able to remotely monitor our work for compliance with their requirements. None of this takes the worker out of the picture in the dredging world although we are having to provide added training as automation becomes standard.
What one piece of legislation or societal movement do you see on the horizon that you figure will have the greatest impact on your business for the generation to come?
We will respond to those changes when and if they come. Certainly the equipment we use is more efficient on a lot of levels and all our new equipment features the latest most efficient engines. The U.S. already has very stringent environmental standards so when issues like IMO fuel standards come up, they are not really impacting us, because we already comply.
How is GLDD investing today to ensure it tomorrow?
We just announced a new build hopper dredge which will be a $100 million investment, in addition to our Ellis Island, the largest hopper dredge in the U.S. which cost $170 million and was put in service two years ago. We also recently bought a large clamshell dredge and have put it into service on the East Coast and have also brought two of our large class cutter dredges back to the U.S. market. I would want to point out our investment in our people as well. We believe the move to regional offices will allow our next generation talent to showcase their skills and experience and help shape the company for an even better future.


---

From Norway to Houston: Lasse Petterson's Maritime Life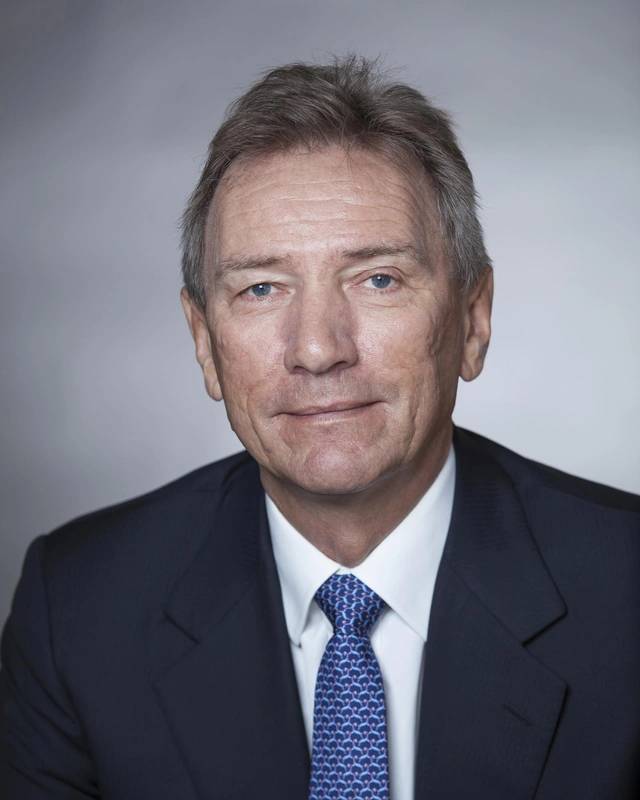 Lasse Petterson, Chief Executive Officer and President, Great Lakes Dredge & Dock was raised in Norway, a country where 'maritime' is seemingly interwoven in the DNA, "so there really wasn't much doubt where I would end up," Petterson said. "But I have to admit dredging was not on my radar."
Though raised in a maritime nation, Petterson said that by and large he had was self-taught, with no real mentor to guide him, "except from the values I got from growing up in a very egalitarian culture in Norway. My father was a school janitor and I had to work to sustain myself through university and I always believed that If you work hard and treat every one you meet with respect, things would work out well."
Courtesy of a career in maritime, Petterson admits he has had a varied run with many ups and downs. And though dredging was not on his radar, "I would say that being a part of GLDD has been one of the highlights. There is a good dredging market, a great client, and an outstanding GLDD team that really does lead the industry in many ways," said Petterson. "As a result of that leadership culture, it is not unusual to find GLDD alumni working for our clients, their consultants and even our competitors."
Personally, Petterson said his wife and children have always been an inspiration. "It is not easy living the life of a construction executive with travel and frequent moves, and I really appreciate them for being with me," he said. Looking at the uneven business world around him, Petterson said that if he had one bit of advice to give to the next generation entering the business world, "I would suggest being a risk taker. Be smart, be thorough, but believe in your own abilities and look for opportunities that may be less than obvious and then go after them with all you have."
When asked about activities he enjoys in his leisure time, he concludes: "What leisure time? Dredging is 24/7/365; but given time, skiing (natural for a Native Norwegian), sailing (natural for a maritime guy) and golf (natural for a Texan)."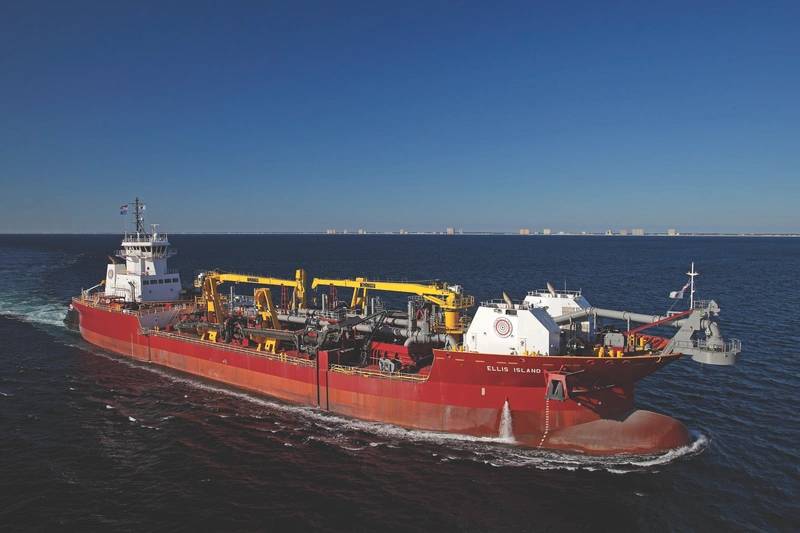 "The Game Changer": Ellis Island, which cost $170m and was delivered two years ago, is the largest hopper dredge in the U.S. sporting a 15,000 cu./yd. capacity. Photo: Great Lakes Dredge & Dock
Read Interview: Lasse Petterson, CEO and President, Great Lakes Dredge & Dock in Pdf, Flash or Html5 edition of August 2020 Maritime Reporter
Other stories from August 2020 issue
Content