Shipping through the Pandemic: Perfect Storm or Wake up Call?
Robert Kunkel
The global pandemic news has been horrific and certainly an historic moment in domestic and worldwide shipping. For many businesses, the action was simple; hang the "closed" sign, furlough or layoff staff and wait for the approval to re-open. Or not, depending how long the virus will linger and continue to cause hundreds or thousands of deaths and rising numbers of cases. Make no mistake, there will be many businesses associated with our industry that will not return. The damages will be far beyond bars and restaurant businesses. That thought alone will affect future new construction, markets and financial support.
The flip side to the closures and unemployment numbers were the companies and business activities that were considered essential and "frontline". As a country we saluted the tireless efforts of first responders and health care workers as heroic. That said there were unsung heroes also.
Crewmembers on ships, ferry, tug and barges worldwide have maintained the logistics patterns and kept the shelves, gas tanks, and storefronts filled with products. Included on the list are shipyard workers that continued repairs and construction in an attempt to maintain delivery schedules and regulatory requirements. Many of these men and women are still to this day stranded on those ships or shipyards due to the inability of ports, terminals, cities, states and countries to develop a safe way for them to travel home and arrange their reliefs or shift change. This is a serious problem that still exists today as transportation and shipping continues to be a forgotten essential business and service.
Shipbuilding is an essential service, and COVID-19 has struck hard at the builders and repair yards worldwide. Within our Amtech and First Harvest Navigation network of companies, we were midstream in the construction of six chemical carriers in our Hyundai South Korea office, a 750-ft. self discharging bulk carrier barge for VTB at Bay Shipbuilding in the Great Lakes and a major ATB tug refit and modification at Don Jon in Erie, Pa. Add to those responsibilities four of our MR 50,000 deadweight tankers due for special survey and drydocking in the first and second quarter of 2020 and six more of our 25,000 deadweight chemical carriers due in 2021. COVID-19 has surrounded us for over six months. It has been a formidable enemy.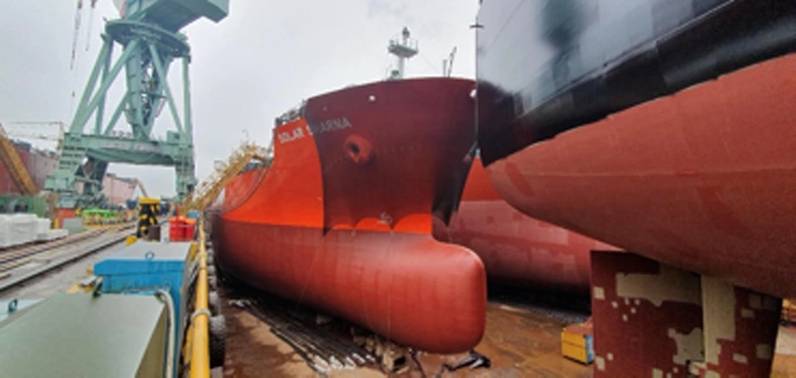 Photo courtesy: Amtech
The first project to experience the sting of the virus was our six vessels under construction at Hyundai Mipo Dockyard in Ulsan, South Korea. That said, the reaction and procedures put in place by the Korean government and Hyundai in hindsight were simply the gold standard. Testing was immediate. PPE requirements were upgraded and in most photographs taken during the initial strike of the virus, our supervision staff looked like they were preparing for brain surgery rather than structural block inspections. It may sound trivial until you understand that loosing one or more of that supervision team resulted in the inability to fly new staff into the project. Both a quarantine period and the fact that travel was not allowed into the country was the "Sword of Damacles" that hung over our heads and played with possible major delays in the project. As we moved closer to delivery periods positioning both a forward joining sea trial crew, manufacturers representatives and the actual crew scheduled to take the vessel to sea at delivery were also subjected to the same difficulties.
The costs of the quarantines and the PPE are easily substantiated for health and safety reasons. The business costs are not. The first three vessels have been delivered on time and the following hulls are well underway to meeting their scheduled delivery dates. Much like the use of steroids in professional sports, this project will have an asterisk placed next to it – "built and delivered under global pandemic". We are proud to be recognized as completing "first of" projects, but this is pushing it. Our staff worked long, hard hours to solve many new problems including virtual sea trials as our U.S. staff could not travel to support them.
The Korean yards are blessed with having most of their subcontractors, manufacturers and licensees either located within the new building facility or nearby distances. That is not the case in the U.S. yards, and as a result delays have occurred receiving equipment, arranging trucking services and placing manufacturers representatives and labor at actual construction locations where they were needed. Foreign equipment, normally flown in for these projects, had little to no chance of meeting previously agreed delivery dates.
In no uncertain terms the lack of any national direction to handle the virus in the U.S. can be attributed to damages and delays we experienced as each state determined how the virus issue would be addressed. Some considered transportation and shipbuilding as "essential", others did not.
Many small manufacturing companies were closed, as they did not meet an "essential business" definition. In one example the Governor's office had to be contacted to request a waiver for the shipyard to continue operations. Maintaining a solid workforce also became difficult as the U.S. "positive" numbers peaked in several surrounding areas.
All that said, not one builder, repair yard or worker threw up his hands waived the white flag or tossed away his N-95 facemask. And that is a credit to our industry and to the builders and owners we have been working with. Social distancing takes on a whole new meaning when working the deck plates 10 to 12 hours a day. That workday for us is normally followed with a trip to the bar and a solid meal at a favorite restaurant. These past five months, it has been back to the hotel room with a curbside pick up.
The concern now is whether the virus creates a perfect storm that will affect all of the markets – wet, dry, offshore, container and cruise. We have seen the closing of Meyer Werft Shipyard on what is claimed as a temporary basis due to the failure of the cruise industry. More than several deliveries from known cruise companies are delayed well into 2021. Product and chemical tanker markets we are active in are looking at new supply and demand projections due to drydocking issues and the inability to exchange crew. Several of our tanker fleet are now working toward their third drydock and special survey extensions simply due to COVID-19 concerns and facilities that were closed or quarantined. Again these are discussions and agreements with class, flag and owners that have never been addressed in the industry and will have asterisks in their record.
Keep your mask on and social distance. We have no doubt the industry will continue for months in uncharted waters as we define the "new normal".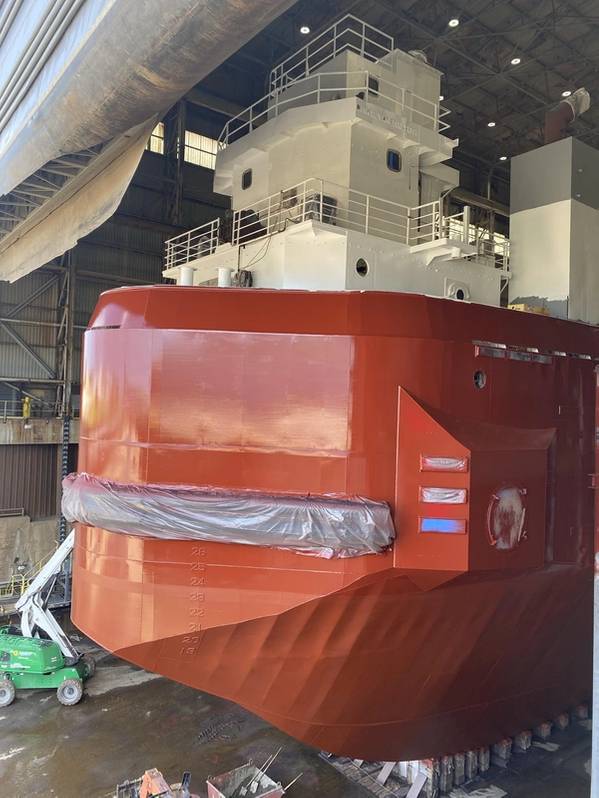 VanEnkevort Tug & Barge, Inc. (VTB) tug freshly painted at Don John Ship Repair in Erie, Pa. Photo courtesy: Amtech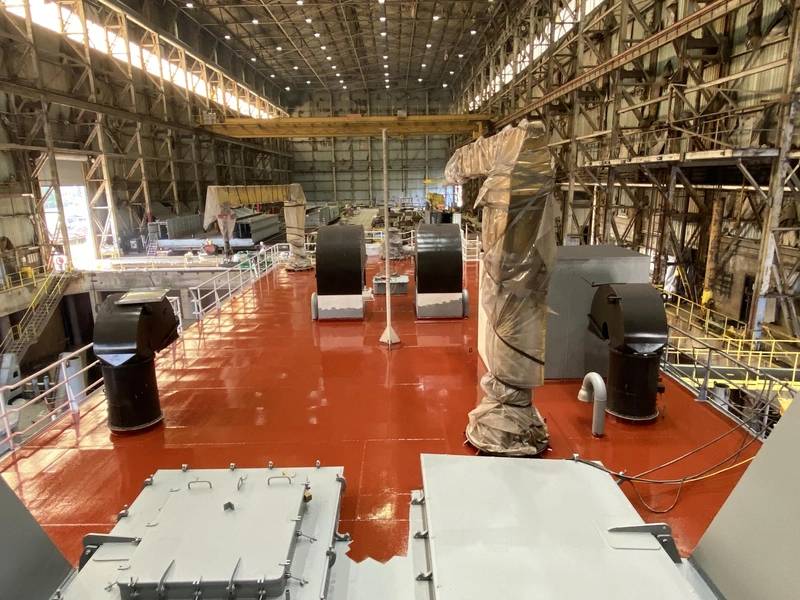 VanEnkevort Tug & Barge, Inc. (VTB) tug freshly painted at Don John Ship Repair in Erie, Pa. Photo courtesy: Amtech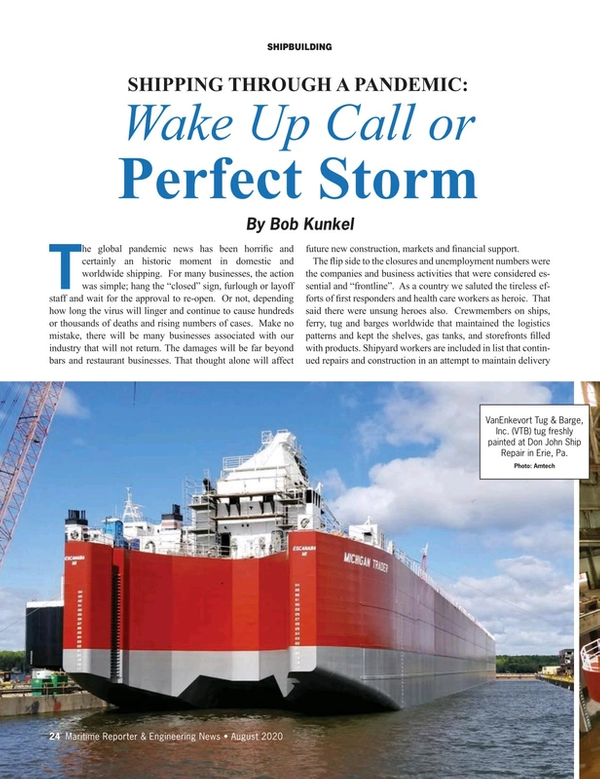 Read Shipping through the Pandemic: Perfect Storm or Wake up Call? in Pdf, Flash or Html5 edition of August 2020 Maritime Reporter
Other stories from August 2020 issue
Content