Trust and Independence:
By Kyriacos Panayides
Key metrics for a consolidating market of Multi-Purpose Vessels.

The multipurpose sector has experienced a tough first half of 2019, following a trend of difficult market conditions spanning over a decade. Fallout from ongoing global political trade discussions is taking its toll on both project and commodity trades, cutting down volumes at a time when external competition from non-MPV carriers is at its most fierce and the MPV fleet is still struggling with overcapacity. Still, and as it has been noted by a number of stakeholders, the number of vessels with lift capacity of less than 100t SWL is in decline and this trend is expected to continue for the foreseeable future.
The overhaul of marine fuel driven by the impending IMO 2020 deadline has not thinned out the MPV fleet as much as some had anticipated. In fact, Drewry has reduced its forecasted demolition tonnage for 2019 by 17% in its latest quarterly report. This stems from the fact that most MPV carriers are planning to pass on the cost of the expensive low sulphur fuel oil to their customers. This levels the playing field for older vessels as it dodges the vast investment required to adopt alternative compliance options such as fitting scrubbers or LNG tanks, which would force older, less efficient, and less specialised vessels towards demolition – resulting in an aging fleet with limited lifting capacity, a lack of specialization that end users need, and leading to concerns amongst them about the safety of their cargoes during transit.
Meanwhile the MPV fleet is still fending off competition from bulkers and feeders side-stepping into the sector in search of project cargos to buffer against their own declining commodity trades. The combination of elements contributing to the struggling multipurpose market has been enough to drive some carriers towards consolidation strategies and others out of business altogether, with owners of smaller fleets in particular unable to make up their losses.
Multipurpose operators, vying to retain their independence within the consolidating market, need to be strong in their positioning and their service offering. It takes unparalleled industry knowledge, expert engineering capabilities, a state-of-the-art fleet, and a solid reputation for delivering excellent service under budget. At AAL, we've managed to uphold our commitment to our customers in this difficult market through prudence and effective forward planning. Without these cornerstones, it can prove difficult to retain business and generate profit in a time of reduced freight rates, as we've seen in numerous recent cases in the project cargo sector.

Investing In Tomorrow
Today freight rates for international ocean-going trade have been largely governed by the tumultuous global political landscape. The trade spat between the United States and China has put the brakes on several commodities, including steel – with direct repercussions for the multipurpose market – and bulk cargoes like coal, grain, and iron ore. Furthermore, some major LNG projects in the United States have been postponed due to the trade uncertainties ahead.
The decline in bulk cargo trade, illustrated in Toepfer Transport's sliding Baltic Dry Index early in 2019, has further pushed dry bulk vessels across market lines into the MPV sector for a piece of the project cargo pie. Meanwhile, instability of oil prices – equally hinged on global politics, and now in part on growing tensions within key trade lanes – are dissuading energy majors from signing off on oil & gas projects which constitute a large portion of the multipurpose market's core customer base. Over the longer term, oil prices are expected to average under USD $70 per barrel and at this price there will be limited appetite for FIDs and new project investments.
Freight rate recovery will depend on decreased capacity and increased cargo options, both of which hinge on the resolution of current political debates. A trade agreement between the US and China and the reduction or dissolution of current tariffs should improve global economic sentiment and see the flow of bulk cargos revive, driving demand for bulk carriers in their primary markets. Likewise, this could restore stability to oil prices and revitalise the energy market, unlocking investment into infrastructure projects.
These resolutions are however dependent on movements on the global political stage, away from national protectionism and towards a more collaborative, solutions-driven mindset, and the optimism towards this eventuality at the beginning of 2019 has yet to be rewarded.

The (Somewhat) Sunlit Uplands
It is not all doom and gloom. The addressable demand for the multipurpose vessel (MPV) fleet is looking at an average annual growth of 1.2% to 2023, according to Drewry. And the increasing environmental awareness has also shifted investors' perspectives onto alternative methods of power generation. Policymakers, financiers, and the general public have given great support to investment in, renewable energy projects – chief among them, onshore and offshore wind.
Wind turbines capacity has grown considerably over recent years. This results in needing longer blades and more powerful components to generate enough power to supplement, and in some cases replace, existing fossil fuel power. The transportation of such turbine blades requires careful planning and expert engineering – as well as the huge open deck space and stacking capability needed to accommodate their sheer length.
With its growing fleet of 'mega-size' MPVs – offering wind energy customers some of the highest cargo intake volumes in the sector – AAL's fleet is future-proofed for the new generation of larger turbine components. For example, its 31,000 dwt A-class vessels boast a cargo intake capacity of 40,000cbm and lifting capacity of 700 tonnes. In 2018, one of these mega-MPVs transported a record 45 wind blades (63m each) on a single sailing to the Port of Adelaide in Australia. These were bound for the new AGL Silverton Windfarm and will produce 780,000 MWh of renewable energy per year – enough power to maintain more than 137,000 Australian homes.
Onshore wind capacity alone is expected to jump 32% to 60 GW in 2019, so demand for vessels to carry wind equipment between continents is unlikely to dry up – such stability is much-needed given the market's unpredictability. AAL recently launched its Europe-Far East service to cater for this consistent cargo stream, while employing multiple vessel types with a variety of stowage configurations to provide regular sailings and highly flexible port calls for a broad range of cargo types alongside; including large and heavy project cargo, breakbulk, steel and dry bulk commodities.
The assurance of frequent sailings, flexible port calls, and a range of tonnage options continue to be a significant selling point for AAL's customers and reinforces our reputation as a leading independent carrier within the multipurpose market. A customer-first, quality-focused approach to business enables the operator to remain independent within the consolidating market and continue to expand and strengthen global networks across Europe, Asia, the Middle East, Africa and the Americas.
Kyriacos Panayides is Managing Director at AAL. Panayides joined the ranks of the shipping industry in the early 1990s following his graduation in Business Administration and post graduate studies in Shipping. A Fellow of the Institute of Chartered Shipbrokers, he combines extensive experience in multiple sectors of the shipping industry, such as shipowning, shipmanagement, commercial operations, tanker pools, liners and shipping agencies. Throughout his career, he has been involved in numerous shipping projects and transactions, as well as holding several directorial positions in shipping companies belonging to the Schoeller Holdings Group. Since 2015 he has resided in Singapore as Managing Director of AAL Shipping.
This article first appeared in the JULY/AUG print edition of Maritime Logistics Professional magazine.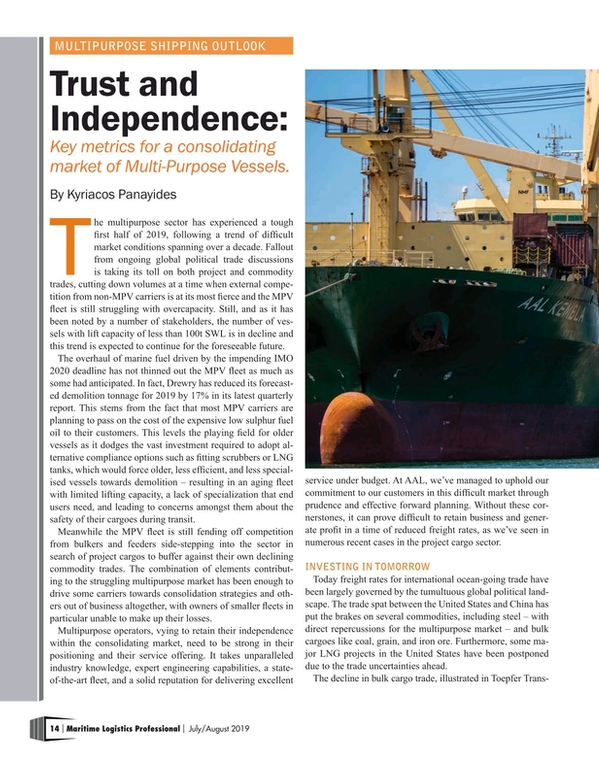 Read Trust and Independence: in Pdf, Flash or Html5 edition of Jul/Aug 2019 Maritime Logistics Professional
Other stories from Jul/Aug 2019 issue
Content