Luxury Cruise Ships & The French Connection
By Greg Trauthwein
Edie Rodriguez, the Americas Brand Chairman for PONANT Yacht Cruises and Expeditions, has spent a life and built a career centered on travel, cruise and branding in a most luxurious manner. She was a natural to discuss the booming luxury expedition sector, the next big frontier in the global cruise industry.
It is natural, in the U.S., to pronounce PONANT as "po nant," but the French have a different style and the company name is pronounced "po non," dropping the 't.' But Edie Rodriquez, charged with spreading the PONANT name in North America, does not get hung up on diction in this case. "You say 'po-tay –toe' ... 'I say po-ta-toh' … as long as you book with us, call us what you like!"
For those of you not in the know, PONANT is the only French-owned cruise line, small but growing fast and a world leader in luxury expeditions. The company was created by Jean-Emmanuel Sauvée and a dozen officers of the French Navy, and as it prepares to celebrate its 30th birthday in 2018 it has on order five ships that will essentially double its capacity by 2021, a burgeoning fleet that will include the world's first LNG-fuelled icebreaking luxury cruise ship.
"PONANT has approximately 1,000 employees worldwide and growing," said Rodriguez. "Today, as we speak, Ponant has five vessels accommodating approximately just over 1,000 guests in total. But as you know we are building four new Explorer ships; the first two are coming in the summer of 2018; the next two are coming in the summer of 2019."
But the story of PONANT and Rodriguez's decision to join the brand transcends ships and itineraries.
All four of the Explorer ships are identical in size and outfit, each differentiated with interior colors and décor. All four of those ships will host 92 suites/184 guests. In addition the company is building the world's first ever luxury icebreaker to take PONANT guests to the North Pole. All five new ships in the fleet by 2021 equals an additional 900 guests.
"Jean-Emmanuel Sauvée is a very passionate founder; a true sailor and sea captain, and the genesis of Ponant," said Rodriguez. "Ponant is owned by Groupe Artemis, which is also the parent company of Christie's (auction house) and Kering (which owns a number of luxury brands including Yves St. Laurent and Gucci, to name a few).
So, in short, Ponant has a well-funded, passionate owner with deep roots and ties to the global luxury brands. "It's just a winning combination. At Ponant, we are not selling a product, we are selling experiences – vacations of a lifetime that deliver memories of a lifetime," said Rodriguez.
Cruise Growth
The global cruise market has been embarked on a steady growth trajectory for a generation, more recently enjoying a serious and more substantial growth spurt. According to the 2018 State of the Cruise Industry Outlook from the Cruise Lines International Association (CLIA), more than 27 million passengers are expected to set sail in 2018, following an estimated 25.8 million passengers in 2017 and 24.7 million passengers in 2016, an increase of 20.5 percent over five years from 2011-2016. In 2018 alone CLIA Cruise Lines are scheduled to debut 27 new ocean, river and specialty ships. In total, CLIA reports in 2016 that the industry cumulatively generated expenditures of more than $126 billion in total output worldwide, supporting more than one million full-time equivalent employees who earned $41 billion in income.
"I am very bullish on the global cruise industry," said Rodriguez. "It is a robust market, and we haven't yet tapped its full potential. Even with the rapid growth, it doesn't even scratch the surface of the potential. What excites me most, and where I see the most opportunity, particularly for the U.S. market is the growth of the entire luxury yacht expedition world."
In evaluating the potential for the luxury yacht expedition cruise market, Rodriguez looks back to the evolution of the river cruise market.
"In 2001, for example, Americans were not very familiar with the river cruise industry in Europe. Fast forward 17 years and this industry is a very important segment of the total cruise industry today," said Rodriguez.
Hallmarks of the luxury yacht expedition segment are:
•
Smaller vessels: Typically 250 passengers or less
•
Exotic Locales: From the North Pole to Antarctica and every point in between. Locations that the larger mass-market vessels simply cannot navigate.
•
Exclusivity: From small ports of entry to upscale amenities.
"The world is getting wealthier, and they want new, incredible experiences, they want to travel with their peer groups and they want it easy. It's that simple."
The more things change
Much has changed in the cruise industry over the last 20 years, particularly with the expansion of brands across different market segments.
"Simply put there are more choices. Anyone, from a first-time cruiser with a small budget to a luxury consumer who typically owns or charters their own yacht, can have a plethora of options within the whole cruise segment," said Rodriguez. As the industry expands, the new fleet of vessels, from the large to the small, opens new worlds of opportunity for ports of call and land-side opportunities. "Honestly, the whole world is hot! Cuba is hot, Iceland is hot. People want perpetually new and different The more remote and exotic a location is, that's what today's luxury traveler is looking for," said Rodriguez. "The really great thing about having smaller, luxury yacht expedition vessels is that we can get into more of these exotic locations in an easier, sexier manner."
While much remains the same, Rodriguez says that technology – particularly the wide availability of strong WiFi, cell phone and email connection, is paramount to success in today's plugged-in world.
"People will not cruise unless they have strong WiFi, cell phones and email available 24/7 anywhere in the world. This technology allows the cruise industry to remove barriers. People can go on fabulous vacations, they can see multiple countries, without having to pack and unpack, while staying fully connected."
With the new ships, the exotic locales, the onboard amenities and technologies, it could be easy for some to lose focus on the most important aspect of running a leisure travel business: people. "In general, running a cruise brand is all about the people," said Rodriguez. "Your team is the biggest factor, as your team spreads across every touch point with the customer. At the end of the day, it is all about your team: your onboard crew, your shore side crew, your company. If you take care of your employees, the business will take care of itself."
QUOTABLE Edie Rodriquez
PONANT Americas Brand Chairman, Corporate Special Advisor, PONANT Yacht Cruises and Expeditions, on:
The prospect for more ship orders
"Beyond the five (new builds) that we have announced so far … suffice it to say that I am a betting woman and I am going to bet that we are going to have some even more
exciting announcements coming in 2018 and beyond for the continued growth of Ponant, the world's most luxurious yacht expedition company."
The importance of SATCOM in the cruise sector
"People will not cruise unless they have strong WiFi, cell phones and email available 24/7 anywhere in the world. This technology allows the cruise industry to remove barriers. People can go on fabulous vacations, they can see multiple countries, without having to pack and unpack, while staying fully connected."
The project to build a hybrid electric LNG-powered icebreaking cruise ship
"Right now the only way to get to the North Pole is on a helicopter or on a working Russian icebreaker – not the most luxurious accommodations. People who can afford that sort of wanderlust want to do it in style."
As published in the February 2018 edition of Maritime Reporter & Engineering News.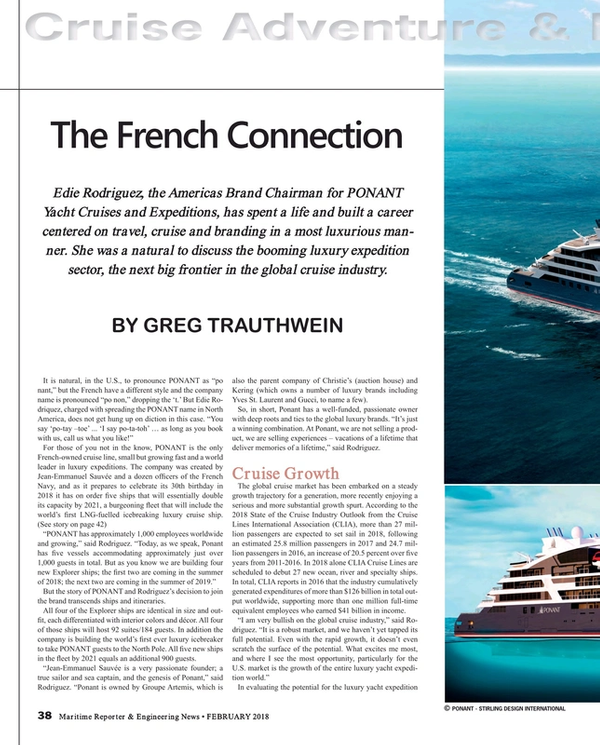 Read Luxury Cruise Ships & The French Connection in Pdf, Flash or Html5 edition of February 2018 Maritime Reporter
Other stories from February 2018 issue
Content