Texas Boats Combat Drug Cartels on the Rio Grande
By Susan Buchanan
Texas Marine Unit Uses Yellowfin-built Shallow Water Vessels for Border Patrol missions.
Menaced by Mexican drug cartels, the Texas Department of Public Safety operates a fleet of six shallow-water vessels it commissioned in late 2011 and 2012 to patrol its borders. The agency purchased the boats from Bradenton, Florida-based manufacturer Yellowfin Yachts as threats along the Rio Grande escalated. Yellowfin custom builds its 34-foot fishing boats for military and police purposes, company president Wylie Nagler said last month, "The boats for Texas have three, 300 horsepower motors on them, can reach 68 miles an hour and have excellent maneuverability," he said. "They can operate in as little as 22 inches of water." It's easy to see why, in this case, that these powerful response and patrol boats are now an important tool in the Texas border security toolbox.
Nagler, a powerboat racer and tournament fisherman, founded Yellowfin in 1998 to sell high-performance, offshore fishing boats. The Yellowfin 34 is 34'-8" long, weighs 8,800 pounds, has a 10-foot beam and a maximum HP of 1,050. The company's recreational 34 vessel sells for $250,000. Texas, however, paid $580,000 for its six enhanced versions of the Yellowfin 34, which feature retractable, protective ballistic panels for occupants. "Those are the black panels you see on the boats," Nagler said.
New Marine Group Has 40 Fully Trained Officers
The Texas border with Mexico is anything but an easy stretch to patrol. "The Dept. of Public Safety's Tactical Marine Unit commands a state-of-the-art fleet of armored, shallow-water interceptors used to detect, disrupt and deter criminal activity on the Rio Grande River, international lakes and the Intracoastal Waterway," Texas DPS spokesman Tom Vinger said last month. The TMU was founded in 2011.
"Painted in the familiar, DPS black and white pattern, the interceptors are equipped with ballistic shielding and four-to-six FN M240B, fully-automatic machine guns, capable of firing up to 900 .30 caliber rounds per minute," Vinger said, adding, "The vessels have night vision capabilities, allowing them to operate in a day or night environment." And they can move quietly along a waterway for stealthy operations.
"The TMU is comprised of about 40 DPS officers to help detect and deter those who break state laws and endanger our citizens," Vinger said. "These officers have received extensive training from the U.S. Coast Guard. The TMU coordinates with local, state and federal law-enforcement agencies and provides assistance as needed." The TMU is funded by the state legislature and federal, homeland security grants. The U.S. Border Patrol enforces immigration laws, Vinger said.
"The TMU and the patrol vessels represent a significant enhancement of the state's efforts in combating Mexican cartels and other criminal organizations transporting illegal drugs into Texas, as well as a variety of weapons, explosives and munitions southbound into Mexico," Vinger said. "The vessels are used to combat splashdowns, a tactic by which drug smugglers trying to evade law enforcement crash their vehicles into the Rio Grande in Texas." Boat retrieval teams then enter the river from Mexico to recover the drugs. Smugglers involved in splashdowns usually commit multiple offenses, including vehicle flight and reckless driving, and sometimes use weapons as they evade officers and attempt to destroy evidence. In the last five years, Texas has had at least 79 cartel-related splashdowns.

Mexican Cartels: Tough Mission, Wide Swath
According to the Texas DPS, Mexican cartels are the state's biggest, organized crime threat. Six out of eight major Mexican cartels have command-and-control networks in Texas, and they use the Lone Star State as a transshipment center for marijuana, cocaine, methamphetamine, heroin and people to the rest of the United States. The cartels also transport cash, weapons and stolen vehicles through Texas back to Mexico.
Texas has 27 ports of entry, 1,254 miles of border with Mexico and 367 miles of coastline, making it hard to watch smugglers. The Texas leg of the Gulf Intracoastal Waterway, a coastal canal, extends hundreds of miles from Sabine Pass to Port Isabel. Measuring over 267,000 square miles, the state is bigger than France and twice the size of Germany. The Yellowfin border patrol boats help shrink that coastline for the Texas DPS' Tactical Marine Units.

TMU Was Formed As Border Violence Grew
Spending by state and federal agencies on U.S.-Mexican border security has swelled. The U.S. Border Patrol has doubled its staff since 2006, developed more-invasive surveillance techniques and expanded its fencing. The U.S. Coast Guard has duties in the Lower Rio Grande Valley, in addition to its offshore responsibilities.
Texas commissioned its TMU patrol boats after a series of incidents on the border. In a June 9, 2011 event, Texas Parks and Wildlife Game Wardens and U. S. Border Patrol agents interrupted drug smugglers trying to move 450 pounds of marijuana across the Rio Grande from Mexico to Hidalgo County, Texas. Mexican cartel members threw rocks and fired guns at the officers, who shot back, striking at least three of the smugglers. The cartel members then fled into Mexico.
That was just one of a string of daily threats, DPS Director Steve McCraw told Texas Public Safety Commissioners in their June 2011 monthly meeting. "Our officers already are seeing incidents where the cartels are using blocking and chase vehicles, throwing caltrops to puncture law enforcement tires, using organized boat recovery operations and conducting surveillance on law enforcement," McCraw said. "We're concerned about the escalation of violence against our officers." A caltrop is several twisted nails or spikes, with one end sticking straight up. It can puncture the tire of a moving vehicle.
McCraw spoke about Mexico's cartels in testimony before the U.S. House Subcommittee on Border and Maritime Security on May 1, 2012. "The Mexican cartels will continue to undermine the domestic security of Mexico and the safety and security of Texas and the nation until the U.S. border with Mexico is secured at the International Ports of Entry or POEs, between the POEs and along our coast," he said. As security is stepped up in one area, cartels quickly exploit vulnerabilities elsewhere. A comprehensive and fully integrated approach to cartels is essential, he said.

TMU Vessels Named After Fallen State Troopers
The first of the six TMU patrol boats built by Yellowfin was commissioned by DPS in December 2011, and the final boat went into service in November 2012, Vinger said. Each vessel was named after a DPS highway trooper killed in the line of duty in the state's six regions. At a Nov. 28, 2012 ceremony in Austin, DPS commissioned the TMU's sixth vessel, named after Trooper Scott Burns, who was shot and killed pursuing a suspect in Marion County in April 2008.
The Scott Burns joined five shallow-water interceptors patrolling the Rio Grande and Intracoastal Waterway. The other TMU boats are the Bill Davidson, the J.D. Davis, the David Rucker, the Troy Hogue and the Russell Boyd. Trooper Davidson was shot and killed in Jackson County in 1992; Trooper Davis was shot in Lubbock County in 1980; Trooper Rucker was shot in Cameron County in 1981; Trooper Hogue was shot in Howard County in 1994; and Trooper Boyd was shot in Waller County in 1983.
In addition to its six-boat marine unit, the Texas DPS maintains a fleet of planes and helicopters to augment their marine presence.

Yellowfin 34s: Fulfilling Its Mission In the Texass
Before Nagler founded Yellowfin 15 years ago, he owned Back Country Powerboats, which built inshore vessels. Eventually, he sold Back Country to Champion Boats. Yellowfin, a manufacturer of inshore and offshore fishing boats, has made a name for itself in the large-center-console market. As for his client Texas DPS, "we have a good relationship with them," Nagler said.
"The patrol boats are doing what they were intended to, and everyone is pretty happy." Nagler also has a Central American client for his militarized Yellowfin 34s, and, like many other niche builders in this market, sells his boats internationally.
Homeland Security can take on many faces, especially along the Texas-Mexico marine borders, where increasingly, marine-based assets are necessary to address a border security threat better known for its land-based battles. The Yellowfin 34's are quickly demonstrating that they are a necessary and important part of this mission. On the water, it's just not a good idea anymore to mess with Texas.


(As published in the February 2014 edition of Marine News - www.marinelink.com)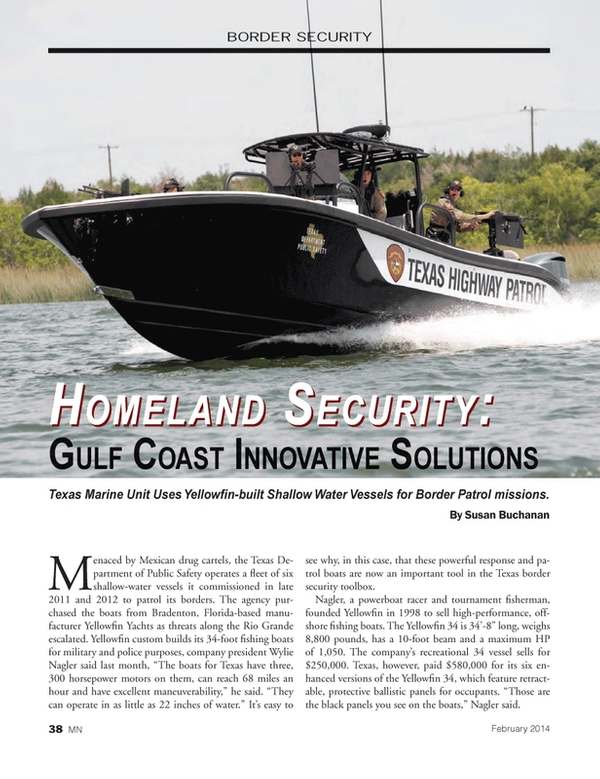 Read Texas Boats Combat Drug Cartels on the Rio Grande in Pdf, Flash or Html5 edition of February 2014 Marine News
Other stories from February 2014 issue
Content