Can Fracking Waste be Carried on the Water?
By Eric Haun
The barging industry has the answer. It's nowhere near as complicated as it seems.

As shale gas production continues to ramp up across the United States, millions of gallons of wastewater is created through the process of hydraulic fracturing, or fracking. That waste, referred to as shale gas extraction wastewater (SGEWW), or frack water, needs transport to storage and reprocessing facilities around the U.S., including disposal sites in Louisiana, Texas and Ohio. At the moment, the cargo is carried solely by rail and truck. But that's due to change as the inland towing and barge industry works toward obtaining approval to carry bulk loads of SGEWW via inland waterways.
Under current United States Coast Guard (USCG) policy, barges are not permitted to load SGEWW due to varying chemical compositions caused by a number of factors, such as differing chemicals and fluids used at the drilling site and various dissimilarities in the drilling sites and wells themselves. For barges to carry these varied types of cargo, a USCG Certificate of Inspection endorsement or letter is required. And, therein lies the problem. Or, does it?

Conventional Wisdom: Barges are the solution
On October 30, 2013, the Coast Guard issued a policy letter formally proposing conditions under which barge owners could gain certification to carry SGEWW by way of inland waterways. The policy letter, which puts forward steps for the request and obtainment of USCG Certificate of Inspection endorsements allowing transport of SGEWW on the water, also notes requirements the Coast Guard considers imposing on eligible carriers. After inviting public comment, the USCG is still processing a flood of remarks from across the industry, and a date has yet to be established for any formal guideline issuance, though it is said to be expected sometime in 2014. That remains to be seen, especially for an industry that has waited seemingly forever for the finalization of the subchapter "M" rule.
As part of the terms and requirements of the USCG's initial proposal, barge owners must have each consignment load of SGEWW chemically analyzed prior to carrying it on board the barge, and the results must be documented and filed on records open to the Coast Guard for two years. Additionally, tank surveys must be performed before any change in cargo and prior to personnel entry to ensure the barge is safe to enter and that radioactivity levels do not exceed contamination limits established in Pipeline and Hazardous Materials and Hazardous Materials Safety Administration (PHMSA) regulations. The Coast Guard's proposal also stipulates that barge tanks carrying SGEWW must have open ventilation to prevent the accumulation of radon. In other words, these conditions are not much different than that which face any operator or shipper moving chemicals, crude oil or any other exotic liquid cargoes.
Though the Coast Guard's bid has gathered much support from the commercial maritime industry, the proposition is not without resistance. Various environmental agencies have publically denounced the notion of SGEWW transport via rivers. But the collective uproar, fired at SGEWW waterway transport, seems more in opposition to fracking in general, especially when barging safety and environmental numbers are compared to those of truck and rail. That's the real story.

Safety & the Environment: Everyone's concern
Government data shows barge transport to be statistically safer and more environmentally sound than rail or truck, and many other chemically hazardous liquids, such as oil drilling waste, are already traveling throughout the country by way of barges with very little record of incident. Indeed, perhaps the most visible signature of the maritime industry is its environmental record. It gets a bad rap in some circles, but it's far better than you might think. Consider Table 1, below, which shows the overwhelming improvement in the environmental performance of the domestic marine industry in just the last fifteen years alone. Statistics weren't kept prior to that. We can only imagine what those numbers might have looked like.
The American Waterways Operators (AWO), a national trade association representing the tugboat, towboat and barge industry whose members account for more than 80 percent of domestic barge tonnage, including the vast majority of tank barges, is a firm believer that SGEWW can be carried on the water safely. In endorsement of the Coast Guard's proposal, Jennifer Carpenter, AWO's executive vice president, emphasized the organization members' "strong record of success in moving environmentally sensitive cargoes safely, securely and efficiently."
"AWO strongly supports the carriage of SGEWW by barge and believes that such transportation offers significant environmental advantages given the tugboat, towboat and barge industry's strong record of transporting hazardous or potentially hazardous materials safely," Ms. Carpenter said.
Records show barge/inland towing numbers to be superior to rail and truck in nearly all measurable categories, from stack emissions and fuel efficiency to modes for safety and economy of scale. According to the industry report, Modal Comparison of Domestic Freight Transportation Effects on the General Public, barges accounted for just 25 large spills from 2001-2004, while rail and truck tallied 115 and 643, respectively. Barges also provide a cleaner option in terms of emissions, the study found; CO2 emissions for barge/tow transport average 17.48 grams/ton-mile, while rail is 24.39 and trucks 64.96. And the capacity of just one 15-barge tow equates to 216 railcars with six locomotives or 1,050 large semi tractor trailers.
In terms of injuries, accidents and fatalities, all mods of transportation seem to be getting safer, over time. Here again, however, commercial marine again compares very well with other transport modes. The U.S. Department of Transportation's Bureau of Transportation Statistics and the Research and Innovative Technology Administration (RITA) both compile a wealth of National Transportation Statistics. To be sure, all modes are improving; some faster than others. Judge for yourself in Table 2.

Inland Report Card: Passing Grades
Presuming SGEWW will eventually be carried by barge, the effects are sure to be many and diverse across the marine industry. In 2012, roughly one-third of inland marine transport revenues (32.8 percent) came from bulk liquid and gas cargoes, the highest percentage of all cargo types, and adding a new liquid cargo should only serve to increase that percentage. With that said, barging rates and availability will be affected consequently, but the question remains to what extent. The numbers, nevertheless, add up to definitive conclusions about ocean and inland commerce, the state of our transportation systems, and the manner in which all of these modes are operated, regulated and the rapidly changing benchmarks of their performance.

The Inland Barge report Card:
The Environment: Perhaps no other area shows as much progress. The marine transportation industry has stepped up its game significantly in the past 25 years. Less spills, the movement towards cleaner burning engines, etc.
Safety: Despite a marked increase in the number of hulls on the water, a decrease in accidents, injuries and fatalities.
Fleet Age: A marked improvement in fleet age numbers; down 12 years in the past 15. That will continue to improve as SubM and environmental regulatory protocols push operators into replacement programs.
Future Prospects: In terms of safety, environmental impact and fleet renewals, the U.S. sector report card is a good one. With that, hopefully, greater efficiencies, economy of scale and with any luck, an increase in market share will also come.

Beyond what the addition of fracking transport might add to domestic inland water freight pricing, it is all but a foregone conclusion that waterborne transit is the best option for oil producers today. Fracking waste is anything but a time sensitive cargo, with no consumers dependent on its arrival.

(As published in the February 2014 edition of Marine News - www.marinelink.com)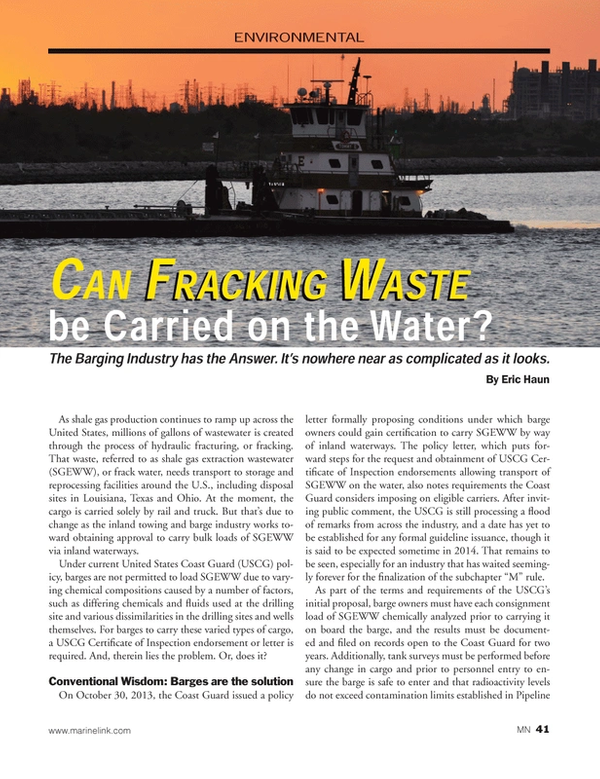 Read Can Fracking Waste be Carried on the Water? in Pdf, Flash or Html5 edition of February 2014 Marine News
Other stories from February 2014 issue
Content