On Patrol with the U.S. Coast Guard
By Joseph Keefe
Building programs continue, spanning the full range of missions, despite budget concerns.
Amidst all the talk of Beltway budget cutbacks and sequestration, the U.S. Coast Guard is quietly investing approximately $30 billion in major acquisition projects to modernize its physical assets. The process of recapitalizing these older and difficult-to-maintain assets has never been an easy task, and the Coast Guard has seen its share of bumps along the way. For example, the initially messy Deepwater debacle initially kicked off what has evolved into today's more successful recapitalization process, now run by the Coast Guard's Acquisition Directorate, which stood up in July 2007.
Not all of that $30 billion in spending is allocated for boats, of course, but plenty is being spent today to replace outdated and inefficient platforms that no longer meet the needs of a rapidly evolving Coast Guard. The Coast Guard's core mission capabilities arguably stem first from the readiness of their fleets of cutters and boats, using a variety of waterborne platforms to conduct its daily business. All vessels under 65 feet in length are classified as boats and usually operate near shore and on inland waterways. A cutter is defined as any Coast Guard vessel 65 feet in length or greater, having adequate accommodations for crew to live on board. This month we highlight six different ongoing acquisition projects – including the 154 foot Fast Response Cutter – that are actively underway. A quick snapshot of those hulls is depicted in table 1.

45' Response Boat Medium (RB-M)
The 45-foot Response Boat-Medium (RB-M) boasts an improved design, new ergonomics, and enhanced safety features, making boat crews more effective in performing their multiple missions. The RB-M replaces the aging 41-foot and other non-standard utility boats which are at the end of their 25-year economic service life. The new boat boasts significantly increased speed and performance, improved response time and agility. The boats also are designed with human factors systems engineering concepts in mind, decreasing crew fatigue on extended patrols. The RB-M has entered full-rate production, meaning that the service is delivering at least 30 boats per year, which is more than one boat every two weeks.
Since the first RB-M was delivered to Station Little Creek, VA, in April 2008, RB-Ms have been delivered to Coast Guard boat stations throughout the United States, with a current average of about 30 boats per year. To date, 144 of 170 RB-M boats ordered have been delivered.
Team RB-M was formed by Kvichak Marine Industries (KMI) of Seattle, WA and Marinette Marine Corporation (MMC) of Marinette, WI in 2002 with the goal of obtaining the U.S. Coast Guard contract for the 45' Response Boat Medium (RB-M). This multi-year RB-M contract was awarded to Team RB-M in 2006. The partnership is a win-win for both companies. KMI was tasked with the design and production engineering and to produce half the boats; MMC provided purchasing, logistics, and program management. The success of MMC and KMI's management of the program has allowed both companies to deliver the boats ahead of schedule and on budget. In addition to the construction, MMC provides full logistics support including a Field Support Desk and extended warranty for up to 250 boats. Through innovative Lean Manufacturing processes and state of the art technologies, over 1700 hours have been cut off the construction time of the boats and all have been delivered on cost.
"Marinette Marine is grateful for its well established partnership with the US Coast Guard. We are especially proud of the success in delivering the RB-M to further the Coast Guard's important mission," notes MMC President and CEO Chuck Goddard. "Our facility was designed to embrace new production technology and implement innovative lean manufacturing processes. This purpose driven design, coupled with the talent of our exceptionally skilled workforce, has allowed us to deliver on time and within budget."
Designed by Camarc Design, UK, the RB-M is a 45' self-righting patrol boat utilized by the US Coast guard for a broad range of missions including homeland security and search-and-rescue. Powered by twin Detroit Diesel 60 series diesel engines coupled to Twin Disc MG5114SC marine gears with Rolls-Royce Kamewa FF375S waterjets, the RB-M is capable of speeds in excess of 40 knots. A full cabin provides crew protection from the elements and is equipped with a robust navigation system, heating and air conditioning, shock mitigating seats and a communication system capable of communicating with other federal, state and local homeland security partners.

Long Range Interceptor (LRI II)
The U.S. Coast Guard placed a delivery order on December 12, 2013, for four Long Range Interceptor-II cutter boats. The delivery order is valued at $3.973 million. The order was placed as part of a five-year production contract awarded in June 2012 to MetalCraft Marine U.S. of Cape Vincent, N.Y., to produce the LRI-II. The Coast Guard has contract options to procure up to 10 boats, which will be deployed aboard the Coast Guard's National Security Cutters (NSC). The contract has a potential total value of up to $10.2 million. The first LRI-II was delivered to the Coast Guard February 20, 2013, and commenced testing activities soon thereafter. The LRI-II project was approved for full-rate production June 27, 2013, after successful operational and interface testing with Coast Guard Cutter Bertholf.
The LRI-II is 35 feet long with a range of over 220 nautical miles and capable of achieving speeds in excess of 38 knots. The stern-launched LRI-II's high speed and extended range significantly enhances its host cutter's ability to execute missions while underway, particularly in migrant interdiction and law enforcement operations where teams need to be put on scene quickly. Its ability to extend the reach of its host cutter is also critical to search and rescue operations, enabling NSC cutter crews to patrol larger search areas. The LRI-II can carry up to 15 passengers, including crew, and safely operate in seas up to 13 feet.
Boasting rapid acceleration and using Ultrajet brand waterjets, the vessel has superior steering capabilities. Both weight and thrust were key factors in choosing Ultrajet. The highly maneuverable hulls hull the National Security Cutter to move at speed, launch and recover the LRI-II at speeds of 9 knots. The first LRI II was delivered in February 2013 and was immediately put into service with the National Security cutter Bertholf. Considerable work was put into the design to ensure the boat would perform above the threshold set by the Coast Guard. The key features that make the boat easier to retrieve up the stern ramp than all the previous test boats and LRI I were a combination of hull and system design features and an ergonomic layout that make the boat easy to handle and keep steady in the turbulent water behind the stern of a driving ship.
The key hull design feature was based on MCM's vast experience with white water jet boats; the boat does not require lifting strakes for additional lift to make the desired speed. The boat has a deep V hull with fine entry for wave piercing. Previous small boats regularly got the strakes hung up on the stern ramp guides not unlike on a boat trailer. Also the strakes create more transverse lateral movement for the hull's bow when attempting to enter the narrow gap in the stern.
Metalcraft Marine looked for a larger, over-sized jet, with higher thrust capabilities, that could still meet the vessel's weight and fuel limitations. The range requirement was high at 336 NM, so there had to be a lot of fuel. The Ultra 305 produces considerably more thrust in the lower end where driving up the ramp would be a critical factor to crews. The ability to intuitively steer as the boat is being driven sideways by the water flow was solved by the Jetmaster control system designed by Ultrajet, giving the boat an ability of control that no one thought possible.
Also according to MCM, a third key system/hull design standard included using the hull platform for the hull's intact and static stability. Because fabric or foam covered paints do not like to be in salt water and will fail prematurely, MCM had to design a boat that was exceptionally good riding in rough seas, up to sea state 5. MCM's Contract Manager, Bob Clark, told MarineNews in January, "We may have one of the best riding long range interceptors ever designed." Assisting on the design concepts in all areas was MCM's partner, Brunswick, Commercial and Government Product's and their technical expert, Kelly Webb. A retired USN SWCC Master Chief, Webb brought years of boat handling and servicing knowledge to the design table.

Over the Horizon-IV (OTH-IV)
The U.S. Coast Guard selected SAFE Boats International LLC of Port Orchard, WA, to provide future Over-The-Horizon IV (OTH-IV) cutter boats, with options to procure up to 101 over a seven year period.
The OTH-IV is the quick response boat for the NSC and other host vessels. The OTH-IV features high-speed and larger passenger capacity. Like the LRI-II, the boat is capable of operating from Coast Guard cutters equipped for stern launch.
25' Transportable Port Security Boat (TPSB)
Kvichak Marine Industries, Inc. has delivered 52 Transportable Port Security Boats (TPSB) to the U. S. Coast Guard. These 32' 9" all-aluminum vessels are operated by a crew of 4 and include shock mitigating seats to minimize crew fatigue on extended missions. Ballistic Armor Protection and up to 4 mounted weapons provide increased mission capability and crew safety during tactical operations. Powered by twin Yanmar 315 hp diesel engines with Bravo 1-XR outdrives the TPSB provides security, maritime law enforcement and search and rescue operations in coast areas worldwide. The TPSB can maneuver in as little as 24" of water and can operate safely in 8' seas and up to 30 knots of wind.
The shore-based TPSB is designed as a multi-mission capable boat. Primary missions include "Landside Security" and "Waterside Security" operations providing waterborne security and point defense force protection, in addition to standard Coast Guard missions such as Port, Waterways, and Coastal Security (PWCS), Maritime Law Enforcement (MLE), and Search and Rescue (SAR).

29' Response Boat – Small (RB-S II)
When Metal Shark was awarded the contract to replace the US Coast Guard's aging fleet of 470 Response Boats – Small (RB-S) with the new 29 Defiant, the contract was one of the largest boat buys of its kind for the Coast Guard. The most immediately apparent advancement in Metal Shark's Defiant class is the pilothouse configuration which employs pillarless glass to substantially enhance visibility.
The result is a near elimination of the dangerous blind spots as can be found in many conventional pilothouse vessels.
Metal Shark also employed a unique window system that allows the side and aft windows to quickly drop into the hull, converting the vessel from a full cabin to an open boat. No longer must a choice be made between the utility of an open boat and the all-weather capability of a pilothouse. Each 29 Defiant features solid, welded construction, foam flotation below decks and in the gunnels, and a durable foam collar made of solid foam encased in impact-resistant urethane. It offers reliable impact protection for the craft and its crew, and combines the utility of a full foam collar with the deck space and simplicity of a hard sided craft.
With a deep vee hull and power options up to 600 HP, the 29 Defiant will slice through the waves, and its wide reverse chines provide stability while at rest. The vessel is more responsive and maneuverable – and significantly drier – than the last-generation RB-S it replaces. Thanks to its 8'6" beam, the 29 Defiant is legal for over the road transport. The 29 Defiants are typically equipped with twin Yanmar 6LPA-STP2 diesels mated to Hamilton 241 jet drives. This package delivers the reliability and economy of inboard diesels, plus the shallow-draft capability and maneuverability of propulsion. By utilizing the water jet's split-duct thrust-reversing "buckets," the vessel can be brought from planing speed to a full stop within two boat lengths. Pivoting, turning, crabbing sideways, and other maneuvers are accomplished with ease. Top speed as equipped exceeds 40 knots.

Fast Response Cutter (FRC)
The Sentinel-class Fast Response Cutter (WPC) gives the Coast Guard a patrol boat that is capable of deploying independently to conduct missions that include port, waterways and coastal security; fishery patrols; search and rescue; and national defense. The FRCs are named after Coast Guard enlisted heroes and are replacing the aging Island-class 110- foot patrol boats.
The Sentinel Class patrol boat project will deliver vital capability to the Coast Guard, helping to meet the service's need for additional patrol boats. The current patrol boat gap hinders the Coast Guard's ability to successfully and efficiently complete all potential missions, and this critical FRC acquisition will help address these identified needs.
The now risk-averse Coast Guard selected a "parent-craft" design for the Sentinel Class patrol boat to ensure that the operating force receives new patrol boats, capable of performing the required missions, as quickly as possible. The Coast Guard coined the term "parent craft" to describe the use of an existing ship design that has successfully performed equivalent missions. Bollinger Shipyards have been awarded the contract for this class of vessel, and has so far delivered a total of 7 of these vessels to the Coast Guard, on time and on budget.
The Coast Guard has said that they intend to acquire as many as 58 of these versatile craft. To date, and under the terms of the existing contract, a total of 34 FRC's with a total value of $1.5 billion have been approved for production. According to Bollinger President Chris Bollinger, every delivery so far has been on time and on budget for the fixed price contract. He adds, "We consider ourselves to be ship manufacturers, as opposed to shipbuilders. The series build aspect of the contract allows us to continually improve our processes. Going forward, we hope to deliver 5 to 6 of these vessels annually to the Coast Guard." In terms of the vessels themselves, Bollinger's praise was even more effusive. "These vessels are game changers in the Coast Guard's fleet of vessels."

Looking Ahead: What's Next?
As if the Coast Guard wasn't busy enough with its current acquisition backlog, the high profile Offshore Patrol Cutter (OPC) race is still on. With the first cut already made – something the Coast Guard accomplished rather quietly and without fanfare – there are a reported five shipyard groups still in the mix.
According to MarineNews sources, the Coast Guard has all but closed all discussions in the current phase of assessments and the next announcement – the Phase 1 (design stage) winners – could be announced as soon as the end of this month. If so, the announcement will open another chapter in the Coast Guard's seemingly endless quest to recapitalize its waterborne fleet.
Budget battles and sequestration aside, the quest for maritime security in a new era will largely depend on these smaller class vessels, as the era of pursuing multiple missions on the 600-foot vessel rapidly comes to an end. On these various new vessels, the Coast Guard stays "On Patrol."


(As published in the February 2014 edition of Marine News - www.marinelink.com)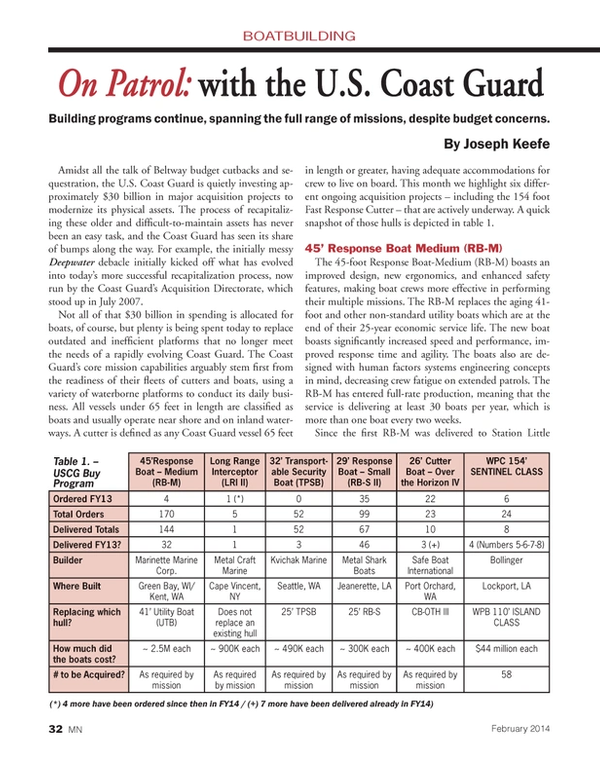 Read On Patrol with the U.S. Coast Guard in Pdf, Flash or Html5 edition of February 2014 Marine News
Other stories from February 2014 issue
Content