HamiltonJet HT900s for World's Biggest High Speed Crew Boat
MarineNews
Waterjet manufacturer HamiltonJet recently got great news when four HT900 waterjets were selected for Incat Crowther's latest project – a first-of-type 70 meter Catamaran Fast Crew Boat for operations in the Caspian Sea oil industry in Azerbaijan. When completed, this vessel will be the world's largest high speed crew boat operating in the global oil industry. It will also be the largest vessel HamiltonJet has been involved in to date, and will further showcase waterjet's performance and maneuvering benefits over other forms of propulsion in this demanding marine sector. HT Series waterjets feature a mixed flow pump with a greater nozzle to inlet ratio than comparable size axial flow waterjets. This provides high efficiency over the entire vessel speed range.

DP & Waterjets – a natural connection
The DP2 class vessel will have four control stations, each utilizing HamiltonJet's MECS control system integrating with a DNV DYNPOS-AUTR dynamic positioning system. This system provides improved safety during crew transfers in conditions up to sea state 4. In designing this new 70m vessel class, Incat Crowther drew on its previous experience with the SEACOR CrewZer class of fast catamaran crewboats, with the fourth of these recently launched in the US. These vessels also utilize HamiltonJet waterjet propulsion (quad HM811s) and the combination of catamaran hull form and waterjets has proven very successful. HamiltonJet waterjets work particularly well in DP capable vessels, where the powerful 360 degree thrust forces generated by the jet's split duct reverse deflector at any boat speed effectively act as an azimuth thruster. The effect of the waterjet maneuvering thrust is further enhanced with the wide spacing of the jet units in a catamaran configuration – two jets per hull – which provides even better control of the vessel's stern and can even assist with sideways movement of the bow.
Propulsion: Power, speed and Performance, too
With four 2880kW MTU engines each turning 900mm diameter waterjets expected top speed is 36 knots with an efficient service speed of 30 knots at full load and 90% MCR. This speed performance will make the vessel more cost effective than helicopter transfer of crew and cargo, while the semi-SWATH hull design of the vessel, along with active ride control, will reduce stress on passengers so they arrive at an oil platform fit to work.

Options & More Advantages
A new optimized compact astern deflector retains the performance of HM series type ducts but with reduced weight and width for installation in narrow hulls. The deflector is actuated by two fully inboard hydraulic cylinders. The HT waterjet models are fitted with the JT nozzle steering system, also actuated by two fully inboard hydraulic cylinders. Shafts for both steering and astern deflectors are protected from wear and marine growth through the use of sealed rubber bellows on external shaft surfaces. Installation of HT series waterjets has been simplified by the use of a compression seal type transom plate arrangement, which allows for an increased tolerance for transom axial alignment. The transition duct extends from the flat surface aft of the intake opening to an area forward of the front intake screen mount (HT900 & HT1000 only). For an aluminum hull, the transition duct casting is surrounded by a section of 5083 aluminum plate so the shipyard does not need to carry out plate-to-casting welds. As the HT series waterjets utilize a tapered outside diameter impeller, the mainshaft axial position is adjustable in order to set and maintain impeller tip clearance. Aluminum anodes are used throughout HT series waterjets, with tailpipe internal anodes able to be replaced without removing the tailpipe. Like other HamiltonJet waterjet models a jet mounted and driven hydraulic power unit (JHPU), driven via multiple vee-belts from the jet coupling, is used for normal hydraulic operations. An optional auxiliary AC hydraulic pump (one per jet) is also available for actuation of the steering and reverse without the gearbox engaged. Hydraulic and thrust bearing oil cooling is provided by oil coolers integrated on the waterjet.


(As published in the February 2014 edition of Marine News - www.marinelink.com)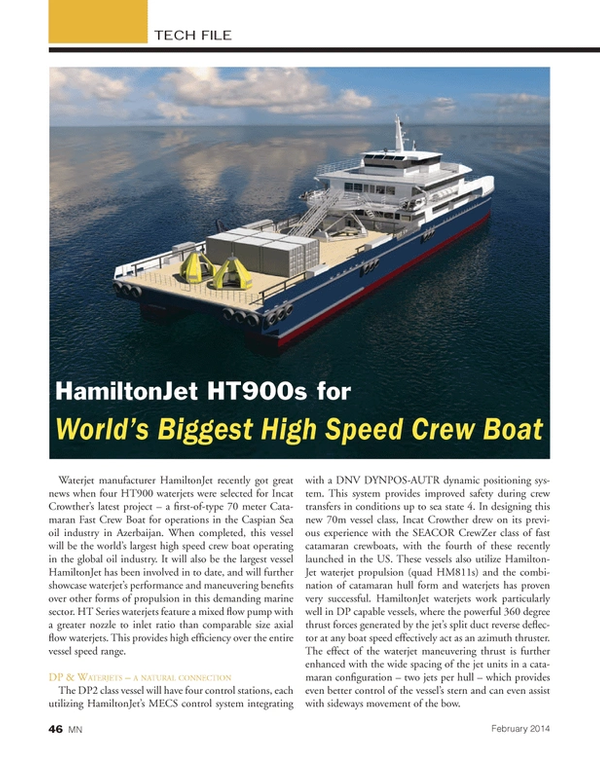 Read HamiltonJet HT900s for World's Biggest High Speed Crew Boat in Pdf, Flash or Html5 edition of February 2014 Marine News
Other stories from February 2014 issue
Content