MN 100: Editor's Note
Joseph Keefe
The second annual edition of MN100 – MarineNews' yearly review of the most compelling companies serving the workboat, brown water, inland and coastal markets – also coincides with the 25th anniversary of this print publication. The old saying, "time flies when you are having fun," really does apply in this case. And, although I've been at the helm here for just four of those 25 years, I also know that there is no more interesting sector in the greater marine industry than the one which I'm blessed to cover on a daily basis.
In the United States alone, the workboat and brown water industry now represents as much as 99 percent of all hulls on the water. And, MarineNews has, over time, similarly come to represent the largest audited subscription base in this space, largely thanks to readers like you. Moreover, the demographics of this sector has changed precipitously over time, much the like the waterborne business that now stretches into the oil & gas industries, wind farms, marine construction and everything else in between. Spanning one-quarter century of bringing you the news, charting future trends and delivering incisive analysis, MarineNews has also evolved; addressing change on the water, in Washington and on the waterfront.
In the pages that follow, I challenge you to find a more deserving group of 100 marine-oriented firms. That said; the buck stops at my desk when it comes to MN100 selections, with the caveat that "if you did not apply, you could not be considered." Nevertheless, applications for the MN100 list were up more than 25 percent from last year. That reality also made 2015's list that much harder to sort out, but far more rewarding in terms of realizing the quality of the brown water sector as a whole. As an editor, this annual exercise is a valuable effort, immersing me still deeper into the industry that I serve.
With particular focus, this edition zeroes in appropriately, on two of the more visible aspects of our industry; boatbuilders and fleet operators. Both depend on the other, and at the same time, derive their successes from using some of the same time-tested, proven business philosophies. Beyond this, technology providers that increasingly bring much needed e-solutions to our businesses also form an important part of this month's offering. All three pieces, of course, highlight the best of our collective marine industries.
I can look back at the past 25 years (and beyond) and reminisce about time spent at sea, in business ashore and now, as a journalist covering the news. Without a doubt, the past 25 years have seen some of the most disruptive events that the waterfront – traditionally, a staid and change-resistant place – has ever experienced. I can't tell you, with any degree of certainty, what will happen next. What I can promise is that the next 25 years will be no less exciting, that MarineNews will always be there as it unfolds, and that MN100 worthy companies – like yours – will be there to make it happen.

(As published in the August 2015 edition of Marine News - http://magazines.marinelink.com/Magazines/MaritimeNewsmagazines.marinelink.com/Magazines/MaritimeNews)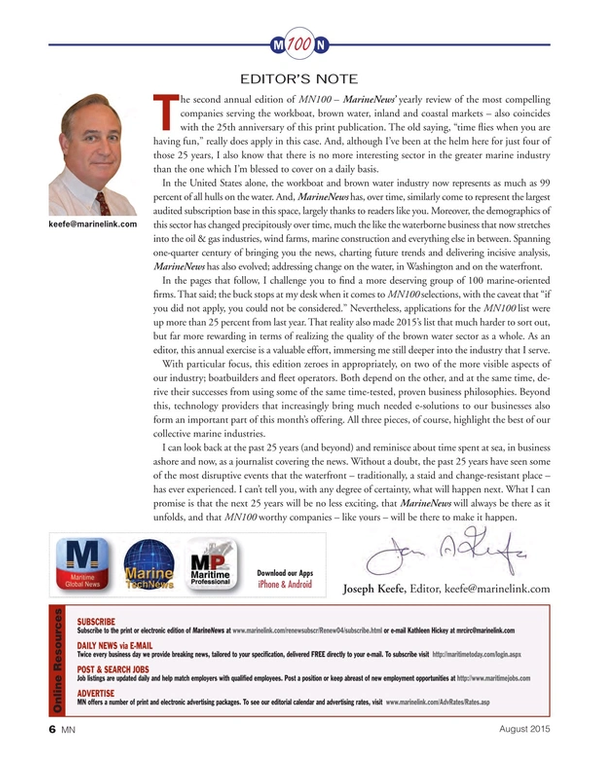 Read MN 100: Editor's Note in Pdf, Flash or Html5 edition of August 2015 Marine News
Other stories from August 2015 issue
Content