Catching a Jones Act Seaman's 'Golden Parachute'
By Larry DeMarcay
A challenging offshore environment produces a different but equally difficult development. Will you be ready when it comes to your fleet?
Unfortunately, our industry continues to suffer due to the depressed oil prices that started in 2014. When the price of oil initially dropped, the industry's outlook remained positive, and I remember hearing the mantra: "Stay lean for 2015." Everyone thought that oil prices would rebound in short order and that we were only weathering a short downturn. However, the slump continues and the news is filled with a continual trickle of reports of vessel stackings, more layoffs and bankruptcies.
As managers, we are focused on vessel utilization, contractual issues and trying to keep the company afloat. We often fail to consider what our vessel-based crews are thinking as they are hearing the same news and feel that they have no control over the situation.
Familiar Downturn; Different Parachute
Human nature has prompted many corporate executives to protect themselves with a "golden parachute." Your vessel crew is no different, except that they don't have the backing of investment bankers to finance a severance package. As such, with your crew believing that a layoff, without a quick return to work, may be imminent, we have seen an increasing number of suspect Jones Act personal injury claims where an employee may be attempting to create his own "golden parachute."
It is important to have a plan for investigating and defending these suspect claims to minimize the chance of having to fund this "golden parachute" via a fabricated personal injury claim.
The Jones Act applies to your employees that are working aboard and permanently assigned to your vessels. Under the Jones Act, employees are able to sue their employer. However, negligence or the unseaworthiness of the vessel must be proven by the employee in order to make a recovery, and damages are determined on a case-by-case basis. As such, early investigations and intervention are the keys to preparing a good defense to the claim.
As a finding of negligence or an unseaworthy condition is critical to a Jones Act claim, the company's response to the incident is the key to effectively managing the suspect claim and the resulting litigation. Immediately after the accident occurs is the right time to begin an active defense of any claim, especially one that is suspect.
Prompt Action
As the downturn is causing many employee layoffs, it is important to begin working with potential witnesses directly after the accident, while they are still accessible to you. You should take statements from the crew to preserve their description of the alleged event. Statements can be written by the witness or recorded. Under either scenario, take the time to interview the witness and get a firm understanding of what he or she has knowledge about and tailor the statement accordingly. Your goal is a concise statement that clearly spells out the details of the event.
If the crew is small enough, we also recommend taking statements from the crew that was not involved with the incident stating that they do not have any knowledge about what happened. You would be surprised how many former crew members will testify negatively about the company after they are no longer employed, despite having no first-hand involvement or knowledge about the event. Taking statements proving that they do not have any knowledge avoids such a situation.
It is also important to have the crew preserve the documents and equipment that will be relevant to the case. The preservation of vessel logs, billing logs, timesheets, weather reports, communication logs, GPS logs, maintenance logs, and the manuals for any equipment involved with the accident is important. These documents are occasionally lost when a vessel is stacked for a significant amount of time. Also, if the accident damaged equipment aboard the vessel, it is a good idea, if feasible, to preserve the equipment for future inspection and analysis.
Additionally, in the event that the claimant's attorney has chosen the treating physician for him, it would be good idea to gain a second opinion from another qualified physician prior to the claimant having any surgical procedures. When setting up an Independent Medical Examination (IME), it is important to select a specialist that is an expert in the appropriate specialty. For example, in the event that the claimant is seeing an orthopedic surgeon, another board-certified orthopedic surgeon would be appropriate.
Once this preliminary information is preserved and the medical situation has stabilized, you can look at the employee's injuries and decide if a background investigation is warranted. If the employee's behavior calls for an investigation, a civil and criminal background check can often turn up helpful information. This background check also provides information that can be used to conduct a deeper investigation. For example, ex-spouses often have information pertinent to the employee's current physical status. The key is to turn each stone over – you never know what you may find. It is also a good time to conduct a round of surveillance to see if the employee's physical activities dovetail with his activities as reported to his treating physicians.
The Right Way to Go: a gentle landing
Considering your employees' natural desire to grab for a "golden parachute" during a time of uncertainty, the early investigation of claims is crucial in preparing an appropriate defense and determining if the claim is legitimate. If the claim is legitimate, do what you can to help the injured employee recover and get back to work. If the claim is not legitimate, you can easily collect the evidence that you will need to defend the claim.
As with many aspects of your business, expending some time and resources early in the process can pay real dividends later. Although it is not possible to avoid employees filing suspect claims, a little work on the front end will prevent their "golden parachute" from opening at your expense.

The Author
Larry DeMarcay is a partner in the law firm of Baldwin Haspel Burke & Mayer. His areas of practice include Commercial Litigation, Admiralty, Personal Injury, Transportation, Real Estate, Construction and Corporate Law. Prior to attending law school, DeMarcay served on the Washington based legislative staff of Congressman Jimmy Hayes.
(As published in the November 2017 edition of
Marine News
)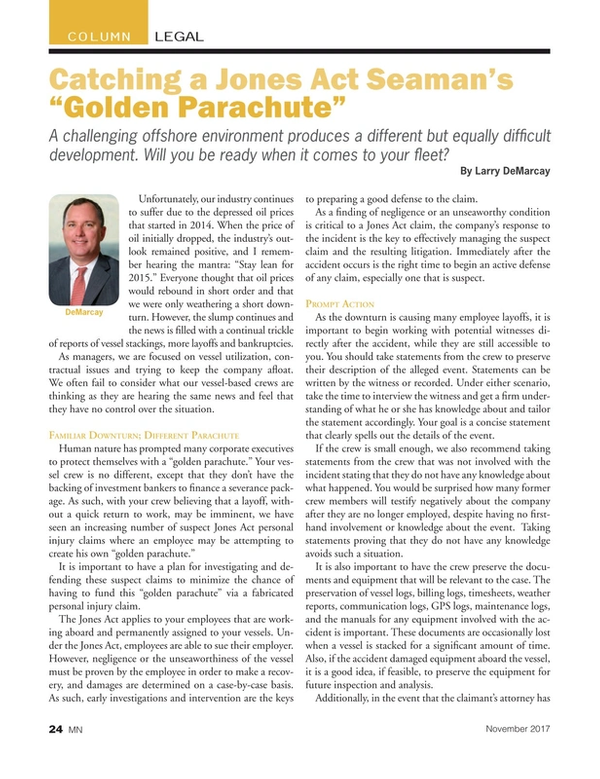 Read Catching a Jones Act Seaman's 'Golden Parachute' in Pdf, Flash or Html5 edition of November 2017 Marine News
Other stories from November 2017 issue
Content