Marine Piping: It's Not Rocket Science
By Joseph Keefe
Anything but unconventional, Viega piping products and systems provide uncommon time savings and safer repairs, leading to a better bottom line.
The maritime industry, over time, has been unusually resistant to change in many aspects of how it operates. Arguably, the 'biggest' advances on the water spanning a five decade period leading up to the beginning of the new millennium could be measured in terms of deadweight tonnage and/or the length of a particular class of hulls. Nowhere is that reality more evident than in the shipyard, and looking at what equipment and hardware is used to build and repair marine vessels – now and in the past.
Marine piping systems are a perfect example. Until recently, boat builders and designers remained reluctant to change the way they specified, installed and ordered all manners of marine piping. Bolted flanges connecting heavy piping that required significant prep time and countless hours of labor have only recently started to become the norm; rather than the exception. Viega's innovative piping and connection systems are at the heart of that movement.
Fast Forward to 2017
If the previous 50 years held little in the way of change on the waterfront, then the next few years that follow will be equally significant in terms of what shipping looks like in the future. Already bringing innovation to the marine market, Viega has no intention of resting on its laurels. The concept of quick connections for piping moving from what was once perceived to be a 'temporary' solution for a limited number of applications into one of universally recognized permanency is now a foregone conclusion. Not all stakeholders are sold on the idea. Those who are not, especially times of razor thin operating margins, risk being left behind by those who are.
When it comes to piping, shipyards are asked to buy new tools for different systems and applications. Today, Viega's customers will be able to use one set of Viega MegaPress jaws on the vessel to install fittings in stainless steel, carbon steel and copper-nickel. Leveraging one tool kit allows for faster tool selection and helps minimize the tooling inventory and overhead. Many shipyards already own a RIDGID pressing tool, so they will be able to leverage their existing assets to start using Viega MegaPress jaws for multiple materials.
For example, a handheld battery-powered tool allows installers to freely move around the piping project. Now installers can quickly move from deck to deck to install piping, something not possible if employing welding or threading. A complete line of fittings in different alloys for the marine industry are designed for use with "off the shelf" pipe. Viega ProPress products are available in copper and Viega MegaPress systems are available in copper-nickel, stainless steel and carbon steel.
And for those yards and engineers still not familiar with the product, the reassurance that Viega continually invests in the testing necessary to meet and exceed IACS requirements will bring them one step closer to the change. Viega has obtained type approvals from ABS and are accepted by the U.S. Coast Guard for marine and offshore use, in all of the major services and applications listed in the IACS Rules by both U.S. and European maritime governing agencies.
And, it is important to understand that these are not temporary repairs. In fact, Viega is approved for shipboard low-pressure applications, including but not limited to potable water, compressed air, fire main, fuel, lube oil, hydraulic oil and seawater cooling systems. Beyond this, Viega ProPress and MegaPress products are an approved fire-resistant type fitting that can be specified in applications throughout an ABS-classed vessel including engine rooms and machinery spaces.
At the same time, it is important to define what Veiga is, and what it is not. There are myriad types of mechanically attached fittings in the market today. Viega fittings are a press type compression coupling, and not subjected to 'slip on' joint restrictions, which can limit the areas of use on a ship. Viega systems can be specified for dockside refits, shipyard work or new vessel construction.
New Developments
As Viega looks ahead to a broader reach into the marine markets, the launch of its MegaPress copper-nickel line is the first press type fitting system made for imperial-sized copper-nickel pipe, with sizes ranging from 1/2" to 2". Prior to this, customers could purchase metric Seapress copper-nickel fittings that could be adapted to inch sized systems. This is important because the majority of U.S. ships are built with inch-sized piping. Now, customers can leverage Viega MegaPress systems to press fittings onto stainless, carbon steel and copper-nickel pipe that they have in inventory without special adapters or transitions.
According to Viega, 93 percent of current Viega customers who preferred this brand in the past, like it even more now that it is standardized. The firm expects that its introduction of inch-sized stainless and copper-nickel fittings to lead to increased usage and specifications on marine projects. And, it claims, when metric fittings are needed, Viega is the only press fitting manufacturer that offers a full line of both metric and standard fittings in various materials.
Time, Money, Weight & Savings
As the domestic shipbuilding industry strives to remain competitive by streamlining production and reducing costs, it leverages many avenues. Imitating the time-tested South Korean series-build model is one way. Automating certain tasks is also taking hold. Specifying Viega fittings that reduce the man hours it takes to build or repair a workboat is another. Press technology minimizes the costs associated with hot work and welding. Hot work permits, fire watches, marine chemists or area isolations can now be eliminated. Viega – and its customers – calculate the savings in manpower alone to be as much as 90 percent when compared to welding and 80 percent when compared to threading.
The savings extend to other trades that can safely work around piping installs in the absence of hotwork, thus expediting more of the project than just the piping. Quantifying safety 'gains' by eliminating the need for hotwork isn't an exact science, but removing that variable from any job can provide up front piece of mind. With welding, there are several different levels of difficulty to consider, and the use of Viega can reduce the reliance on qualified welders. Moreover, workers can much more quickly become certified to install Viega copper-nickel pipe with Viega methods. In fact factory support and training is provided free of charge.
In Use Today
Viega systems have a proven track record of safety, reliability and quality. Press fittings reduce reliance on challenges and costs associated with hot work and welding. These include finding qualified welders, pulling hot work permits, gas freeing and requiring a fire watch. Viega provides innovative tooling that allows users to make pipe connections in tight and confined areas. And, Viega's patented Smart Connect technology allows water or air to flow past an unpressed fitting, providing installers with added confidence in their connections – an important part of the QA process for marine piping installations.
Jonathan Stanley, a southern California-based Foss Maritime Port Engineer weighed in on viega in October, telling Marine News, "Viega has been tried and tested in numerous vessel applications to our complete satisfaction." He added, "We are thoroughly pleased with Viega products and they are first choice when piping components have to be replaced."
Stanley and Foss have been using Viega products for more than two years, most recently on a project that involved repairs to a raw cooling water system on board a working offshore service vessel (OSV). In this case, time and cost were both big issues to consider, and Stanley made sure that everything that was installed had ABS and USCG approvals. In the end, the use of Viega's alternative piping connections reduced the cost of the job by more than half, and it was accomplished in just three days (versus the 10-day estimate for welding). Putting the vessel back to work a week earlier was a 'win-win' for everyone concerned.
Another Foss project overseen by Stanley involved 60 feet of copper-nickel pipe run on a tugboat that was accomplished in just one day, versus what would have ordinarily been a four-day welding job. "The ability to reduce costs and installation times by 50 percent or greater was a great bonus for us," he explained, continuing, "The ease of installation offers so many advantages to increase vessel utilization."
All the way across the country in Chesapeake, Va., Tony Bower is a Marine Production Manager for Hiller Systems, a firm that provides, among other things, all-important fire protection, detection, and suppression systems. Bower also has significant experience with Viega and is a self-proclaimed 'advocate' of the piping connection system. According to Bower, some jobs do need traditional piping connections. But, for those that don't, Viega is his choice.
He prefers the Viega "double bite" compression system on both sides of the o-ring. This, he says, makes for fewer leaks due to hogging and sagging on pipe runs, something that every vessel of any significant length will eventually deal with. And, he says, the Viega piping connections are far easier to align, as well. Bower has used Viega for fuel oil system repairs (copper nickel), sprinklers (stainless) and potable waterline repairs, as well.
Like Stanley, Bower reports that Viega installations typically involve one-half the labor of a welded solution. And, he points to safety as a selling point, saying, "Hot work is twice the hassle today as it was twenty years ago because of increased regulatory scrutiny and safety concerns." With regard to any type of alternative piping connection system, Bower insists, "Industry is going through a cultural mindset change." And, while some military / government applications – like U.S. Navy, MSC and Coast Guard – are lagging the commercial marine industry in adoption, those changes are also coming.
Innovating Today & Here to Stay
Denver, Colorado-based Viega has manufacturing facilities in McPherson, as well as four other strategically located U.S. distribution centers that operate with a state-of-the-art quality management system that guarantees quick delivery of products to buyers. With a nod to what comes next, Viega continues to grow its technical marine team by adding technical marine managers in key locations to support the U.S. shipbuilding market. And although the marine market is less than 10 percent of its business today, the firm has its sights firmly on an emerging market that is quickly becoming aware of the potential of alternative piping connections.
Using the same Mega Press jaws for all jobs, Mega Press copper nickel piping is now being produced in specific sizes for ships. With seven main service areas spanning 33 applications, Viega bills its offerings as "the right fittings for the right application on vessels." Looking ahead, the firm says that they' will launch a new product for the market, going forward, at about six month intervals. But, says, Viega, that's not rocket science. It's just good solid business.
(As published in the November 2017 edition of
Marine News
)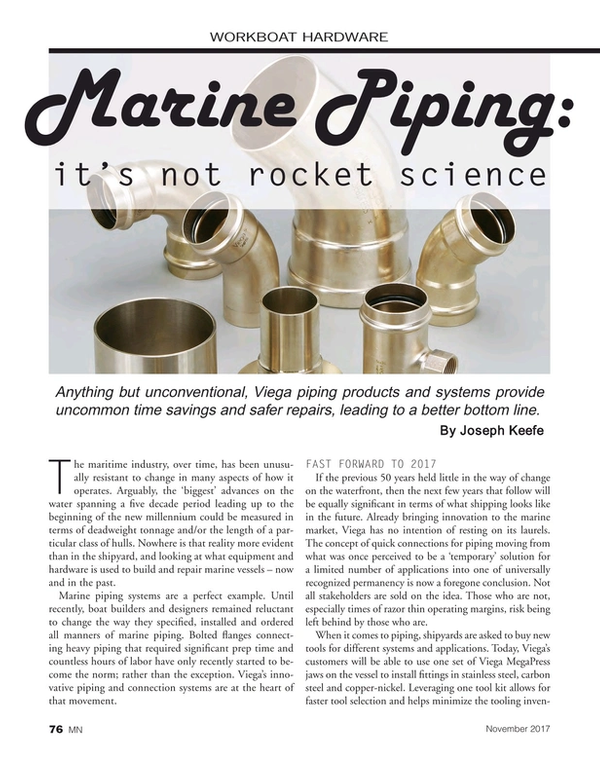 Read Marine Piping: It's Not Rocket Science in Pdf, Flash or Html5 edition of November 2017 Marine News
Other stories from November 2017 issue
Content