GoM Stakeholders Energized Despite Lingering Oil Bust
By Susan Buchanan
Gulf of Mexico vessel builders – and their customers – adapt to a lean offshore market.
After oil prices plunged in late 2014 – pressured by shale output – demand for offshore vessels in the Gulf of Mexico shrank, day rates for boats fell and non-working units were idled. This year, several GoM boat builders filed for Chapter 11, or voluntary bankruptcy, while others consolidated. The most diversified companies kept their heads above water.
Today, the outlook's a bit brighter. Crude oil prices hit bottom early last year. Tidewater Inc. in New Orleans and GulfMark Offshore in Houston emerged from Chapter 11 recently. Edison Chouest Offshore in Cut Off, La. is building under an Alaskan contract. And Port Fourchon, south Louisiana's oil hub, signed new leases with tenants recently.
WTI crude oil hovered above $51 a barrel in mid-October, below $106 in June 2014. But that's an improvement from $27 early last year. Meanwhile, 20 oil and gas rigs operated in the Gulf of Mexico on Oct. 13, versus 22 a year earlier, according to Baker Hughes in Houston. That's down from 57 in late 2014.
Harvey Gulf cuts costs; considers restructuring
Privately owned Harvey Gulf International Marine, founded in 1955 and based in New Orleans, caters to offshore oil with supply and multi-purpose support vessels. Harvey is first in the Gulf to operate a fleet of LNG-powered boats. Though Moody's Investors Service cut Harvey's credit rating in March, the company has done better than most of its competitors.
When asked how his firm has stayed afloat, Shane Guidry, Harvey Gulf chairman and CEO, said, "We at Harvey don't put our heads in the sand, and we haven't stuck it to our customers. In a downturn, customers remember that."
He continued, "We went out and signed over 40 new customers that we hadn't done business with in past years because we had no availability then. And we didn't wait to cut costs" after oil prices dropped.
"A great CEO sees a downturn coming, and he cuts early," Guidry said. "That's what I did one to two years before my public peers did. We increased EBDITA margins to over 60 percent in 2016 and through 2017 so far." EBDITA is earnings before depreciation, interest, taxes and amortization.
"But we aren't immune to some sort of restructuring that will make sense to the company, our customers, shareholders and lenders," he said. "This company has been in my family since 1950, and I'll continue to work harder, smarter and safer for it."
In early May, Harvey took delivery of its fourth LNG-powered OSV, the M/V Harvey Freedom, built at Gulf Coast Shipyard Group in Mississippi. Based out of Port Fourchon, the Harvey Freedom is chartered to Shell under a five-year contract. Harvey America, the fifth ship in the series, should be delivered to Shell soon.
Tidewater, GulfMark Emerge from Chapter 11; Seacor Marine Spun Off
Earlier this year, Tidewater Inc. warned of a restructuring, and in May it entered into a bankruptcy agreement. The company emerged from Chapter 11 in July. On August 1, Tidewater's new shares began trading on the New York Stock Exchange. The company said then that its greatly de-leveraged balance sheet positions it for long-term success.
Separately, another bit of unexpected excitement was stirred up when it was announced on October 16th that industry icon Larry T. Rigdon will serve as interim president and chief executive officer (CEO) of Tidewater Inc. while a search committee seeks a permanent successor to Jeffrey M. Platt, who elected to retire from his role as director, president and CEO of offshore service vessels (OSV) owner and operator effective October 15, 2017.
GoM demand for OSVs has been pummeled in the industry downturn that began three years ago, Tidewater executive vice president Joe Bennett in Houston said last month. "Tidewater's exposure to Gulf of Mexico activity is, and over the last several years has been, relatively small, however," he said. "Our GoM operations amount to less than 10 percent of our consolidated revenue and, in some cases, much less than 10 percent. We're operating about five or so OSVs in the Gulf these days, whereas we had 15 to 20 there five to ten years ago. Both then and now, that's a very small percent of our consolidated operations."
Bennett added, "We, like many other local operators, have vessels in stack that can return to service as the market recovers." With more than 300 OSVs and other workboats, Tidewater supports offshore oil with towing and anchor-handling vessels for drilling rigs and boats that move supplies and staff. The company provides assistance for pipe and cable laying, pollution and fire control and seismic work.
In early October, GulfMark Offshore – with 66 platform supply, anchor-handling tug supply and other vessels in the Americas, North Sea and Southeast Asia – also exited bankruptcy. GulfMark filed for Chapter 11 on May 17, the same day that Tidewater did. Significantly, when GulfMark entered bankruptcy, nearly half of its vessels were idle.
In June, Seacor Holdings in Florida spun off Seacor Marine in Houma, leaving the latter focused on offshore services. According to Seacor Marine, on a total U.S. fleet basis--mainly in the GoM and including idle vessels – its utilization was 13 percent in the quarter ended June 30. Average day rates fell to $9,619 in that quarter from $10,133 in the year's first quarter. Among the company's 42 owned and leased vessels in the United States, 32 were cold-stacked on June 30. That total included ten anchor-handling towing supply vessels, 16 fast support vessels, five lift boats and one specialty vessel.
Hornbeck lines up new credits; Chouest builds for Alaska
In February, Moody's downgraded its credit rating for Hornbeck Offshore Services, Inc. in Covington, La. At the time, Moody's expected that low OSV usage and weak day rates would extend through mid-2018 at least. Hornbeck owns 70 vessels, mainly serving the energy industry, and has two boats under construction for 2018 delivery. The company had 41 OSVs stacked in early August when it announced second-quarter earnings, and it predicted that 45 OSVs would be idle when 2017's third quarter ends. Hornbeck last month didn't respond to inquiries about its GoM situation.
Twenty years ago, Hornbeck began building advanced, new-generation OSVs, using in-house designs. In late 2011, the company announced plans to build sixteen U.S.-flagged 300 class DP-2 new generation OSVs. That number was expanded to 24 OSVs. Hornbeck expected them to serve increased deepwater and ultra-deep drilling in its core areas – the GoM, Brazil and Mexico. Two remaining boats in this 24-vessel build plan should be ready in next year's second half.
In a development that expands its liquidity, Hornbeck on June 15 said it would use $300 million from a new credit facility to refinance an existing $200 million in credits. Hornbeck can use funds drawn under its new facility for working capital and general corporate purposes. The new credits are collateralized in part by the company's high-spec OSVs and MPSVs and a security interest in the two new-builds. Hornbeck's NASDAQ-traded stock has improved since June's credit announcement.
Meanwhile, after two decades of new builds and an expanded presence at Port Fourchon, Edison Chouest Offshore in 2015 laid off yard workers at LAShip in Houma. Chouest's world fleet exceeds 200 offshore service and support vessels chartered to customers. Early last year, Chouest said it would also build boats at a new site, TopShip, LLC, in Gulfport, Miss.
In August of last year, Alyeska Pipeline Service Co., operator of the trans-Alaska pipeline and the Valdez Marine Terminal, said Chouest had been chosen to provide its support services, starting in July 2018. For the Alaskan contract, Chouest is building tugs to escort oil tankers, along with general purpose tugs, at its Louisiana and Mississippi yards, and it is producing oil-spill response barges in Oregon. Construction on the tugs began last year. Chouest didn't respond to inquiries last month about those builds.
In other good news, Chouest in April extended its business alliance with BP, a deepwater GoM player, for 30 months. That accord includes delivery of a new-generation PSV, under construction at LaShip this year, to take supplies to BP's Gulf platforms.
Port Fourchon signs new tenants
Vessel utilization is still down considerably in the U.S. Gulf, Chett Chiasson, Port Fourchon's executive director, said last month. "There are more vessels that aren't being utilized than there are in service," he said. "But the limited activity that is occurring in the U.S. GoM is being serviced out of Port Fourchon." The port has given leaseholders a break. "The discount on our basic land rental is 20 percent, and that's been in effect since April 2015," he said. "We're budgeting for it to continue through all of 2018."
"After about two years of no new waterfront leases, in the last five months, we've signed three new leases," Chiasson said. "That keeps us optimistic." The new leases are with oilfield service companies: Oceaneering, FCC Environmental and Omni – the parent company of Trussco and Gibson.
Port Fourchon services over 90 percent of the GoM's deepwater oil output, and more than 250 companies use it as a base. Fourchon is also the land base for the Louisiana Offshore Oil Port or LOOP, handling 10 to 15 percent of the nation's domestic oil and 10 to15 percent of its incoming foreign oil. The LOOP is connected to half of the nation's refining capacity, and it's the only U.S. port that offloads very large and ultra-large crude carriers. Notably, there has recently been talk about exporting crude through LOOP, consistent with the relaxation of domestic crude oil export rules, but that development has not yet come to fruition.
Last year, Harvey Gulf opened the first North American LNG-fueling marine terminal at Port Fourchon. "Our yard in Fourchon is the best tool we have in our box," Shane Guidry said. "We work diligently at the facility seven days a week to keep our boats running for our clients, to keep them the safest and best maintained vessels."
Potentially, there is more good news on the horizon. Looking ahead, "Energy World, Inc. has officially begun the Federal Energy Regulatory Commission process for its proposed Fourchon LNG project," Chiasson said. Energy World is based in Australia. "It would build a 2 million ton per annum conversion terminal in a Phase I that could be increased to a 5 mtpa facility if a Phase II were completed," he said. "Timing of this project is at least two years from now until construction, with a two-year construction period." LNG produced at Port Fourchon would be shipped to foreign, gas-fired power plants, and also would be sold in the United States for marine applications.
The World: awash in OSVs
The market is oversupplied with OSVs, but about 600 vessels of the global total of 3,500 are older than 25 years, Jeffrey Platt, Tidewater's president and CEO, said on Sept. 26 at the Johnson Rice 2017 Energy Conference in New Orleans. His comments were included in Tidewater's Form 8-K filing with the U.S. Securities and Exchange Commission on the same day.
In September,
Marine News
asked VesselsValue.com to break out the U.S. flag offshore fleet from the pack, to get a better look at it. And, the numbers here, as shown in table 1 below, are even worse than the global numbers.
Platt said a lot of these older OSVs have probably exited the world market already. And he said another 200 idled ships may never see the investment needed to bring them back. "Or if there is an investment, it's going to be sometime very much later into the up cycle, where you can make the business case for it," he said.
About 250 new supply vessels are on order by companies worldwide, with more than half of them to be built in China. "Not all of those are going to be delivered," Platt said. "It's a bit of a guess as to how many of those will actually see the market."
Meanwhile, said Platt, shortly before his announced exit from the firm, at Tidewater today, "we're living within our means, absolutely looking at wringing out excess cost wherever we can, and being much more efficient with everything we've done – as the whole industry has had to do," Platt said. Tidewater is protecting its balance sheet and its liquidity. "If you run out of cash, that's when the wheels fall off," he said. "But we think we're actually in pretty good shape with all of that" now.
The Author
Susan Buchanan is a New Orleans-based business writer, specializing in energy, maritime matters, agriculture, the environment and construction. She holds a master's degree from Cornell University in agricultural economics and an undergraduate degree from the University of Pennsylvania.
(As published in the November 2017 edition of
Marine News
)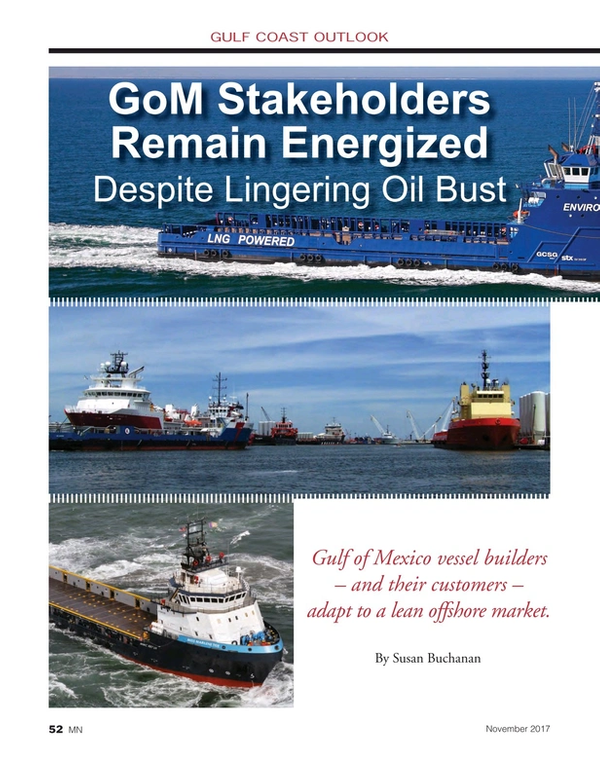 Read GoM Stakeholders Energized Despite Lingering Oil Bust in Pdf, Flash or Html5 edition of November 2017 Marine News
Other stories from November 2017 issue
Content