Deep Thinkers: Advancing Underwater Technology
Posted by Irina Tabakina
Newfoundland and Labrador innovators are taking underwater technology to exciting new levels
Newfoundland and Labrador has been front and center on some of the world's paradigm shifting ocean-based research and development achievements.
Autonomous Oceans Systems Laboratory (AOSL) is a research facility within Memorial University's Faculty of Engineering and Applied Science, focused on the advancement of persistent unmanned systems technology in harsh environments. Masters and Doctoral students from the university play a key role in driving AOSL's research and development, including exploring new and innovative ways to utilize autonomous underwater vehicles (AUVs), unmanned surface craft (USC) and unmanned aerial vehicles (UAVs) in cold and harsh environments with sea ice and icebergs. Working together, these vehicles can feed algorithms and other important data back and forth.
"Autonomous vehicles don't complain about the temperatures being minus-ten and the wind being 70 knots, but that's exactly when you need to make the measurements," said Dr. Brad de Young, Department Head of Physics and Physical Oceanography, explaining that it is critical to understand the most extreme conditions that will be present when considering ventures into the Arctic.
AOSL researchers are developing technology that will extend the mission duration of AUVs, and use bathymetry and GPS to accurately track their location. AOSL is also focused on mapping icebergs above and under water, 3-D modeling of icebergs, navigation of AUVs under ice in areas without GPS, and acoustic measurement of sea ice thickness.
A number of dynamic Newfoundland and Labrador ocean technology companies are leading the way in underwater visual technologies.
Headquartered in Conception Bay South, NL, Kraken Sonar Systems Inc. is a developer of the Synthetic Aperture Sonar (SAS). Kraken's AquaPix system uses unique beam-forming software that is designed to provide extremely high resolution up to very long ranges. Other benefits include real-time, on-board processing; faster code, reducing time to see images; and removable data storage, all of which helps to reduce the cost of their system while improving quality and efficiencies.
David Shea, Kraken Engineering Manager, was recently invited to take this technology on a successful Arctic mission to locate the HMS Erebus, one of the long-lost vessels of the ill-fated Franklin expedition, but major applications lie in the defense and offshore oil and gas sectors.
"We are the only company in the world that can do full-resolution, onboard, real-time processing," says Shea, adding that their agility as a smaller team allows them to work with clients to create custom solutions for the technology's varying end applications.
Since its 2010 inception, Clarenville, NL-based Sub-C Imaging has grown to become a leader in underwater camera technology, producing both innovative hardware and intuitive software. Chad Collett, Co-owner and CEO, was an offshore oil and gas project manager inspired to improve the capabilities of underwater cameras and lights being used in the sector. Sub-C's first camera was a game changer, enabling ROV pilots to upload standard definition video through existing cables while high definition imagery was recorded to the camera itself.
"It meant that some offshore supply companies could now bid on contracts where HD was a requirement, that they couldn't bid on before," said Collett.
Co-owner and VP, Adam Rowe said that a commitment to software development has enabled Sub-C to create truly comprehensive and intuitive hardware-software packages for their clients. "We have a 4k camera in development, but what's different about what we do is that, instead of just releasing a camera, we'll have an entire package," says Rowe. "We'll have the 4k camera, we'll have the 4k DVR, and we'll have integrated software to control it all."
Also leading innovation in underwater imaging is St. John's-based Whitecap Scientific. If Kraken and Sub C are the eyes, then Whitecap Scientific is the extremely detailed, 3-D memory.
By placing two cameras side-by-side, a three-dimensional image of an undersea site can be created. As Whitecap Co-Founder and Managing Director, Dr. Sam Bromley explains, "We turn underwater cameras into live 3D underwater scanners, bringing 3D spatial awareness to ROV pilots." Pilots are also able to place "pins" in areas of interest that can later be explored and examined with complete and highly detailed textures of the full 3D image created.
This technology is "the pilots' window into the remote world," said Dr. Bromley. "They can see the areas they've already recorded, the shape of the model, and they can zoom in on a certain point of interest in more detail."
Providing power to electronics in cold ocean conditions is a constant challenge; one that MUN-based SEAformatics is meeting with a novel solution in the shape of a 20 ft. high, 1400 lb. pod with a 6-ft., floating horizontal-axis turbine. A flexible member allows it to orient with water flow while resisting twist, tethering the power-harvesting turbine to an 8 ft.-wide base, which sits weighted to the ocean floor.
"So it's able to harvest power from basically any direction," said SEAformatics Project Manager and Co-founder, Andrew Cook, who adds that they are targeting up to two-year deployments for the pods, which are retrievable thanks to a sonar-activated release system that allows the floating turbine to rise back to the surface.
Possible applications range from marine science and oceanography to offshore oil and gas equipment monitoring, and they can be deployed individually or as an array to cover much wider areas, potentially negating the need for expensive cabled systems.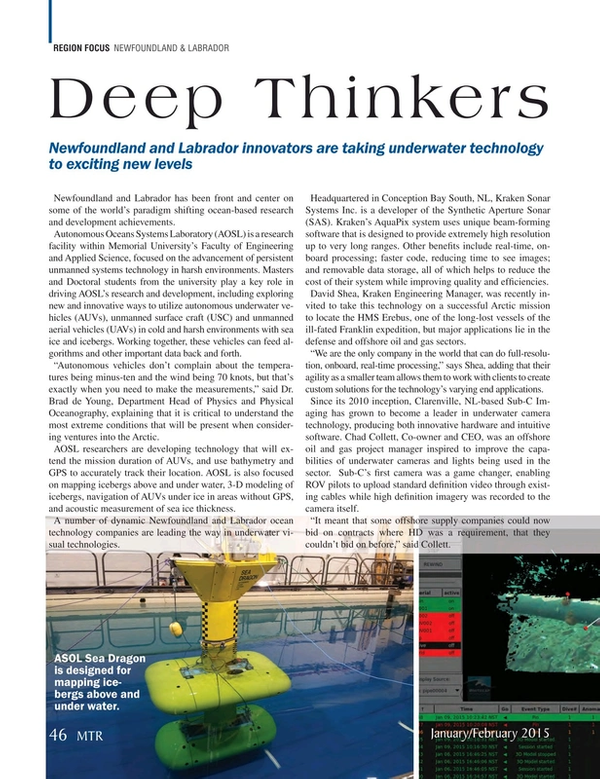 Read Deep Thinkers: Advancing Underwater Technology in Pdf, Flash or Html5 edition of January 2015 Marine Technology
Other stories from January 2015 issue
Content