Autonomy Takes Off Underwater
By Greg Trauthwein, Editor
When it comes to autonomous operations, the underwater environment is arguably the most hazardous on the planet. To begin, there is simply a dearth of information regarding the world's oceans, a factor which naturally raises risk prospects. In addition, the effects of exposure of equipment to the harsh saltwater environment, varying pressures and uncertain weather raises the peril level even further.
Enter the Autonomous Underwater Vehicle manufacturers, a group of companies and professionals dedicated to delivering AUV technology that are intent on making the work on and below our oceans safer and more efficient. For insights on recently developments in the AUV sector, MTR reached out to several leading executives, including: Rear Admiral Fred Byus, USN (Ret.), Battelle; Richard Mills, Product Sales Manager for AUVs, Kongsberg Maritime AS; Stefan Reynisson, General Manager, Teledyne Gavia, and Graham Lester, VP Sales & Marketing, Hydroid Inc. for their insights.

Briefly describe your company's offering to the AUV market.
Reynisson, Teledyne Gavia
Teledyne Gavia provides turnkey solutions to customers undertaking a variety of tasks for military, commercial and scientific applications. The Gavia AUV can carry an array of sensors and custom payload modules that make it perfect for any research, monitoring or surveillance task where autonomy, cost and ease of deployment matters. Its modular design allows for rapid sensor reconfiguration and battery replacement.

Mills, Kongsberg
The Kongsberg Maritime AUV portfolio includes the HUGIN and MUNIN vehicles manufactured in Norway; the REMUS vehicles produced by Hydroid, a Kongsberg Maritime subsidiary in Massachusetts, and the Seaglider made by Kongsberg Underwater Technology Inc. based in Lynnwood, Washington. The HUGIN AUV System is renowned as the most successful and capable commercial AUV available today. It has seen operations with survey companies and navies around the world, covering more than 700,000 line km of contracted commercial survey.
MUNIN is the latest offering from Kongsberg Maritime, combining the success and modularity of most body sections from Hydroid, with the proven positioning, control and payload sensor integration from the HUGIN system. One of the key benefits of MUNIN is the navigation and payload section that houses all of the key sensors and equipment. This enables operators to mobilize the vehicle without the need for calibration on site, as it is sent from the factory all set up and ready to go. The result is a compact AUV capable of a full range of commercial survey tasks including pipe tracking.

Byus, Bluefin
Bluefin Robotics is known for leveraging its mature vehicle technologies to provide customized autonomous underwater vehicles that solve our customers' unique challenges. Primarily serving the global defense and commercial market sectors, Bluefin offers both survey class and inspection class AUVs of varying sizes, and works with its clients to identify and integrate application specific sensors onto its broad array of highly portable autonomous platforms to provide mobile and effective solutions. Bluefin is also growing its subsea power business, wherein we offer pressure compensated subsea power systems for everything from underwater sensors to subsea installations.

Lester, Hydroid
A subsidiary of Kongsberg Maritime, Hydroid is a customer-focused, engineering-based manufacturer of innovative, mature commercial underwater systems. We have extensive experience in the design, manufacturing and shipboard integration of AUV systems. REMUS AUVs provide innovative and reliable full picture systems for the marine research, defense, hydrographic and offshore/energy markets. Hydroid has experienced significant growth since its inception in 2001. With our growth, our product offerings have also expanded significantly. Not only do we offer the REMUS 100 AUV system - a robust, man-portable AUV for shallow water operation and the only combat proven AUV on the market - we also offer the REMUS 600, Remus 6000, launch and recovery systems, docking systems and support equipment. The REMUS 600 is the mid-range solution for rapid mobilization from vessels of opportunity and the REMUS 6000 is a deep ocean workhorse.

Describe the trajectory of AUV use over the past five years.
Byus, Bluefin
Broadly speaking, we are seeing a maturing demand signal from traditional application areas such as Mine Counter Measures or Geophysical Survey which would tend to indicate market acceptance of the technology as the business norm and therefore translate into higher vehicle counts as mainstream players enter those markets. On the other hand, we are also seeing an increasing number of adjacent market inquiries that are poised to drive innovation and new uses for our robots for many more years to come.

Lester, Hydroid
During the past five years, we have seen an acceptance of AUVs as standard tools rather than experimental curiosities. The use of AUVs by Navies for mine countermeasure operations is now commonplace throughout the globe. In the offshore survey industry, there has been an increasing acceptance of AUV data for both survey and inspection operations. Oil company specifications are now requiring the use of AUVs for deepwater pipeline inspection – this was previously the preserve of ROVs. The scientific research community has also benefited from these vehicles. Precious and expensive vessel time can now be maximized for increased data gathering. Also, the first AUV underwater docking systems for Ocean Observatories are now a reality and allow for a sustained vehicle presence for many months.

Reynisson, Teledyne Gavia
The use of small, man portable AUVs in the Oil & Gas market has increased significantly over the past five years. AUV technology and its applications have been accepted and proven, as numerous offshore survey companies continue to have success in varying mission types, such as pipeline inspections, platform inspections, bathymetric surveys, as well as search and rescue operations. Use of the AUV in the Oil & Gas sector has expanded substantially. More and more applications have been tested and implemented using the AUV, providing an alternative to traditional methods such as ROV and towed systems.
Small, man portable systems in the defense industry continue to be on the rise. Use of AUVs for Mine Countermeasure missions, as well as Search and Rescue operations, has been widely accepted as the preferred method of operating in high risk waters. AUVs are also becoming more common for surveillance purposes.
Use of small, man portable systems in the Scientific field is increasing in popularity. Hydrographic surveying, topography and under ice surveying are all areas in which AUV use has increased in the last five years. International partnerships and collaborations for scientific study increases each year, giving more researchers more access to AUVs, as well as hands-on experience. Deep water, as well as under ice water and terrain, were previously inaccessible for researchers.

How would you describe the maturity of the AUV market today?
Lester, Hydroid
The AUV market has now passed its infancy and the expectations of customers are now focused on increased capabilities and payloads.

Reynisson, Teledyne Gavia
While the technology is improving at a very fast rate, the market is still in the growth phase of the maturity curve. The AUV market is predicted to see continued growth in upcoming years, and is not expected to saturate the market within the next decade. Utilization of underwater equipment for underwater exploration will continue to grow, with AUV technology serving as a primary driver in the expansion.

In your opinion what are the top technologies that are driving the AUV market further, faster, today?
Lester, Hydroid
The main drivers in the use of AUVs is greater persistence, increased autonomy and robotic perception, and the ability to launch and recover systems.

Byus, Bluefin
AUV's are a means to an end; the end, traditionally being data. Therefore the key to driving the market further lies in the sensors that are available in the market, and our ability to quickly and efficiently integrate new sensors and capabilities onto our platforms. While collecting the right data is essential, making the process robust and repeatable is also critical; hence Bluefin is working on a number of innovations within the field of Autonomy to improve the efficiency of the man-machine workflow.

Mills, Kongsberg
For all three market segments, commercial, research and defense, the top three technologies driving the AUV market are autonomy, autonomy and autonomy.
New levels of autonomy are enabling AUVs to track pipes and collect data in real time. The vehicle controller reacts to inputs from the sidescan sonar or synthetic aperture sonar to track alongside the pipe. It also uses multibeam data to track overhead the pipe at very low altitude enabling the camera to capture images of the entire pipeline.
New levels of autonomy are enabling AUVs to travel to areas outside of areas where supervision can be guaranteed. For example, subsea residency requires an AUV to find and dock with a structure without interaction with an operator, with a 100% success rate.
New levels of autonomy are enabling AUVs to conduct mine detection, classification and identification in a single mission. The HUGIN AUV can be equipped with HISAS synthetic aperture sonar with automatic target recognition algorithms. The HISAS data is processed in real time on board the AUV and the ATR program detects and classifies mine-like objects. This data is then fed back into the mission controller, which autonomously re-plans the dive to photograph objects of interest providing visual identification for operators.

Reynisson, Teledyne Gavia
Modularity of sensors will be a key driver for the AUV market as new technology is coming at very fast rate as a complement to the growing underwater market. The modularity of the Gavia AUV allows for the incorporation of new technologies and sensors without having to procure a new AUV for incorporation, allowing the market users to upgrade to the latest and greatest technology as soon as it is commercially available. Increased positional accuracy that allows for improved data quality and better usage of the AUV in trying underwater conditions. New sonar technology is being applied to the smaller AUV market, allowing for a greater, more rapid expansion.

When we discuss ROVs & AUVs, we often discuss "getting the diver out of the water." From where you sit, what are the main market uses for AUVs today, and how (or is) that changing.
Lester, Hydroid
Both AUVs and ROVs provide safer, more reliable ways of performing underwater tasks than divers - releasing them from dull, dirty and often dangerous tasks to focus more specific, localized tasks.

Mills, Kongsberg
ROVs are most commonly used for tasks such as drilling support, pipe lay and inspection and life of field IRM functions. AUV operators compete for some traditional ROV work by offering lower cost and faster surveys. One example of this is pipeline survey.
The HUGIN and MUNIN AUVs can autonomously track a pipe in real time using sidescan sonar and multibeam echosounder. Elements of the data collected can be transmitted in real time to the operator via an acoustic link providing real time confidence that the vehicle and sensors are performing properly. HUGIN and MUNIN can provide a comprehensive data set including bathymetry of the pipe trench, sidescan imagery of the surrounding seafloor and a photo-mosaic of the entire pipe length.
There are still tasks that an AUV cannot conduct where ROVs remain the tool of choice. For example, an AUV cannot manipulate a valve with the required level of real time control and supervision to meet legislative requirements.

Big picture, what signs or indicators do you monitor to gauge the future direction of the AUV market? What are those signs/indicators telling you now?
Byus, Bluefin
Operating primarily in the defense and commercial sectors, the short term indicators for our business are signaling some challenging times when we look at shrinking defense budgets and the current price of oil; however the long term viability of the AUV market is undeniable when we look at the global demand for energy and security. As our energy needs drive exploration and production into harsher environments and our security needs drive maritime operations into uncharted waters, AUV's will play an increasingly critical role in reducing the risk to human life, and increasing the efficiency with which we are able to ensure a safe and prosperous future for generations to come.

How is your company investing today in AUV technology?
Mills, Kongsberg
Kongsberg Maritime has a permanent R&D team that is always working on new vehicle behaviors and capabilities. New requirements are being identified by our customers all of the time. Our research and development team implement the commercially necessary new sensors and vehicle equipment. The team also works on future technology and capabilities that the market has not yet identified. The next generation of vehicles is always being dreamt of, along with new levels of autonomy to take AUVs where they have never been before.

Please provide one case study where your AUV system was deployed to complete an operation more safely and/or efficiently.
Mills, Kongsberg
One of our customers is using a HUGIN AUV for autonomous pipeline survey and inspection for an oil company. They have recently been working in very shallow water of about 10 m depth. The HUGIN has been operating completely autonomously, as the water is too shallow for the support ship. The shallow depth creates multipath issues for acoustic positioning and communications systems making it almost impossible to supervise the survey. There is no other way of surveying these particular pipes that would produce a similar data set.
The AUV tracks the pipes autonomously, based on the predicted location of the pipe. Once it has found the pipe using the synthetic aperture sonar, it tracks alongside collecting seabed imagery to detect freespans and visible buckling. It also uses the positioning data from this survey to create an a priori map on-board the AUV. This map is then utilized for the second part of the survey, which is conducted without recovering the AUV.
The second stage involves the HUGIN tracking overhead the pipe using the EM2040 multibeam echosounder. It follows the pipe collecting a photomosaic of the entire length of the tracked pipeline. During this stage it is also using a methane sniffer to help detect any leaks.

Byus, Bluefin
In 2014, the world bore witness to the tragic disappearance of Malaysian Airlines Flight MH370 over the Indian Ocean. The search effort immediately following the incident was critical to increase the chances of finding the airliner along with any potential survivors. The search required a deep diving AUV, and the US Navy called on Phoenix International to mobilize their Bluefin-21 to Australia. The entire Bluefin-21 Survey System was mobilized half way across the world within a matter of days, and set sail to the search area on board the ADV Ocean Shield within 10 days of being called to action. The Bluefin-21 surveyed 870 square Kilometers of the ocean floor over the course of 20 operational days and safely returned the data for analysis by the authorities on a consistent basis. Although the search for MH370 is still ongoing, I am proud of the contributions our technology made to the search effort – allowing for a fast, efficient and safe response to an emergency on a global scale.

(As published in the January/February 2015 edition of Marine Technology Reporter - http://www.marinetechnologynews.com/Magazine)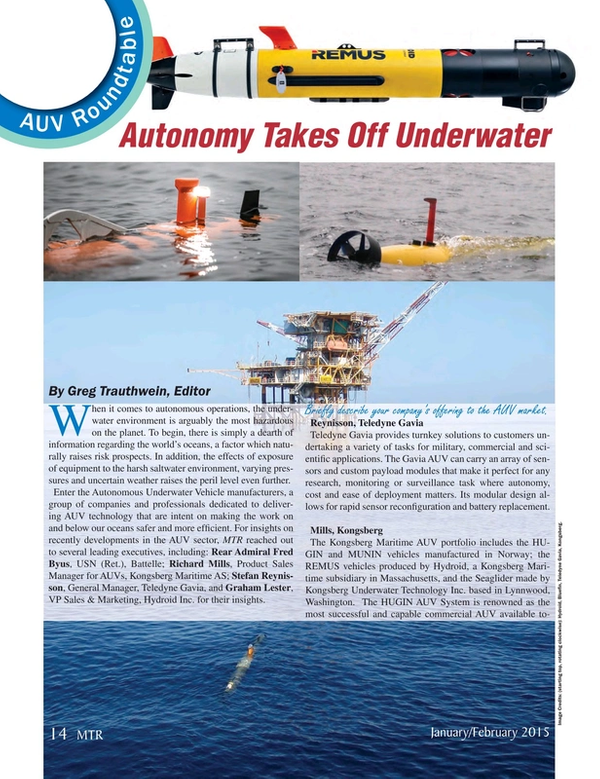 Read Autonomy Takes Off Underwater in Pdf, Flash or Html5 edition of January 2015 Marine Technology
Other stories from January 2015 issue
Content