Arctic Smarts: Training Innovators and Explorers
Posted by Irina Tabakina
Newfoundland and Labrador is preparing the next wave of ocean technology experts

When it comes to the Arctic, the world still has a lot to learn.
With just 10% of its vast expanse having been charted to date and much about its environment still unknown, the Arctic remains one of the most mysterious places on Earth. As a new frontier with natural resource potential, the Arctic is also an area of increasing international interest and economic activity.
As activity in the Arctic increases and new opportunities emerge, Newfoundland and Labrador's academic and training institutions are poised to respond to the rising demand for innovative technology solutions, information, and highly skilled workers. With a successful history of exploring new frontiers, including the Arctic, Newfoundland and Labrador is leading the way in Arctic education and training that will prepare the next generation of innovators and explorers, and that will enable northern communities and Aboriginal peoples to benefit from emerging opportunities.
At the forefront of this grand undertaking are the Arctic academics, and the best of them can be found on – and off – Newfoundland and Labrador's shores. Memorial University and its Fisheries and Marine Institute (Marine Institute or MI for short) is home to world-leading cold ocean experts, facilities, and education programs.
"The Marine Institute is unique in Canada," says Memorial University Vice President (Marine Institute) Glenn Blackwood. "It is Canada's Marine Institute. We produce about 70% of all English-speaking seafarers in the country."
The Marine Institute, currently celebrating its 50th anniversary, is essentially a polytechnic within Memorial University, offering Diploma, Degree and Masters Degree programs, emphasizing applied research and development and advances in ocean technology, and collaborating with industry and others on the development and application of ocean technology products for all sectors of the maritime community.
MI is home to the School of Ocean Technology (SOT), Center for Applied Ocean Technology (CTec), Center for Marine Simulation, Center for Sustainable Aquatic Resources, Safety and Emergency Response Training Center, as well as the Offshore Safety and Survival Center.
"We're at the early stages of oil and gas development in the province," says Blackwood. "Especially going deeper in the ocean and further north, which will be largely driven by our ability to access and utilize those resources."
This capacity grows day by day, thanks to leading-edge research and development being led by some of the world's foremost marine technology experts, using some of the world's most advanced equipment and facilities. MI is home to the largest collection of marine simulators in North America (and perhaps, the world) – 16 in total, including the iconic Full Mission Ship's Bridge simulator and a seventeenth soon to be added – a deepwater anchor handler simulator.
Also adding to this growing capacity are ocean technology experts at OCRE (Ocean, Coastal and River Engineering), a division of NRC (National Research Council of Canada). NRC-OCRE is home to world-leading expertise, equipment and facilities, including the world's longest ice tank, a tow tank, and an offshore engineering basin, along with complex numerical and model testing systems.
"We're physically located on the campus of Memorial University, so we draw a lot of our expertise from Memorial," explains NRC-OCRE General Manager, Terry Lindstrom, who says that it is this access to qualified people and the facilities in which to nurture them that allows the relatively small province to punch well above its weight in the ocean technology arena.
"We have a very small footprint, but we have the capabilities, tools, educational background, and the physical bricks and mortar of world-class facilities."
With these and other education and training entities operating within the province, collaboration is of the utmost importance. This applies not only to academic institutions, but also extends to government, which plays a key role in facilitating and promoting the province's advancements, and to industry, where these advancements are utilized.
"I see it as a propeller with three blades…it doesn't work without the three of them," says Glen Blackwood.
"Industry supports us in many, many ways, through scholarships for students, with a piece of equipment, or a problem we're working on jointly with them. But the collaborative piece is with government and industry."
The Province is very much a part of this combined effort. Through its Arctic Opportunities Initiative (AOI) launched in 2010, the Government of Newfoundland and Labrador is working with local stakeholders and those in other northern jurisdictions to facilitate partnerships and promote collaboration, environmental responsibility, sustainability and respect, with an overall goal of creating an environment in which all stakeholders can benefit from emerging opportunities in the Arctic, northern communities can thrive, and that will further attract global industry leaders.
Industry and academia should – and will – continue to take the lead when it comes to progressing interests in the Arctic, while the Provincial Government seeks to provide support, improve international awareness, and facilitate relationships and partnerships.
Newfoundland and Labrador's Research and Development Corporation (RDC) is another key asset, working at an arm's length from Government to assist private enterprise in developing and expanding new technologies for operating in the world's harshest environments. Through leadership, strategic focus, and investment, and working with R&D stakeholders in business, academia, and government departments and agencies, RDC seeks to strengthen and improve the research system throughout the province. It serves as a catalyst for innovation with the goal of creating economic growth in Newfoundland and Labrador for future generations.
(As published in the January/February 2015 edition of Marine Technology Reporter - http://www.marinetechnologynews.com/Magazine)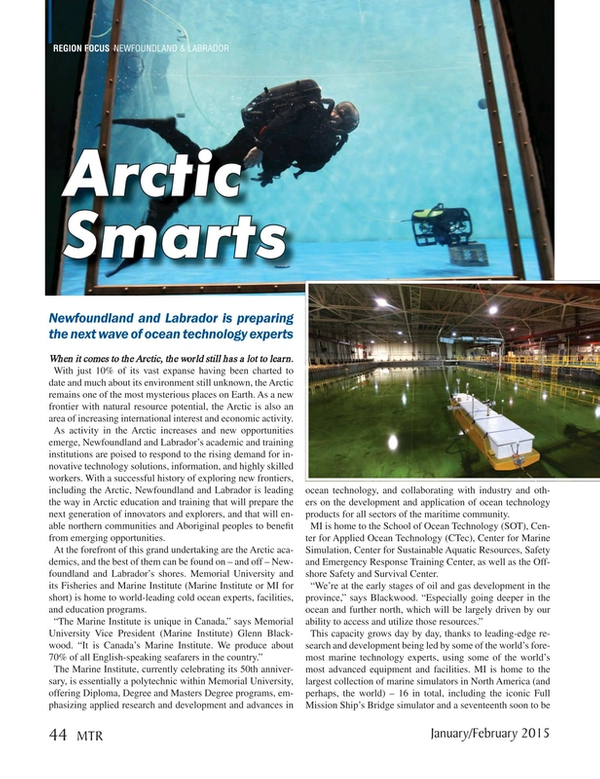 Read Arctic Smarts: Training Innovators and Explorers in Pdf, Flash or Html5 edition of January 2015 Marine Technology
Other stories from January 2015 issue
Content