Interview: Woodson Ferreira, Aker Solutions, Brazil
BY Claudio Paschoa
It is part of the company's strategy (for Brazil) to become a competitive international hub for projects with operators such as Statoil, Total, BP, among others. It is still a time of uncertainty and caution, but we are optimistic about the gradual recovery. The Brazilian potential remains one of the largest in the world, we have the technology, capacity and capacity of the market. -- Woodson Ferreira – Vice President of Subsea Lifecycle Services in Brazil
Aker Solutions is a leading subsea equipment and service provider in Brazil, having participated in pre-salt and post-salt subsea field designs, equipment installation, IMR and other life of field services. Marine Technology Reporter's correspondent in Brazil, Claudio Paschoa, interviews Woodson Ferreira – Vice President of Subsea Lifecycle Services in Brazil.
Aker's original expertise in subsea operations came from the challenges of developing the deep waters and complex reservoirs of the North Sea, where Aker Solutions was one of the original companies installing subsea equipment and developing subsea systems. In 2015, it delivered the world's first subsea gas compression system for Statoil's Åsgard field in the Norwegian Sea, about 200 km off the coast. The system, nearly the size of a football field, revolutionized offshore natural gas production by cutting costs and improving safety with fully-fledged oil and gas production and processing systems on the bottom of the ocean. Large subsea systems are the mainstay of Brazil's pre-salt development, where Aker Solutions has also been at the forefront. In Brazil, Aker Solutions operates in two main business areas – Subsea: equipment, systems, lifecycle services and Field Design: offshore engineering, offshore maintenance, modifications and operations (MMO).
Aker Solutions started activities in Brazil in 1995 and boasts a local workforce with more than 10 years experience in the O&G business as a supplier of subsea production systems. Aker's product list includes: Subsea Trees, Manifolds, Control Systems, PLEMs, PLETs and Pump stations. The company has achieved success as a supplier of subsea equipment for pre-salt fields being developed in Brazil, such as at the Lula, Lula-Nordeste and Sapinhoá fields for Petrobras and is also present is a number of fields operated by IOCs. The knowledge and technologies developed by the company range from reservoir to production throughout the life cycle of a field. "Our main products and services are focused on engineering, subsea equipment and offshore maintenance and operation. In Brazil, Aker Solutions has the largest and most technologically advanced factory in the world. In the oil and gas sector's biggest downturn (2015/2016), the company invested around $80 million in a high technology plant, which positioned the Aker Solutions headquarters in Brazil (in São José dos Pinhais, in the State of Paraná) as the largest and the world's most modern, which can become a technology and production hub for Aker Solutions' global projects. The company also has a service unit in Rio das Ostras (Northeast of the city of Rio de Janeiro), as well as bases spread throughout the country to meet service contracts in construction & assembly. The company employs approximately 14,000 people in more than 20 countries, who apply knowledge, create and use technologies to deliver the best solutions to customers. In Brazil, we have approximately 3,300 employees," said Woodson.
Looking at key challenges faced during IMR operations of subsea equipment in general and specifically in deepwater equipment in Brazil, Woodson said that the history of the company operating with equipment installed in the offshore environment spans little more than two decades, which has generated opportunities to work with products and materials from different technologies, from the least to the most complex. "In the scope of inspection services, Aker Solutions operates in the whole range of underwater equipment and in the provision of qualified personnel to work in the offshore units with the client, giving the necessary support for inspection and maintenance activities. In the offshore area, one of the main challenges is the programmed inspections of equipment associated with well production stoppage, requiring agility to avoid production impact. In this period, the actions coordinated with the topside system of the platform occur, taking advantage to perform preventive or corrective maintenance. Normally in IMR projects, we use subsea resources made available by offshore vessels, for example, Remotely Operated Vehicles (ROVs), cranes and tools operated by ROVs, together with specific equipment and intervention tools provided by Aker Solutions. Another challenge is related to the reduction of OPEX costs, which requires the reduction of the time of service, maintaining the quality and agregate value. In conjunction with the customer it was possible to reduce the subsea inspection time by up to 50% with process planning and optimization," said Woodson.
Aker Solution is also a major player in intervention and workover services in Brazil, especially in deep waters. According to Woodson - "In addition to all equipment installation services, we provide a wide range of equipment intervention services, removal and replacement of modules and equipment, abandonment of wells, inspection, recovery and maintenance of control modules and tie-in connections."
Aker has a significant number of subsea systems already installed in various water depths offshore Brazil, which undoubtedly place it in a great position to secure IMR contracts in Brazil's three main production Basins: Santos, Campos and Espirito Santo. With ongoing exploration in Brazil's far North (Equatorial Margin) along with recent oil block bidding rounds, including pre-salt blocks and given its track record in Brazil, Aker is in a unique position to capitalize on new subsea equipment orders for deepwater equipment and services. "There are 260 Installed Systems, among which are 241 Wet Christmas Trees, 14 Pump Modules and 5 Manilfolds. Of the total in activity subsea, the company has 80 Multiplexed Modules installed on its own equipment and the rest on equipment from other suppliers," said Woodson.
Subsea IMR is highly specialized work, especially in deepwater environments, demanding a highly trained technical workforce. "Aker Solutions currently has a team of approximately 160 people dedicated to offshore services and base support. The technical team is highly qualified and trained, focusing on safety and reliability. The base of operations is in the Special Business Zone (ZEN), in the city of Rio das Ostras, in Rio de Janeiro. The scope of the Subsea Lifecycle Services (SLS) contracts in Brazil involves the provision of regular inspection, maintenance and repair services of the customers' installed assets, and the activities are performed on a monthly basis. In the current scope of its contracts, Aker Solutions provides technical support in the intervention of equipment, being the customer's responsibility to lease the offshore units," said Woodson.
When asked about what may give Aker Solutions an edge in the market, Woodson commented – "Aker Solutions has a solid background in the services provided to the Oil & Gas industry, pioneering the development and installation of equipment for the deepwater pre-salt fields. All of the accumulated experience combined with the strong culture of continuous improvement have made Aker Solutions one of the most efficient suppliers in the subsea market. In addition, the company invests in Research & Development (R & D) and interfaces between the Operations Engineering teams and the new Technology Center in Paraná."
In October 2016, Aker Solutions announced an agreement to buy the majority (70%) stake in C.S.E, a local offshore service company. The agreement includes an option for Aker Solutions to purchase the remaining 30% of the company in three years. The acquisition gives Aker Solutions access to Brazil's growing market for servicing existing oil and gas fields. C.S.E., which had a revenue of $99.6 million in 2015, provides maintenance, assembly, commissioning and crane operation services for offshore and onshore facilities, with vast experience is topside and subsea IMR projects. "With the acquisition of C.S.E., the Production Asset Services division of Aker Solutions expands its already extensive pool of expertise and resources to provide services to the offshore market and can meet the demands of IMR contracts, and take a position in Brazil's brownfield market. The strategic combination of the two companies, Aker Solutions' and CSE's execution capacity, together with the latter's maintenance history, results in a solid company with ambition to establish itself among the leaders in this segment with significant growth opportunities, specifically services for current installations and complex assets that are emerging from the development of deepwater pre-salt plays," said Woodson.
With the gradual but steady revival of Brazil's O&G market, which promises regular offshore oil block auctions and relaxed local content policies, it is interesting to get a glimpse of Aker's view regarding the O&G market in Brazil presently and in future. "Aker Solutions is able to meet global demands from its operation in Brazil. It is part of the company's strategy (for Brazil) to become a competitive international hub for projects with operators such as Statoil, Total, BP, among others. It is still a time of uncertainty and caution, but we are optimistic about the gradual recovery. The Brazilian potential remains one of the largest in the world, we have the technology, capacity and capacity of the market. Public policies and the predictability of auctions are beginning to move forward, but much remains to be done to attract new investments and make projects economically viable. Aker Solutions continues to work to improve its efficiency and bring the best solutions to our customers.
In parallel we are making efforts in the area of maintenance and offshore operations and preparing our company to operate in revitalization and decommissioning projects in Brazil," concludes Woodson.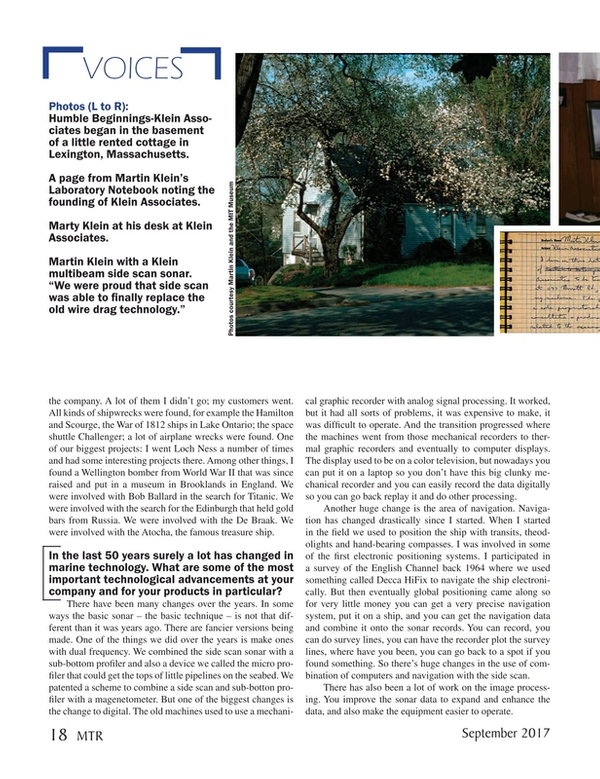 Read Interview: Woodson Ferreira, Aker Solutions, Brazil in Pdf, Flash or Html5 edition of September 2017 Marine Technology
Other stories from September 2017 issue
Content