Preview: GEO Week 2017
Marine Technology Reporter
Discussing how earth observations help the world
Earth observations touch our lives every day, from your morning coffee to your drive home from work. When you're skiing in January or enjoying the beach in July. Whether you're a trader on Wall Street or a farmer in Ethiopia. Open Earth observations support decisions that keep people and ecosystems healthy. They help communities manage their resources and plan for or recover from disasters. U.S. industry sectors, including the maritime, weather, agriculture, re/insurance and logistics have benefited from tools that are derived from free and open earth observation data; promoting and expanding its availability worldwide will contribute to their growth.
The value of earth observations is limited if they are not made accessible to a wide audience so they can be used or shared to support analysis and decision making. The Group on Earth Observations (GEO) operates on the premise that "countries have borders, earth observations don't", and works to unlock the power of earth observations by facilitating their accessibility and application to global decision-making within and across many different domains.
"Open data not only maximizes tax payers' money in government infrastructure, it promotes economic growth, education and capacity building," said GEO Secretariat Director, Barbara Ryan. "GEO wants to bring all sides of the conversation together so that data is broadly and openly available, free to the user and can be used to create value-added products and services to benefit society."
For more than 12 years, GEO has been driving the interoperability of over 400 million data and information resource from space-based, airborne and in situ earth observations around the world. GEO is a unique global network connecting government institutions, academic and research institutions, data providers, businesses, engineers, scientists and experts to create innovative solutions to global challenges at a time of exponential data growth, human development and climate change that transcend national and disciplinary boundaries. The unprecedented global collaboration of experts helps identify gaps and reduce duplication in the areas of sustainable development and sound environmental management.
This October, the U.S. will host GEO Week 2017 in Washington, DC. GEO Week, consisting of the GEO-XIV Plenary, side events, and exhibition, will highlight and promote the role, applications and opportunities to use earth observations (EO) in delivering 'Insight for a Changing World'. With a focus on delivery and impact, GEO Week 2017 will explore the use and application of Earth observations in both the public and private sectors for the benefit of humankind.
This will be an important opportunity to highlight U.S. leadership in earth observations, and GEO Week 2017 will find the greatest success through the engagement of industry partners (large and small), organizations and government agencies that make earth observations work in this country and other parts of the world.
GEO Week 2017
What: GEO Week 2017
When: October 23-27, 2017
Who: Group on Earth Observations (GEO)
Where: Ronald Reagan Center, Washington, D.C.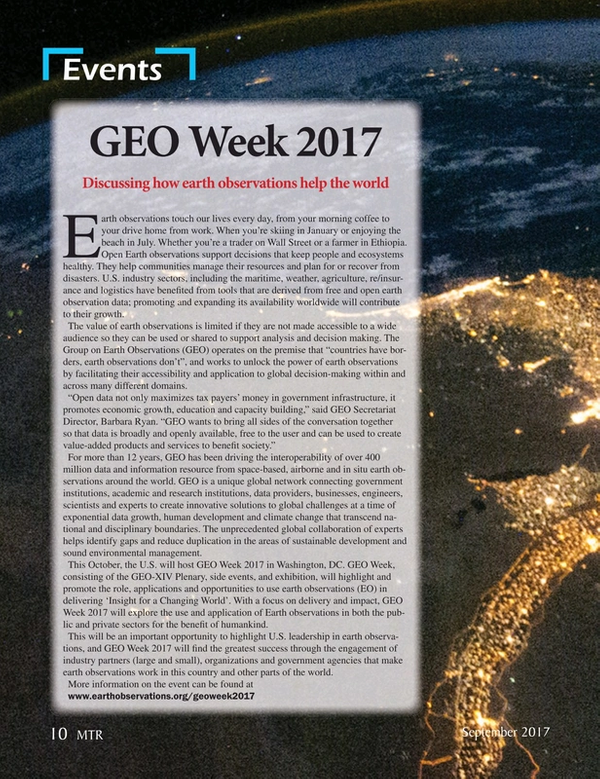 Read Preview: GEO Week 2017 in Pdf, Flash or Html5 edition of September 2017 Marine Technology
Other stories from September 2017 issue
Content