MLC 2006 & You
By Greg Trauthwein
"An ounce of prevention is worth a pound of cure"

I must admit, I am a little bit confused. Through the course of more than 20 years covering the global commercial maritime industry which entailed thousands of interviews and discussions with top executives in shipping companies of nearly every size, shape and nationality, I can say without hesitation that when I ask the question "what is your biggest challenge?", more than 90% of the time the answer is, "the attraction and retention of qualified, capable individuals to run my vessels."
With that as a backdrop, please explain why there would be resistance to MLC 2006.
Before you answer, and to be fair, my opening line said I'm confused, not stupid. I know that there is an onerous level of new regulation from the international, national and regional levels, a myriad of new rules and regulations regarding the design, outfit, operation and disposal of commercial vessels that is placing a hefty dent in ship owner's bottom lines.
But here we have in MLC 2006 a statutory guideline that, if it operates as it is intended, will help to protect what is claimed to be a ship owner's greatest asset: experienced, healthy and happy mariners. There already are many five-star quality ship owners that are in the maritime business for the long haul and not simply as an exercise in wealth creation; ship owners that already treat their mariners in a manner that exceeds the mandates of MLC 2006. Working onboard a commercial vessel is a physically and mentally challenging event in the best of times, as the sea is often unpredictable and unforgiving, and seafarers who are away from the comforts of home for extended stretches deserve health care management and benefits equal to what they would find ashore.

"An Ounce of Prevention"
In our pages print and electronic we often write of new technology, as it is a topic of universal interest to those that design, build, own and operate commercial vessels. One topic that is a recurring theme for the last few years is the trend toward automation, or more succinctly the melding of communication, software and sensor technologies that allow real-time, 24/7 condition based monitoring of equipment and systems that allows for optimal operation and preventative maintenance of critical systems. Using that same logic, it would seem that the monitoring and preventative maintenance of the seafarer's health would rate a higher magnitude, as I assume that most ship owners would agree that it is easier and cost efficient to swap out a broken down diesel engine than a highly valued mariner.
I had the opportunity earlier this year to meet with Christina DeSimone, CEO of Future Care (New York), a company that delivers medical service exclusively to the maritime industry working directly with ship owners, ship managers and with P&I insurers for larger medical issues. Its pioneering "Caring for the Crew Program," which has been around for eight years, is first and foremost a provider of tele-medical service so that onboard officers have assistance from trained physicians skilled at remote diagnosis, to help render a guided treatment plan.
"First and foremost, Future Care is a medical managed care and medical cost containment company," DeSimone said. "We have chosen to work our medical care managed techniques within the unique environment of seafarers that work and live onboard vessels traveling the globe, individuals who are out to sea from a few weeks to a few months."
For those who have not met her, DeSimone is a passionate, compassionate and driven individual, and not simply so to increase the reference numbers for Future Care, which already stand at an impressive 650 blue water ships and 25,000 crew under the Future Care managed health care umbrella. DeSimone is determined, and doggedly pursues a course of education in the maritime community, an education that she said proves to ship owners through statistical analysis that it is far more efficient and cost effective to report and record every single incident of illness or injury, no matter how small.
"That is a leap of faith for many ship owners, because they first ask: 'what is this going to cost me?," DeSimone said. "But we have proven to our ship owners that the average cost to medically manage small incidences is the most cost-effective."
The rationale behind DeSimone's claim is logical, as she contends that early intervention by qualified medical personnel and continuous monitoring through recovery is preferable to leaving seafarer medical care in the hands of the officers onboard, officers whose primary responsibility is running the entire ship, and who at times may have more than one ill or injured seafarer with which to deal.
And MLC 2006 makes her case even stronger, as ship owners could be open to liability if medical care is mismanaged. The surest bet to mitigate and manage this risk is through the involvement of qualified medical staff from the outset.
"Historically, a captain might only use a medical call line in the sole case of emergencies, so they were treating the small medical care onboard vessels themselves," DeSimone said. "That simply is not appropriate any longer, as there are so many different antibiotics to choose, so many medications, and there is now a legal responsibility implied in the MLC that gives crew the right to have a medical specialist consider their illness.

Future Care & Yale
Earlier this year the Yale University Occupational and Environmental Medicine Program, in collaboration with Future Care, Inc., reported initial results of a pilot study on the health of seafarers internationally. Quite simply, the study is unique in that collective information regarding the health, well-being and medical treatment of seafarers at sea is scarce, given the global and mobile nature of the industry and the lack of a central reporting procedure or authority for such matters. In total an estimated 1.3 million people who spend their time traveling, working and living on vessels far from home, at times working under stressful and dangerous working conditions in an environment that puts them at risk for a range of illness and injury not so common on land-based occupations.
"This unique environment is really an amazing place to study how an early intervention managed care program might assist such a unique group," said DeSimone.
Future Care's experience via its Caring for the Crew Program was essential to the core essence of the study, as the premise of the program is to record and track every single medical incident, large and small, as DeSimone said it has been proven time and again that willingness to report and ability to treat illness in the formative stage is a critical factor in helping to drive crew health costs down.
The Yale study was premised on the analysis of Future Care data documenting 6,724 cases of illness and injury over a span of four years. Data obtained from six years of case management and medical claims derived from Future Care Inc.'s Caring for the Crew Program, covering 5,6000 seafarers on more than 1500 ships owned by 106 companies were evaluated. Results were analyzed based on a number of variables, including age, rank, nationality and type of illness/injury. Average cost per case and type of medical incident were also presented along with statistics on resource utilization and type of medical care rendered. Among the findings:
Illness and dental claims comprised 66.7% of the total.
Illness alone, as distinguished from injury claims, accounted for almost half of all medical events (49.8%) with an associated direct cost of $18.5m; 56.4% of the total direct costs of $32.8m.
Cardiovascular disease, while accounting for only 4.1% of claims, has an associated direct cost of $5.7m (17.3% of total direct costs).
With regard to point of service, hospital admissions accounted for only 2.4% of all medical encounters, but 56.8% of all medical costs.
According to the report, "Future Care Inc.'s rich dataset on seafarer illness and injury provide a unique opportunity to learn more about the health of seafarers and modifiable risk factors for adverse health events and outcomes; information key to both improving the health of these workers and also for reducing the substantial related costs."
Additional statistical analysis of the study can be found to the left, but the findings of the study are expected to lead to better preventative and diagnostic strategies, improved delivery of health care as well as reduced costs for the maritime industry.
Lest you opt not to support a healthier crew and a fatter bottom line, there should be little confusion at all.
www.FutureCareInc.com

(As published in the 3Q edition of Maritime Professional - www.maritimeprofessional.com)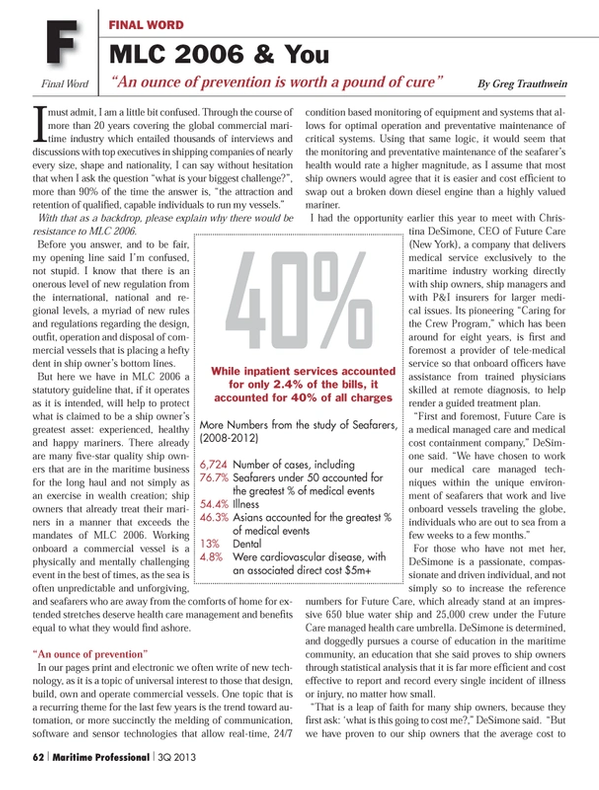 Read MLC 2006 & You in Pdf, Flash or Html5 edition of Q3 2013 Maritime Logistics Professional
Other stories from Q3 2013 issue
Content