Maritime Crime Continues at Pace
Posted by Nicole Ventimiglia
In October, Dryad Maritime released the global latest piracy statistics. The Q3 maritime crime figures show that piracy is continuing across the globe at similar levels to Q2, with incidents of cargo theft in Southeast Asia continuing to rise.
Dryad also reports a 27% drop in crime overall between Q2 to Q3, but at the same time points to the continuing attacks that are happening across the globe as reported in Q2. According to Ian Millen, Dryad Maritime's Chief Operating Officer, "The number of attacks across the globe shows that maritime crime and piracy remain a threat to the shipping industry, with both cargo theft and kidnapping high on the agenda for organized criminal gangs. We can expect to see a continuation in incidents of boarding and cargo theft in Southeast Asia and in the Gulf of Guinea as criminal groups continue to prey upon the vulnerable and the unprepared."

The Gulf of Guinea has seen 15 confirmed criminal incidents, compared with 22 in Q1 and 14 in Q2. The spike in the number of kidnapping incidents that occurred in Nigerian waters in Q1 of 2014 was followed by a break in such criminality, with just one further report being received in the five month period thereafter. However, on 14 August pirates boarded a support vessel south of Brass and two crewmembers were abducted for ransom. A similar raid followed on 18 September when pirates kidnapped five seafarers from another vessel. As is nearly always the case, both incidents occurred after midnight in areas just outside of the 12 nm TTW policed by the Nigerian Navy. Acts of criminality have shifted west to the maritime border area between Ghana and Togo and this trend continued with another abduction in the same area where MT Fair Artemis succumbed to the same fate in June. Nigerian based syndicates conducted both acts of piracy. No further successful hijackings of tankers have occurred, but the intent to do so remains; MT SP Boston was attacked overnight on 27 August off the Ivory Coast. The motive for the attack was once again to steal its cargo, but the gang found the ship to be in ballast, and so merely looted the vessel and crew valuables and cash before fleeing the scene. There have been 15 confirmed incidents reported during the third quarter of 2014 compared with 22 in Q1 and 14 in Q2. The statistics are in keeping with the number of recorded attacks in previous years.

The Southwest Monsoon has dominated the Horn of Africa HRA during Q3, with any thoughts of piracy in the Indian Ocean/Arabian Sea are blown away with the Monsoon winds. Wind speeds of over 35 knots, accompanied by waves in excess of five meters are experienced for the majority of days between late June and mid-September. The Gulf of Aden has also seen increased wind speeds and sea states, which precludes piracy operations. The Monsoon does not affect the Southern Red Sea and Gulf of Oman and that is where most potential incidents have been reported. Despite 16 reported approaches there have been no confirmed piracy incidents reported in Q3. With calm seas and light winds across the Arabian Sea and Somali Basin during the next two months, conditions will be well within operating limits for pirate skiffs. However, a lack of funding, equipment and manpower will likely limit the number of Pirate Action Groups (PAGs) putting to sea. The potential for pirate operations to recommence out of the fishing villages south of Mogadishu, focusing on the target rich areas off Mombasa and Dar es Salaam, is very real. Coalition naval operations continue along the north eastern coast of Somalia, any PAGs that do venture into the open ocean run the risk of detection and disruption long before they reach the shipping lanes. Dryad maintains that vessels should transit through the Somali Basin at a minimum of 300 NM from shore.

Maritime crime across Southeast Asia continues at pace during Q3; there have been five further hijackings of product tankers for cargo theft, four of these occurred in the vicinity of Singapore and are assessed as being carried out by the same gang. To the east of the Singapore Strait a further eight vessels were boarded while at anchor, taking the total of similar incidents in the area to 30 so far in 2014. This is in comparison with just nine incidents in the area during the same period in 2013. With the exception of the anchorages to the east of Singapore, there has been a reduction in the number of incidents reported in the major ports of Indonesia. During the same period in 2013, there were 18 incidents off Balikpapan/Samarinda, Indonesia but this year there have been only five. The lower figures can be attributed to better patrolling by Indonesian Maritime Police, who in January instigated a new policy for the most impacted areas of 2013. During the final three months of 2014, Dryad expects to see an increase in boardings and attempted boardings in the northern Malacca Strait and Andaman Sea. Criminal syndicates will continue to target small product tankers soon after they depart Singapore with the intention of stealing their cargo of marine fuel oil for the black market. All vessels at anchor in the major ports across Southeast Asia remain at risk.
www.dryadmaritime.com

(As published in the 4Q 2014 edition of Maritime Professional - www.maritimeprofessional.com)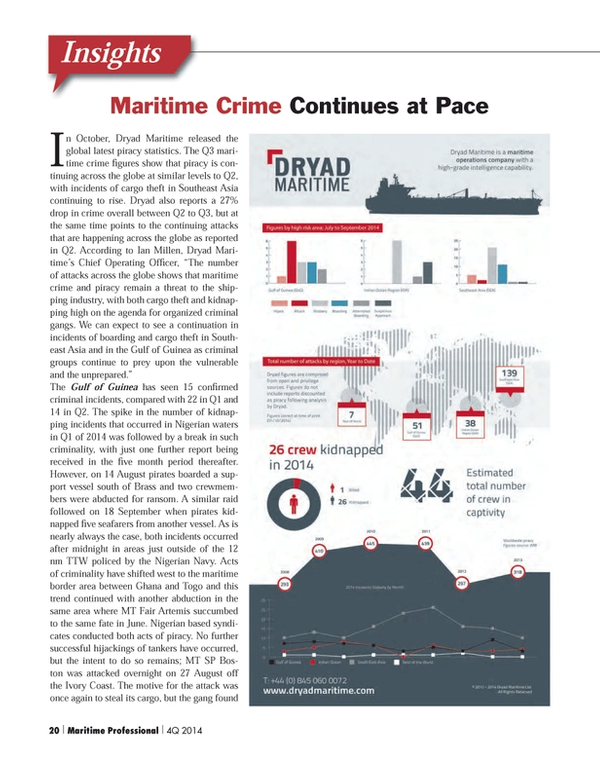 Read Maritime Crime Continues at Pace in Pdf, Flash or Html5 edition of Q4 2014 Maritime Logistics Professional
Other stories from Q4 2014 issue
Content