Weighing in With WISTA's Leaders
By Joseph Keefe
Meet the women who manage the maritime industry and discover what makes them tick.
Alexandra Anagnostis-Irons is the founder and President of Total Marine Solutions (TMS). Jeanne M. Grasso is a partner and, among other things, Co-Chair of Blank Rome's Maritime Industry Team. These two dynamic leaders share the honor of serving as (present and immediate past) Presidents of the U.S. Chapter of the Women's International Shipping & Trading Association (WISTA), the networking organization for women at management level in the maritime industry.

Leaders
In an industry historically and traditionally dominated by men, it is also no accident that both Alex and Jeanne have risen to the top of their chosen sectors. That's because talent is talent – regardless of where it came from or what gender it might be. Alex, for example, started her shipping career in the cruise sector and enjoyed over 16 years serving in a number of executive roles within Marine and Technical Operations. She left the cruise industry in September 2000 as Royal Caribbean's Director, Technical Purchasing in order to launch Total Marine Solutions. Leveraging global support and local presence, TMS works closely with their clients in support and strengthening of their compliance culture from all markets of the industry – cruise, commercial, offshore, government and mega yachts. Armed with both an MBA and undergraduate degree in Accounting, she currently serves as President of the Board of WISTA USA.
Jeanne Grasso worked in the Office of Congressional Affairs at the National Oceanic and Atmospheric Administration handling fisheries and oceans matters and also served as staff to the House Committee on Merchant Marine and Fisheries prior to joining Blank Rome LLP. She graduated from the University of Notre Dame with a B.S. in Biology, later obtaining a Masters in Marine Affairs, and then attended the University of Maryland School of Law. Her practice involves counseling on all aspects of maritime and environmental regulatory compliance, including Coast Guard, Maritime Administration and Customs matters; internal and grand jury investigations; defense of administrative, civil, and criminal enforcement actions; and pollution incident response. Jeanne is also a guest lecturer at the Massachusetts Maritime Academy. She also served as president of the U.S. Chapter of WISTA from 2008 through 2013.

The Journey
How and why both women arrived to where they are now, is an even more interesting part of the story. Anagnostis-Irons' road to becoming an entrepreneur was less than conventional. She told MarPro, "I was working for one of the major cruise operators as Technical Purchasing Director during the time that they pled guilty to the Department of Justice for falsification of records and intentionally bypassing pollution control equipment. As an outcome of the resulting Environmental Compliance Program and probation, we replaced the oily water separators throughout the fleet. The technology chosen was just being developed and introduced by a company out of Sweden." Eventually, the need for local after-sales support became apparent, but despite her push to make that happen, nothing really got started.
Separately and at about the same time, Anagnostis-Irons sadly lost her brother to a rare blood disorder, and for the first time in her professional life, she gave something other than her job focused attention. When he passed, she suddenly realized that things can change in an instant and the next time she thought about pushing the vendor to find local representation, she thought "what about me?" Armed with a savvy business plan, she approached them and the rest is history. The move entailed real risk but she insists, "I loved what I did throughout my career in the cruise industry and any time you leave something you love, you take a risk. I hope those I worked with during my cruise industry career would say that I contributed to the success of the operation."
Anagnostis-Irons' real beginning in the maritime industry came as she went to a temp agency in Miami looking for work. Her first (and only) assignment was with Bahama Cruise Line as an Assistant Purchasing Agent. The Vice President of the company, Paul Grant, quickly became her mentor and friend, and for the past 31 years, an important part of her life. Looking back, it was an exciting job. Alex explains, "We did everything in that office – crewing, technical purchasing, hotel purchasing, managed the duty free stores for three ships, drydocking, everything. We sold ships, bought ships, handled passenger claims – in hindsight, it is remarkable how much we handled with so few people and limited third party assistance." In other words, the arguably perfect maritime education.
TMS was founded to focus on supplying MARPOL compliant solutions to ship owners and operators with the highest levels of support and customer service. In the end, Alex felt as though she could do this best being out on her own. She adds, "Much of this could have been accomplished internally while working in the cruise industry, but not to the same level. What I enjoy most about being out on my own is the opportunity to illustrate what I mean by the highest level of customer service. I've taken a lot of what I learned working for some of the major cruise lines and incorporated it into our processes. We're a very lean organization and our ability to adapt as needed is a major advantage."
Jeanne Grasso's love for the ocean stems from her early work at the Jersey shore and lifeguarding in the little town where she grew up. Later, while in college, she had the opportunity to do aquatic biology field work for a summer on the Upper Peninsula of Michigan, and then spent a Semester at Sea through the Sea Education Association in Woods Hole, MA. As it turned out, that very program confirmed her love of the sea and eventually had a profound impact on her career path.
A Masters obtained in Marine Affairs at the University of Southern California involved the study of marine biology, ocean policy, and maritime law, and with law classes in Admiralty Law, Living Marine Resource Law, Non-Living Marine Resource Law, and Law of the Sea. This led to a Sea Grant Fellowship to work on Capitol Hill for the House of Representatives Merchant Marine & Fisheries Committee, after which, she went on to work in fisheries for NOAA for a few more years. Grasso quips, tongue-in-cheek (or maybe not), "My greatest regret is that Jacques Cousteau never called; it was my dream to sail and work on Calypso. This disappointment ultimately led to my decision to go to law school 8 years after graduating from Notre Dame. I'm a big believer in fate and that things happen for a reason, and that oftentimes your biggest disappointments turn into your greatest opportunities."

WISTA … and beyond
WISTA International celebrated its 40th Anniversary last year at its Annual International Conference with more than 300 members and guests hailing from 33 countries in attendance. Anagnostis-Irons has lofty visions for her term as President of the USA WISTA branch. "My goal for WISTA USA includes pushing the profile to ensure WISTA is recognized worldwide as the quality organization it is and included in some of the industry think-tank activities. And as a 'numbers person,' I'd like to see our membership hit 500 in 2015."
Grasso, not surprisingly, has every confidence that the organization will do just that. Today, WISTA's USA membership stands at 447 members, representing almost 20 percent of global numbers. As President of WISTA for 5 years, Grasso's goals also included growing the organization and bringing (more) credibility to it, garnering support from the industry and government, and putting the organization on the path to success. She adds, "I wanted to turn the reins over to someone like Alexandra who has the ability to take it to the next level – which she is doing spectacularly after a little more than a year. After that, I moved onto the WISTA International Board with a clean conscience, knowing that WISTA USA was in incredibly capable and energetic hands."
For both Alex and Jeanne, the WISTA experience has been a valuable asset to which both occasionally 'go to the well.' It is also a serious time commitment. "WISTA has helped me fine tune my time management and organizational skills, that's for sure," said Anagnostis-Irons, laughing. "Seriously though, WISTA has afforded me the opportunity to meet some extraordinary women and men within our industry. Perhaps most important to me is that WISTA allowed me to meet some women who I now consider some of my closest friends," she added.
Grasso agrees. "WISTA provides great networking opportunities all over the world. It is a forum to share ideas and experiences and to discuss business opportunities. And, if you are faced with gender issues or other challenges, you have numerous women in many professions more than willing to share their thoughts and some possible solutions." Beyond this, more and more organizations and trade associations are calling on WISTA for support, advice and guidance. These include, she said, the International Chamber of Shipping, InterManager, the U.S. Coast Guard Alumni Association's Women's Leadership Initiative, International Maritime Organization's Women in Maritime Associations program, the Maritime Administration for its Women on the Water (WOW) conference, and others.
Grasso and Anagnostis-Irons don't limit their talents and outreach to just one organization, however. Alexandra Anagnostis-Irons today is heavily involved with the Seafarers' House Port Everglades as well as the North American Marine Environmental Association (NAMEPA) and the Society of Naval Architects and Marine engineers (SNAME). She wouldn't have it any other way. "Being on the Board of Seafarers' House of Port Everglades is rewarding on so many fronts. The biggest take-away for me personally is the opportunity to contribute my time, energy and financial resources to give back in some fashion to the mariners who are so vital to our everyday lives."
Grasso's industry outreach includes trade associations which include the Passenger Vessel Association (PVA) and INTERTANKO. She also serves on the Advisory Board of the Smithsonian Environmental Research Center, which houses the National Ballast Information Clearinghouse, on the National Academies of Sciences' Marine Board and as a Board Member and Secretary of the World Ocean Council.
Beyond the good work done by both professionals, the opportunity to meet and interact with some amazing people has its own rewards.

Advocacy & Mentoring
At a recent WOW conference at the U.S. Merchant Marine Academy, one female engineer with 20+ years at sea told this writer privately, "I look forward to a time when these sorts of events aren't necessary." And, you get the idea that both Grasso and Anagnostis-Irons didn't necessarily need a lot of help from other women on the way up. But that isn't always the case.
Anagnostis-Irons has good advice for women who would contemplate this line of work: "My simple advice has been, and always will be, just be true to yourself. If you find something within the maritime industry which you genuinely love, stick with it and make it your own." She adds, "Male or female, this isn't always the easiest industry to endure but it is by far one of the best in the world to be a part of."
Grasso's take on the subject isn't much different. "The biggest challenge for any woman in a male-dominated industry, including the maritime industry, is establishing your credibility at the outset – whether shipboard or in a corporate office. Don't take things too personally and don't be easily offended. Work hard, sometimes 24/7, guard your dignity, respect others, and be honest. Strive for being the best at whatever you do, do whatever it takes to get the job done, manage expectations, and communicate, communicate, communicate. I do not like to think in terms of obstacles being unique to women. My view is that women have to work extremely hard and excel in any profession to succeed, including in the maritime industry. Real talent will rise to the top – male or female."

Recruiting: the Right Woman for the Job
While the role of women in the maritime industry is growing, it is not yet representative of the numbers of women professionals who would like to be on this side of the ledger. Alexandra Anagnostis-Irons insists that her firm recruits the best person to fill positions, regardless of gender. She explains, "I've been asked the question that if two candidates of the opposite sex were equally capable of the job, would I award it to the female. My answer is that two candidates are rarely equally capable. I look beyond gender to persistence, flexibility, the desire to learn and the drive to succeed." Alex adds, "The opportunities afforded to women on the water and ashore are growing and this is a great tribute to those women who blazed much of the trail. We can all do our share to market the opportunities within shipping to kids at grade school level so that girls and boys alike realize the great potential which exists inside Shipping."
For her part, Grasso also points to the need to keep recruiting and encouraging young people to join the shipping industry – women and men alike. "WISTA is involved in numerous efforts, including establishing mentorship programs, being involved with maritime academy cadets through the WOW Conference, and forming a Female Cadets Committee at the WISTA international level looking at policies and procedures to provide more opportunities for female cadets aboard ships," she told MarPro.
Blank Rome, for example, actively recruits women maritime lawyers and while Grasso is the only female partner in the maritime group, she does serve as Vice Chair of the Maritime Practice Group and Co-Chair of the Maritime Industry Team, and on the Firm's Executive Committee. Grasso remains optimistic about what will come next. "I think the opportunities for women are probably better ashore than at sea, but improving on both fronts. More and more, companies, including oil majors, are demanding more diversity in the work place, which helps open more doors for women. Gender diversity is good for a company's bottom line and businesses are finally starting to realize this, which can only help facilitate the advancement of women."
Trust an attorney – and accomplished one like Grasso – to drill down to the very essence of the maritime industry. She told MarPro in April, "I thoroughly enjoy working in the maritime industry and feel very lucky, as a lawyer, that I really like what I do. The maritime industry is an exciting space in which to work – different every day, fascinating issues, challenges, and very interesting people from all over the world. I get particularly energized when I have the opportunity to go on ships and in facilities, and love throwing on a hard hat and life vest."
Sharing the common goal of bringing qualified women in greater numbers to the industry, with the shared vision of knowing that much more is possible, Jeanne Grasso and Alexandra Anagnostis-Irons also come from dissimilar beginnings and interests. Brought together by hard earned success, common experiences and the collaborative efforts of organizations like WISTA, the best – for the waterfront and these leaders alike – is yet to come.

(As published in the 2Q 2015 edition of Maritime Professional - www.maritimeprofessional.com)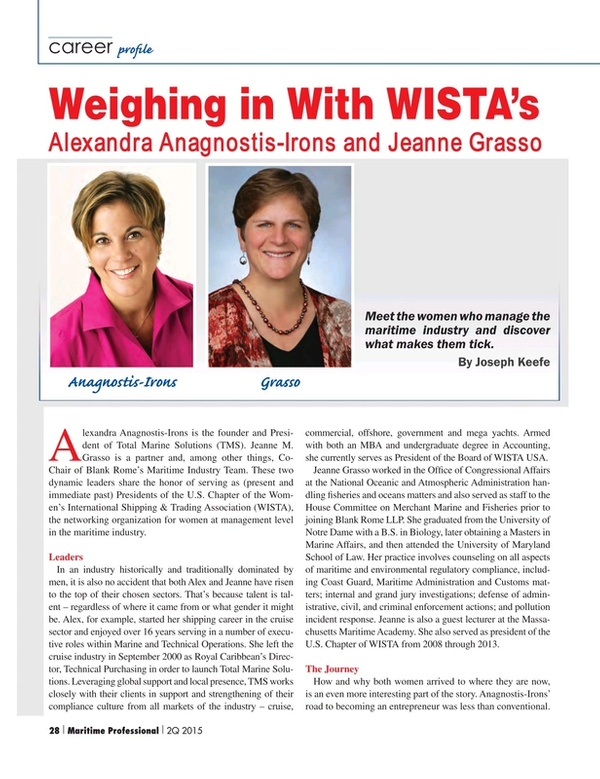 Read Weighing in With WISTA's Leaders in Pdf, Flash or Html5 edition of Q2 2015 Maritime Logistics Professional
Other stories from Q2 2015 issue
Content