So, You Want to be in Bunkers?
By Joseph Keefe
A primer for the curious from Dan-Bunkering.
According to Denmark-based Dan-Bunkering, a global supplier of bunker fuels, lubricants and related products and services, it is difficult if not impossible to pinpoint the perfect background for a Bunker Trader. The worldwide and diverse organization manages both the local tugboat company as well as the international mastodon carrying hundreds of containers worldwide. Dan-Bunkering CEO Henrik Zederkof explains, "We need both 'farmers and hunters' to maintain our brand, however, a performance oriented team player with experience within sales or better yet; shipping, is not a bad combination." With that said; several of their bunker traders have been with the firm for decades and started out as trainees. He adds, "We are proud that we each year have colleagues who celebrate both 10th and 25th anniversaries with Dan-Bunkering, something which is quite unusual in our line of business nowadays."
Dan-Bunkering runs its own internal training program making sure that everyone – people coming directly from business school as well as people coming in with experience from other businesses – will be well prepared to step into the role of Bunker Trader. Beyond this, the firm employs many different nationalities onboard which is essential in order to strengthen and maintain its global market coverage. For example, the sales department in the home office in Denmark boasts several different nationalities – China, Turkey and Russia, just to name a few – providing what Dan-Bunkering says promotes the best possible cultural understanding, as well as language skills that come in handy for countries and markets where the firm sees great potential. The majority of these employees had studied or worked in Denmark for a couple of years before starting with Dan-Bunkering and, according to Zederkof, all or most have proven to be assets to the organization despite having come in with no actual bunker experience.

New Fuels, New Regulations – new ways of doing business
Environmental Control Areas, the evolution of engines in the "tier" scheme, and indeed, the advent of LNG as a fuel has already begun to change the business of bunkers. Nevertheless, the first ECA area in the world was actually in Danish waters, thus Dan-Bunkering from day one found itself in the center of it all. Henrik Zederkof explains, "From our point of view, this is where we can provide comfort to our partners who, with the right guidance and support from our side, will feel more comfortable about the changes ahead. We have never seen a situation where we have not been able to guide or help our partners, and all bunker markets have always found the balance to work within any ECA regulations."
Zederkof warns that ECA regulations are, however, fraught with risk. He insists, "It seems very optimistic to believe that everyone is complying and at the same time no violators have been found since the latest ECA regulations were implemented on 1 January 2015. The fact that the task of enforcement is to be handled individually within each country makes more room for uncertainty and minimizes the level of real control and enforcement." And he says that this reality could not only damage the environment, but also form the basis of unfair competition between those who comply and those who do not.
On the matter of the slowly developing LNG revolution, he says simply, "LNG fuel is still a very small market and we can only consider it a market niche. As a fuel product for ships, LNG still has to prove that it is a real alternative and that it is capable of playing a significant role in the overall bunker market. It is not impossible, but we do not foresee it happening within the next decade or two."

Hedging on the Future
According to Dan-Bunkering, hedging is many things and the term hedging is often used for so many different risk management products that today, hedging is more a general term for buying paper security to manage your risk in volatile oil prices. And, says Zederkof, "Hedging or paper trading is a massive support to the oil industry, as no producer, storage holder, supplier or end user wants to take on the risk of volatile oil prices." In practice the same ton of oil can be hedged many times, from starting as crude oil until it ends up as bunker fuels at the end of the supply chain.
Hedging is a product and a service that Dan-Bunkering offers to its clients, but it is used only as an instrument to secure bunker prices or to "lock" in a maximum price for bunkers. He adds, "Using pure paper trading to speculate in the future development of oil prices is something we do not do, as we consider that equal to speculation. However, when a client has a contract for transport and wants to secure a stable bunker price for the contract and in that way manage the risk of increasing oil prices, hedging is a perfect tool and we use it often in such respect to support our partners' needs. We make sure to guide them properly on how to handle this so it does not end up as speculation but on the contrary; a tool that limits or eliminates the risk of volatile oil prices."
Zederkof believes that when used correctly, hedging is a strong tool, but it has to be used for the right reasons. "If we believe we know where the market is going and we speculate in that belief, then hedging becomes high risk gambling, he says, adding, "Thus, we are very thorough when guiding our clients and partners so we make sure that they use the tool right and understand the possibilities and risks within the tool before entering into any hedging deals."

Bunkers: post-OW business, and Employment, too
Henrik Zederkof reflects on the demise of a longtime competitor, and what it means for the industry long term. "What happened to OW last year was certainly the biggest tragedy we have seen in the bunker business. We refer to it as a tragedy as it was sad to see a long-standing, solid competitor go down like this, however, of course the OW bankruptcy has given Dan-Bunkering some benefits in the form of less competition, new clients, contracts and employees," He said, adding, "Some may think that one less significant player in the market would only benefit companies like ours, but the OW case has certainly also induced negative consequences in the entire bunker business. Banks, suppliers and clients have all become more hesitant and in general we have seen more circumspection in the market in the form of suspended credit lines and weaker credit terms."
That said; the human resources benefits for Dan-Bunkering are clear. Dan-Bunkering group has employed over 20 former OW employees since the November bankruptcy. That's because, without a doubt, OW had many highly skilled and experienced people on staff. And, Zederkof insists that the new hires have already started to impact the organization, bringing a fresh eye to the market. Bringing the new blood on board took the form of more than one approach. "We employed a team of five traders based in Aalborg and decided to open a Dan-Bunkering office in Aalborg so that our new colleagues and their families were not forced to relocate in order to pursue a career with Dan-Bunkering. We used the same approach in South America with great success, but we also entered into a dialogue with several individuals whom we have employed in our offices around the world, he told MarPro in April.
Toiling in the bunkers game means constantly adjusting to change – something the former employees of OW Bunkering learned only too well in the last six months. But change comes in many forms for this dynamic, but essential business. New fuels, new regulations and new advice for clients in a shifting business climate greet the average bunker trader every morning. And, at Dan-Bunkering, that's business as usual.

(As published in the 2Q 2015 edition of Maritime Professional - www.maritimeprofessional.com)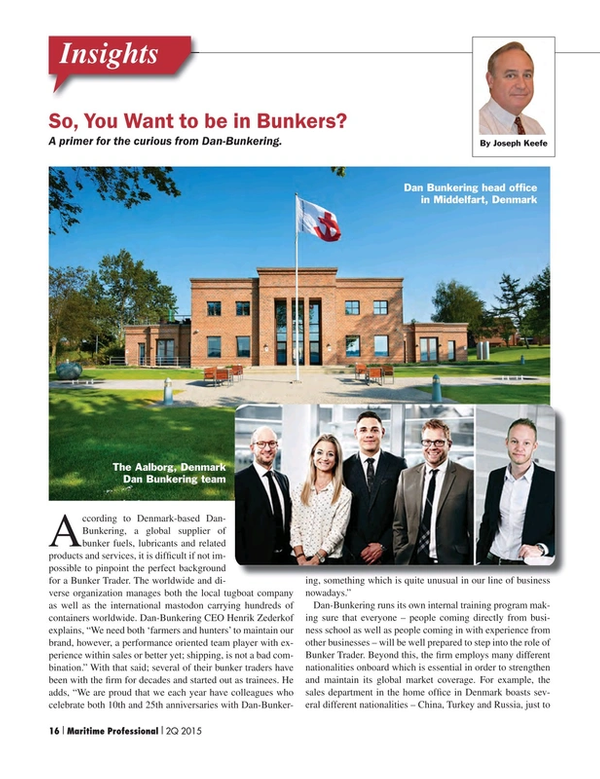 Read So, You Want to be in Bunkers? in Pdf, Flash or Html5 edition of Q2 2015 Maritime Logistics Professional
Other stories from Q2 2015 issue
Content