US Dredging: An Advocate for Ports, Waterways & Coastal Protection
By William P. Doyle
U.S. dredging companies are unlocking the potential of U.S. Ports. These companies build their equipment in U.S. shipyards, are owned by U.S. companies and staff their ships and projects with hardworking Americans. U.S.-based Dredgers build to suit the needs of the United States.
Getting Started: Dredging Policy 101
We all know that it takes a significant amount of time to complete an environmental analysis before a dredging project can commence. This usually means that an environmental impact statement (EIS) under the National Environmental Policy Act of 1969 (NEPA) must be undertaken.
NEPA requires completion of an EIS for all federal government agency actions that could significantly affect the environment. An EIS describes the positive and negative environmental effects of a proposed agency action and alternative actions. The NEPA process is designed to involve the public as well as to gather and analyze the best available environmental data so decision makers can be fully informed when making choices. This regulatory review process can take several years and has nothing to do with the dredging companies themselves.
The dredging companies are not the applicants for the dredging projects. Rather, a port authority or state agency generally acts as the applicant for a port dredging project. In accordance with NEPA, the U.S. Army Corps of Engineers (USACE) is usually the "Lead Federal Agency" with the responsibility of evaluating the environmental impacts of a proposed dredging project. As part of the NEPA process, state level agencies, the National Marine Fisheries Service (NMFS), the U.S. Environmental Protection Agency (EPA) and other federal agencies act as cooperating agencies in the preparation of the EIS.
Once the NEPA review is completed, the Army Corps of Engineers will usually put the port and/or harbor deepening project out for bid. And, once awarded the dredging companies will begin the project.
The Market
American dredging companies compete for contracts to build and maintain vital entrance channels, ports and waterways. Navigation infrastructure enables U.S. seaports to contribute approximately $780 billion to U.S. gross domestic product (GDP) annually, including almost 15 million jobs. Well-maintained navigation infrastructure also ensures ready access to strategic national defense ports. Failing to maintain our seaport infrastructure would undermine America's ability to compete in the global marketplace, damage our sealift capability and harm our national defense.
The U.S dredging industry has the capacity to fulfill any and all dredging projects in the United Sates. The U.S.-flagged dredging fleet totals more than 400 dredges. Once the regulatory reviews are competed and funding is available, the dredgers go to work. Moreover, and in preparation for new projects, the U.S.-flag dredging industry is already in a period of strong growth. It has invested over one billion dollars recently in U.S. shipyards, constructing approximately 30 new vessels including dredges, barges, tugs and other equipment. These shipyards include Eastern Shipbuilding, C&C Marine Shipyard, Corn Island Shipyard, Conrad Shipyard and Halimar Shipyard.
The dredging industry is an integral part of the 500,000 jobs supported by the U.S. maritime industry. Investment decisions are reliant on the perceived permanence of the Jones Act – the single, most fundamental domestic maritime law that has enabled the overall U.S. maritime industry to generate $100 billion in annual economic output, $30 billion in annual employee compensation, $11 billion in annual tax revenues, and $46 billion in value-added.
DCA's Domestic Agenda
In order to help expedite projects moving forward, the U.S.-Flag dredge industry strongly supports:
Hitting the HMTF Target: In the Water Resources & Reform Development Act (WRRDA) 2014, Congress enacted a plan to gradually increase Harbor Maintenance Trust Fund monies for navigation infrastructure maintenance until 100 percent of the ad valorem taxes collected from shippers is used for its intended purpose. The dredging strongly encourages appropriators to "hit the target" each year. Thankfully, the FY18 House and Senate appropriations bills do so.

More U.S. Army Corps 'New Start' Funds: The U.S. dredging industry encourages Congress to provide more "new start" funds so that recently authorized navigation projects can proceed to construction on an economical basis. The dredging industry also encourages Congress to support new start and construction funding for coastal flood protection projects.

Coastal Protection & Restoration:
-Invest $5 billion in federal, state and local beaches, dunes, wetlands and other coastal risk reduction, erosion control and habitat infrastructure over the next 10 years.

-Create long-term, dedicated funding sources from coastal and offshore development.

-Encourage the U.S. Army Corps to implement the beneficial use of dredged material pilot program authorized in the Water Infrastructure Improvements for the Nation (WIIN) Act of 2016.

-Fund and implement the South Atlantic Comprehensive Study (authorized in the Water Infrastructure Improvements for the Nation Act) to assess flood risk and shoreline vulnerability to hurricanes and sea level rise.

-Streamline and expedite regulatory and permitting timeframes.
The Author
William P. Doyle is the CEO & Executive Director of the Dredging Contractors of America (DCA). Twice a U.S. Senate confirmed Presidential appointee to the U.S. Federal Maritime Commission (FMC), Doyle has, over the course of a long and celebrated career, worn many prestigious hats. Prior to his FMC appointment, Mr. Doyle served on cabinet and executive level boards and committees under both the Obama and George W. Bush Administrations. Before that, he served as an officer in the U.S. Merchant Marine as a U.S. coast Guard licensed marine engineer aboard numerous classes of vessels.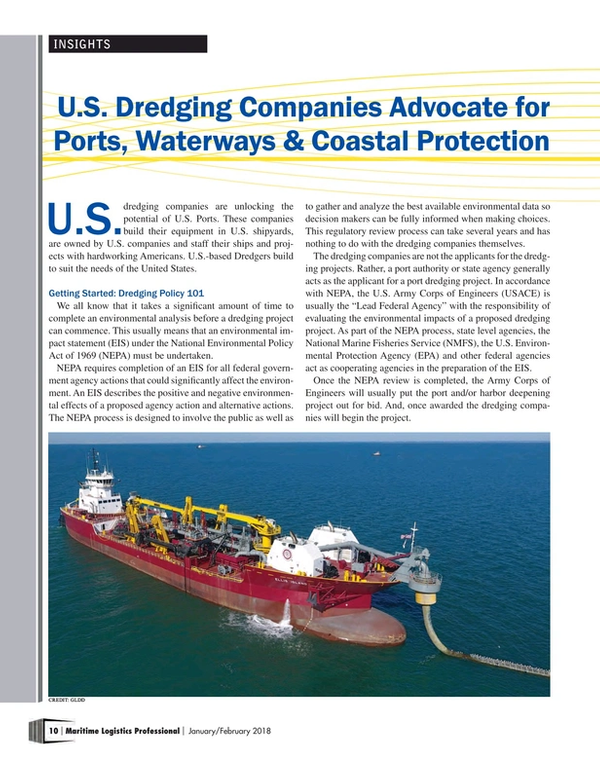 Read US Dredging: An Advocate for Ports, Waterways & Coastal Protection in Pdf, Flash or Html5 edition of Jan/Feb 2018 Maritime Logistics Professional
Other stories from Jan/Feb 2018 issue
Content