An Integrated High-tech Approach to Port Security
By Joseph Keefe
DP World employs a sophisticated Vidsys technology platform to eliminate stovepipes and integrate myriad security solutions.
DP World London Gateway provides deep-sea shipping access to one the largest consumer markets in the U.K. Naturally, the task of keeping all of that safe from outside threats, while also balancing that important task with the need to ensure an efficient intermodal supply chain is no easy task. That's because this facility routinely intercepts stolen vehicles, narcotics and illegal immigrants while working closely with local and London MET police, the U.K. highways agency and the Ministry of Defense.
Like any port terminal, DP world London Gateway employs dozens of methods and equipment packages to ensure safety. All of that produces an avalanche of data and information too broad even for the best of security watch teams to take in. From the beginning, the port sought out an integrated security platform to provide better situational awareness and data analytics capabilities. Eventually,
they turned to Vidsys
.
How It Works
Vidsys provides a physical security information management (CSIM) software platform solution. CSIM software is a force multiplier especially for organizations with a large physical footprint because the software geospatially aligns information and assets into a single user interface. CSIM has five core areas of functionality: it collects, analyzes, verifies, resolves and tracks information. Eliminating stovepiped data streams, its rules engine and workflow tools give management the ability to pre-determine what data should be correlated and what should be filtered out. CSIM software uses filtering rules based on time, location, duration, frequency and type.
The term "force multiplier" is much used but often misunderstood concept. For Vidsys customers, it means that an organization might be able to reduce headcount in their security teams, but that isn't necessarily what it is all about. Using personnel more effectively and empowering them with the right information and tools, a facility can increase its security coverage by combining technology and people.
Real port security doesn't just involve what's inside the fence. That's because port authorities and terminals that were previously focused inside the perimeter can now collaborate with outside law enforcement and first responders. That interoperability enhances Maritime Domain Awareness. So, when a threat occurs it can be resolved accurately, efficiently and consistently.
CSIM provides the ability to manage situations in real-time. First responders, supervisors, IT staff and senior executives with authorized credentials can access CSIM from anywhere via mobile device (tablet, cell phone) for enhanced situational awareness. Mobility is more important than ever. A true web-based and open architecture platform, Vidsys is fully enabled for mobile users. Decision makers from a single organization or multiple entities can collaborate real-time and to share time-sensitive, actionable information both with executives and incident responders via mobile devices.
Colin Hitchcock, Harbor Master & Head of ISPS security at DP World's London Gateway explained, "Through the Vidsys platform, we are able to extend our ability to monitor the port, our assets, and increase the efficiency and effectiveness of our security program." The two-square-mile area port is surrounded by an 11 kilometer fenceline, creating a massive infrastructure to be monitored and managed.
Through highly automated technology, Vidsys helps the port run all data through a 24/7 Security Control Room, with a separate control room reserved for elevated security alerts. A particular feature of the CSIM platform that the DP World London Gateway Harbor Master uses frequently includes Vidsys' innovative, smart reporting capability.
For DP World, the Vidsys system incorporates a minimum of 28 standard operating procedures (SOP) that defines security in terms of flow diagrams, outlining who needs to be called, and what happens next in the event of an emergency. The Vidsys security program incorporates local servers on site, which Hitchcock says – in a nod to the cyber threat – are not connected to anything outside the terminal. He adds, "We don't even allow USB sticks."
Pilot Project: Future-proofed and Business Friendly
While Vidsys has many clients spread out over a broad business mix, the DP World's installation at the London Gateway was a pilot project. DP World in this case had the advantage of starting its security measures with 'a clean sheet of paper.' The terminal, built from scratch on a cleared piece of reclaimed land, allowed DP World and Vidsys to collaborate on a custom-built package, and not one which addressed existing stovepiped assets. Not every terminal can do that, but from this project, DP World now has a blueprint for its next security upgrade elsewhere.
As a firm that [globally] handled a record number of TEU's in 2017, security will always be at the forefront. But, even the safest terminal is of no value if it isn't making money. The need to balance the security requirement with the need to ensure that commerce also flows smoothly is no easy task. For that reason, DP World keeps the all-important Terminal Operating System (TOS) and the Vidsys platform separate from one another. That said; when a security concern requires a container to be moved from one area to another for inspection or quarantine, that can be done without impeding other commerce. Bottom line: dwell time and truck turnarounds are critical metrics at any box terminal. As the first DP World Terminal to use Vidsys, Hitchcock says much went into that planning. "It is future-proofed," he says flatly.
Data They Need – and Nothing More
In the port security industry, the "so what?" factor is an important catchphrase. In other words, security regimes bombard security personnel with millions of bytes from myriad sources. The 'noise' sometimes overwhelms the security mission. This is overcome by algorithms that sift through all the data to transmit only what is important to the watch team.
Vidsys provides what they describe as "Converged Security and Information Management." Hitchcock explained the concept by saying, "We have a control room, fences, HD cameras, movement sensors, thermal imaging cameras, access control systems, guards out on patrol and many other security measures in place. Roving patrols carry WEB cams and we have drones as well. All of that has to come back to one area. What I didn't want was a bank of thousands of small cameras [or readouts] which just becomes a blur in front of the operators in the control. Absolutely – the information is filtered."
Vidsys helps the port run all data through a 24/7 Security Control Room, with a separate control room reserved for elevated security alerts. A particular feature of the CSIM platform that the DP World London Gateway Harbor Master uses frequently includes Vidsys' innovative, smart reporting capability. Smart Reporting means that, for example, DP World can have alerts that are tied to an area on a map, whereupon as many as six cameras might lock onto that 'problem,' follow it as it moves from sector to sector, and captures it all on film.
Hitchcock told MLPro, "We have a 'Silver Command' where, if we had a major disaster, all sensors and images are channeled into a board room and central command." Beyond that, the system is designed to be able to communicate locally to first responders and other security partners, and globally to all key DP World personnel – in real time.
The Real World
Not every terminal can leverage DP World London Gateway's advantage of building a security system from the ground up. Even DP World has many legacy terminals that already have security regimes in place. In the United States, and in the 17 years that followed the attacks of 9/11, authorities aggressively funded security infrastructure primarily via federal port security grants. The weight of these enhancements left security personnel to decipher multiple streams of information. But, simply collecting and displaying huge quantities of data is no longer enough.
The fences, cameras, radar, sonar, AIS, fences, radiation detection monitors and a hundred other pieces of hardware and software that existing terminals needed to achieve perimeter security was put in place. In most cases, all of this was procured inward to the organization and in a stovepiped fashion. And when this happens, a diversion in one area of the facility can often be used to mask the real threat elsewhere. For the facility that added security layers over time, Vidsys brings it all together.
With Vidsys, organizations can plan technology investments over time and bring them on line periodically while continuing to realize the benefits of current infrastructure. Within this approach, seamless integration of existing technology is possible, as well as a path to integrate emerging technologies.
Vidsys takes evolving data, instantly places it in context and constantly monitors for what happens next. Behavioral trends, potential threats, and anomaly detection, and alerts are all accomplished in real-time. A 'rules-based' situation management works by cutting through the gray noise to get to the important data; or actionable information, without losing sight of the big picture. All personnel don't need the same view to achieve situational awareness. Vidsys allows watchstanders to focus on anomalies, providing data that is important, to the right person, at the right time.
Bottom Line
For DP World, the big question in terms of security was to ask, "How do we get value for money?" Colin Hitchcock explained, "The health, safety and security aspects of our business don't make money. We needed a complete 'site management system' that can be controlled in one room by the on-duty security team." With Vidsys, that's exactly what they got.
Initially training, according to Hitchcock, involves three to four weeks, but regular drills keep local personnel sharp. That's important, because if so-called situational awareness is the key to staying safe, then the security challenges facing global ports and terminals have never been more daunting.
Retired U.S. Coast Guard Commandant ADM James Loy, in the unsettled wake of 9/11, is credited with coining the phrase 'Maritime Domain Awareness.' And, he said, "If you've seen one port, you've seen one port." That being true, the Vidsys integrated security platform is just the ticket for ensuring a uniform security package – no matter what the local conditions, landscape or threats entail.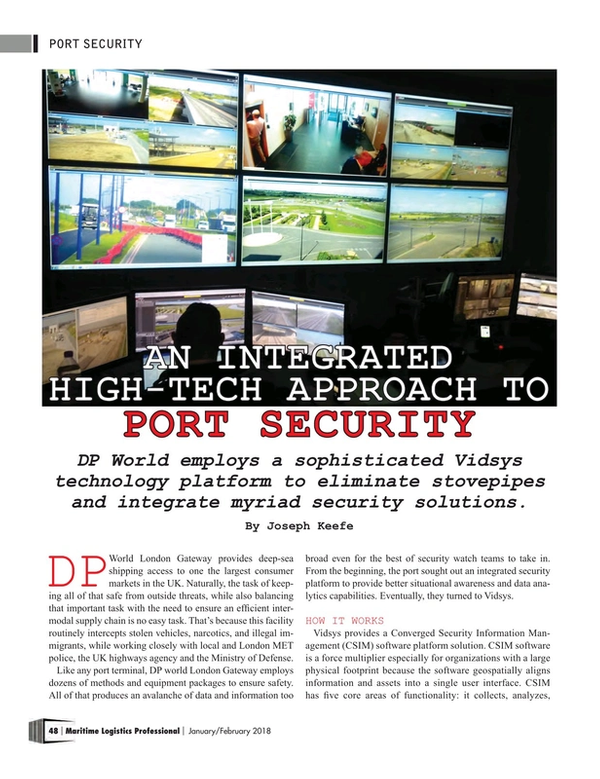 Read An Integrated High-tech Approach to Port Security in Pdf, Flash or Html5 edition of Jan/Feb 2018 Maritime Logistics Professional
Other stories from Jan/Feb 2018 issue
Content