The Cruise Industry Business Model Evolves
By Barry Parker
Shifting populations, desirable destinations and yes – economics – drive the cruise industry of tomorrow.
Unlike the cargo side of shipping, the cruise business has seen a steadily upward trajectory, with steady growth over decades. The 2018 annual "State of the Cruise Industry" report from Cruise Lines International Association (CLIA) was projecting a count of 27.2 million passengers for 2018, showing a steady rise from the 19.1 million, the figure for the beginning of the decade, and a substantial increase from 25.8 million in 2017.
But, outside of the true mega cruise ports in south Florida with their enormous economies of scale (and therefore, the ability to attract more cruise business), smaller ports strategizing to gain a piece of the burgeoning cruise business need to be reminded of the mindset of the cruise lines. Arnold Donald, CEO of Carnival Corporation, the industry's dominant vessel operator, in its Q3 2017 earnings call, told investors: "We are still very return focused. We have no hesitation to relocate a ship if necessary for it to overall have more accretive return for our business and just keep in mind it's still so small."
Underscoring Donald's declaration is the news that Carnival had late last year entered into an agreement with Shell to provide LNG bunkers in its U.S. East Coast trades. Importantly, Tim Strang, Senior Vice President Maritime Affairs for Carnival Corporation, told MLPro, "The use of a mobile bunker vessel allows more flexibility in delivery location."
Situational Strategy
Economists and consultants have long tried to describe the ports serving the cruise companies. Ports may be "origins" – actually gateways and gathering spots for passengers (located near population centers or industry infrastructure). Miami and Port Everglades instantly come to mind. Alternatively, they might be "destinations" – places of interest to tourists (but not generating passenger traffic). Islands in the Caribbean or perhaps New Orleans are typical examples. But real life is messier than the consultants depict. These sometimes overlapping delineations are imprecise.
Ports in North America present a different type of overlap – where they overlap with cargo shipping, or with scenic downtowns. Dr. Jean-Paul Rodrigue and Dr. Theo Notteboom, noted transport economists at Hofstra University and authors of the online resource The Geography of Transport Systems, wrote, "The siting and setting of cruise port activities is subject to constraints usually not found for regular port activities." Such constraints include seasonality (where cruise ships may not run in colder months) and also congestion (where crowds from large ships may overwhelm a port's waterfront area).
For port planners in North America, the process of integrating cruising and cargo is fraught with challenges tied to intra-regional competition where ports compete for passengers, and the evolution of cargo supply chains. The two economists cite the trend where one-time breakbulk cargo terminals, likely near city centers, are converted into cruise terminals. But precedents also exist for movements in the opposite direction.
The situation in Galveston and Houston highlights some of these swirling currents. Galveston, at one time a leading port for U.S. exports of agricultural products, has continued to capture a portion of this business. In recent years, Galveston has annually exported between 2 – 3 million metric tons of grain, mainly wheat and sorghums. It also has been active in other bulk commodities, as well as moving heavy equipment and automobiles. Though Galveston logged its first cruises in the mid 1970s, the port began developing its year-round cruise business in 2000 with the opening of its Cruise Terminal 1 in a conversion of an 1870's vintage warehouse originally serving the Mallory Steamship Company.
At the port, cruise embarkations exceeded 900,000 passengers in 2017. Presently it handles vessels for Carnival Cruise Line, Royal Caribbean Cruise Line, and Disney Cruise Line – mainly on cruises around the Western Caribbean. The port highlighted its recent successes, saying, in a news briefing: "December 2017 was a record month for cruise ship calls in one month. The 33 cruise ship calls recorded in December broke the previous record of 29 turnarounds set in December 2005."
Its Cruise Terminal 2 highlights the story of transformation from cargo to cruise. In 2002, the Port of Galveston built a new terminal after demolishing a 1930's era grain elevator, with its numerous concrete silos, and railcar unloading facility (shuttered in 1998 as part of a $30 million plan to up the port's cruise capacity and handle larger vessels). A presentation at an American Association of Port Authorities (AAPA) 2015 Cruise seminar by then Port Director Michael Mierzwa highlights the re-use of an old and cavernous Galveston Wharf warehouse. That facility was refashioned as an integral part of the terminal (which was expanded further in an $11 million project completed in 2016). Importantly, and perhaps crucial to its success, the 2003- 2004 project was a Public Private Partnership (P3), with financial participation from both Royal Caribbean and Carnival.
Across the bay, in Houston – an opposite side of the same story was occurring. Houston had also participated in the nascent business in the 1970s as the first true cruise vessels came on the scene, and made significant positive strides in the early 1990s, including home-porting of vessels for Norwegian Cruise Lines (NCL). After riding market waves that turned upward in the early 2000's with vessels calling at a makeshift cruise facility at Barbours Cut, the port incorporated plans for a modern cruise terminal, with a large parking lot, into the design of the adjacent Bayport container terminal. Market vicissitudes continued through 2008, when the new cruise terminal came online (without customers), through 2011 when NCL and Princess Cruises began using the terminal. By late 2015, vessel redeployments saw Bayport's cruise facility idled once again, in spite of financial incentives for cruise companies to call there.
Cruise Economics
The cruise companies' efforts to squeeze out the most dollars result in logistical contortions. In early 2016, NCL shifted its Norwegian Star (then sailing out of Tampa) to Australia, substituting it with Norwegian Jade (pulled out of Houston). Norwegian Cruise Line Holdings' President and CEO, Frank del Rio, described the move in a 2015 investor call, saying: "Norwegian Star's seasonal deployment will satisfy both contingents and mark the brand's return to the region after a 15-year absence." He added, in an oblique reference to Houston, "This new deployment also coincides with the ramping up of our sales and marketing operations in Australia … and replaces our lowest yielding seven-day product."
Around the same time, Princess Cruises pulled its Houston based Caribbean Princess out, moving it into the Australia trades. Unlike cargo, the cruise business requires sensitivity to consumer views which, in turn, drive the yield calculations of utmost importance to executives such as Mr. Donald and Mr. del Rio. On Cruisecritic.com, an online community for the sector, one commentator offered that: "The Port of Houston terminal is located in a dump. The Galveston terminal is beside the Strand. 'Nuff said." Ultimately, though, part of Galveston's advantage proved to be its closeness to the open water, with Cruisecritic.com noting: "Galveston is also just 30 minutes from the open sea, so shops and the casino open fairly quickly after sail away." Professor Andrew Coggins, Professor in the Lubin School of Business at Pace University, told MLPro, "Where cruising and cargo operations are in the same port, it can be tricky especially if they are not geographically separated. In Houston, for example, there were instances of disruptions and delays when the Ship Channel was closed after accidents and oil spills. Even on normal days, attention to scheduling of vessels coming inbound and outward is critical."
Push and Pull
For ports, realism and forward thinking are critical. As far back as 2011, Port Houston's marketing department had already begun to scope out alternative uses for the cruise terminal, and by 2016 its planners noted that trends in the automobile industry (including significant activity in Mexico) augured well for an auto import/processing facility in the Houston area. This business could be served by roll-on/roll off vessels, with vehicle cargoes stored on the out-sized parking lot. In mid 2016, a five year lease deal was struck with a large processor. Port Houston estimates that the terminal is expected to import 36,000 vehicles over the next three years with two vessel deliveries per month."
Charleston, SC is a port that has faced a different type of challenge, where the crush of passengers disembarking at cruise terminal near the heart of a historic district has upset some of the old-timers. Over the past six years, a legal battle has ensued between the South Carolina State Port Authority (SCSPA) and local environmental and preservationist groups regarding permitting for construction of a new cruise terminal at its downtown location. In the latest skirmish in this bigger battle, the state's Court of Appeals sided with the SCSPA. This would allow permits to be issued to the SCSPA for construction of a new facility at the "Union Pier," a 60 acre dual-use facility currently serving both cruise (on the south side) and cargo trades (on the north side).
Charleston's Union Pier, now seeing infrequent breakbulk shipments, had earlier been a ro-ro terminal, and a terminal for rice exports before that. The SCSPA has been seeking to reduce that footprint, creating a 20 acre cruise terminal adjacent to a park. In late January local news reports said that opponents of the cruise terminal were now asking the state's Supreme Court to overturn the late 2017 Appeals Court decision that would allow the permits to be issued (which upheld an Administrative ruling going back to 2014). It was not clear, as of early February, whether the South Carolina Supreme Court would hear the case.
More Change Coming?
Going forward, the peculiarities of the cruise business may drive different configurations for ports. Pointing to the movement of containership entities into the terminal business, the Hofstra geography professors suggest that ongoing trends "… lead to further market segmentation between large ports called by mega ships and smaller ports called by smaller ships offering a specialized cruise experience." They add that: "This is likely to incite the additional involvement of the cruise industry in terminal operations, a trend that has already taken place with the setting of private port/resort areas. The next step will involve the development of new cruise terminals co-located with service amenities such hotels, attractions, condominiums and shopping malls." No doubt the cruise lines will own or have an interest in those amenities, should they come to reality.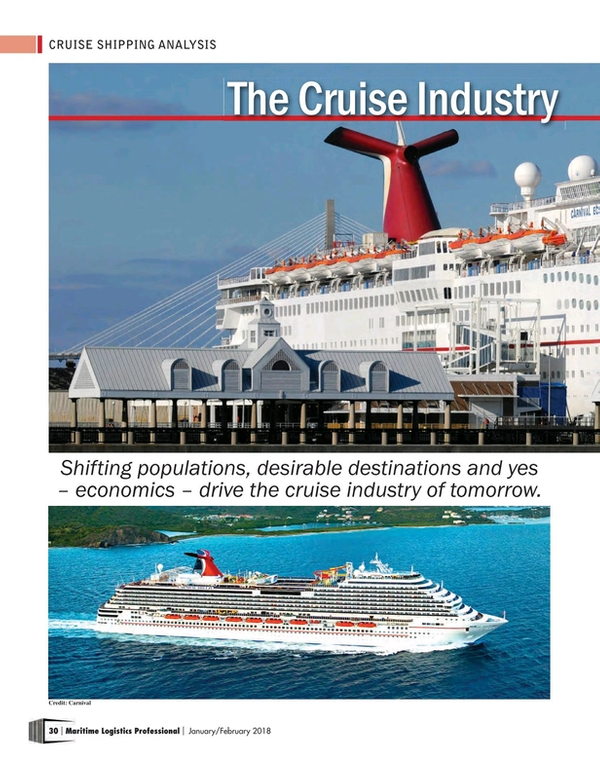 Read The Cruise Industry Business Model Evolves in Pdf, Flash or Html5 edition of Jan/Feb 2018 Maritime Logistics Professional
Other stories from Jan/Feb 2018 issue
Content