E U R O P O R T ' 83
Amsterdam, The Netherlands — November 8-12 Europort '83—the largest maritime exhibition in the world—will be held from Tuesday, November 8 to Saturday, November 12. The exhibition will be held for the 21st time, in Amsterdam, using all nine halls of the newly expanded RAI Exhibition Centre. A record number of shipping and shipbuilding executives as well as technical personnel from all over the world are expected to attend.
Until recently, Europort was staged annually. However, after Europort '81, it was decided to continue the event every other year. The increased capacity of the RAI complex and the transfer of Europort's management to RAI Gebouw B.V., contributed to the decision to hold the exhibition every two years. (RAI Gebouw is not only responsible for the management of the exhibition and conference facilities, but also organizes most of the events staged at the RAI complex.) Well over 430 exhibitors from 26 countries, together representing over 1,200 firms, have reserved stands at Europort '83. There will be six national stands—Denmark, East Germany, Finland, Japan, the United Kingdom and West Germany—among the participants.
The exhibits this year will cover a wide range of products and services including: shipbuilding; fitting- out, repair and maintenance; cooling and refrigeration; containerization and storage tanks; harbor and port equipment; patrol craft, lifeboats and workboats; propulsion systems; auxiliary power supply; communication and navigation equipment and systems; calculation, measurement, regulation and steering systems; loading and unloading systems; advisors, designers and consultants. Other types of marine services, such as financing and insurance, decoration, oceanology, fishing, dredging, etc., will also be represented.
International Maritime Finance Conference The main conference at Europort '83 will concentrate on International Maritime Finance.
Speakers for the two-day congress will discuss the financial effects of international shipping policies, the problem of shipbuilding subsidies, the justification of finance for new tonnage (including cruise ships) and the financing of major machinery conversions.
Michael D. Revell will chair the first day's sessions, while Professor Henry S. Marcus is chairman for the second day's sessions, INTERNATIONAL MARITIME FINANCE PROGRAM Tuesday, November 8 9:30—Official opening 10:15—Coffee break Chairman—Michael D. Revell, Administrative Vice President, Director of Shipping, Marine Midland Bank n.a.—London, United Kingdom.
10:30—Introduction to the conference by the chairman.
10:40—"An Overview of the Present Shipping and Shipbuilding Scene," J.G.
Davis, Chairman, International Maritime Industries Forum.
11:25—"Bank Shipping Finance: a Spherical Approach," Prof. Costas Grammenos, Athens, Greece.
12:15—"The World Economy in Crisis," Prof. Brian Griffiths, Dean, the City University Business School—London, United Kingdom.
1:00—Luncheon 2:00—"Role of the Bank Committed to Investment in Shipping," Charles Barrington, Grindlays Bank p.I.e.—London, United Kingdom.
2:45—"The Financial Plight of Shipowners," H. Rootliep Member of the Board, Koninklijke Nedlloyd Groep N.V.—Rotterdam, the Netherlands.
3:30—Tea break 4:00—Panel discussion 5:00—Close 6:30—Reception at the Rijksmuseum Wednesday, November 9 Chairman—Prof. Henry S. Marcus, Associate Professor-Marine Systems, Massachusetts Institute of Technology—Cambridge, U.S.A.
9:30—Keynote speech, "International Maritime Policies and Their Effect on Finance," Prof. Henry S. Marcus.
10:15—"Dangers of Governmental Interventions and Subsidies for the World Shipbuilding Market," W. Fante, Managing Director, Verband der Deutschen Schiffbauindustrie e.V. Hamburg, Federal Republic of Germany.
11:00—Coffee break 11:15—"Economics of Large-Scale Machinery Conversions," Dr. J.B. Parga, President, Association de Ingenieros Navales de Espana—Madrid, Spain.
12:00—Luncheon 1:30—"The Case for Scrapping Now," W.W.Y. Lee, Chairman, Marine Navigation Company Ltd., London, United Kingdom, Member of Intertanko's Executive Committee.
2:15—"Finance for Port Development", J.H. Betist, Director of AMRO-Bank, Rotterdam, Head of Concern Relations, Amsterdam- Rotterdam Bank N.V., Rotterdam, the Netherlands.
3:00—"Ship Purchase—An Independent Tramship Owner's Point of View," J.C.
Lyras, Director, Lyras Brothers Ltd.—London, United Kingdom.
3:45—Tea break 4:00—Final Summing-up, Frank Chao, President, Wah Kwong & Co. (Hong Kong) Ltd.—Hong Kong.
4:45—Close Dredging Days The International Inland Shipping Exhibition, known as Binnenscheepvaart '83, has been organized for the third time and is an integral part of Europort '83.
The so-called 'wet-work' contractors are grouped together in the Delta Hall of the RAI complex to form a central theme—dredging.
A separate conference on Instrumentation and Control of Dredging Processes has been organized by the Central Dredging Association (CEDA).
The Dredging Days will comprise two sessions, the afternoon of Thursday, November 10 (1:30-5:45) and the morning of Friday, November 11, 1983 (9:15-1:30).
Provisional Program E.W. James of the International Association of Dredging Companies, will open the Dredging Days.
The following papers have been selected by the international paper committee for presentation during the Dredging Days.
• "A Simulation Model for the Hydraulic Process of Cutter Suction Dredgers," Ir. J.L.S. van Ostaeyen, Dredging International B.V., Belgium.
• "A User-Friendly Automatic Control for Cutter Dredgers," C.
de Keizer, Observator B.V., The Netherlands.
• "The Influence of Comprehensive Automation Systems on Cutter Suction Dredging Operations," A.C. van Zutphen, IHC Holland N.V., The Netherlands.
• "Automatic Laser Range/Azimuth Positioning System for Accurate Dredging Surveys and Dredging Control," H.F. Wentzell, Krupp Atlas Elektronik, Federal Republic of Germany.
• "Improving Dredging Performance by Using an Automated Survey System," J.S. van Velsen, Intersite Systems, The Netherlands.
• "A System for the Remote Monitoring of Oceanographic Data to Support Dredging Operations," S.J. Archer, Offshore Environmental Systems Ltd., United Kingdom.
• "The Collection and Presentation of Hydraulic and Meteorological Information for a Project," M. Ringelberg, Rijkswaterstaat, Delta Division, The Netherlands.
• "Accuracy in Dredging Sand Waves in Access Channels," F.
Draisma, A.M. DeJonge, Rijkswaterstaat, North Sea Division, The Netherlands.
• "Draghead Positioning of Trailing Suction Dredgers as a Means to Improve Efficiency," G.
Boodt, Municipality of Rotterdam, Public Works, Harbour Department, The Netherlands; D.G.
Beulink, IHC Holland N.V., The Netherlands.
• "Accuracy of Draghead Depth and Position Measurement," G.F.
Vermeij, Observator B.V., The Netherlands.
• "Density Measurements by the use of Radiometric Principles," G.W. Kappler, Laboratory Prof.
Dr. Berthold, Federal Republic of Germany.
• "Means of Measuring the Density of Solid-Liquid Mixtures," Prof. Dr. W. Wiedenroth, University of Paderborn, Federal Republic of Germany.
• "Instrumentation Packages to Customize Dredgers," P.C. Lunsteroo, IHC Holland N.V., The Netherlands.
• "The Role of Modern Instrumentation in the Measurement of Pipe Friction in Dredging," N.
van Dam, Zanen Verstoep N.V., The Netherlands.
• "The Measurement of key Parameters in the Cutting and the Discharge Process on Board a Cutter Dredger," D.K. Kremer, Boskalis Westminister Baggeren B.V., The Netherlands; J.A.H. Koenig, Osiris-Cesco B.V., The Netherlands.
• "Automation as a Principal's Tool," G. Ottervanger, Rijkswaterstaat, North Sea Division, The Netherlands.
• "Instrumentation as a Tool for the Manager," W.H.A. van Oostrum, International Marine and Dredging Consultants, The Netherlands; M. Engels, Internationale Navigatie Apparaten B.V., The Netherlands.
Amsterdam will certainly become the center of attention for the international maritime industry during Europort '83. His Highness Prince Bernhard of the Netherlands is patron for the Europort '83. The industry's long-term support of the event and the new facilities offered at the RAI Exhibition Centre provide a perfect background for a highly successful exhibition and congress.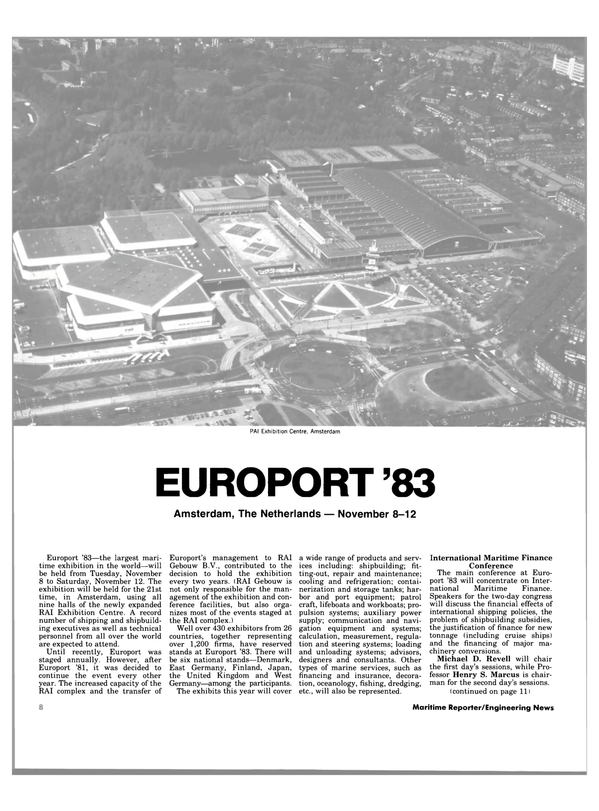 Read E U R O P O R T ' 83 in Pdf, Flash or Html5 edition of October 15, 1983 Maritime Reporter
Other stories from October 15, 1983 issue
Content