BRITAIN A Marine Industry Review
Merchant shipbuilding in Britain is going through a period of radical change and innovation aimed at overcoming the effects of falling demand for tonnage worldwide. Current strategy is concentrated on reducing head-on competition with the "price-leaders" of the Far East, and capitalizing on computer technology to refine specialized designs and products.
The nationalized British Shipbuilders Corporation's 20 or so yards account for 85 percent of Britain's merchant shipbuilding tonnage, the other major shipyard being Harland & Wolff of Belfast, Photo-Atlantic Conveyor, a sophisticated Ro/Ro container vessel built for Cunard by Swan Hunter Shipbuilder.
which, although nationalized, is under the direct control of the Northern Ireland Office. British Shipbuilders also accounts for more than 90 percent of warship construction in the U.K. at present, although the warship building yards have been offered for sale under current Government policy, and some are already subject to negotiation with private consortiums. The remaining independent shipbuilders comprise a number of small yards engaged in building coastal ships, tugs, offshore craft, and patrol boats.
Over the past year or so the five divisions of British Shipbuilders have been reduced to two in the merchant and warship fields, while some offshore and general engineering companies have been sold off, including the Scott Lithgow yard on the Clyde, which has been sold to Trafalgar House for offshore construction.
This leaner, fitter national shipbuilding corporation has benefitted from a reduced and restructured work force with the abolition of restrictive work practices that so hindered competitive ability in the past. At the same time there has been a massive investment in computer- aided design and management technology, with a noticeable improvement in productivity.
With the largest percent of the world market already claimed by production in the Far East, the Corporation's strategies are directed towards retaining a world market share of 1.25 percent, a modest enough share for a once great shipbuilding nation, but a realistic one.
A versatile range of vessels is now offered, from tugs and service craft through RO/RO ships and tankers, bulk carriers, and sophisticated containerships, while the offshore industry is supplying valuable contracts for a variety of support craft.
The current merchant shipbuilding orderbook has a good export content, with vessels being built for Canada, Ethiopia, Hong Kong, Iceland, Kenya, and Mexico.
Recent deliveries have included the sophisticated RO/RO-containership Atlantic Conveyor for Cunard Steamship Company, the 6,000-ton cable repair ship Pacific Guardian for Cable & Wireless, and three vessels for Norwegian interests— the 42,000-dwt bulk carrier Hoegh Duke, and the 45,000-dwt Jebsen bulk carriers Loftnes and Lakenes.
As part of its reorganization, BS has recently merged two enginebuilding companies—John G. Kincaid on the River Clyde, and Clark Hawthorne on the River Tyne—into a single company, Clark Kincaid Limited, under one management to streamline engine-building operations.
The company will build slowspeed Sulzer and M.A.N.-B&W engines on the Clyde, and mediumspeed Sulzer and Stork-Werkspoor engines on the Tyne.
Most of the employment in the merchant shipbuilding division of BS is accounted for by four subsidiary companies in the Northeast of England—Sunderland Shipbuilders and Austin & Pickersgill on the Wear, Smith's Dock on the Tees, and Swan Hunter on the Tyne.
With four yards, Swan Hunter is also heavily involved in warship construction.
Radical restructuring has been necessary to insure survival of these yards. Sunderland Shipbuilders comprises three yards and is equipped for building ships of up to Panamax size (72,000 dwt). However, with the intensive Korean competition for such large relatively simple ships, the group has found it expedient to offer more sophisticated vessels with a higher technical and work content. In its covered Pallion yard, the company claims to have one of the most modern shipbuilding facilities in Europe. All 13 ships built at Pallion since 1980 have been completed on time. The 10 IBM CAD/CAM work stations introduced in March 1984 have been enthusiastically adopted by the design staff; a further 38 work stations were due to be introduced at the beginning of 1985.
Two support vessels for the offshore oil industry, now being built in the Pallion yard for the Swedish company Stena, demonstrate the success of this new philosophy. Designed jointly by Stena and Sunderland Shipbuilders, the 4,500-ton dynamically positioned, diving support ships with diesel-electric propulsion systems, each have a helideck, diving bell facilities, twin 65- ton cranes, firefighting equipment, and accommodations for 147 personnel.
The bow sections that house two thrusters are probably the most complex assemblies ever handled at the yard, but computer-aided design has been particularly useful, as have the benefits of under-cover work and new production methods including a twin tandem arc gantry seam welder and heat-line bending techniques.
A modular approach to shipbuilding is now being adopted throughout the BS yards. This involves the construction of ships from major sub-assemblies (about 100 per ship in the case of the Stena vessels), which are fitted out with all pipework, electrical systems, etc., before assembly on the building berth. A striking example was the lifting of a complete 550-ton accommodation unit onto the hull of another Sunderland- built ship, one of two 48,500-dwt container/bulk carriers for Transportacion Maritima Mexicana at the Deptford yard. These vessels, with Kincaid-built M.A.N.- B&W engines, are due for delivery in February and August this year.
In February this year a 32 million pound order to build four cargo vessels for Cyprus-based companies was announced by Smith's Dock on Teesside. Construction of these 15,150-dwt ships will keep the yard's work force of 1,500 busy until the end of 1986.
Prospects for Scotland's merchant shipbuilders have improved dramatically in the past year, and they face the next 12 months with full orderbooks. This new streamlined sector includes Govan Shipbuilders at Glasgow and Ferguson- Ailsa at Port Glasgow and Troon.
Govan, which last year faced empty slipways, is building three 19,000- dwt bulk coal carriers for the Central Electricity Generating Board, and the prospects for further orders look good. And an expected bulk carrier contract from Turkey would secure work at the Upper Clyde yard for the next two years. Furguson- Ailsa recently received a 5 million pound order from Seaforth Maritime for two offshore support vessels, and the group expects to secure further contracts for supply vessels.
Swan Hunter on the Tyne is a composite group of four yards build- ing both merchant and naval ships, and is scheduled for privatization.
Having used the concept of modular construction on the RO/RO-containership Atlantic Conveyor and the cable repair ship Pacific Guardian, the company is applying the same techniques to warships. The Swan Hunter yards are currently building two Type 22 frigates for the Royal Navy, and have recently completed sea trials with the aircraft carrier Ark Royal, which is shortly to be handed over to the Royal Navy. This ship will be used as an offshore base for vertical takeoff Sea Harrier fighter aircraft and Sea King anti-submarine helicopters.
New orders for Type 22 frigates were placed in January this year with Swan Hunter and another BS yard, Cammell Laird of Birkenhead.
Swan Hunter has also been awarded a 40 million pound contract to build a new 3,000-ton Sir Galahad to replace the landing ship lost in the Falklands.
The fortunes of Harland & Wolff in Belfast have also improved. This shipyard is building four 10,500-ton refrigerated cargo ships for Blue Star Line, all for delivery in 1985.
These modern 19-knot reefers are each powered by a 15,200-bhp H&W-built M.A.N.-B&W engine.
Work at the yard extends into 1986 with an order from British Steel for a 173,000-dwt bulk carrier.
Among the warship builders, as yet nationalized, is Vosper Thornycroft of Portsmouth and Southhampton.
This company is now fitting out the seventh in a series of nine Hunt Class mine countermeasures vessels, said to be the largest vessels ever built in glass reinforced plastic. The yard is completing the guided missile destroyer Gloucester for the Royal Navy, and is hoping to fill the gap in large warship construction that will follow delivery of this ship with an order for frigates from Pakistan.
Vosper Thornycroft has recently diversified from the construction of fast patrol boats to sieze a market opportunity to build two passenger craft for High Speed Ferries of Hong Kong. Handed over in January this year, these 170-foot ferries are designed to carry 700 passengers at 27 knots. Propulsion power is provided by four 3,000-bhp Paxman Valenta engines.
Vosper Thornycroft and Paxman Diesels of Colchester, a leading diesel engine manufacturer, have made a recent breakthrough into the U.S.
market. Fifteen 110-foot patrol boats will be built by Bollinger Machine Shop & Shipyard, Inc. of Lockport, La., for the U.S. Coast Guard to a Vosper Thornycroft design.
VT is providing stabilizers, steering gear, and propellers, while Paxman is supplying twin 2,800- bhp, 16-cylinder Valenta engines for these vessels.
Yarrow Shipbuilders at Scotstoun on the Clyde launched the London, fourth Royal Navy Boxer (Type 22) Class frigate in October 1984. The third of the class now fitting out at Yarrow, named Brave, is the first British warship to be fitted with Rolls-Royce Marine Spey SM1A gas turbines, which promise to be more economical than the Rolls-Royce Olympus turbines. Brave is also the first ship to receive the new lightweight Seawolf fire control system from British Aerospace. Yarrow has orders for further Type 22 frigates that will provide work until 1987, and has also been participating in the Hunt Class minehunter program.
The Clyde yard will also build the lead ship of the new Royal Navy Type 23 light frigate.
British Shipbuilders' smaller yards include Hall Russell of Aberdeen and Appledore Shipbuilders in Devon. Appledore recently completed the specialized research ship Charles Darwin for the National Environment Research Council at its covered facility. This oceangoing vessel is equipped for geophysical and geological investigations around the world, and has an endurance of 35 days at 12 knots. Propulsion is by a Mirrlees-Blackstone diesel driving a Stone-Vickers controllable-pitch propeller designed for silent running.
The Devon yard is also building a cargo vessel for Iceland.
Hall Russell has come to specialize in offshore patrol vessels of late, although the yard was a traditional trawler builder. A series of five Peacock Class, 200-foot armed offshore patrol vessels are now being delivered to the Royal Navy for operations in Hong Kong waters. The yard also has orders for three Ministry of Defence mooring and salvage vessels, and is hoping to secure an order to build a third generation offshore patrol vessel for home waters.
A traditional builder of small warships, patrol craft, and landing ships on the East Coast is Brooke Marine, another member of BS. The management has offered to buy out this yard, which has a strong export record and has recently designed and built sophisticated 300-foot landing ships for Algeria and Oman.
There has been considerable activity among the independent builders of para-military and small naval craft. Fairley Marine of Cowes has recently built three 108-foot Loadmaster landing craft for Kuwait and secured, early this year, an order for three 108-foot patrol craft for the Bahamas Defence Force in the face of strong competition from the U.S.
The neighboring Souter yard on the Isle of Wight is building a 100-foot patrol boat for Bahrain, and has acquired a remarkable run of overseas orders for three luxury motor yachts, the latest a 123-foot vessel costing 3 million pounds.
Watercraft at Shoreham in Sussex delivered the first of a new design 65-foot patrol boat to the Oman Coastguard in December 1984, and has received orders for another 14 of this type from the Royal Navy for use as training craft.
Watercraft also has thriving divisions producing survival craft, particularly for the offshore industry, rescue boats, and fishing vessels for export through Cygnus Marine.
Notable among the independent builders of small ships are four yards on England's East Coast— Cochranes of Selby, Richards (Shipbuilders) of Lowstoft and Yarmouth, Richard Dunston of Hessle, and Yorkshire Dry Dock at Hull.
Cochranes is mixing offshore work with the construction of passenger/ vehicle ferries. A 3,300-grt drive-through, RO/RO ferry with additional side-loading facilities is due for delivery to Caledonian Mac- Brayne, the West of Scotland ferry operator, to join a similar ship built by Ferguson-Ailsa in 1984.
Richards, a traditional builder for the fishing industry, recently acquired a contract to build a series of 12 steel-hulled, deep-water minesweepers for the Royal Navy Reserve, and is now constructing these vessels at Lowestoft and Great Yarmouth.
They will be used for training, and will use deep-sweeping equipment provided by BAJ-Vickers.
Richard Dunston recently secured contracts to build five water tractor tugs propelled by Voith cycloidal propellers for the Royal Navy, identical to four already in service.
Yorkshire Dry Dock has been building small ships at Hull since 1918. The company's specialty over the past 10 years has been bulk carriers classed for deepsea service. Of under 800 gt and designed to carry 1,400 tons deadweight, no less than 22 of this type have been built or are in the course of construction; five are due for delivery to coastal shipping companies during 1985.
Tyne Shiprepair, Britain's largest ship repair company, has achieved a modest profit for its first full year of operations since being denational- ized. Eight management staff bought the company from British Shipbuilders in February 1984. At the time the group had no work at either of its two yards on the Tyne, but in the past year 117 ships have been booked for repair from British, Danish, German, Iranian, Nigerian, and Far East owners. A significant amount of Ministry of Defence work has also been started, including the rebuilding of the Falklands-damaged Royal Fleet Auxiliary Sir Tristram.
The management now views the future with confidence.
For complete information on the facilities and services offered by British Shipbuilders, Circle 40 on Reader Service Card British Marine Equipment Companies With the lower level of newbuildings worldwide, marine equipment manufacturers exist in a highly competitive environment. New technology, particularly in electronics and control equipment, and more demanding standards for navigational, communications, and safety equipment have, however, opened up new markets that several manufacturers have seized upon.
The need for engineering economy and new specialized ship types, particularly in the offshore field, have also provided openings. Brief resumes of some of the British companies providing marine equipment and their activities, notably in the export field, are given below.
ARPA Suppliers Three leading U.K. marine electronics companies competing for worldwide markets with Automatic Radar Plotting Aids (ARPA) are Kelvin Hughes, Marconi International Marine, and Racal Marine Radar.
Kelvin Hughes provides a range of ARPAs and radars for ships from 500 grt to the largest afloat. The company supplies the standard navigational radar for the Royal Navy, and has recently fitted out the new P&O cruise liner Royal Princess with radars and ARPA. Radars are also supplied to the Egyptian Navy, and the company is selling in Korea and Japan.
Circle 41 on Reader Service Card Marconi International Marine has also entered the marine satellite communications market with the new Oceanray ship earth station.
This is said to be one of the smallest and least expensive satellite communications systems available.
Circle 42 on Reader Service Card Racal-Decca ARPAs are finding a large export market; more than 50 have been sold in the past three months.
Circle 43 on Reader Service Card Avon Industrial Polymers Avon Industrial Polymers, part of the Avon Rubber Group, manufacturing at Chippenham in England, has been fabricating skirt components for Bell Halter's SES range of craft, and also supplying materials for the first group of Landing Craft, Air Cushion (LCAC) currently under construction at Bell Halter's New Orleans shipyard for the U.S.
Navy.
Now, in a joint venture with Bell Aerospace Textron, a new company, Bell Avon Inc., has been formed to manufacture in the U.S. at Picayune, Miss.
Circle 44 on Reader Service Card Another Group company, Avon Inflatables Ltd., manufactures the highly successful Avon Searider ri- | gid inflatable, which is widely used in offshore, naval, and search and rescue roles. A series of 75 six-meter SR6M Seariders has recently been delivered to the U.S. Coast Guard.
Circle 45 on Reader Service Card Chadburn Engineering There are three marine divisions within Chadburn Engineering, all market leaders in the supply of ships' equipment. Chadburn Bloctube manufactures traditional ships' telegraphs and a modern range of push-button engine controls and event recorders. The Mark 2000 recorder, recently supplied to six icebreakers of the Canadian Coast Guard and the P&O cruise liner Royal Princess, is a microprocessor- controlled unit providing a printout record of ship's actions throughout a voyage, with an optional VDU facility.
Circle 46 on Reader Service Card The A. Robinson (Engineering Services) division provides mechanical rotary controls and valve actuators for warships, and is currently supplying new frigates and MCMVs of the Royal Navy.
Circle 47 on Reader Service Card Clayton Crane & Hoist Company manufactures ships' hoists and engine room cranes. These are now being installed in the Blue Star ships being built at Harland & Wolff.
Circle 48 on Reader Service Card Cummins Diesel Cummins Diesel produces marine propulsion and auxiliary drive engines, together with generator sets.
Engines are manufactured at Darlington and Daventry in the U.K.
(Columbus, Ind. and Charleston, S.C. in the U.S.) ranging up to 1,600 bhp.
Twin Cummins KT19M engines of 365 bhp each, driving Aquamaster propulsion units, are currently being installed in the long series of 190-foot coasters being built by Yorkshire Dry Dock in Hull.
Circle 49 on Reader Service Card Hamworthy Hamworthy Engineering Ltd. of Poole in Dorset is a leading supplier of pumps and air compressors worldwide, about 65 percent of its production being for export. Of particular significance is a contract to supply starting air compressors for the U.S. Navy fleet oilers (T-AO) being built at Avondale Shipyards.
Air compressors are also being supplied for five T5 tankers being built at Tampa Shipyard.
Circle 50 on Reader Service Card International Paint International Paint reports it has one of the largest world market shares for all marine coatings. The 10 years since its Intersmooth SPC was launched have seen dramatic changes in the marine coatings industry.
The fuel-saving benefits associated with virtual elimination of hull fouling over extended periods with maintenance of hull smoothness have been well demonstrated.
With the 1983 introduction of Intersmooth HiSOL, shipowners were able to plan for five years between drydockings. Another copolymer antifouling is Interswift; since its introduction just two years ago it has been applied to more than 650 vessels.
International Paint Marine Coatings manufactures worldwide and in the U.K. at Gateshead. The company is now a wholly owned subsidiary of the British Courtols Group.
Circle 51 on Reader Service Card MacGregor-Navire An international company now part of the Kone Group, MacGregor- Navire provides some 60 to 70 percent of the cargo access equipment to ships building around the world. MacGregor-Navire (UK) manufactures bow and stern doors, ramps, cargo lifts, and hatch covers at Whitley Bay in Yorkshire for ships built in the U.K. and some other countries.
Bow ramps, stern ramps, and side-loading facilities have been supplied for the MacBrayne ferries under construction at Cochrans of Selby. The Appledore-built research vessel Charles Darwin has a 20-ton gantry for lowering and raising survey equipment at the stern, and the Yorkshire Dry Dock cargo ships have MacGregor single-pull covers—to mention but a few of the latest installations in the U.K.
C i r c l e 5 2 o n Reader S e r v i c e Card NEI Clarke Chapman A part of Northern Engineering Industries, NEI Clarke Chapman is a long-time supplier of deck cranes, winches, and windlasses. Despite the general recession in shipping, the company has been expanding its production and work force, largely by taking advantage of opportunities in the offshore industry.
A joint venture company has been formed with the Australian Aquila Company to manufacture offshore cranes for the North Sea industry and mooring equipment. The com- R i g h t — T h e c r a n e shop at C l a r k e Chapm a n ' s V i c t o r i a w o r k s . S h o w n a r e e i g h t elect r i c d e c k c r a n e s ( t w o ship sets) f o r B l ue S t a r r e e f e r s b u i l d i n g a t H a r l a n d & W o l f f and an o f f s h o r e c r a n e f o r t h e H e i m d a l p l a t f o rm in t h e N o r t h Sea pany has acquired the assets of Donkin & Company, well known for the manufacture of steering gear, windlasses, and capstans. Among recent contracts are eight deck cranes for the four Blue Star reefers now under construction at Harland & Wolff, and an offshore crane for the Heimdal platform in the North Sea.
The holding company, NEI, acquired the Pearlson Engineering Company of Miami five years ago, and manufactures hoisting equipment for that company's Syncrolift® ship-lifting platforms installed around the world including the two largest, at Todd Pacific Shipyards Corporation's Los Angeles Division, and the Vickers submarine facility at Barrow in Furness, U.K., which is now under construction.
C i r c l e 5 3 o n Reader S e r v i c e C a rd Perkins Perkins Engines in Peterborough, England, is a world leader in the design, manufacture, and marketing of diesel engines, including marine diesels in a range from 40 to 800 bhp, and outputs from 25 to 825 kva for generating duty.
In March 1984 Perkins acquired the diesel engine business of Rolls- Royce Diesels International based at Shrewsbury, which raised its top output for propulsion engines from 350 to 800 bhp. The Shrewsbury engines are well suited for heavyduty workboats, with conservative long-life ratings and appropriate options such as clutched power takeoffs. Also incorporated are service features allowing long periods of continuous operation.
The Shrewsbury engines also compete effectively in the lightduty commercial and pleasure sectors, where their efficient design, using traditional materials, achieves rugged, reliable, and weight-effective power.
Perkins will continue to offer the C8 and CV12 marine models designed by Rolls-Royce and produced by Perkins Engines (Shrewsbury), both of which are turbocharged units.
Circle 54 on Reader Service Card Racal Marine Nearly all of the Racal Marine companies introduced new equipment during the past year, as follows: Radar—modular designed Master Series, ARPA, AC/TM, RM, Watchkeeper color monitor (working off any of them); RM 1070 and 770, 970 color display, for vessels up to 1,600 grt. Navigation—MNS 2000 multi-sensor positioning receiver, Mark 52 Navigator, color video plotter with light pen, Navtex 1 and 2 (pleasure craft) telex, weather, etc., receivers Circle 55 on Reader Service Card Marine Controls—80 Series (super-adaptive) and 60 Series (conventional) autopilots, modular with common components; ISIS 250 (and 250 V for VDU) machinery monitoring system for medium-sized ships; Mark 7 gyrocompass. Survey—Micro- Fix microwave line-of-sight precise positioning system.
Circle 56 on Reader Service Card A $5.6-million contract to provide the U.S. Navy with the Hyper-Fix close-range positioning system for mine countermeasure ships (MCM) was received recently by Racal-Decca Survey Inc. These systems have already been adopted by the Royal Navy for MCM work around the U.K., and some 36 MCM packages are now to be installed on MCM vessels in the U.S.
Circle 57 on Reader Service Card Racal-SMS Ltd. has found a ready market as a world leader in navigational simulator equipment.
The Type 9000 training simulator has been sold in 13 countries as far afield as China, Canada, and Saudi Arabia in just over a year.
Circle 58 on Reader Service Card RFD RFD Marine, a leading manufacturer of inflatable liferafts and evacuation systems, is the first company to int roduce a liferaft designed to meet the requirements of the revised Chapter III of SOLAS 74. This liferaft, the Surviva, combines a new material and advanced manufacturing techniques to create a highly durable product.
The latest version of the Surviva is the DL, davit-launched variant, that has now been granted U.S.
Department of Transport approval, and is available in 12-, 16-, 20-, and 25-person capacities. This version is particularly important for vessels where the rafts are stowed at a height of 4.5 meters (almost 15 feet) or more above the waterline, as "dry-shod" evacuation is required for this situation under the new regulations.
In addition to inflatable liferafts, RFD has made a name for itself with the Marine Evacuation System (MES). This slide arrangement for the rapid and safe evacuation of substantial numbers of passengers aboard ferries and other vessels has been adopted by vessel operators in the U.K., Canada, and New Zealand.
Circle 59 on Reader Service Card Rolls-Royce Rolls-Royce Ltd. in Coventry is the government-owned builder of marine and aero gas turbine engines.
Since 1958 the company has manufactured more than 850 marine gas turbines, ranging from the 1,400-hp Gnome engine to the 5,300-hp Tyne, 18,800-hp Spey, and 28,000-hp Olympus.
The Olympus gas turbine has been widely installed in destroyers and frigates of the Royal Navy and many foreign navies, while the Spey engines, two per ship, are being installed in the latest Type 22 frigates.
To date, 57 Spey gas turbines have been delivered or are on order from clients that include the Japanese Marine Defense Force. A new 24,000-hp model Spey engine is being developed and will be available in 1989.
Circle 60 on Reader Service Card STC STC International Marine, formerly known as the International Marine Radio Company, produces the Mascot 2000 satellite communications system, the first all-British satcom to gain INMARSAT approval.
Notable installations include the P&O liners Royal Princess and Sea Princess, and the Royal Yacht Brittania.
STC also manufactures, at Mitcham in Surrey, portable lifeboat radios to SOLAS requirements, and an automatic radio direction finder, the ADF 790.
Circle 61 on Reader Service Card Stone Manganese Stone Manganese Marine Ltd. is said to be the oldest and the largest propeller company in the world.
The original company, which was started by Josiah Stone, in 1845 made the propeller for the SS Great Britain, the first ship to be driven solely by a screw propeller. At its Birkenhead Works, SMM now has the capability for the simultaneous melting of sufficient metal to make propellers of up to 100 tons in finished weight.
The company is now owned by John Langham, and is the principal company within Langham Industries Ltd. It has subsidiary and associated fixed-pitch propellers in the U.K., Canada, France, Brazil, South Africa, Singapore, Hong Kong, and, in the U.S., Ferguson Propeller Corporation of Hoboken, N.J.
SMM did most of the original research on economy propellers, and is still a world leader in this field. To date, it has designed and manufactured some 30 of these large screws for tankers/bulk carriers, containerships, and passenger liners/cruise ships, and has others on order. It made the world's largest propellers for five 357,000-dwt tankers owned by Zenith Shipping. They each weighed 70 tons and were 11,000 millimeters (36 feet) in diameter.
As a result of the considerable fuel savings being made by its tankers that have been retrofitted with economy propellers, Shell Tankers UK and Deutsche Shell last year placed further orders with SMM for this type propeller.
The U.S. agent for SMM is Ampower Corporation of North Bergen, N. J.
Circle 62 on Reader Service Card Vickers The Marine Engineering Division of Vickers Pic has total annual sales of more than 60 million pounds. The Division is one of the world's leading suppliers of motion-control equipment for the merchant shipping and offshore industries and for naval applications.
Formed in 1980, Vickers Marine consists of eight companies, all of which have strong international reputations in the marine field. Headquarters of the Division is in Edinburgh Scotland, and the companies within it are: Brown Brothers & Company Ltd., Edinburgh; Jered Brown Brothers Inc., Troy, Mich.; John Hastie of Greenock Ltd., Scotland; Mitchell Bearings, Newcastle, England; SOFEC Inc., Houston; Stone Vickers Ltd., Greenwich, England; Vickers Japan KK, Tokyo; and Vickers Marine Controls, Edinburgh.
The major products of Brown Brothers are fin and tank stabilizers, steering gear, motion compensators, and riser tensioners (Circle 63 on RSC). Jered Brown Brothers manufactures steering gear, cargo and personnel elevators, deck-edge elevators, windlasses, winches, and capstans (Circle 64 on RSC). The specialties of John Hastie are steering gear, derrick cranes, and jib cranes (Circle 65 on RSC). Mitchell makes marine thrust bearings and blocks, marine tunnel and aftermost bearings, pedestal bearings, and vertical bearings (Circle 66 on RSC).
SOFEC specializes in single and catenary anchor leg moorings (Circle 67 on RSC). Stone Vickers produces controllable-pitch propellers, tunnel and rotatable thrusters, and watertight doors (Circle 68 on RSC). The product line of Vickers Marine Controls includes microprocessor- based control systems for stabilizers, steering, C-P propellers, thrusters, elevators, as well as a joystick positioning system (Circle 69 on RSC).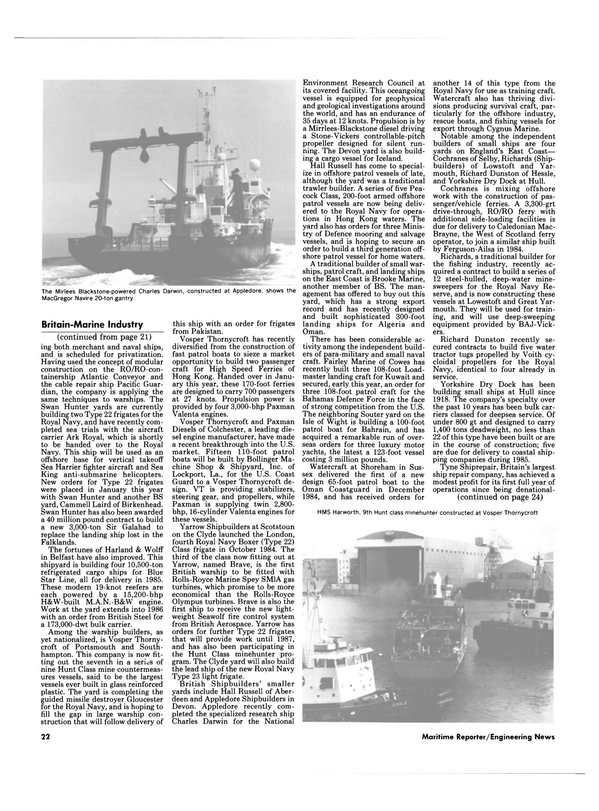 Read BRITAIN A Marine Industry Review in Pdf, Flash or Html5 edition of March 1985 Maritime Reporter
Other stories from March 1985 issue
Content