Navy Adding 13 Ships Costing $206.7 Million To Ready Reserve Force —Four To Be Converted
Thirteen merchant ships were selected for purchase on 17 January 1986 for the Ready Reserve Force of the National Defense Reserve Fleet.
The Maritime Administration is processing four contracts totaling $206.7 million with American Automar, Barber Steamship Lines, Lykes Bros, and U.S. Lines at the request of the Chief of Naval Operations for the U.S. Navy's Military Sealift Command.
Rear Adm. W.T. Piotti Jr., Commander, Military Sealift Command, recommended acquisition of the 13 roll-on/roll-off (RO/RO) and heavy lift/barge ships from 91 ships offered in response to a request for proposals. The offerings were followed by an initial survey and evaluation of each ship's material condition by two Navy/MarAd selection committees.
The 13 ships selected are those determined to have the highest military utility at the lowest cost of the ships offered. These ships, combined with the five RO/ROs purchased with Fiscal Year 1985 Sup- plemental funding, provide the capability to transport more than a mechanized division with the most modern and capable RO/RO and heavy-lift/barge ships at the lowest possible purchase and life cycle cost.
When delivered to MarAd, the ships must be within class in accordance with American Bureau of Shipping standards and certified by the U.S.
Coast Guard as capable of 180 days of sustained, unrestricted operations.
Of the 13 ships selected, nine were built in the U.S. Four foreignflag RO/ROs will be converted to U.S.-flag in U.S. shipyards prior to delivery.
The Ready Reserve Force currently consists of 72 ships, 46 of which are berthed at the three major sites of the National Defense Reserve fleet—Beaumont, Texas; James River, Va.; and Suisun Bay, Calif. The remaining 26 ships are dispersed in ports throughout the world. The additional 13 ships will be outported within the U.S. at various strategic locations to be determined by competition. All ships in the RRF are kept in a 5, 10 or 20- day readiness status, meaning they can be activated, crewed and ready to sail in 5, 10 or 20 days from callup by the Chief of Naval Operations.
Although MarAd is the contracting authority for the Federal Gov- ernment, the ships are being paid for by the Navy. They will be used by the Military Sealift Command for strategic sealift during emergencies, contingencies or exercises to test their readiness.
MSC's primary responsibility is to provide the necessary sealift to deploy and sustain military forces overseas, as rapidly and for as long as the military requirement exists.
MSC also operates auxiliary ships that will deliver supplies to Navy combatant ships while underway, oceanographic and survey ships, and tankers and dry cargo ships that deliver Defense Department cargo worldwide.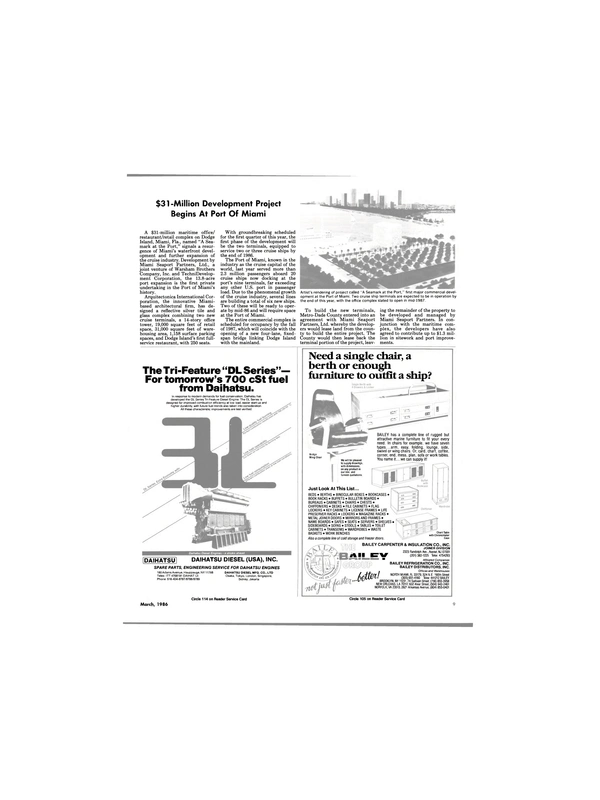 Read Navy Adding 13 Ships Costing $206.7 Million To Ready Reserve Force —Four To Be Converted in Pdf, Flash or Html5 edition of March 1986 Maritime Reporter
Other stories from March 1986 issue
Content