GPS Plots The Future Of Navigation & Communications
The face of maritime navigation and communications will change forever in 1993, when the last of 24 satellites is deployed in the Global Positioning System, making the system fully operational. The Global Positioning System, or GPS, aU.S. military navigation system, will provide allweather, 24-hour coverage worldwide.
GPS signals can also be accessed by civil users but without differential corrections, their accuracy is only about 100 meters. Corrections allow GPS navigation accuracy to be typically improved to under five meters.
Last year, Inmarsat finalized two new data collection and distribution standards to be used for very accurate navigation information for its users, in addition to having potential uses for constantly updated worldwide data and news transmissions.
The standards, one for point-tomultipoint data distribution service and the other a multipoint-to-point "backhaul" facility, have been developed primarily for disseminating differential corrections for GPS navigation signals to Inmarsat-A terminal users.
Typically, a differential correction service provider establishes regional reference sites at which GPS signals are received and positional errors used to generate differential corrections. Using the point-tomultipoint service, these differential corrections are then distributed to mobile users anywhere in the world on the Inmarsat-A system.
"This service will be different from existing point-to-multipoint services on Inmarsat," said George Kinal, manager for navigation and applications at Inmarsat's Land Mobile and Special Services Division, "since it will be available 24 hours-a-day and navigation information will be updated every few seconds for the mobile user." In order to tune in to a land earth station (LES) and receive encoded differential data, Inmarsat-A users need to make arrangements with a service provider and equip themselves with a type-approved add-on device. A simple algorithm will then enable them to apply this to correct GPS signals and derive precise position information.
The Inmarsat-A system permits global two-way telephone, facsimile, telex, E-mail and data communications.
Users will be able to employ their terminals for other telephone and data communications, even while receiving this point-tomultipoint service. For those who are not Inmarsat-A users and who require the navigation facility, modified receive-only terminals will be available.
Point-to-multipoint services have been provided since June 1990 by B r i t i s h Telecom through its Goonhilly LES and by Comsat through its Southbury LES using slightly different transmission standards.
The standardized protocol for transmission t h a t was approved by Inmarsat has enabled such services to be extended worldwide through many other service providers, who will have the option to offer the service at 600, 1,200 or 2,400 bits per second.
Unprocessed GPS signals are collected from reference sites or stations, usually within a few hundred kilometers of the mobile user. The reference stations may j u s t be simplified, unmanned Inmarsat-A terminals connected to GPS receivers.
These terminals may be fixed or semi-permanent depending on the application.
The signals collected at one or more reference points may be fed through terrestrial links to a central processing center where differential correction factors are calculated.
The processing center may be co-located with the LES, or may be at a distance from the LES, in which case, the differential data may then be relayed to the LES through a terrestrial link.
From the LES, the corrections are beamed up to an Inmarsat satellite and then to the users. The entire cycle is repeated frequently (generally under the five seconds) to keep the mobile user constantly updated with accurate navigation and position information.
The accuracy of the corrected navigation signals depends on how far away the user is from the nearest reference station. The interim operations have shown that differential corrections applied from even 300-400 kms away have provided accuracies of better t h an five meters.
In future service enhancements, data from several reference stations might be combined to increase navigation accuracy, particularly when the mobile user, such as a ship, is a long distance from shore. For applications that require a wide area of coverage and a high degree of accuracy, a large number of reference points can be set up by fixing Inmarsat-A terminals at required locations.
This data collection service makes use of the Inmarsat system to deliver GPS signal measurements via satellite to the processing center, as an alternative to terrestrial links.
This will also be a full-time service that will operate an exclusive transmission standard. Depending on the rate of data transmission, up to 22 reference points will be able to operate on one channel.
"These services will greatly enhance GPS navigation accuracy both on land and offshore," said Mr.
Kinal. "A network of reference points on land could be developed to serve entire continents. Offshore oil and seismic exploration companies would save both time and money using a precise navigation system." Although the services have been developed for navigational uses, other potential applications extend from environmental data collection to distribution of stock market reports and news.
New Generation Satellites To Offer Enhanced Navigation Capability Inmarsat's third generation of satellites will offer an enhanced global navigation capability for international civil users of the nationally owned GPS and GLONASS satellite navigation systems which make it possible for anyone with a receiver to know exactly where they are, anytime.
The navigation payload will be carried on Inmarsat's third generation of satellites, it was decided by the Inmarsat Council in late 1990.
The council also gave final approval for Inmarsat to contract with GEAstro for four Inmarsat-3 satellites, which will be launched in 1994-95.
Inmarsat-3 will be the first satellite system in orbit both to provide navigation signals and relay, on a timely basis, independently monitored integrity information on navigation signals generated by the U.S.
GPS and Russian GLONASS satellite navigation systems. Integrity information is necessary to enhance the reliability and availability of the information generated by these military systems for civil users.
The navigation payload is a dedicated equipment package on the satellite which will transmit signals in the same frequency band as, and virtually identical to, those transmitted by GPS. This will mean that, without needing any additional equipment, users of GPS and GLONASS systems will receive more accurate position determination information and, in some instances, will be able to determine their position even in areas where it would otherwise not be possible because of reduced coverage.
For example, oceangoing vessels could use the enhanced navigation c a p a b i l i t i e s , combined with Inmarsat's global data communications service (Inmarsat-C) for search and rescue operations, tracking hazardous cargo, traffic control and fleet management.
Also, by providing information relating the different time references of GPS and GLONASS, Inmarsat's navigation capability will improve the interoperability of the two systems and will enable other nations to participate in an international global satellite navigation system.
"An external integrity warning channel to augment the GPS and GLONASS systems is critically important for safety of navigation applications," said Mr. Kinal. "And we expect to see a whole variety of interesting new applications for a combined navigation and communications capability." The inclusion of the navigation payload in the Inmarsat-3 satellites marks yet another important milestone in the Inmarsat program to develop navigation-related services.
Inmarsat is already offering pointto- multipoint data channels for disseminating differential correction signals over wide areas. This service provides a high degree of accuracy of positioning data for applications including seismic explorations, rig moves and construction projects.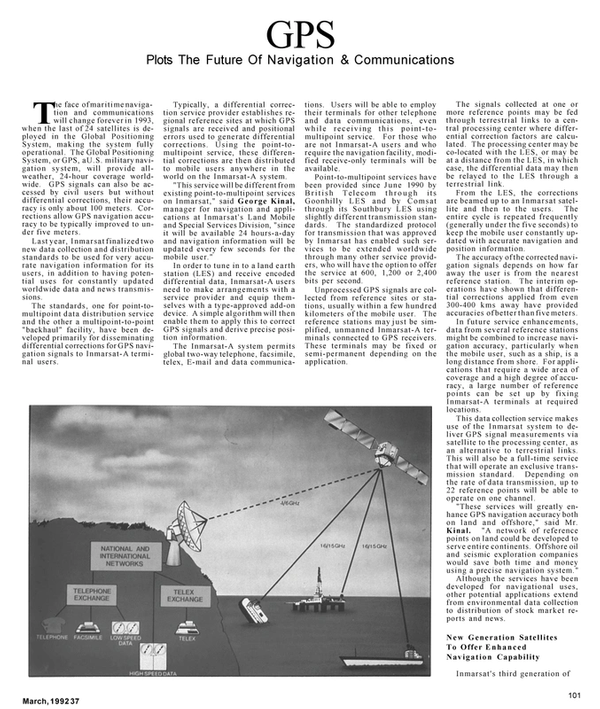 Read GPS Plots The Future Of Navigation & Communications in Pdf, Flash or Html5 edition of March 1992 Maritime Reporter
Other stories from March 1992 issue
Content