LEADING INLAND OPERATORS SPEAK OUT
Barge Operators Assess Impact Of OPA And Future Of The Industry The repercussions of the Oil Pollution Act of 1990 have been felt by the entire marine industry, but no where more acutely then in U.S.
inland waterway and coastal transport operations. Unlimited liability, escalating carrier insurance, and mandated equipment modifications are j u s t part of the onus of OPA t h a t operators must bear. To more fully assess the impact OPA 90 has had and will have on future inland and coastal water transportation operations, MARITIME REPORTER conducted interviews with some of the largest and most influential operators in the brown water market.
The following is a brief look at some of their insightful comments on the Oil Pollution Act, the Clean Air Act and the near term future of the industry.
The Impact Of OPA "The enactment of the Oil Pollution Act (OPA) of 1990 will have effects on different parts of the country.
How these effects manifest themselves over the long term will certainly impact our business," said Raymond Hickey, president and chief operating officer of Tidewater Barge Lines, Inc., Vancouver, Wash.
"We have called OPA, 'The Act of Emotion.' A law irrespective of differing regional product and transportation characteristics." Tidewater operates along the Columbia/Snake River system in the Pacific Northwest. The company barges clean or refined petroleum products along a short—465 miles— inland river, making their operations extremely sensitive to cost increases.
"The question that concerns us," said Mr. Hickey, "is, 'Are we going to be competitive with other modes [of transportation] after passing along costs associated with OPA compliance to our customers in a recessionary environment?'" According to the company's statistics, tugs and barges haul about 12 percent of the nation's freight for about 2 percent of the cost.
"If you have 3,500 tons of grain, you'll need 116 trucks or 35 rail cars to move it. All I need is one tug and barge," he said "The Oil Pollution Act has and will continue to affect Dixie Carriers' operations. In many instances, the effects of OPA 90 will be positive because operators will be forced to more carefully attend to their business.
Conformance with the requirements of OPA has caused Dixie Carriers to continue to validate the adequacy of its own operating procedures and has increased our costs," said J.H. Pyne, president of the Houston, Texas, water transportation firm.
Dixie Carriers, Inc. and its marine transportation subsidiaries comprise Houston-based Kirby Corporation's marine transportation segment.
Dixie's Inland Division, operating inland tank barges primarily along the Gulf Intracoastal Waterway, Houston Ship Channel and the Mississippi River and its tributaries, has a fleet of 123 barges and 47 towboats.
Dixie's Offshore Division, operating among ports along the Gulf of Mexico, as well as ports in the Caribbean Basin and along the Atlantic and Pacific Coasts, transports dry bulk and liquid cargoes using eight barges, eight tugboats and one shifting and fleeting boat.
Brent Transportation, another Dixie company, operates an inland fleet of 61 barges and 18 towboats.
Mr.Pyne sighted the areas of increased crew training, equipment modifications (to comply both with the OPA double-hull requirement and Clean Air Act for vapor control), refinement of emergency spill response plans, compliance audits and spiraling insurance premiums. Dixie will spend in excess of $5 million for vapor control equipment alone in 1992.
"The Oil Pollution Act has and will continue to have a significant impact on our fleet," said Fred C.
Raskin, president of the Cincinnati- based Ohio River Company.
"We have over 40 single-skin tank barges that handle refined petroleum products, and current legislation will require their retirement/ replacement by 2015." Mr. Raskin also pointed out t h a t general operations in both the dry and liquid cargo areas will be impacted by spill contingency plans, as well as additional training and licensing requirements.
Looking Ahead Although Mr. Pyne thought business conditions would be flat for 1992, he predicted better conditions in the years ahead.
"Looking beyond 1992, we are very optimistic about our business. For the first time since the late 1970s, the inland tank barge fleet is in balance. Other t h an pipelines, which require higher dedicated volume than barges, marine transportation will continue to remain the most cost efficient method of moving bulk commodities between U.S. coastal and inland ports." Mr. Raskin of Ohio River Co., however, thought conditions in the industry would improve this year.
He believed a return to more normal weather and economic conditions coupled with a resumption of grain exports to the Commonwealth of Independent States (the former Republics of the Soviet Union) would help make 1992 a "good year." "The stability of riverborne grain demand will be strongly affected by the level ofU.S. exports to CIS, which in t u rn is heavily influenced by the amount of loan credit the United States is willing to provide," said Michael C. Hagan, president and chief operating officer, American Commercial Lines, Inc. "Current governmental actions suggest the CIS will continue to receive U.S.
agricultural aid," continued Mr.
Hagan. "Based upon that assumption, American Commercial Barge Lines, Inc. anticipates 1992 barge grain demand to improve slightly over 1991 volume. However, wide fluctuations in spot grain freight rates will probably continue." Clean Air Act & Coal Transportation "The Clean Air Act amendments will alter coal transportation patterns and alternatives," said Mr.
Hagan. "As sources of coal shift, inland river operators are wellpositoned to benefit from the changing shipper requirements. With a number of river-served utility plants being affected by Phase I of the C AA amendments, river trasnportation patterns will result in potentially longer hauls, further straining equipment capacity.
"We anticipate a solid 5 to 7 percent increase in export coal tonnage over 1991 volumes, driven principally by increasing demand for U.S.
steam coal exports," stated Mr.
Hagan. "The continued growth in export coal demand should attract covered barges normally used in the grain trade." Mr. Hagan also believed that domestic coal activity would improve moderately over last year, posting a 1 to 2 percent growth rate.
Fleet, Operation Expansion In 1992, Dixie Carriers plans to take delivery of the last three of a series of twelve 29,000-barrel inlandchemicaltankbarges.
Thecompany has also announced its intended acquisition of two inland tank barge operators, Sabine Towing & Transportation Company and Ole Man River Company. With these acquisitions, the Dixie fleet will consist of268 tank barges and 104 boats.
For 1992, Tidewater plans to put into operation, a solid waste program, transfer station, container yard, barge transportation and landfill, three new wood chip barges, a second wood chip loading facility, expand its container operation at Boardman, Ore., and complete the construction of a new floating repair service for Tidewater Barge.
The Ohio River Co. is currently building about 150 dry cargo hopper barges at its Port Allen, La., facility.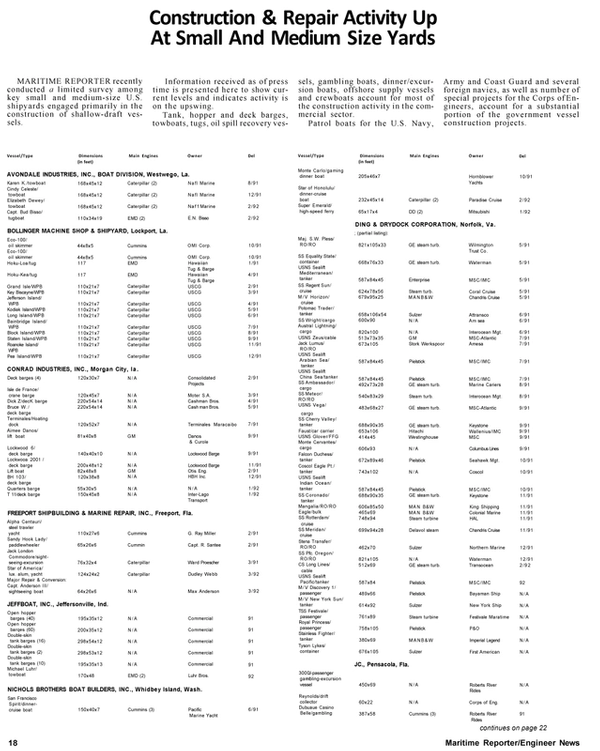 Read LEADING INLAND OPERATORS SPEAK OUT in Pdf, Flash or Html5 edition of March 1992 Maritime Reporter
Other stories from March 1992 issue
Content