NAVIGATION & COMMUNICATIONS
1992 REVIEW The Global Maritime Distress and Safety System (GMDSS), one of the most significant advances in marine communications history, will be phased in from now until February 1999.
GMDSS will offer improved and reliable distress alerting and better facilities for distress location; increased automation; improved communications for rescue; and reduced reliance on specialist operators.
GMDSS has been made possible by technological breakthroughs and advancements in satellite communications and navigation, electronics, computer-controlled systems and software.
GMDSS requires that a deepsea ship be outfitted with a bevy of electronics, among which are: two Inmarsat A or Inmarsat C satcoms or a combination, a VHF radio telephone, NAVTEX receiver, 406 MHz EPIRB, MF radio telephone, MF watch receiver, automatic direction finder, and waterproof VHF walkietalkies.
This review examines some of the GMDSS-required equipment offered by major marine electronics manufacturers, as well as other new products and services for navigation and communications.
FOR MORE INFORMATION To receive free brochures, reports or other literature describing any of the high-tech products detailed in this review, circle the appropriate Reader Service Number listed for each company using the postagepaid card bound into the back of this issue.
ACR ELECTRONICS Circle 106 on Reader Service Card ACR Electronics, Ft. Lauderdale, Fla., has introduced a new handheld VHF survival radio specifically manufactured to be used in life rafts and on immersion suits.
The SR101 radio is manufactured to international SOLAS, IMO, and FCC requirements, and is waterproof is one meter. The radio provides two-way FM voice communication on VHF marine channels #6 (communications/USCG) and #16 (international distress calling). The SR101 has a 10-year storage life.
This radio is a total departure from other handheld VHF radios, according to ACR Electronics, in t h a t it is designed for a specific mission— emergency communications only.
ALDEN Circle 22 on Reader Service Card Alden Electronics has introduced t h e Alden Satfind-406 EPIRB (Emergency Position Indicating Radio Beacon), which transmits the location and identity of equipped vessels in distress anywhere in the world to shore locations via the COSPAS-SARSAT orbiting satellite system.
Alden's EPIRBs are available in two basic models: Category 1 features an automatic release mechanism which deploys the EPIRB before it reaches a depth of four meters.
The Category 2 version is released manually.
The Alden Satfind-406 EPIRB contains a powerful transmitter operating at both the standard 121.5 MHz and the new 406 MHz frequencies to alert Search and Research (SAR) personnel. Combined, the two frequencies can reduce the search area by 20 times that which was possible with older EPIRB models.
This provides faster and more accurate location and recovery.
ANSCHUTZ Circle 129 on Reader Service Card Anschutz of America offers navigation equipment which can be integrated in a modern operations and onboard management system, fulfilling the requirements for one-man bridge operation.
For safe navigation, a gyrocompass twin equipment (Standard 4/ Standard 12) and a magnetic compass (Reflecta 1) are available as course sensors. Via the course reference managing system Nautocourse, all compasses are combined and are monitored by the signal units Nautoalarm. The course output of the gyrocompasses is speed errorcorrected and the course output of the magnetic compass is deviation and variation corrected by Nautocourse.
A great help for the ship's personnel is an Automatic Chart Table, the Nautoplot, by which the current ship's position is indicated on a standard Mercator sea chart by a light spot.
An analogue follow-up steering control serves as main steering for the officer on duty. A take-over system permits "authorized" steering places port or starboard wing.
With the onboard autopilot Nautopilot A, the ship's crew is relieved from making adaptions to changing environmental conditions to achieve optimum navigation.
ATLAS ELEKTRONIK Circle 107 on Reader Service Card New navaid developments from Atlas Elektronik of America (formerly Krupp Atlas Elektronik) include the Atlas 9600 series of ARPA and TM radars designed for standalone or integrated use. Featuring a fourfold increase in display resolution, enhanced reliability and ease of operation, as well as maintenance, units permit direct input from positioning receivers with own-ship position displayed referenced to lat/ long grids.
Track control and additional options for integration are also available together with route planning facilities, for which a large number of maps can be compiled and edited.
Keyboard-type front panels are separable from indicator consoles for added versatility of operation and installation.
AT&T Circle 24 on Reader Service Card AT&T, a leader in shipboard communications technology, offers the AT&T Defmity 75 Shipboard Telephone System, which provides a state-of-the-art solution for the communication requirements of both military and commercial vessels.
Designed for harsh environmental conditions, with thousands in service worldwide in both commercial and military applications, the Defmity 75 is designed for compatibility with equipment such as touchtone and rotary telephone sets, secure terminals, satellite communications and shore-based telephone systems. It can also be configured for use with fiber optic systems and local area networks.
Custom-tailored for shipboard applications, the Definity system has custom circuitry and international software. These provide the connectivity needed for full-featured communications at any world port.
Offered with a variety of telephone handsets, the Definity 75 is also easily maintained by ship personnel with minimal training. An easy-to-use keyboard and video display screen allow quick identification and repair of any system troubles.
CELLNET Circle 98 on Reader Service Card For marine operators of all types, CallAboard is an excellent solution for offshore environments where public phone service is desired.
Using modern cellular technology, CallAboard answers the needs of companies working within the marine industry including operators of ferryboats, oil platforms, marine construction projects, gambling boats, barges, etc.
CallAboard allows callers to dial anywhere in the world and bill the entire call to a major credit card or phone company calling card, as well as make collect calls through the CallAboard live operator network.
The vessel or platform operators never receive any bills or user calls.
In addition, Cellnet pays commissions based on percentages of the monthly gross cellular airtime revenue which is generated. This service is available in most coastal areas of the U.S. Service in certain foreign markets is also available.
COMSAT Circle 56 on Reader Service Card COMSAT Mobile Communications recently announced its plans for a new digital satellite voice comm u n i c a t i o n s service. Ronald Mario, president of COMSAT Mobile Communications, said this new service will be introduced this year to provide brand new communications options to small and medium- sized boats and to business persons who travel to remote parts of the world.
The service, which uses a newly introduced "Inmarsat-M" technology over the global Inmarsat satellite system, is being marketed by COMSAT under the name Mobile Link.
According to Chris Leber, vice president of COMSAT's digital services, the rate for COMSAT's Mobile Link voice service has been set at $5.50 per minute, which compares to a basic rate of $ 10 per minute for its existing "Inmarsat-A" satellite service.
Mr. Leber said that Mobile Link is a global, two-way digital communications service that will initially provide a telephone capability through COMSAT's Southbury, Conn., and Santa Paula, Calif., land earth stations by mid-1992, and will be expanded for facsimile and data communications later this year.
EDO CORPORATION Circle 47 on Reader Service Card EDO Corporation, Electro-Acoustic Division, Salt Lake City, Calif., offers the model MRQ-4015DM two axes speed log. The MRQ-4015DM doppler velocity log, which has been used by the U.S. and Korean Navies in their minesweepers, provides both fore/aft and port/starboard velocities, in addition to distance traveled and depth. Speed range on both axes is 0-39.9 knots, with bottom tracking to 600-foot depth. The system can be forced to track the water column rather than the bottom at any time from a front panel control.
Construction is of a nonferrous mat e r i a l providing low-magnetic signature required on vessels involved in mine warfare operations.
A standard system consists of: main display and control unit, main electronics unit (MEU), transducer junction box, and transducer.
The system design allows cable lengths of up to 1,200 feet between transducer, J-box and MEU, and between MEU and main display and control unit.
EEV Circle 95 on Reader Service Card EEV Inc.'s marine magnetrons, which are used worldwide in marine navigation radar, are designed for long and reliable operational life.
The use of EEVs patented ridged cathode throughout the range guarantees the user long life and consistent performance. This is a direct contribution to improved radar reliability and reduced downtime. The ridged cathode gives life an order of magnitude greater than conventional types.
Metal-ceramic construction throughout permits high temperature processing during manufacture, providing a stronger and more reliable vacuum envelope. EEV 3rd generation magnetrons all use an efficient, lightweight magnetic circuit for reduced susceptibility to demagnetization during handling and reduced shipping cost due to lower weight and lower stray magnetic field.
The EEV range of marine magnetrons covers powers of 1.5 kw to 25 kw in X-band and 5 kw to 60 kw in Sband.
ELECTRONIC MARINE SYSTEMS Circle 54 on Reader Service Card Electronic Marine Systems, Inc.
(EMS), reports its GPS Chart Viewer can provide 10-foot accuracy with its differential receiver. The unit comes standard with a six-channel parallel processing receiver, with a 12-channel unit optional. Called the "navigation instrument of the 90s" by EMS, the GPS Chart Viewer also offers one of the most powerful displays available. The unit's thin line display makes the overall package 2- 1/2-inches deep and weigh only 7 pounds. All units can be made portable for "Life Boat Applications" with the addition of the internal battery pack. The GPS Chart Viewer is manufactured to two different marine mil spec environmental specifications for water and salt exposure, as well as being designed to meet a 5 G peak shock specification.
The GPS Chart Viewer features automatic or manual dead-reckoning; a standard worldwide chart package; the ability to plan 30 voyages with 99 waypoints; shows all depths, buoys and markers on the inland waterways and Great Lakes; and has special user charts and maps.
FROTRONICS Circle 93 on Reader Service Card Frotronics, Inc., a Houston-based marine marketing firm, has announced their appointment as exclusive sales representatives for two leading marine electronic equipment manufacturers, Tokimec and Philips Radio.
Frotronics will market these new products through selected marine s a l e s and service d e a l e r s h i ps throughout the U.S. and Canada.
Tokimec, Inc., formerly known as Tokyo Keiki, manufactures marine radar, gyrocompass, autopilot and speed log equipment.
The Tokimec RASCAR series of ARPA radars employ 'touch screen" technology, using man-machine interface menus to totally eliminate the use of knobs or push buttons in the operation of the radar.
Philips Radio Communications, Inc., of Denmark, supply low-cost satellite communications via PC and telex. The Philips SAFECOM CM and CP terminals are based on the new Inmarsat-C satellite system.
Special software compresses data, saving transmission time and cost.
For customer support, Frotronics stocks equipment and spare parts at its Houston warehouse.
FURUNO Circle 45 on Reader Service Card Furuno, recognized as a leader in marine electronics, has announced a new GPS navigator built to deliver top performance and reliability under the most punishing conditions— the Furuno GP-70.
The new Furuno GP-70 offers the latest GPS technology in a tough, compact and completely water-tight package. It features rugged cast metal enclosures—not plastic—and watertight membrane keypads, all designed to protect the state-of-theart receiver from moisture and salt spray.
The GP-70's large, backlit LCD display provides a wealth of important navigation data at a glance. Its dual-channel, eight satellite tracking capability provides the dependability, speed and accuracy.
A universal power supply allows the GP-70 to operate on as little as 10 volts—and on as much as 40. In addition, two fully programmable NMEA 0183 outputs allow the GP- 70 to be integrated with plotters, sounders, autopilots and other marine electronics systems, to create the All-Furuno Bridge.
Compact in size, the GP-70 utilizes a slim-profile, 500-gram antenna, which allows for easy installation on a wide variety of offshore vessels.
GARMIN Circle 48 on Reader Service Card Late last year, Garmin Communication & Navigation, Lenexa, Kan., introduced the GPS 50 Personal Navigator, a feature-packed model that gives users the convenience of a hand-held unit with the power, sophistication and reliability of much larger models. Using Garmin's MultiTrac system, the waterproof, pocket-sized unit can track up to eight satellites at a time— from horizon to horizon—for exceptional sensitivity and accuracy. GPS 50 owners can also take advantage of 250 waypoints and nine reversible routes, with a fast first-fix, onesecond updates, and AutoLocate, which eliminates the need for initialization.
When not being used as a portable, the unit can be surface mounted to the panel or placed in a rotating swivel mount, offering adjustable viewing angles. Nighttime and harsh-weather operators will appreciate the easy-to-read alphanumeric keypad and display, which are both backlighted for low-visibility use.
HENSCHEL Circle 8 on Reader Service Card The product development department of the Henschel Commercial Marine Division recently unveiled a new line of shipboard audible signals.
In response to recent regulation changes and customer requests, Henschel has designed a new line of commercial marine service bells.
Over nine months ago, Henschel Engineering was tasked with developing a high quality, competitively priced marine service bell. Using the CFR's and the Coast Guard's requirements as a guide, Henschel introduced its new 200-164 line of commercial bells. These new bells are available in 6,8,10, and 12 inch sizes and all required voltages.
This new line of marine bells has been designed to give the customer quality and excellence, according to Henschel.
HOSE-MCCANN Circle 9 on Reader Service Card Hose-McCann Telephone Co., Englewood, N.J., a pioneer in marine sound-powered telephones, offers an extensive product line, which includes sound-powered telephones, navigation light panels, audible and visual signaling devices, and a full array of U.S. Navy Symbol Number Items. Hose-McCann equipment is manufactured and tested in accordance with the latest military specifications.
Where applicable, Hose- McCann products comply with National Electrical Safety Code requirements, and are accepted by the U.S.
Navy and Coast Guard.
One notable product line offered by Hose-McCann is the Series 9500 telephone system, which was developed specifically for the maritime industry. The Series 9500 is a completely modular, sold-state digital system. It can provide up to 32 shore trunks and as many as 128 stations.
At sea, the Series 9500 performs as a PBX, while on shore as a PABX.
HUMMINBIRD Circle 43 on Reader Service Card Humminbird, Eufaula, Ala., has entered the marine navigational market with its new GPS Navigational System.
"The Humminbird breakthrough uses advanced GPS technology to actually show where the boat is located and headed," explained A1 Nunley, Humminbird vice president of marketing. "With the push of a button, this precise navigation system with built-in maps uniquely determines a navigator's exact location and draws a map, positioning the craft on it and tracking the precise course history." The boat's exact location is clearly displayed on maps of the U.S., including all inland waterways and lakes. Navigators will not need to purchase additional maps because they are incorporated into the GPS Navigational System. European and South Pacific models are also available.
The Humminbird GPS Navigational System allows the built-in maps to be viewed from two different perspectives—either a bird's eye view with north at the top of the screen or a forward looking view with the present course at the top of the screen. Even if a boater travels beyond map coverage, complete navigational information will continue to be displayed as on a normal plotter.
IDB AERO-NAUTICAL Circle 49 on Reader Service Card IDB Aero-Nautical Communications, Inc., Rockville, Md., a supplier of satellite communications services to the maritime industry, has announced that its new 13m coast earth station at Staten Island, N.Y., has been raised and fitted with Inmarsat baseband equipment. The antenna will address Inmarsat's Atlantic Ocean Region East satellite to complete IDB-A's worldwide maritime communications network.
IDB-A began testing and commissioning the new installation in mid-January, with customer beta testing scheduled throughout February.
The station will be fully operational by month's end, coming with a formal announcement by Inmarsat to all shipboard earth stations.
IDB-A has also received approval to provide shore-to-ship service to the Indian Ocean Region through the facilities of Overseas Tele-Communications, Limited in Perth, Australia.
A full range of operator services is now available through IDB-A's Operator Center. Ships can now place credit card, collect and third party calls utilizing the appropriate Inmarsat dialing codes. IDB-A is also offering a variety of safety-related services for Inmarsat Standard A users.
KFS WORLD COMMUNICATIONS Circle 27 on Reader Service Card KFS World Communications, better known as Palo Alto Radio/KFS, in California, is now privately owned and managed since it was taken over from a major carrier in 1990.
New and innovative services are being introduced at KFS which have the effect of making the traditionally equipped radio telegraphy (CW) and SITOR ships highly competitive with satellite-equipped ships in terms of speedy, reliable communications at low cost. Normal message delivery time is less than four minutes.
Other improvements include hourly traffic lists and immediate calls (by arrangement) to ships when messages come in. Direct connection between ships and shore telex machines is also available.
Radio officers report that U.S.- based KFS has excellent signal propagation in the Far East and the Pacific.
KENWOOD Circle 46 on Reader Service Card The Marine Communications Division of Kenwood USA Corporation, Long Beach, Calif., now offers an optional built-in message recorder for its top-of-the-line marine VHF transceiver, the TKM-507. This feature, the MDR-1 "Digital Recording System" (DRS), allows messages of up to 32 seconds to be stored on either the receive or transmit mode.
The DRS unit provides users the benefits of making immediate checks on calls received but not yet heard, and accommodates delayed transmission of outgoing calls.
The TKM-507 deluxe transceiver is most popular in the commercial market, particularly the fishing industry.
Designed for water resistance, the TKM-507 also has: durable commercial grade construction; 25 watts Hi/ Lo power selection; high quality re- ceive/transmit capability; large multi-function LCD; factory programming of all U.S. and international channels; 30 memory channels; multi-scan; dual channel watch; 10-watt hailer; easy-to-operate single key operation; and three-year warranty.
KODEN Circle 34 on Reader Service Card Koden's new GPS navigator combines pinpoint positioning with automatic operation for reliable performance and easy use.
The KGP-930's digital, five-channel parallel receiver sights up to 5 orbiting GPS satellites, providing position accuracy to less than 100 meters RMS. The large LCD screen displays all standard navigation information on one menu. Heading, speed, bearing and distance to waypoint are easy to read and visible from anywhere on the bridge.
Automatic operation instantly displays ship position when power is turned on. Its all-cast casing withstands abuse from everyday operation. Up to 20 instant or 180 permanent position memories keep track of danger zones or fishing grounds.
Speed log output provides more accuracy for speed-over-ground radar input. Three input/output ports allow interfacing with Koden 717, NMEA 0182/0183 and RS-232C formats.
The KGP-930 also interfaces with CIF (Furuno) and JRC (Raytheon) formats for easy electronics integration. Alarm selection includes: cross track error, waypoint proximity, anchor watch, and boundary.
LITTON SPECIAL DEVICES Circle 92 on Reader Service Card Litton Special Devices Division offers the 406Mz EPIRB, a second generation unit of its original EPIRB developed in the 1980s for the U.K.
market. It is approved for use in 10 countries worldwide, including the U.S. and Canada.
Litton's Category I and Category II fulfill GMDSS EPIRB requirements.
The Category I is designed to release itself automatically from a special mounting bracket. A manual override provides a failsafe back-up. When submerged to a depth of 3 to 12 feet, a hydrostatic mechanism frees the EPIRB to rise to the surface and become active.
Category I EPIRBs are designed for offshore commercial and fishing vessels.
The Category II is a small, compact and stowable version of the Category I device. Weighing only 3.1 pounds, it is ideal for including with emergency gear on inflatable or solid rafts, dinghies or launches.
MARINE ELECTRIC RPD Circle 94 on Reader Service Card Marine Electric RPD, Inc., Clifton, N.J., has developed marine shipboard loudspeaker systems for reliable communications between the bridge and the officers, crew and passengers. The systems are used for communication from ship to ships and ship to shore, especially during docking maneuvers. Marine Electric RPD has designated its systems as docking and navigation loudspeaker systems, ship to shore systems, general announcing and talkback systems, and emergency loudspeaker systems.
Marine Electric RPD's ruggedly constructed and shock proof amplifiers are able to withstand the high humidity, corrosion from salt spray, fungus and the corrosive fumes found aboard ships.
The company's loudspeaker systems E-37502, E-37504 and E-37506 are available from 500 watts to over 4,000 watts.
The emergency loudspeaker system, a requirement on large passenger ships, is a vital addition to the vessel's safety equipment.
The emergency loudspeaker system as installed, provides complete sound coverage throughout the entire vessel, including the engine room, crew quarters, public spaces, accommodations area, officers' quarters and weather decks.
MCI Circle 53 on Reader Service Card MCI owns and operates two strategically located HF/MF Radio Marine Coastal Stations. Radio Station KPH, located in Point Reyes, Calif., and Radio Station WCC, located in Chatham, Mass. These two stations operate together to provide MCI customers a superior range of ocean coverage. MCI Marine Services provide access to the north and south regions of the Atlantic and Pacific Oceans, includingthe Gulf of Mexico, U.S., Japanese, Australian and Mediterranean waters, and the Indian Ocean. MCI's 24-hour, sevenday- a-week marine services include a full range of both automatic and operator-assisted marine services.
Services available via MCI's coastal stations are: Radio telex ATOR/ SITOR, ATOR SAFEMarine Mailbox service, Marine Telegram (CW), Free Weather Broadcasts and Hotline News and Information services.
MCI's complete radio telex, telegram and satellite services meet even the most critical ship/shore communications requirements. All MCI Marine services integrate with MCI's worldwide voice, telex and telegram networks.
MEGAPULSE Circle 42 on Reader Service Card Megapulse, Inc., a small U.S.- owned business and reportedly the sole designer and manufacturer of the solid state Loran-C systems, has sold its Accufix 500 Loran-C receiver to naval and research organizations since 1981. Total sales to the U.S.
Navy have reached 95 units and the Accufix 500 is the standard Loran-C receiver in the mine warfare fleet (MSO,MCM, COOP and MHC). The U.S. Navy nomenclature is OR-313- SRN and the stock number is NSN- 01-296-9080 for U.S. Navy or Foreign Military Sales programs.
The Accufix 500N (navigator) was selected for the U.S. Navy TAGS-60 Class research ships being constructed and the Royal Navy also selected the Accufix 500N (19 systems).
The new Accufix 500N+ with Loran- C, GPS, differential Loran and GPS capability has both RTCM 104 and ASCII RS232 data outputs. A 16-bit embedded microprocessor allows for expansion in both options and capabilities. This technology will allow for receiver customization should a customer request that option.
MICRONAUTICS Circle 52 on Reader Service Card Micronautics, Inc., Rockport, Maine, has developed and sells tide prediction software to assist mariners.
According to Jim Mays, president of Micronautics, Inc., the company creates "industrial grade seagoing software." He said, "We produce computer products t h a t fill real needs of mariners, but that do not require extensive training." Micronautics produces TIDE.1 Rise & Fall, a program for IBM compatible PCs that predicts tides at over 3,600 coastal locations in the U.S., Canada, and Central America.
It computes sunrise and sunset and offers a variety of output options including plots and calendars. Its companion product, TIDE.2 Ebb & Flow, works in a similar fashion, except it predicts the floods, ebbs and slacks of tidal currents.
TIDE.1 and TIDE.2 are in extensive use on ships and in offices around the country. Among the users of Micronautics' software are ARCO, BP Oil, Exxon, Mobil, Texaco, Unocal, Princess Cruises, the Army Corps of Engineers, the Navy, the Coast Guard and numerous federal, state and local government agencies.
The company plans to launch WORLD.tide software shortly, which will include tidal predictions for regions worldwide.
MOBILE TELESYSTEMS Circle 101 on Reader Service Card Mobile Telesystems, Inc. (MTI), Gaithersburg, Md., develops, manufactures and services a series of satellite communications terminals operating exclusively with the INMARSAT network.
MTI's customer service is backed by its worldwide service team, consisting of fully trained, authorized representatives in over 25 countries available 24 hours a day, seven days a week.
One product offered by MTI is the MCS-9120 satellite communications system. With the MCS-9120, dial any number in the world from the telephone on-board your vessel and you are connected in a matter of seconds. The transmission is instantaneous, clear and distortionfree.
In addition, any office equipment compatible with a telephone line can be used with the MCS-9120 (such as telex, facsimile or computer).
The MCS-9120 features worldwide transmission capability characteristic of short-wave radio with the privacy found in cellular telephones.
The MCS-9120 provides the capability of a fully integrated telecommunications network, customized to meet specific requirements.
MOTRON Circle 50 on Reader Service Card MoTron Electronics, Eugene, Ore., recently announced the Auto- Kall AL-100 ringer, which automatically alerts operators of incoming shore-to-ship radio traffic, eliminating the need of having to constantly monitor coastal station traffic lists.
The AK-100 can be connected to most any marine SSB transceiver of receiver. It responds to digital type (FEC/DSC) traffic lists sent by most of the major coastal radio stations.
It can be used with stations such as KFS, KM1, WOO, WLO, and KPH, along with many others around the world. It can also be used to copy weather and navigational adviseries via its RS-232 port.
NAVAL ELECTRONICS Circle 4 on Reader Service Card Tampa, Florida-based Naval Electronics Inc.'s MK20/22 Marine TV Antenna now feeds a brand new "Head-End" amplifier system. The new 3000 series of cassette amplifiers splits the TV spectrum up into several bands. Each band has its own amplifier with a high dynamic range "AGC" automatic gain control.
This greatly improves system performance through lower noise and reduction of ghosting. A unique cascade filtering system incorporated in the 3000 series further reduces noise and the possibility of ghosting. For convenience, each amplifier "plugs in" to a cassette amplifier cabinet.
Naval Electronics has developed a computerized method of designing custom systems to meet exact customer requirements. This design service is free.
In the past 15 years, Naval Electronics has become a world leader in MATV systems for use at sea. The company's antennas are in use by all NATO navies and are the replacement standard with the U.S.
Navy and U.S. Coast Guard.
OCEAN SYSTEMS RESEARCH Circle 39 on Reader Service Card Ocean Systems Research, Inc., Annapolis, Md., recently introduced the DC Hull-Phone, designed to meet an existing requirement for maintaining uninterruptible shipboard interior communications. Hull- Phone uses the ship's hull structure as the communications medium and does not rely upon any installed wiring.
The heart of the system is a pair of small ultrasonic transducers clamped anywhere on the ship's metal framework. They impart inaudible, high frequency vibrations into the hull for reception at distant points throughout the ship. The system is completely portable consisting of a headphone, an ultrasonic transmitter/receiver, and a small rugged electronics package with a belt clip for hands-free mobility.
The rechargeable NiCad batteries provide over 8 hours of communications (at a 10 percent transmit duty cycle) as required by Navy specifications.
Voice communication clarity rivals that of a standard commercial telephone, according to the company.
OSR intends to market the Hull- Phone for use by the U.S. Navy, Western navies, commercial shipbuilders, and for use in high-rise buildings.
PANASONIC Circle 21 on Reader Service Card On the open seas, intra-coastal waters or a lake, the ability to communicate with land-based stations and other vessels is a necessity.
Panasonic offers three high-performance VHF radiotelephones that are reliable enough to go on any voyage.
The dash-mountable KX-G2200 and KX-G2220, and the hand-held KX-G1500 are all rugged units designed to meet high water resistance standards, the highest in the marine electronics industry (JIS 6).
The three VHF radiotelephones receive all U.S., Canadian and international channels, as well as 10 weather channels. The units' builtin memory enables the user to program any number of frequently used channels for easy access and usability.
The top-of-the-line KXG2220 and the mobile KX-G1500 also offer Tri- Watch, an unusual feature that enables the user to monitor Channel 16 and another memory channel while listening to a third channel.
G PLATH Circle 20 on Reader Service Card C. Plath, a division of Litton Industries, Inc., one of the world's leading suppliers in ship's navigation equipment, recently introduced new generation gyrocompasses, digital autopilots and electromagnetic speed logs.
C. Plath's Navipilot V autopilot can be connected to a gyrocompass and magnetic compass, with continuous output of magnetic compass heading. In case of gyro failure, all electronic users like radar, satnav, satcom, etc., will be fed by magnetic compass with corrected heading.
Although Navigat XII gyrocompass is suitable for all ship types, it is particularly well suited for high speed yachts and waterjet propelled craft due to its very high follow-up speed of 25 degrees per second.
The combination of Navigat XII gyrocompass and Navipilot V autopilot makes an excellent compact console system.
Specially designed for high-speed vessels, the newly developed digital speed log Naviknot III contains several features including: serial outputs— RS 422, NMEA 0183 (speed/ distance); input—NMEA 0183 (depth alarm) up to 20 different linearization/ calibration points; integrated stop watch; and programmable time constant/dampings.
RACALSURVEY Circle 38 on Reader Service Card Racal Survey's SkyFix service allows users to make the most effective use of GPS. With an accuracy of 3-5 meters, it is suitable for many applications, including positioning for seismic exploration, rig moves and construction projects. Differential correction data are generated at strategically located multiple reference stations to maximize the effective coverage of SkyFix.
The main feature of the Racal Survey SkyFix service is the use of Inmarsat communications satellites as the datalinks. The enhanced range of2,000 kilometers for SkyFix is limited only by the range from the reference station over which the derived corrections remain valid and not by the range of a terrestrial datalink system.
A major advantage for users is that a single vessel equipment installation will handle operations within the SkyFix coverage anywhere in the world. Coverage has recently been enhanced with the installation of reference stations in Houston, Tampa and San Francisco.
SkyFix DGPS is part of a large array of Racal Survey's precise positioning services and equipment, in- eluding Hyper-Fix, Micro-Fix and System 880 for the commercial, government and defense markets.
RADIO HOLLAND Circle 108 on Reader Service Card Radio Holland, distributor of Kelvin Hughes equipment in the U.S., recently unveiled the Kelvin Hughes' integrated bridge, featuring the new Nucleus 6000A ARPA radar system.
The main components of the integrated bridge system are: the electronic chart workstation (ECDIS); Nucleus 6000A automatic radar plotting aid (ARPA); navigation display workstation (NAVDIS); navigation monitor (NAVMON); ship control station (SHIPCON); communication workstation (COMDIS); vessel monitoring workstation (MONDIS); electronic chart table (ECTAB); data logger backup unit; data logging printer; and A3 plotter.
The design of the integrated bridge system is directed toward improving efficiency and productivity, reducing bridge manning to "single manning," while promoting higher standards of operational safety.
The design and layout of the system can be compared to that of a modern airline cockpit with its master control and subcontrol positions.
RAYTHEON MARINE Circle 80 on Reader Service Card The world's first fully equipped GMDSS (Global Maritime Distress and Safety System) radio stations— the German gas tanker Altergas, and Norwegian gas tanker Helice— are 100 percent Raytheon Marine Company/JRC installations. This includes MF/HF and VHF radio, and Inmarsat-A/Inmarsat-C SES satellite communications systems providing automated and semi-automated voice and printed message communication. Raytheon and JRC claim they are the only companies that can supply a complete range of GMDSS products now, all made by one manufacturer.
Of key importance in the GMDSS products is the MF/HF radio equipment (JSS-720) which features automatic Maritime Safety Information (MSI) reception, Digital Selective Calling (DSC) message alerts, message calls by DSC, and hardcopy NBDP messages. Because DSC greatly simplifies use and allows for unattended operation, listening watches are no longer necessary, and training requirements are greatly reduced. Equipment can be operated remotely, with a single control unit, from the bridge.
Designed to meet GMDSS, the JHS-31 VHF radiotelephone with DSC provides ship-to-shore and ship-to-ship communication over all U.S., Canadian and international channels.
REDI-MARINE ELECTRONIC Circle 51 on Reader Service Card Redi-Marine Electronics Company recently announced the SRX- 1, Armed Forces Radio and Television Service (AFRTS) marine satellite receiver. The SRX-1 receiver connects to a ship's existing Inmarsat Standard A communications terminal to receive the AFRTS worldwide audio broadcast. There is no charge for receiving the signal.
The AFRTS broadcast is available through the Pacific, Atlantic West and Indian Ocean Regions. The SRX-1 allows ship's crew to listen to the latest news, sports and entertainment from virtually any place in the world.
ROBERTSON MARINE SYSTEMS Circle 25 on Reader Service Card The paper chart has been a fun- damental tool for the last century, but now the limitations of this classic approach can be overcome by using new technology—GPS and Electronic Chart Display and information Systems (ECDIS).
A leader in the development and field testing of ECDIS systems has been Robertson. The Robertson Disc Navigation ECDIS is designed to satisfy the IMO provisional performance standards of ECDIS. Disc Navigation is designed for electronic sea charts based upon an authorized hydrographic data base which can be updated either manually or automatically via Inmarsat. The system has the capability of reading chart data in Norwegian Hydrographic Society-format and prepared for the international DX90 format.
All symbols and colors are used in accordance with IHO Colors and Symbols Group. The system satisfies Det norske Veritas automatic steering regulations.
The Disc Navigation operator console consists of a master display, a second interactive graphic display, a dedicated keyboard and roller ball.
SIMRAD Circle 100 on Reader Service Card Simrad, Inc., Lynnwood, Wash., is offering Anritsu's RA-722UA and RA-723UA radar. These Anritsu radars represent the latest in radar technology. A new high-speed microprocessor provides even further improvement on Anritsu's well-established reputation for superior target detection and definition.
Some of the standard features of the Anritsu radar systems include 15-inch high-resolution monochrome display; eight-level quantization; and such target detection techniques as High Sensitivity (AVS), Echo Stretch Function, Automatic or Manual Sea Clutter (STC) Control.
The RA-722UA, which has 10 kw of power, and the RA-723UA, with 25 kw of power, feature a large 15- inch monochrome picture, with automatic or manual target plotting, off-centering of the radar picture, a guard zone with alarm, and picture expansion of a selected area.
SINGAPORE TELECOM Circle 26 on Reader Service Card Singapore Telecom, which provides Inmarsat-A services to the Pacific Ocean Region via the Sentosa Coast Earth Station, recently passed along additional savings to customers in the form of rate reductions for telephone service to Batam and for maritime satellite communications services.
The company, which reviews its rates and services regularly in an effort to offer the lowest possible costs to customers, reports that ships in the Pacific Ocean Region are enjoying lower traffic charges for shipto- shore telephone and telex calls.
With this reduction in traffic charges, the company estimates t h a t more than $1.2 million in savings will be passed on to the maritime community per year. The lower traffic charges will mean lower communications costs for ships using Inmarsat-A services.
The Sentosa station also offers value-added services like Telepac and Telebox for ships.
SPERRY MARINE Circle 28 on Reader Service Card Sperry Marine, Charlottesville, Va., recently introduced its new "P" version RASCARs. The "P" version RASCAR radars ("P" for plotter), which contain no ARPA functions, have been designed to make a significant reduction in cost in dual radar systems where only one ARPA is required and in single radar systems on vessels below 10,000 gross tons where no ARPA is required.
This latest addition to the Sperry Marine RASCAR family includes a 20-target manual plotting capability made elegantly simple for the operator through RASCAR's touchscreen control. Up to 20 targets can be assigned their own track letter and, based on manual position updates, target course, speed, CPA and TCPA are automatically calculated and displayed.
The high resolution displays of the "P" version RASCARs retain the picture quality and touchscreen control of other Sperry Marine RASCARs. The "P" version RASCAR displays are completely compatible with existing RASCAR transceivers and antennas and are interswitchable with the standard RASCAR display, as well as with other "P" version displays.
STANDARD COMMUNICATIONS Circle 6 on Reader Service Card Miniaturization has come to Standard Communications line of Horizon marine radios with the introduction of the new HX230S "shirt pocket-sized" subcompact five-watt VHF handheld radio.
The HX230S, like all Horizon s c a n n i n g radios, may be programmed by the user to scan exactly the number or combination of channels desired. Or the user may push the P-scan button to give priority to the channel 16 button to immediately bring it up. A large LCD display makes the selected channels easily visible.
Simple controls give the HX230S easy access to all U.S., Canadian and international channels, as well as 10 weather channels. A push button gives the user instant access to 10 weather channels. The radio also includes a special battery-saving circuit which saves vital battery life.
An optional voice scrambler is available for the Horizon HX230S for users who want communications security.
TRIMBLE NAVIGATION Circle 23 on Reader Service Card Trimble Navigation recently unveiled three new products—two graphic display GPS receivers, the NavGraphicXL and NavTracXL, and the Acutis 6 GPS antenna receiver.
The displays of both the NavGraphicXL and the NavTracXL systems incorporate FSTN (film super twist pneumatic) technology, the latest development in liquid crystal computer displays (LCD), making them very easy to read.
The NavTracXL Graphic GPS receiver is designed primarily for offshore recreational cruising boats larger t h an 20 feet, fishing and workboats and smaller commercial ships.
The integrated NavGraphicXL GPS navigation and electronic charting system is targeted at both smaller recreational vessels and larger commercial fishing boats, research vessels and merchant ships. Like its predecessor, the NavGraphicII, the NavGraphicXL system automatically displays the vessel's exact position on a screen showing a detailed chart, which reads from a compact disk containing dozens of digitized NOAA charts.
The compact Acutis 6 is an integrated six-channel GPS antenna/ receiver that mounts above board like an antenna.
WATERCOM Circle 7 on Reader Service Card Since service to the inland mar i n e i n d u s t r y began in 1986, WATERCOM has installed hundreds of telephone fax and data units on vessels navigating America's inland waterways.
With WATERCOM, callers dial numbers directly; there is no need for an operator to complete the call.
Waiting to make connections is virtually eliminated, and the system offers improved clarity and privacy.
It also offers modem and facsimile data transfer capabilities.
Business calls are billed on an itemized usage statement. Personal calls made by crew members must be made collect, billed to a third party or charged to a credit card.
The company never sees a bill for them. Incoming calls are the dialing party's responsibility.
WATERCOM is reportedly the only direct dial, delay free, continuous communications system on the water. The system serves more t h a n 4,000 miles of America's waterways.
WATERCOM is a registered trademark of Waterway Communications System, Inc., Jeffersonville, Ind.
DEL NORTE Circle 115 on Reader Service Card Del Norte Technology, Inc., formed in 1969, has designed, manufactured, and supplied Precision Marine Positioning equipment to surveying, dredging and military authorities for over two decades.
During this time Del Norte has remained at the forefront of technology with the continuous development of its range of microwave meas u r i n g equipment known as Trisponders.
The 586 Digital Distance Measuring Unit (DDMU) is fully compatible with existing Trisponder systems, and may operate with any remote transmitter/receiver units already deployed.
The Del Norte 1008/1012 GPS receiver is a 586 DDMU fitted with a GPS module and is capable of carrying out all functions of a microwave measuring unit at the same time as operating as a GPS receiver.
For differential GPS operations, the Del Norte 1008/1012 resident software enables operation as either a shore-based reference unit or a shipborne mobile unit.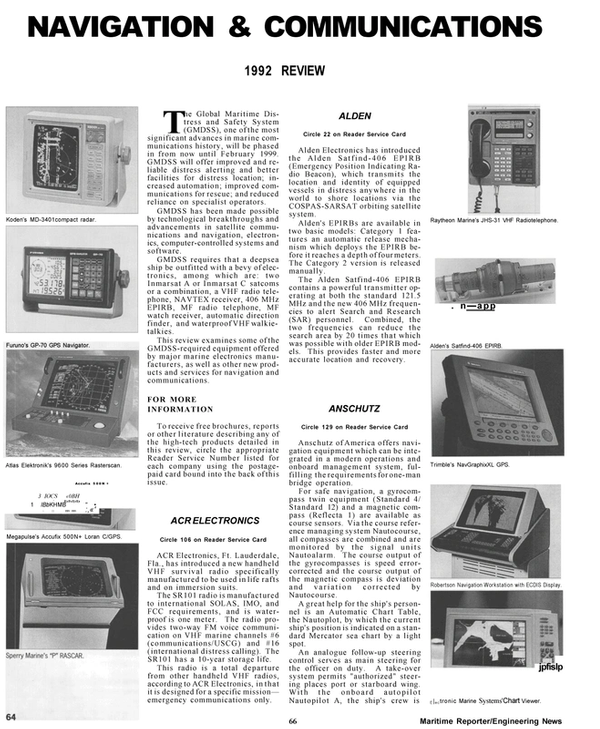 Read NAVIGATION & COMMUNICATIONS in Pdf, Flash or Html5 edition of March 1992 Maritime Reporter
Other stories from March 1992 issue
Content