Mobile's Maritime Renaissance
By Greg Trauthwein
Timing, they say, is everything. Cliché, for sure, but BAE System's strategic decision a few years ago to buy, invest and reinvigorate newbuild and repair operations in Mobile, Alabama, seems poised to pay off handsomely as the U.S. maritime market faces a historic rebound.

As the energy profile of the United States changes, so too do the prospects for it commercial shipbuilding and repair sector, which virtually overnight has enjoyed an influx of new construction orders and general maritime business. The ATB and tank barge markets were long-thought dead, but with vast new sums of oil and gas in both the offshore and land-based being produced, so too comes the need to transport the goods to refinery and market, as well as the need to feed the inland energy production frenzy born from hydraulic fracturing, or Fracking.
Shipbuilding and repair in Mobile, Alabama is certainly not novel, as Mobile holds a long and proud tradition. While rich in history, this is not a story of looking back, rather forward, starting three years ago when BAE Systems took over the yard in Mobile and enacted a revitalization of a storied shipbuilding and repair facility that continues in earnest today.
"The main batteries of our business are the capital investment in piers, dry docks and cranes," said Vic Rhoades, Director, BAE Systems' Mobile, Alabama shipyard. Since the acquisition in July 2010 we have invested nearly $30m in capital improvements, and anticipate spending $10m over the next 24 months.
Upgrading the new construction facilities with robotics and automation, and investing in people has been one of our big successes."

Repair & Conversion Coexist
"We have two business approaches here: one is repair and conversion and the other is new construction," said Rhoades. "Both co-exist equally in the yard. Our repair business is 70% commercial; 30% other government, specifically MSC, MarAd and Coast Guard," as well as others. Predictably, the repair business is dominated by domestic Jones Act carriers, with about 15% of the shipyard's repair business coming from international carriers.
But as anyone in the ship repair and conversion business can attest, it is always a delicate balancing act to plan workload on the repair side of the house: when times are bad, owners tend to require bare bones work to keep ships in good regulatory order. When business is booming, owners want to keep assets in the market earning money, not sitting in drydock for maintenance and repair.
In assessing the impact of the global economic meltdown of 2008 and lingering tough economy through 2012, Rhoades offered this: "As an industry, it made us stronger. Smaller players and those without the financial wherewithal disappeared, and those that remained came back stronger. This business is not for the weak at heart: it's cyclical, it's feast or famine, difficult to level load; today we don't have enough people, tomorrow I don't have enough work due to the operators charter and repair schedules."
If running an efficient and effective repair yard were not difficult enough, running newbuild and repair operations in the same facility is traditionally a difficult act, too. "There is a reason why companies don't do both … and that's because it is very difficult to do," Rhoades succinctly summarized. "I am not sure we have a secret. It's two different mind-sets (on both accounts). On the repair side, it's about fixing what is pre-existing (similar to taking your car to a mechanic), and it doesn't necessarily have to be brand new when it is done," Rhoades said. "The work can be spec'd to that level but the owners normally decline due to cost. Owners want quality and timely repairs. On the newbuild side, everything is fit and finish, prim and proper … it is a higher level of completion. It's like buying a brand new car. It is difficult to make the transition from one side to the other. It's a different mindset of how you go about your day's work."
While Rhoades maintains there is no secret to success, he does admit that the cornerstone to the company's future lies not necessarily in machinery or space, rather people.
"The primary strength of our shipyard is without question our highly skilled workforce. Our employees commitment and professionalism are what makes us successful. The labor market on the Gulf Coast is very challenging. We compete daily with Tier 1, 2 and 3 yards for skilled labor. There isn't enough qualified personnel to go around. We're currently bringing in people from out of town. Long-term we're working with the state to establish educational grants, develop an apprenticeship program and trying to focus the school system on reinvigorating the blue collar workforce at a junior high level."
One key to finding and retaining good people is maintaining a steady log of business, and with the addition of the new construction business BAE Systems aims to do just that. The formula to date appears successful: when Rhoades came onboard three years ago when BAE Systems acquired the yard, the workforce was just shy of 500; today the workforce is 850 full time and 200 temporary employees.

New Emphasis on Newbuild
While BAE Systems continues to make a number of tangible investments in its Mobile facility, perhaps the most significant was the resurrection of its new construction business, bringing back Gene Caldwell as its director of new construction. Caldwell is well suited for the task at hand, given the ripe markets before him and the high level of investment from BAE Systems.
"I still see the PSV and oil and the energy circuit driving business," Caldwell said. "The Macondo incident effectively drained everything in the Gulf, so a lot of companies are in rebuilding mode." Newbuild targets for Caldwell and his colleagues are numerous, from vessels for the transportation of crude oil, including ATBs and tankers. Also, the market for multipurpose vessels, well intervention and well ops, as well as ROV support could be strong, according to Caldwell. "We thought the ATB building was done for awhile, but today we are fielding quite a few inquiries. (In fact) our newbuild sweet spot is the ATB market," said Caldwell. "ATBs based on our history of building them here; PSVs fall off nicely from there, and then the specialty vessels, with our diversity of labor talent."
While the current newbuild orderbook is diverse and impressive, the core revolves around energy, specifically the shale gas boom and its dramatic impact on the business and that of energy transportation in general. "They get it (oil) down to the Gulf of Mexico refineries (from the pipeline) and the refineries can't handle all of the volume, hence the need for the tankers to transport it to other refineries when it comes out of the pipeline," said Caldwell.
It is the newbuild side of the business that essentially is "carrying the water" today, as repair business dips as vessels stay in the market working. Current new construction business includes:
Two dump scows for Great Lakes Dredge & Dock
Trailing arm dredge for Weeks Marine
A second Platform Supply Vessel for GulfMark.: The 300-Class DP2 PSVs for Gulfmark were designed by MMC Ship Design and Marine Consulting, Ltd. of Poland and will be based on similar PSV currently under construction for GulfMark abroad. The vessels will be U.S. flagged and will support the anticipated future demand in the Gulf of Mexico offshore market and other areas around the world and will be delivered in 2014.
(As published in the January 2014 edition of Maritime Reporter & Engineering News - www.marinelink.com)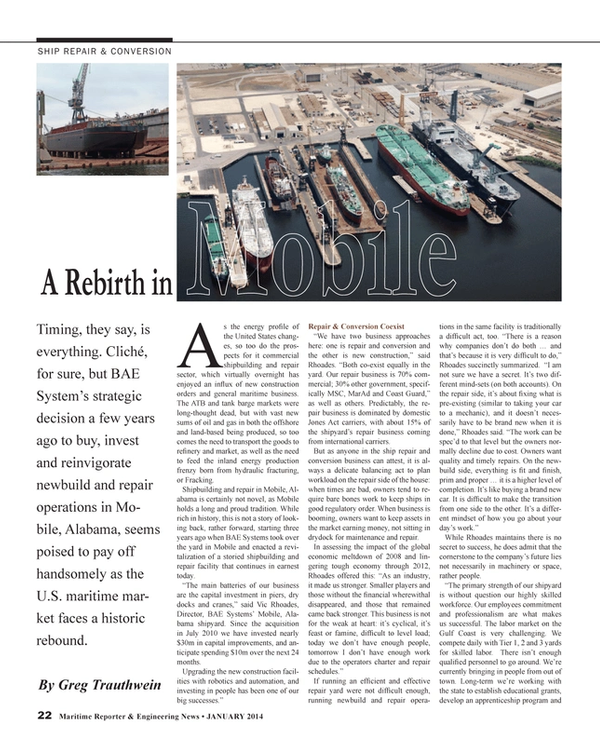 Read Mobile's Maritime Renaissance in Pdf, Flash or Html5 edition of January 2014 Maritime Reporter
Other stories from January 2014 issue
Content