World Navies: Taiwan develops indigenous combat capabilities
By Edward Lundquist
Navies operate on a spectrum between deterrence and defense, to include offensive operation, support of foreign policy, and power projection to civil affair and humanitarian assistance and disaster response. Many have constabulary responsibilities, and it could be argued that, with the exception of the largest navies, most are more like a coast guard than a military force in their normal responsibilities.
Every Navy is different. Yes, they all share similar challenges of acquisition, maintenance, manpower, basing, communications, information systems and the usual requirements of a military service, compounded by harsh maritime environment. Each nation and their navy has a different place to operate in, a different nation and resources to protect, and different threats to protect them from.
That's what makes studying the navies of the world interesting—to see how they have addressed their specific challenges with the resources they have applied to them.
The Republic of China (ROC), known to most people as Taiwan, in indisputably dependent upon the maritime do-main. Taiwan must import 98 percent of its energy needs; and almost all of its exports travel by sea. Across the 100 nm Taiwan Straits is the Peoples Republic of China (PRC) and its 1.34 billion people.
The PRC has made it known that it intends to "reunify" Taiwan. But for the rest of the region, Taiwan is the first ob-stacle standing in the path of Beijing's expansionism.
The comparison between the two China's is stunning. The PRC 1.3 billion people makes it the most populous coun-try on Earth, and it is the third largest in area at 9.59 million square miles. Taiwan, by comparison, has about 23 mil-lion people living in an area of about 13,892 square miles—bigger than Belgium but smaller than Switzerland. And it lies just 100 miles away across the Taiwan Straits.
Taiwan is still able to procure new weapons and hardware from friendly nations, including the U.S. But owing to its unique status, many nations have imposed restrictions on selling military material to Taiwan.

The 20,000 fast combat support ship ROCS Pan Shi (AOE-532) was commissioned in 2015. (ROCN photo)
But to a growing degree, the nation is relying on its indigenous capability. Much of that is designed, developed and produced by Taiwan's National Chung-Shan Institute of Science and Technology (NCSIST) and its industry partners.
Despite the PRC's efforts to isolate Taiwan, it still has a strong economy and a very capable military, including a for-midable navy. For many years The ROC Navy (ROCN) relied on U.S. hand-me-downs, and still has a number of for-mer U.S. Navy ships, as well as French frigates and Dutch submarines.. While there are a variety of political com-plexities that prevent Taiwan from acquiring what they need from the global arms market, it still has capable and modern platforms with up-to-date sensors and weapons. But they have also learned the importance of having a strong indigenous capability to design and build new systems and ships, as well as modernize and maintain existing platforms. Much of this has been accomplished by Taiwan's National Chung-Shan Institute of Science and Technol-ogy (NCSIST) and its industry partners.
For example, Taiwan built eight Oliver Hazard Perry class FFGs under license, and recently acquired two more from the U.S. under Foreign Military Sales (FMS). These ships are gone from the U.S. fleet, and have systems that are no longer supported, like the MK13 missile launcher and SM-1 missile. But through NCSIST, Taiwan developed its own capability to sustain that weapon system, and today those frigates, as well as the ROCN's former U.S. Kidd-class guid-ed missile destroyers and Knox-class frigates have more offensive capability than they did before being transferred to Taiwan.
Perhaps the best example of adding new capability to older platforms is the development of the land-based mobile and sea-based Hsiung Feng III supersonic anti-ship missile. And Taiwan is building a host of new ships, like the 600-ton, 40-knots-plus Xunhai I-class PGG wave piercing catamaran, which is heavily armed for its size with a 76mm gun, Hsiung Feng II and III missiles; CIWS; Mk-46 torpedoes, and a variety on unmanned air, surface and underwater ve-hicles; all integrated with a domestic combat management system.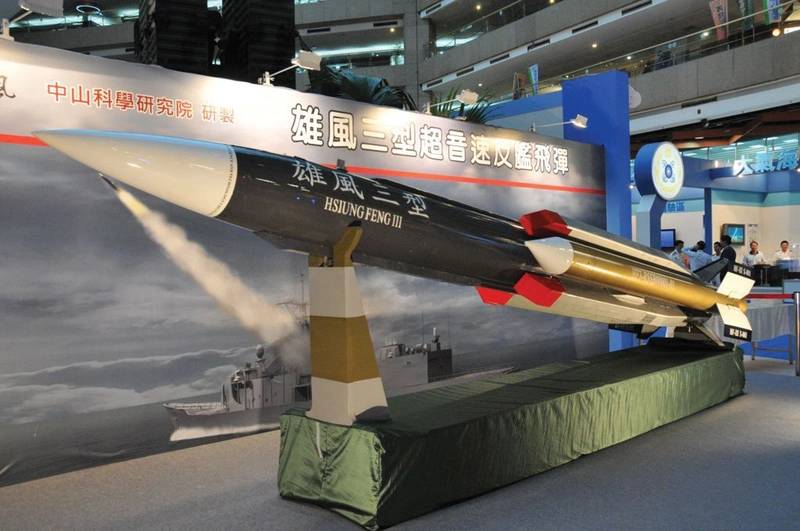 The supersonic Hsiung-Feng III missile, developed by NCSIST, can be launched from a variety of platforms, both from land and at sea. (NCSIST photo)(Part two of a five-part series published in the April 2019 edition of Maritime Reporter & Engineering News: https://magazines.marinelink.com/nwm/MaritimeReporter/201904/)
Read World Navies: Taiwan develops indigenous combat capabilities in Pdf, Flash or Html5 edition of April 2019 Maritime Reporter
Other stories from April 2019 issue
Content