World Navies Report: Denmark
By Edward Lundquist
Navies operate on a spectrum between deterrence and defense, to include offensive operation, support of foreign policy, and power projection to civil affair and humanitarian assistance and disaster response. Many have constabulary responsibilities, and it could be argued that, with the exception of the largest navies, most are more like a coast guard than a military force in their normal responsibilities.
Every Navy is different. Yes, they all share similar challenges of acquisition, maintenance, manpower, basing, communications, information systems and the usual requirements of a military service, compounded by harsh maritime environment. Each nation and their navy has a different place to operate in, a different nation and resources to protect, and different threats to protect them from.
That's what makes studying the navies of the world interesting—to see how they have addressed their specific challenges with the resources they have applied to them. Here we look at Denmark.
Denmark steers new course and adopts a new mission
Denmark is a small country of six million people, but strategically located at the entrance to the Baltic. It is a true maritime nation, and home to some of the world's largest merchant shipping companies and their fleets. During the Cold War, its naval fleet was optimized for homeland defense and to protect the sea lanes in and out of the Baltic. It led the way in modular capability, with its STANFLEX patrol boats. But when Denmark made a strategic change of direction to be able to conduct long-range missions in support of NATO and global multi-national coalition operations, it had to change its fleet with fewer but larger ships for protecting the maritime domain and also being an active member of the Alliance. Fortunately, the investment in modularity and a common C-Flex combat management system paid off. Guns and missile launchers were repurposed from the Flyvefisken class StanFlex patrol boats to the new, Absalon-class flexible support ships and close-cousins, the Iver Huitfeldt frigates. Now, Denmark is going further by bringing even more sophisticated integrated air and missile defense capabilities.
"After the end of the Cold War, we completely refocused on having fewer but larger ships for protecting the maritime domain and also being an active member of the Alliance," said Capt.) Claus Andersen, Chief Coordination Sec-tion, Maritime Division, Danish Defence Acquisition and Logistics Organization (DALO).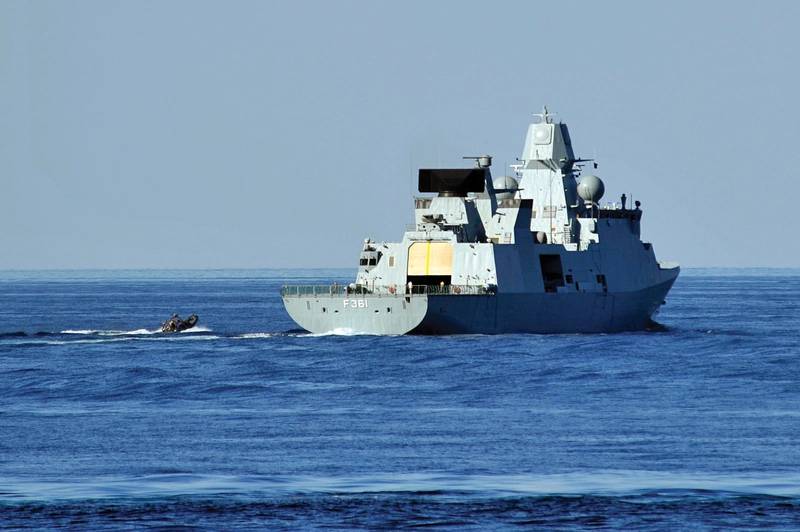 The Royal Danish Navy frigate HDMS Iver Huitfeldt (F361) underway in the Arabian Sea. Iver Huitfeldt is assigned to Commander, NATO Task Force 508 supporting Operation Ocean Shield, maritime interception operations and counter-piracy missions in the U.S. 5th Fleet area of responsibil-ity. (U.S. Navy photo by Mass Communication Specialist 2nd Class Deven B. King)
The larger ships can deploy wherever they are needed for months at a time to meet alliance and coalition commitments. NATO SeaSparrow, and the Evolved SeaSparrow Missile (ESSM) has served as the RDN's primary air defense system, and Denmark as be a key player in the ESSM Block II development and deployment. Now its ships will have new systems and missiles that will enable the Danish Navy to be a full participant in NATO IAMD operations, to include ballistic missile defense.
This course change is not as radical as it may seem, thanks to the modular design of the ships and the interoperability and open architecture attributes of their Terma C-Flex combat management systems.
"We've got a good point defense system with ESSM, and we are part of the consortium to develop and operate ESSM Block II. Now our aspiration is to go a little further for area defense, and are installing SM2 on the frigates," said Andersen. "It's a huge step for us. It's a different capability.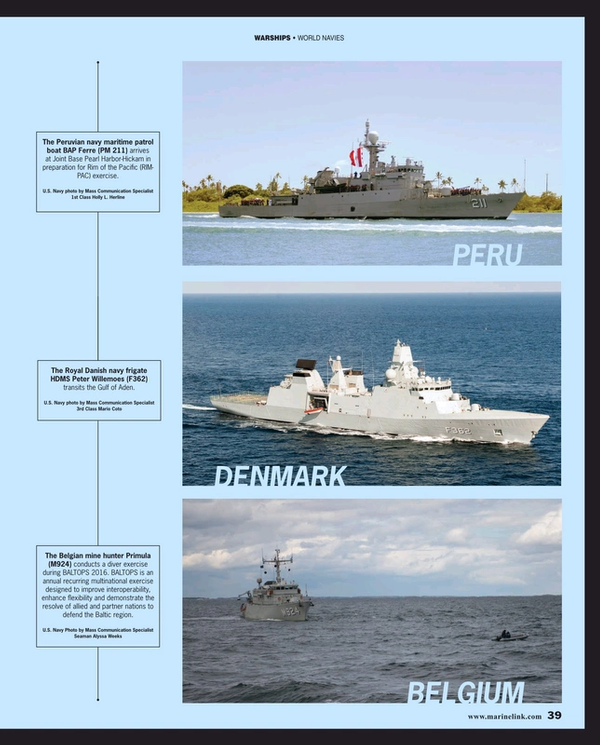 Read World Navies Report: Denmark in Pdf, Flash or Html5 edition of April 2019 Maritime Reporter
Other stories from April 2019 issue
Content