World Navy Report: Peru
By Edward Lundquist
Navies operate on a spectrum between deterrence and defense, to include offensive operation, support of foreign policy, and power projection to civil affair and humanitarian assistance and disaster response. Many have constabulary responsibilities, and it could be argued that, with the exception of the largest navies, most are more like a coast guard than a military force in their normal responsibilities.
Every Navy is different. Yes, they all share similar challenges of acquisition, maintenance, manpower, basing, communications, information systems and the usual requirements of a military service, compounded by harsh maritime environment. Each nation and their navy has a different place to operate in, a different nation and resources to protect, and different threats to protect them from.
That's what makes studying the navies of the world interesting—to see how they have addressed their specific challenges with the resources they have applied to them. Here are several examples.

Peru patrols Amazon rainforest to deep blue Pacific
Peru is a maritime nation, with a 1,500-mile coastline, and a major ports such at Callao. It has a navy, and warships such as the Lupo-class frigates from Italy and Type 209 submarines from Germany. There are modernization efforts underway even as the Marina de Guerra del Perú also looks to recapitalize its fleet with more modern platforms and systems. Not surprisingly, there is a competition for resources from the other services, but Peru depends on the sea, and its navy. Most Peruvians live near the sea; most of its trade travels by sea; and 95% of all fuel used in Peru comes by sea.
So, Peru is not unlike many other navies in that regard. Few navies, however, have such extreme operating environments. Peru is a blue ocean-navy that has a significant riverine mission, with numerous humanitarian and constabulary functions on the remote Amazon and its tributaries, as well as a land-locked presence on Lake Titicaca, where it shares a maritime boundary with Bolivia (a land-locked nation, has a naval force of about 5,000 personnel) at an elevation of more than two miles above sea level. A large portion of the Amazon is within Peru, and 60 percent of the country is Amazonian rainforest.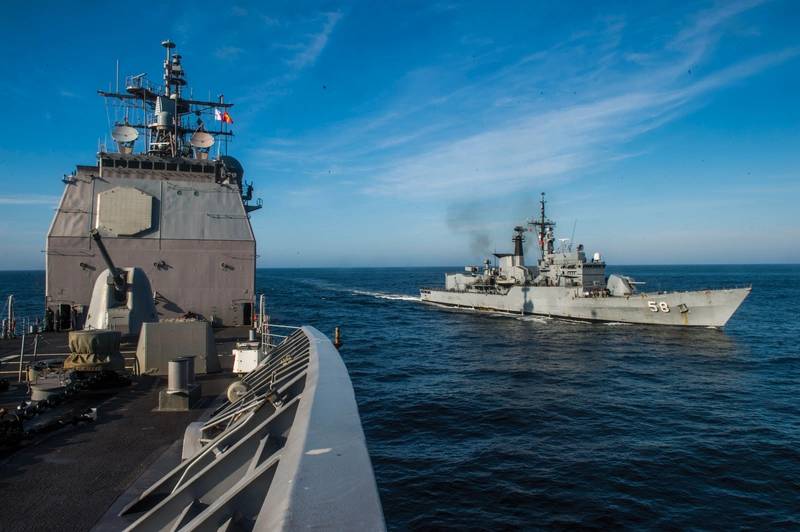 The Peruvian frigate BAP Quiñones (FM 58) is underway alongside the Ticonderoga-class guided-missile cruiser USS Lake Champlain (CG 57) during a leapfrog exercise. Lake Champlain is participating in Silent Forces Exercise 2018 with the Peruvian and Colombian navies. (U.S. Navy photo by Mass Communication Specialist 1st Class Nathan Carpenter/Released)
Peru's navy is a study in contrasts. Peru has a former Dutch cruiser that was laid down before World War II, acquired by Peru in 1973 and commissioned as the BAP Admiral Grau, and is the last gun cruiser in service anywhere. Compare that to the hospital ship BAP Puno, operated by the Peruvian Coast Guard on Lake Titicaca. It was commissioned in 1872 (that's right—1872—that is not a typo), and still serves local communities in remote areas. She is reportedly fueled by dried llama dung (also not a typo). Compare that to its flight deck-equipped patrol boats for the Amazon basin, Icebreakers operating in the Antarctic region and amphibious ships capable of transporting and deploying Marines.
Because Peru's difficult geography makes it hard to support citizens in remote communities, the Navy operates vessels that are key enablers to sustain and protect them. "In some areas, the only presence of the state is the Navy," said Rear Adm. Ricardo Romero, Peruvian naval attaché to London.
But despite its unique challenges, Peru understands that it is not a singular naval entity, and must rely on, and participate actively in international cooperation. For example, BAP XXX took part in RIMPAC 2018, the major fleet exercise. And Peru views its international responsibilities as a Pacific nation, and even reciprocates with Singapore in stationing officers at their respective maritime domain awareness fusion centers.

(Part one of a five-part series as published in the April 2019 edition of Maritime Reporter & Engineering News https://magazines.marinelink.com/nwm/MaritimeReporter/201904/)
Read World Navy Report: Peru in Pdf, Flash or Html5 edition of April 2019 Maritime Reporter
Other stories from April 2019 issue
Content