Digitalization: Managing the Flow
Mathias Rusch, Director of the Marine business unit at SKF
Mathias Rusch, Director of the Marine business unit at SKF explains what trends are currently shaping the industry, what future challenges are emerging and how operators can manage the flood of data that is coming out of the digitalization revolution.

Two major trends that shipowners and operators are currently dealing with are persistently low freight rates, which have been significantly depressing shipowners' earnings for a number of years and the requirements concerning emissions into both air and water that continue to grow. With new regulations introduced to reduce such emissions, ship operators must perform expensive retrofits to their fleets, increasing competitive pressure and ship operator running costs.
Minimizing operating costs is the order of the day. To achieve this, the industry has been seeing consolidations among shipowners and ship operators for a number of years. Although this has allowed costs to be reduced, it has also increased the pressure on smaller ship operators. While such consolidations have helped reduce costs in some areas, operating a fleet of ships is primarily about availability, service, spare parts and finding the right time to replace them. With this in mind, SKF has been working with ship owners and operators, both large and small, to make this process smooth and cost-efficient.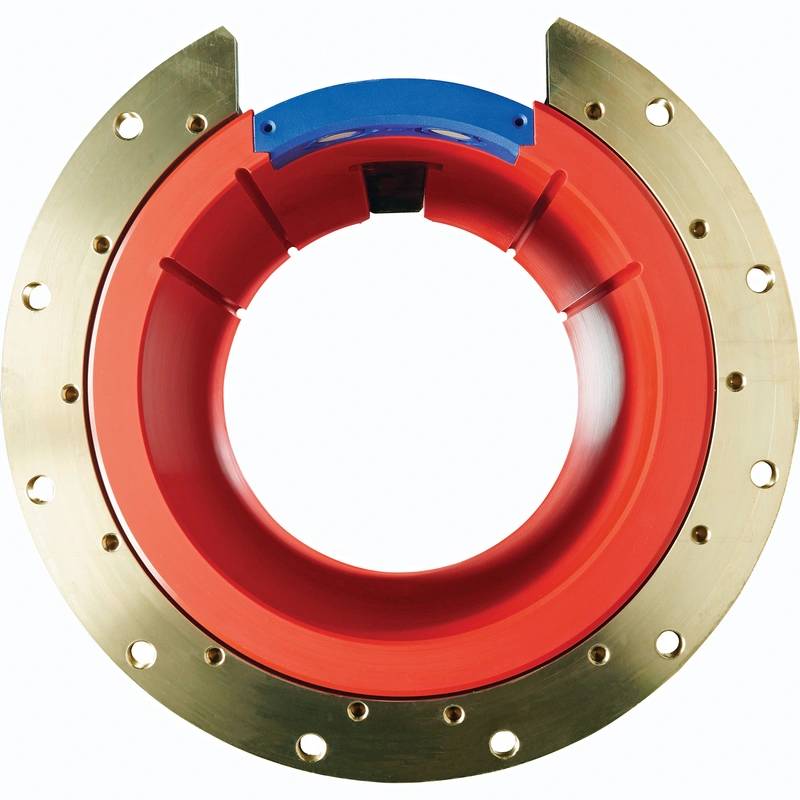 With the Simplex BlueRun water-lubricated stern tube system, which was launched at the SMM 2018, ship operators can call upon another environmentally friendly Simplex solution from SKF. The Simplex BlueRun wear-measuring system provides reliable condition information that enables the user to plan the required replacement of bearing bushes in a forward-looking manner.The SKF approach
SKF has supported customers with fleet contracts, to significantly improve their planning security with regard to the availability of spare parts. In addition to this, SKF condition monitoring and condition-based maintenance solutions have been used to great effect.
SKF has developed resource-saving products such as Simplex BlueRun, SKF EcoMode and SKF Dynamic Stabilizer Cover, which are intended to reduce ship fuel consumption and make their operation more environmentally friendly. In addition, SKF's BlueMon monitoring system informs the crew if the ship's emissions are within the permitted limits per its locale. This also provides the crew with certainty during inspections, because the system continually tracks the ship's position and time, the emissions values it has had and whether countermeasures were taken when limits were exceeded.

Digitalization
At SMM 2018, the show's tagline was 'SMMart Shipping'. This reflected one of the most potentially game-changing trends that is beginning to gain traction within the industry - digitalization. At present cruise ship operators are leading the way and they are exchanging a large number of operating parameters with central control rooms. One example of this is the Costa Group's Fleet Operation Center (FOC), which has been running since 2015. Data from different ships is pooled centrally in the FOC. Digitalization has, indeed, already taken a big step here, but other commercial owners of container ships, tankers or general cargo vessels have also done a lot in moving towards digitalization and condition monitoring. For the majority, however, the topic is still in its infancy.
Although digitalization in ship operations is only just beginning to really get off the ground, it has the potential to provide a range of advantages to ship owners and operators. For example, condition monitoring solutions and digitalization can enable the remaining service life of components to be more accurately determined. This, in turn, allows for the prompt planning of servicing and avoids machine failures.
The trend in digitalization is towards cloud solutions, which connect ships and onshore offices together and make a fast and straightforward exchange of data possible. As a result of this, the crew on board no longer has to make decisions alone, but can draw on the help of experts onshore. In addition, the operating parameters of sister ships are already being compared in order to identify increased fuel consumption, for example, and to define corrective measures. Depending on the data transmission rates that are possible, this can already be done in real-time. Intelligent systems such as the SKF EcoMode software can also help the crew to make the right decisions based on extensive and timely data evaluation.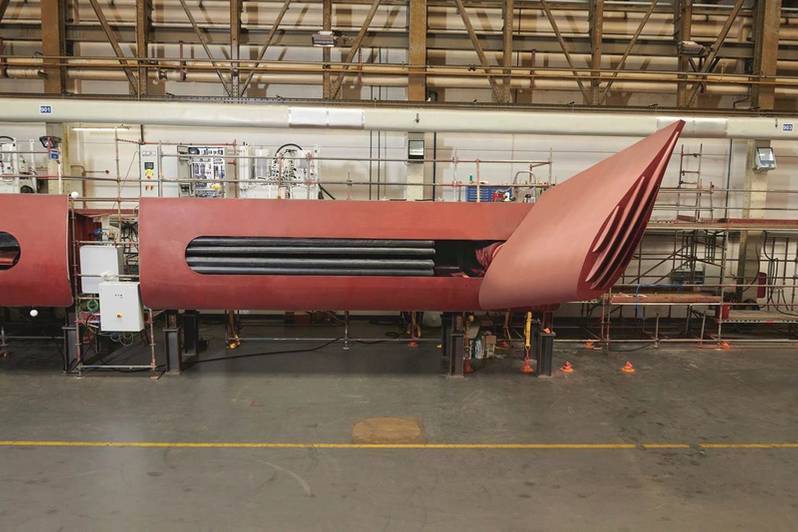 The new EcoMode software from SKF optimizes the use of fin stabilizers, thereby significantly improving ships' energy footprints. The SKF Dynamic Stabilizer Cover (for the aerodynamically advantageous covering of the stabilizer 'parking bay' in the hull) also contributes to this.The digital data flood
Thanks to falling costs for sensor systems, an enormous number of operating parameters can be monitored and large volumes of data generated. This however means that operators are suddenly having to process a flood of digital information and draw the right conclusions from it.
To help overcome such challenges, SKF has developed targeted assistance via simple dashboards. These have been achieved by defining what the end user actually wants to know and for what benefit, to be able to both prepare the data on board and then to evaluate it onshore. However, a great deal of expertise in the areas of data analysis and guidance is required if the benefits of digitalization are to be maximized moving forwards. The challenge for ship owners and operators will be whether to build this up internally, or turn to specialized service providers.

The future of shipping
Digitalization's progression will mean that job profiles within the maritime industry are set to change and internet connections will need to continue to become more stable. Alongside the established providers, start-ups will also increasingly push into the maritime market with new, innovative ideas. Today, for example, increasing numbers of drones and unmanned aircraft are being used for inspection tasks.
Although autonomous shipping is often discussed, operating a completely unmanned ship is still a long way off. However, the number of crew members who travel with the ship will continue to fall and there will be ever more onshore control centers. This is because even today it is becoming more difficult for operators to find trained crew, and this is where digitalization can help, too. Ship operations will become significantly simplified, supported or even taken over by remote control technologies and digitalization will help enormously in intelligently analyzing information from on board and providing instruction.

3D printing & repairs
The 3D printing of spare parts will also have a greater influence in the years ahead and will entail a great deal of change. In fact, a number of companies are already looking at how spare parts can be manufactured on-site using this method, depending on the spare part, different raw materials are required for printing. With this in mind, there will need to be central locations for 3D printing around the world. For example, 3D printers located in a repair port such as Singapore, which, upon request, would produce spare parts for ships due to call at the port. With this type of technology to hand, all of the spare part strategies that manufacturers and ship operators use today will be replaced – maybe not in the next five years, but in the not too distant future.
For SKF, its no longer a matter of pursuing the optimization of a seal or bearing in shipping applications, but at looking at the system as a whole. Alongside bearings, seals and lubrication systems, the team is working on enhanced components for condition monitoring, in order to facilitate on-board operations, the monitoring of systems and emissions and to support the crew.
These are exciting times and with so many challenges and opportunities being faced by ship owners and operators.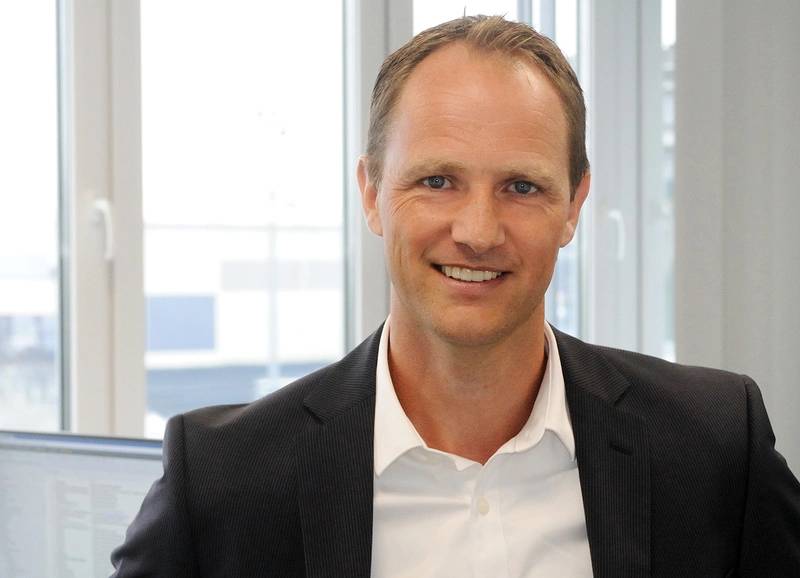 The Author: Mathias Rusch, Director of the Marine business unit at SKF: "Digitalization is generating an enormous flood of data. It's then about drawing the right conclusions from this!"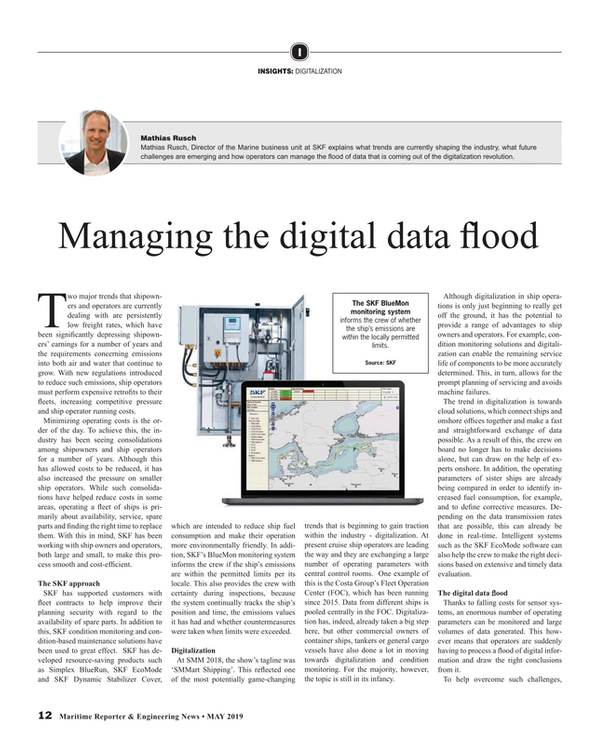 Read Digitalization: Managing the Flow in Pdf, Flash or Html5 edition of May 2019 Maritime Reporter
Other stories from May 2019 issue
Content