Interview: Kjeld Aabo, Director New Technologies, MAN ES
Greg Trauthwein
"I think it is very early to project what will be the fuel of the future. I think that it will be much more clear in January 2020 (when the new IMO fuel rules enter force) and we see the direction of fuel costs."

To start, put in perspective the current pressure to reduce emissions in the maritime industry.
It all really started at the beginning of the 1990s when the world started discussing that something needed to be done on exhaust gas emissions from marine vessels. We stayed in contact with various regulatory authorities, as we tried to be a part of the conversation in the creation of rules. Today the path to making exhaust gas cleaner is going much more smoothly. From an operator's perspective, the biggest issue is when rules are made and enforced locally, not internationally. Today, overall, we have much more efficient vessels, much more efficient propulsion systems.

What technologies or 'lessons learned' from other industries are you applying to maritime solutions?
The marine industry is quite unique because of the breadth of the vessels and the ownership. Overall, it is definitely not more simple to operate vessels today. In the last few years there has been increasing (environmental regulation) pressure, and the choice has largely focused on fuel choice. What we have done is we have kept the diesel principle for the engine itself, meaning that we can run on almost anything. It is only dependent on the fuel injection system.
In tandem with the change the company's R&D efforts have changed and grown, particularly in the study of different fuels and NOx reduction systems, which takes a lot of testing.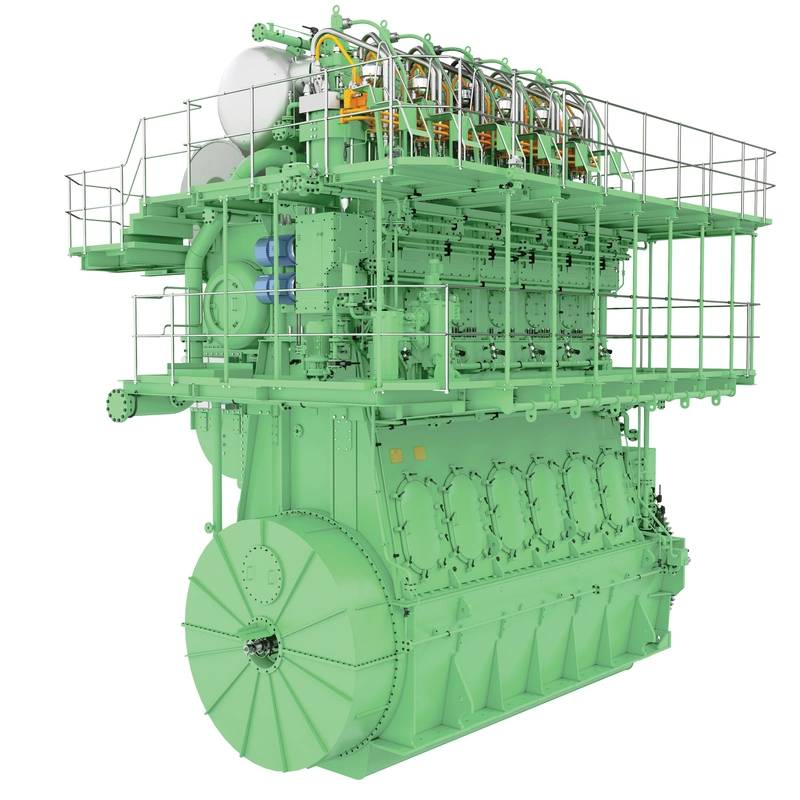 MAN B&W ME-LGIP engine. Image: MAN ESThere is (justifiably) vibrant discussion surrounding fuel choice. From your discussions with your clients, do you see one fuel emerging today as the 'next big thing?'
I think it is very early to project what will be the fuel of the future. I think that it will be much more clear in January 2020 (when the new IMO fuel rules enter force) and we see the direction of fuel costs

Put in perspective 'Autonomous Marine Operations'. What is your definition, and is it a real conversation with your clients today, or a topic far in the future?
It is difficult to say; to me it seems quite unrealistic to have completely unmanned ships for the safety factor alone. Today we from time-to-time see issues happens with the electronic and mechanical equipment on board have to fixed on the spot … is it realistic to think that everything can be fixed remotely?

What do you count as the biggest challenge to produce innovative, next-generation propulsion plants that meet or beat emission regulation.
When you operate on low sulfur fuel oil you need a low BN lube oil, and it can be difficult to get a lube oil with the needed detergency. For engines operating on low Sulfur Fuels, including, gaseous gases LNG, Ethane and liquid gases as LPG, Methanol, NH3 LVOC lube oil detergency is quite important. As emission regulations get stricter, in regards to Particulate Matter (PM) and Nox, really the biggest challenge when we talk about the marine industry is that marine is everywhere. Differing, local and national regulations make it a challenge.

The IMO last year dropped the gauntlet to reduce maritime emissions 50% by 2050. Is that target achievable, and comment on the prospects of zero carbon emissions?
We can reach it if we had "white" Ammonia or hydrogen produced by sustainable sources available but if using the more traditional carbon fuels we can reach some in that direction. But it is important to realize that It is not just the engine, it is the shape of the hull, it is the speed that the ship operates. In the late 1980s, AP Moeller adopted a Waste Heat Recovery system, a move that resulted in a 10% efficiency boost just by using waste heat. But the installation cost is high.

Please discuss a recent product (or service) introduction(s) that you see as truly transformational for owner/operators of commercial ships and boats.
Last year we launched the LPG engine and we already have a number of orders and retrofits for LPG carriers.



Read Interview: Kjeld Aabo, Director New Technologies, MAN ES in Pdf, Flash or Html5 edition of May 2019 Maritime Reporter
Other stories from May 2019 issue
Content