Interview: Dan Skjeldam, CEO, Hurtigruten
Tom Mulligan
Building on its 125-year heritage, Norwegian shipowner Hurtigruten has become a leader in exploration travel offering voyages to more than 200 unique destinations in more than 30 countries ranging across the globe from the Arctic to the Antarctic and including cruises in Norway, Greenland, Svalbard, Iceland, Western Europe, and the Americas. In an interview with Maritime Reporter and Engineering News, Dan Skjeldam, the company's CEO, emphasizes the need for the cruise industry sector to be more environmentally aware and to operate responsibly in order to take advantage of the new business opportunities represented by consumer demand for new travel experiences.
Norwegian cruise operator Hurtigruten has a mission to offer on- and off-ship experiences that enable its guests to "connect with their inner explorers." When asked how he felt about prospects for the cruise industry market, Dan Skjeldam, the company's CEO, said, "extremely bullish". And when asked about expedition cruises in particular, he stated: "It's currently a small part of the total sector but I expect to see a lot more growth." However, he added that there were some caveats to these statements: "We need to tackle the effects of the cruise industry 'dumping' people into cities – this practice could have a negative effect on the industry's reputation. The other major issue is that pollution from cruise ships needs to be dealt with: HFO is no longer an acceptable fuel and scrubber technology isn't the answer. Hurtigruten has placed itself at the forefront in dealing with these issues by refusing to engage in 'over-tourism' and by tackling pollution through the use of green technologies and hybrid power systems."
Skjeldam became CEO of Hurtigruten after being personally headhunted to the position by the company's largest shareholder, Trygve Hegnar, in 2012. At the time Skjeldam stated that "Hurtigruten remains the real thing in a world that is increasingly dominated by big white cruise ships and will regain Scandinavia and Asia, as well as extend the season for British tourists chasing the Northern Lights", immediately making major changes to the company: its headquarters moved to Tromsø and non-strategic assets were sold off. These and other structural changes enabled Hurtigruten to make an annual saving of more than $10 million, with the result that in May 2013 the company was able to announce its first positive earnings in nine years. It has traded successfully since.
Skjeldam holds or has held directorships on several company boards including those of Spitsbergen Travel AS, the oldest travel and tour operator in Svalbard, where he has been Chairman of the Board since 2012; Norwegian Finans Holding ASA; Call Norwegian AS, a Norwegian VoIP phone service provider; and Tereda Holding AS. He has previously been on the board of ferry companies Fjord1 MRF and Fjord1 Fylkesbaatane. He holds an MBA from the Norwegian School of Economics.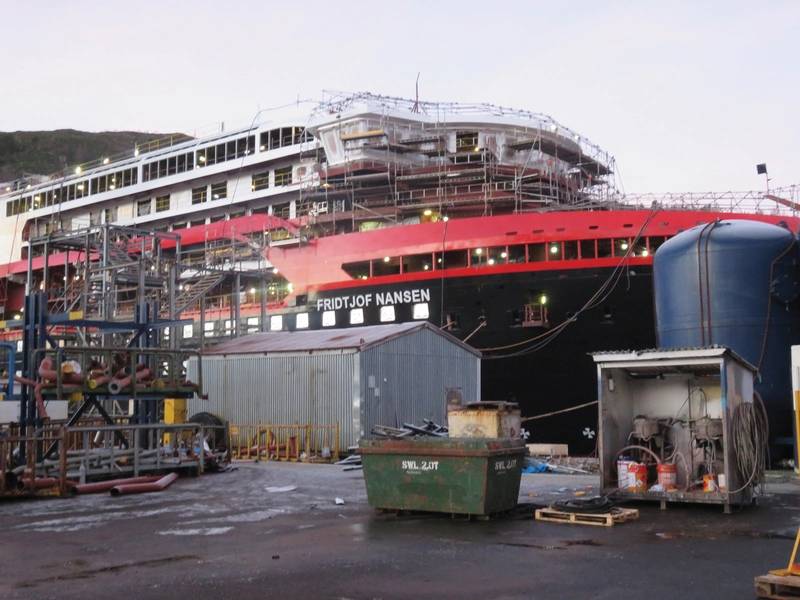 Hurtigruten's new expedition cruise vessel MS Fridtjof Nansen is currently under construction at the Kleven Verft yard in Norway and is due for delivery next year. Photo: Tom MulliganExperienced operator
Hurtigruten was established by in 1893 by government contract to improve communications along the coast of Norway, the first round-trip journey taking place from Trondheim to Hammerfest in the summer of that year. This was a difficult trip to make in the then poorly-charted waters, especially in winter, and the advent of Hurtigruten was a major development for the isolated communities along the route. It now took only seven days to deliver mail from central Norway to Hammerfest, as opposed to the previous three weeks in summer and five months in winter.
From the 1980s, partly due to the introduction of a local airport network and an improved road system, the role of Hurtigruten changed and the company began to concentrate more on tourism, although it still caters to routine passenger and cargo needs. Following the merger of Ofotens og Vesteraalens Dampskibsselskab (OVDS) and Troms Fylkes Dampskibsselskap (TFDS) in 2006, the company became the Hurtigruten Group, and shortly afterwards Hurtigruten ASA. It was de-listed from the Oslo stock exchange in 2015 following its acquisition by private equity group TDR Capital and now operates expedition cruises to Greenland, Iceland, Svalbard, the Americas, the Arctic and Antarctica in addition to its cruise and other services in Norway.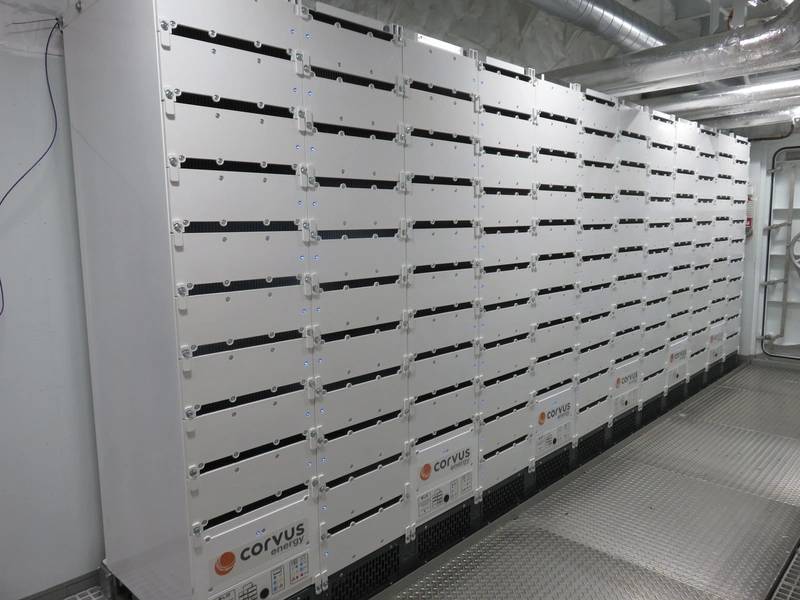 Hurtigruten's new cruise ships are hybrid-powered by four main engines backed by two 627 kWh batteries that charge and discharge at 1750 kW each. Photo: Tom MulliganFleet expansion
The current Hurtigruten fleet consists of a number of 12 coastal vessels and four expedition ships, the MS Fram, MS Nordstjernen, MS Midnatsol and MS Spitsbergen, and three expedition ships on order: the MS Roald Amundsen, due for delivery this year; the MS Fridtjof Nansen, being delivered in 2020; and an as-yet-unnamed vessel, due for delivery in 2021.

Being constructed by Norwegian shipbuilder Kleven Verft and classified by DNV GL, the new ships are based on the most advanced and greenest cruise ship technology available today, being hybrid-powered by four main Bergen B33:45 engines running on MGO fuel backed by two 627 kWh batteries charging and discharging at 1750 kW each. The engines have an output of 3600 kW each, powering two azimuth propulsion motors with a propulsion power of 3000 W, enabling a service speed of 15 knots. The ships are also equipped with two bow thrusters with 1500 kW output each and have two fin-type stabilizers. They are capable of carrying 681 people: these comprise 530 passengers and 151 crew.

Big plans
This isn't all, however: "We've big plans for the future," said Skjeldam. "Based on our assessment of the potential of the industry and its room for growth. There will be a lot more ships added to the Hurtigruten fleet in the next 10 years, we'll be operating in new areas of the world, and there will be a lot more newer, greener technology on board," he asserted. "We can deliver on these ideas through our 125 years of acquired operational experience and our experience in operating in ecologically pristine areas. We have seen the effects of pollution elsewhere on the planet and, as the CEO of the world's greenest cruise line, I have to express my concern about the way some companies operate, especially those with larger vessels carrying large numbers of passengers. Hurtigruten believes in keeping its operations small: smaller cruise vessels and lower numbers of passengers per ship – the maximum number of passengers we carry on a ship is around 500."

Evolving business
Because of the new demands being placed on the cruise industry sector, and in particular on the expedition cruise market, Skjeldam expects to see considerable consolidation in the sector over the next decade: "At present, overall there are a lot of smaller operators, " he said. "However, technological pressures, driven mainly by ecological and environmental factors, will result in there being a lot of consolidation in this currently fragmented industry – companies need to be of a certain size to operate effectively and I am quite sure that there will, sadly, be some bankruptcies in the cruise industry simply because the smaller operators cannot afford to purchase the modern vessels required to serve the market. The older ships, dating from the 1960s, are now so out of date that they are simply not up to the job and are not suitable for use in today's business and natural environment – the cruise industry has moved on, it's a much more professional business than it was 10 or 15 years ago and there will be even more advances in the future," he concluded.
Inside job: internal construction work continues apace within the MS Roald Amundsen at Kleven Verft's yard. Photo: Tom Mulligan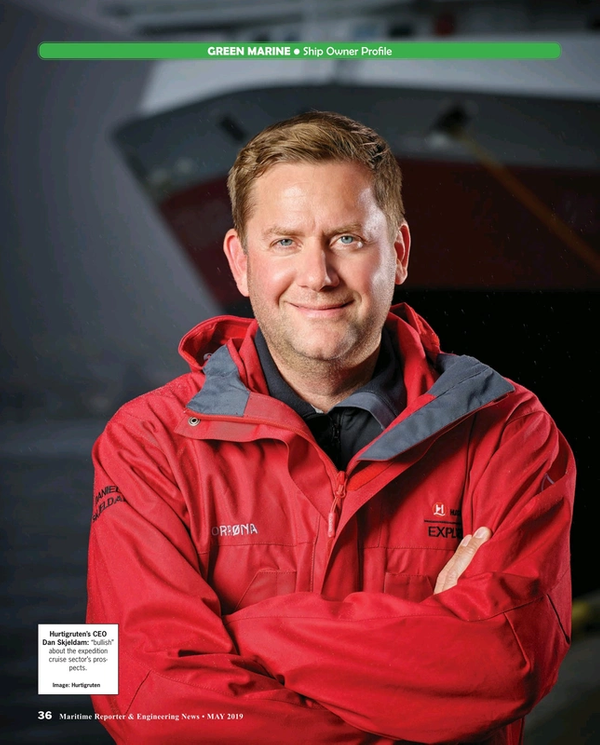 Read Interview: Dan Skjeldam, CEO, Hurtigruten in Pdf, Flash or Html5 edition of May 2019 Maritime Reporter
Other stories from May 2019 issue
Content