Workboat Report: The U.S. Workboat ($33.8B) Market
Barry Parker
The U.S. towing and tug business is 5,500 boats, more than 31,000 barges with an estimated total impact on U.S. GDP of $33.8 billion.

"At a macro level, the bigger ships are causing downward pressure on the ship assist business because there are fewer ship calls given the increased capacity of these vessels. However, certain ports have seen tremendous growth, based on strategic location and infrastructure investments that have attracted these larger ships and been a net plus for these areas."
Kate Fuhrman, Director, Business Development, ship assist and escort services, Crowley Marine Services
The towing and tug business, with 5,500 boats and more than 31,000 barges, is an economic juggernaut. A 2017 study commissioned jointly by the U.S. Maritime Administration (MARAD) and the American Waterway Operators (AWO) by consultant PriceWaterhouseCoopers (PWC) estimated a total impact on U.S. GDP of $33.8 billion, using 2014 data. Cargo statistics reflect vast quantities of materials moving. U.S. Army Corps of Engineers (USACE) data for 2017 shows domestic commerce on the water of 873 million short tons (s.t.), which includes 164 million s.t. coastwise, 535 s.t. million internal (on the rivers and ICW), and 91 million s.t. intra-port. The business, often mischaracterized as traditional and slow-to-change (perhaps because of its reticence for publicity), is moving briskly on a forward course, responding to regulatory mandates, technological innovation and to broader economic challenges.

The Major Players
Along the coasts, Articulated Tug Barges (ATBs) continue to gather share. Vane Brothers, long a mainstay in the bunkering trades and in clean and dirty fuels transportation along the U.S. East Coast- what the USACE would call coastwise and intraport, provides an example of the industry's direction. With a fleet of more than 50 tugs and 75 barges, including three new ATB units, the company has recently expanded to the West Coast with bunkering in Puget Sound, and cargo transfers with one of the new ATBs in California ports.
The movement to the West Coast saw a Panama Canal transit for its ATB Assateague (4,400 horsepower, paired with the 80,000 bbl barge DS-801), working in Los Angeles, the first of three units built at the Conrad yards in the U.S. Gulf. The third unit, ATB Wachapreague, working in the fuel trades from the U.S. Gulf refineries into the East Coast, was delivered in early 2019.
Reinauer Transporation, well known in the Northeast, recently completed its 8,400 hp Bert Reinauer at its owned yard, Senesco, paired with a 160,000 bbl barge. Bouchard Transportation, another stalwart along the East and Gulf Coasts, has also added ATBs to its fleet. In March, 2019, the New York area based company linked together its 4,000 hp Evening Breeze/B. No. 252 (55,000 bbl) from the VT Halter yard (tug) and Bollinger (barge). The 50,000 bbl size is an important niche for movements along the East Coast. Vane has fitted two tugs (Jacksonville – already working around New York, and the soon to be delivered Charleston, built at St. Johns) with coupling systems to handle barges in this size class.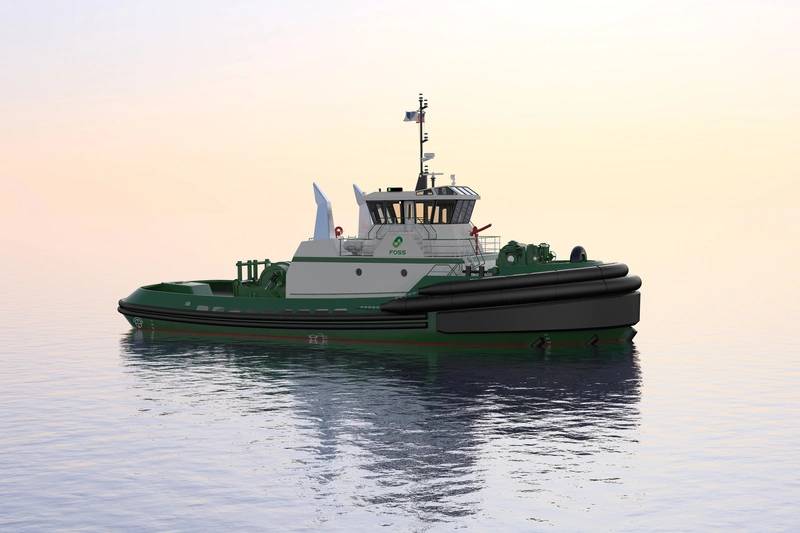 Foss tug. Source Jensen Maritime, unit of Crowley Maritime
The figurative 800-pound gorilla in the room is Kirby Corporation (NYSE: KEX), which is also active in this sector on all coasts, with a deep sea fleet of 50 boats and 53 barges (with more than 1/3 in the 80 kbbl- 90 kbbl sizes) at end 2018. Crowley Maritime, also a major ATB owner, is also a big participant in the coastwise. Its 18 ATB fleet includes a trio with barge capacity of 330,000 barrels.
On inland river system Kirby is the leader in the liquid segment (with approximately 26% of total inland capacity), Q4 2018 results indicated a firming marketplace. With a fleet of more than 1000 tank barges barges (total capacity on the order of 23 million barrels) and more than 300 inland towboats projected at the end of 2019, fleet growth has been fueled by consolidation (rather than through newbuilds). Early in 2018, Kirby acquired
Higman Marine Inc. with 159 inland tank barges and 75 boats. Also, 27 additional barges joined the KEX fleet in late 2018 in a deal with CGBM, and in January 2019 announced a $244 million acquisition of Cenac Marine Services and its 63 barges (30,000 bbl) and 36 boats.
Other carriers in this segment include privately owned Canal Barge Company (also active in dry), Magnolia Marine, Florida Marine Transporters (also active in dry) and Southern Towing. The dry sector, where privately held Ingram Barge, based in Nashville, has the largest fleet, has seen restraint on new ordering in recent years. Other large players include American Commercial Barge Line, and American River Transportation (linked to agribusiness giant ADM). Grain major Bunge Corp, through an arrangement with Seacor Holdings Inc. (Seacor), controls a large dry barge fleet and Marquette Marine (also active in grain trades).
"Our inland marine transportation business experienced robust levels of activity, which resulted in tight market conditions and barge utilization levels for our fleet in the low to mid-90% range," KEX President and CEO David Grzebinski told investors, on its conference call detailing 2018 Q4 results. "With these tight market conditions spot market rates increased in the mid to high single digit range compared to the third quarter."
KEX says that roughly 65% of business is tied to "term" contracts.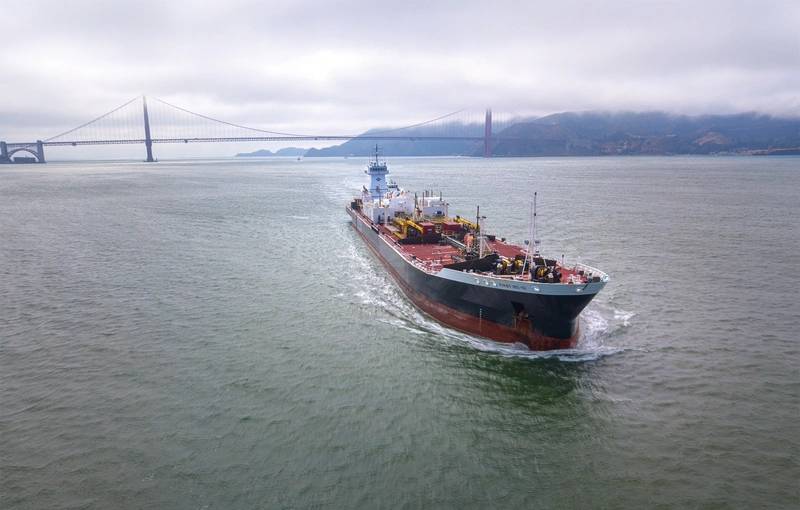 Kirby ATB Nancy Peterkin. Source Kirby Corp.The Role of Regulation
Much like all maritime sectors, regulatory mandates are driving some of the changes underway in the towing sphere. Subchapter M rules, enacted in 2016 with a compliance date of July, 2018, have mandated inspections (by the U.S. Coast Guard, by third parties such as American Bureau of Shipping or other recognized auditors, through AWO's "Responsible Carriers Program" or "RCP"). According to AWO, which worked on the program with the USCG since 2003, "Subchapter M is the most important rulemaking ever to affect the tugboat and towboat industry."
The initial issuance of actual Certificates of Inspection (COIs) for towing vessels will be phased in through 2022 (where a phase-in schedule requires 25% of fleets should be inspected by July 2019, one year into the program). Some of the first COI's issued were issued to well-known names; Endeavor, in the fleet of Dann Marine Towing, based in Tampa, and Vane Brothers 6,000 hp vessel Brandywine (built 2006 for ATB service, coupled with a 140,000 barrel barge) were early COI recipients. Subchapter M also impacts equipment serving the inland waterways; the towboat Sacred Heart (built 2007) owned by Marquette Transportation gained its COI around the same time.
The industry is now on a path to Subchapter M compliance. USCG spokesperson, Lt. Amy Midgett, told Maritime Reporter & Engineering News: "In accordance with Subchapter M regulations, owners and operators of more than one towing vessel are responsible for ensuring that 25 percent of their fleet has received a COI before July 22, 2019. Owners of a single towing vessel have until July 2020 to obtain a COI."
The changes wrought by Subchapter M were evolutionary not revolutionary for many larger veterans of the business that had already implemented safety programs, including the RCP. Consider remarks by Bruce Reed, Vice President/Chief Operating Officer at Tidewater Barge Lines who explained in an AWO webinar regarding Subchapter M implementation: "…we used the RCP as our playbook…" for developing requisite Safety Management System (SMS), working with ABS. Rick Iolucci, General Manager at Vane Brothers, where operations extend to the blue water, explained that SMS were drawn from both the RCP, but also from the International Safety Management (ISM) code, also using ABS as a third-party organization.
Environmental regulations also loom large, with newbuild tugs now transitioning to EPA Tier 4 emission standards. ATB newbuilds Bert Reinauer and Bouchard's Evening Breeze both meet the EPA restrictions on NOx and particulates. Bouchard has another ATB, Evening Stroll, due to be delivered later this year from VT Halter. Early on, in advance of the Tier 4 requirements for mid-sized engines, inland powerhouse Ingram Barge retrofitted three of its boats with kit provided by GE Marine Solutions (using exhaust gas recirculation), which were also the vendor to Reinauer.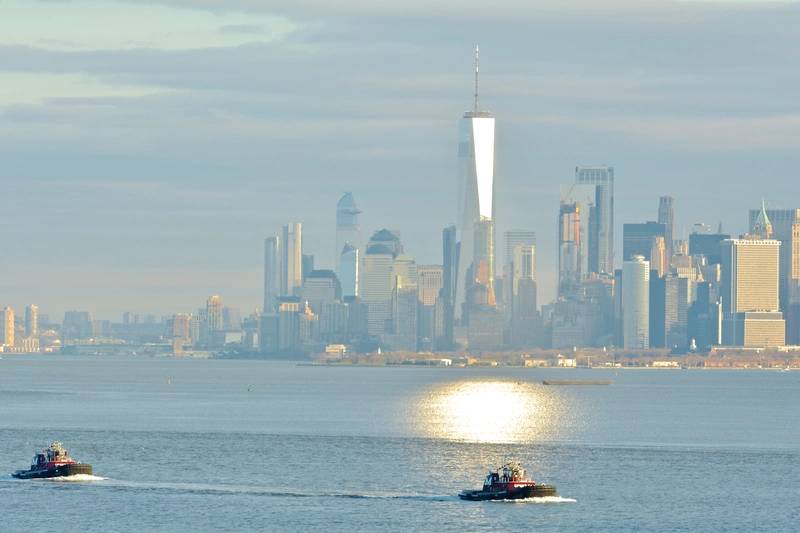 Moran Tugs. Image: KARATZAS MARITIMEBigger Ships Demand Bigger Workboats
The increasing sizes of deep sea vessels are dictating the need for highly maneuverable but more powerful harbor boats. Kate Fuhrman, Director, Business Development, ship assist and escort services, Crowley Marine Services, told Maritime Reporter, "At a macro level, the bigger ships are causing downward pressure on the ship assist business because there are fewer ship calls given the increased capacity of these vessels. However, certain ports have seen tremendous growth, based on strategic location and infrastructure investments that have attracted these larger ships and been a net plus for these areas." She explained further: "When these bigger ships do reach their destination, they generally either need a tug with higher bollard pull than usual or an additional tug to help maneuver to berth. Crowley is active all along the West Coast (which has seen calls by containerships handling as many as 18,000 TEUs).
McAllister Towing, active in ship assist and docking all up and down the East Coast, has recently seen upgrades to its fleet, built to Tier 4 specifications with Caterpillar engines. Two 6,700 hp tractor tugs have already been delivered and are now stationed in New York and Norfolk.
Another two, Ava M. McAllister and Capt. Jim McAllister, are set for delivery from Eastern Shipbuilding, later in 2019. In early 2019, Moran Towing, based in southern Connecticut and active on the East and Gulf coasts, announced that it had ordered a design contract (to Jensen Maritime, a unit within Crowley Corporation) for Tier 4 tugs with Rolls Royce Z drives, to be equipped with Caterpillar engines, that would be used for ship assist and escort work.
On the West Coast, Foss Maritime (which closed its own West Coast yard in late 2018) has placed a four vessel order (with options for six additional vessels) for tractor tugs to be built at Nicholls Brothers, also using a Jensen Z-drive design. The boats, which would be used, similarly, for harbor towing work, will be equipped with MTU engines.
Monitoring the Energy Markets
Developments in the energy markets are set to impact the tug business in the harbors, in addition to the increasing Jones Act ATB moves along the coasts. Crowley's Fuhrman said "we are certainly seeing more activity and interest in terminal tug agreements as midstream/downstream players are attempting to build out dedicated export terminals on the Gulf Coast. While only a handful of those announced will likely make it to market, those that do will require dedicated tug resources ensure timely loading and departures and will create a new, niche market for tug providers in this region."
Still another trend worth watching is the role of Americas Marine Highways (AMH), an effort spearheaded by the U.S. Maritime Administration to shift surface transportation onto the waterways. The latest round of America's Marine Highway grants, announced in April 2019, included $3.2 million for a container on barge service, operated by Seacor AMH (part of Seacor), between New Orleans and Baton Rouge, with the two ports receiving the grants.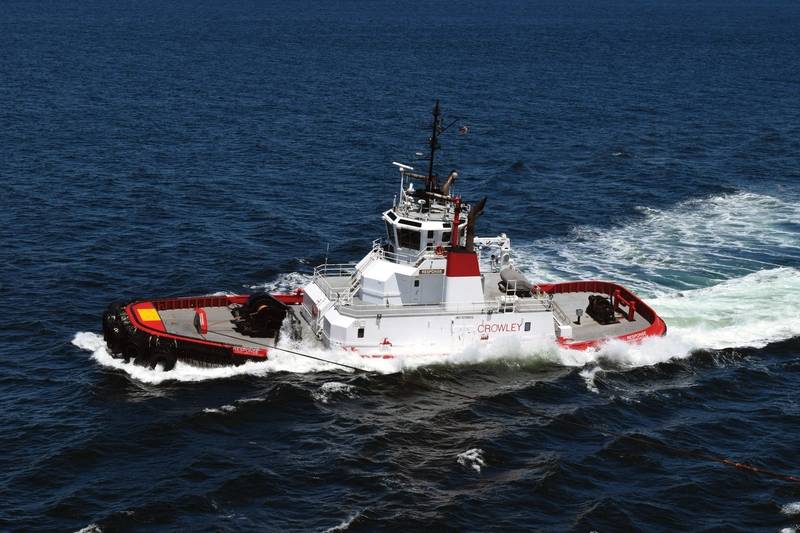 Crowley response tug. Source Crowley MaritimeTHE SHAPE OF THINGS TO COME
Observations from Kate Fuhrman, Crowley Maritime's Director, Business Development, ship assist and escort services
"It is likely we will see some continued consolidation in the towing business to try and achieve economies of scale and synergies in the current fragmented market. Any decrease in the volume and frequency of ATBs would have downstream effects on the ship assist/escort side of the business as well. However, as the nation's largest independent operators of tank vessels, we continue to advance ATB performance and design. For example, Crowley is currently constructing at Bollinger Marine Fabricators Shipyard a new 100,000-barrel-capacity articulated tug-barge (ATB) to transport multiple clean petroleum products in the Alaska market. While Crowley has operated ATBs in the market, this will be the first ATB dedicated to the Alaska market. Jensen Maritime, Crowley's Seattle-based naval architecture and marine engineering subsidiary, designed the 483-foot ATB to meet Ice Class and Polar Code requirements, including increased structural framing and shell plating and extended zero discharge endurance. It also features a ship-shape bow to enhance its ability to maneuver in icy conditions. In addition, conceptual designs for LNG bunkering ATBS are being explored as the LNG market continues to mature."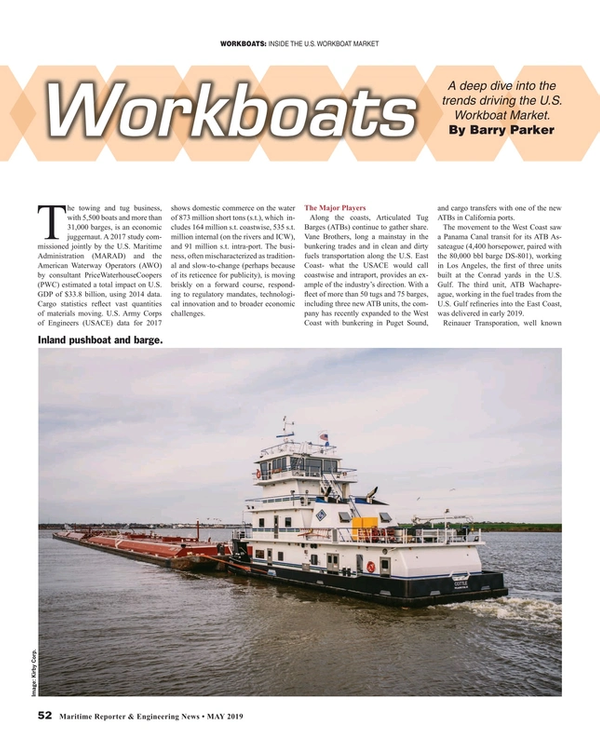 Read Workboat Report: The U.S. Workboat ($33.8B) Market in Pdf, Flash or Html5 edition of May 2019 Maritime Reporter
Other stories from May 2019 issue
Content