RMK: Targeting "Next Wave of Tanker Demand" in 2021-22
Greg Trauthwein

RMK Marine Shipyard is located in the Tuzla/Istanbul, Turkey, since 1997 as part of the Koc Group of Companies (https://www.koc.com.tr/en-us) which is Turkey's biggest conglomerate. It specializes in shipbuilding as well as super/mega yacht refit, conversion and new building projects.
On the shipbuilding side, specialty, high-temperature product tankers, such as asphalt and bitumen, as well as chemical and oil products tankers have been a staple of RMK Marine. Since 1997, RMK Marine has involved in many turnkey tanker building projects starting from the design and procurement phases through the delivery with a reference list of 23 tankers. Most of them have been configured with different types of equipment and cargo area based on the specific requirements of each project. In addition to tankers, the shipyard has had good success in the workboat sector, including tug boats, pilot boats, service boats and mooring boats.
"In the last 12 months, we delivered two tankers. In addition to that, it is planned to deliver two tankers and one tugboat by the end of 2019," said Gürkan Türkeş, Director, Business Development and Project Management Affairs. This is significant as the delivery of five vessels in this time period is a record for RMK Marine. While the yard has enjoyed this record run, it eyes the future with caution. "Generally speaking, the global market conditions for the short and midterm are still cloudy," said Türkeş. "When we analyze the market data about the global fleet and their ages, we see that the big wave of demand will most probably occur again in 2021-2022 in the scale of average 7K dwt tankers as it happened between 2004 -2006 according to the cyclic characteristic of the market."
During the last five years, RMK Marine has achieved "remarkable success" by signing contracts for seven tanker building projects. "Five of them have already been delivered while we have been continuing the building activities of two other vessels in accordance with the contractual building schedules," said Türkeş. "Three of them are asphalt/ bitumen tankers while other four are chemical/oil products tankers. "It is also worth mentioning that RMK MARINE had built two asphalt/bitumen tankers, each with 19,900 dwt deadweight and which are considered as one of the biggest and most advanced tankers in their segment globally."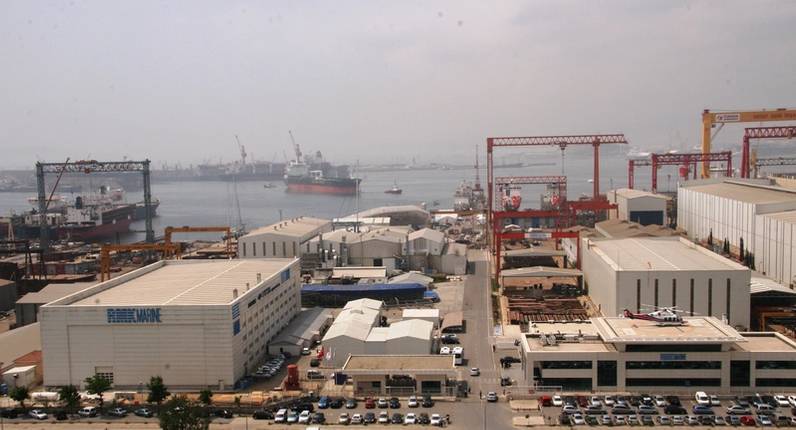 The RMK Marine shipyard. Photo: RMK Marine
"In the chemical/oil products tanker segment, RMK Marine is one of the most capable and skilled yards regarding to the design and building of the high spec cargo tanks of marine line coated and stainless steel," said Türkeş. "One of the last examples of RMK Marine portfolio is the high spec NB 114 Chemical and Oil Products Tanker which will be delivered just before the end of 2019. She has 16 Marine Line coated cargo tanks, a two-stroke ME equipped with SCR and hybrid Scrubber equipment to comply with the IMO Tier III NOX criteria and IMO 2020 SOX cap respectively.
Other relevant equipment, such as diesel generator sets and thermal oil boiler are also considered to be integrated to the emission control systems."
The company signed a contract in mid-2018 with a local client for building of two 70-ton BP Harbor tugs which are going to be delivered in the first and second quarter of 2020.
A particular point of pride for the shipyard was the delivery in May 2019 of T. Adalyn, a 15,000 dwt Asphalt/Bitumen and Oil Products tanker. "The special point about her is that the floating cargo tanks were built, installed and completed in house at RMK Marine despite the first planning which envisaged these steps to be realized outside RMK Marine, by taking into account the previous asphalt/ bitumen tanker projects due to the reason of workload planning," said Türkeş.
As with any shipyard, RMK must invest to stay abreast of evolving shipowner needs. "RMK Marine has recently made two important investments after two years of planning," said Türkeş. "One of them has been performed on the ERP system in order to upgrade the existing version and make it fully integrated into the processes of all departments. The other one has been done on the steel production processes starting from the steel plates and profiles depot areas to the end point of block building just before lifting them onto the slipway for erection works. The goal of this investment is to increase the competition power of RMK Marine by increasing the efficiency of the steel production processes."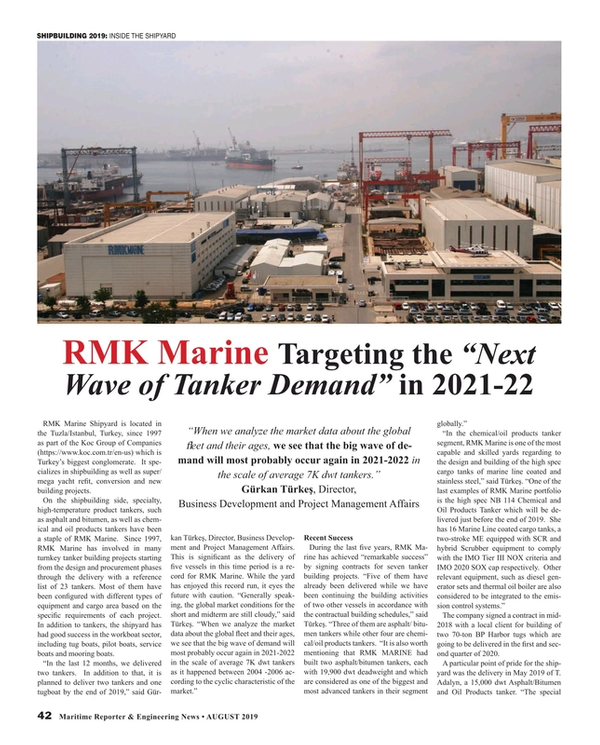 Read RMK: Targeting "Next Wave of Tanker Demand" in 2021-22 in Pdf, Flash or Html5 edition of August 2019 Maritime Reporter
Other stories from August 2019 issue
Content