Diverse Resources in Desperate Times
By Chad Fuhrmanm
Offshore services vessels are designed for myriad activities in the maritime industry. But as multifunctional assets, they not only offer utilitarian capabilities that are indispensable for commercial diving, subsea construction, mining, and countless other activities, they can simultaneously serve critical crisis response functions in the aftermath of a disaster.
Chaos Ready Inc., a new non-profit marine industry initiative, quantifies and coordinates these versatile resources and their capabilities – both designed and inherent – for application as elements of an expansive network capable of responding to diverse crises anywhere in the world.
The case for action
As natural disasters increase in frequency and impact, governments and response organizations must be able conduct and support activities in response to an unpredictable variety of crises. The maritime industry resources dedicated to response activities, although absolutely essential, are limited by location and in number and versatility. Unlike these limited assets, OSVs and other commercial resources are far less constrained in their availability by virtue of their global presence. What they potentially lack in regard to concentrated response focus they compensate for in number and, in the case of OSVs, diversity of functions.
The international maritime industry thereby represents a frequently overlooked resource that can be leveraged in the event of an emergency. The Chaos Ready approach exploits the ubiquity and flexibility of these assets to complement and support existing resources, not as a replacement to them, but rather as immediate though temporary means of addressing the "gap of pain" between the onset of a crisis and arrival of requested specialized resources.
The concept
Chaos Ready represents a comprehensive effort to establish and maintain an infrastructure comprised of existing assets. This is based on cooperation and collaboration across all concerned stakeholders and includes advocacy within international governments, industry groups, and vessel owners and operators. By working across these boundaries, Chaos Ready helps to ensure that regional economic interests, national security, and commercial viability are protected.
The most tangible outcome of the non-profit's work, however, is the development of an app that allows response entities to locate needed resources within a prescribed radius from a disaster location. Beyond the normal functions of platforms such as AIS, organizations responding to crises can use the Chaos Ready app to locate specific capabilities and coordinate with vessel owners and operators to relocate them to disaster affected regions.
A new precedent
Historically, infrequent and remote disasters have resulted in short-term and/or unpublicized use of commercial maritime assets for response. Each time, however, when called to react to wildfires and environmental spills or to support mass evacuations and transport of emergency supplies, these resources have demonstrated their utility in response operations. With developing nations' need for energy, both from oil and increasingly from renewable energy sources, OSVs and other industrial workboats are seeing more universal application within and across existing and developing economic zones. An approach utilizing these valuable assets in crisis situations is a concept worth exploring.
Serving as the catalyst between recognized response needs but unrecognized response capabilities, Chaos Ready can be an effective tool in crisis response regardless of type, magnitude, or location. Rather than rely on overly specialized and narrow-purpose resources, the Chaos Ready concept aims to capitalize on the maritime industry's innate capability to perform many response activities as an unintended consequence of their wide variety of industrial missions.
The elements of a better disaster response mechanism already exist within the maritime sector. Industry efforts have created potential avenues of cooperation and technology exists that can connect resources with the stakeholders that require them. By encouraging collaboration between entities, Chaos Ready Inc. fosters the development of a critical response infrastructure based on existing resources. A network which reaches across industrial, commercial, and regional boundaries.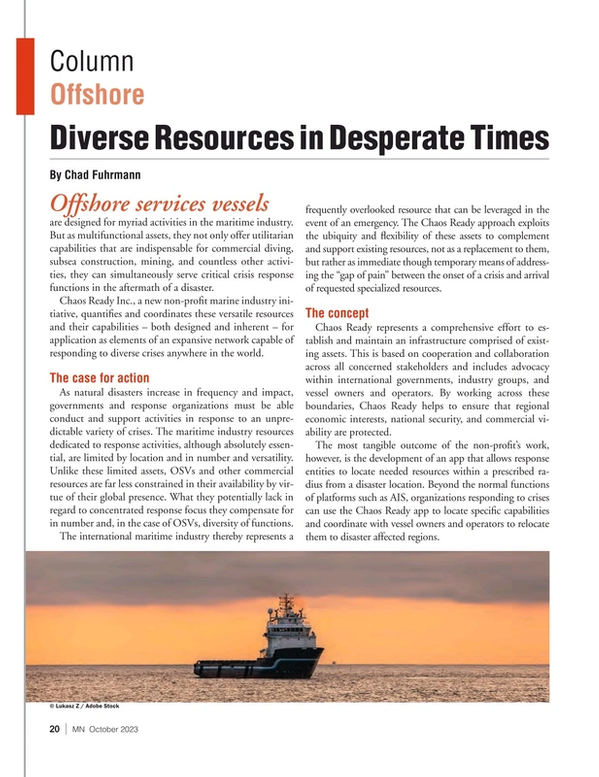 Read Diverse Resources in Desperate Times in Pdf, Flash or Html5 edition of October 2023 Marine News
Other stories from October 2023 issue
Content