Making Hydrogen Work: Demo Project in San Francisco Port
By Tom Ewing
Hornblower Energy LLC, in partnership with the Port of San Franciso, the U.S. Department of Energy and six corporate partners, including Air Liquide and Glosten, is leading a project to demonstrate the feasibility and viability of using hydrogen (H2) as a maritime fuel.
The project is located at Pier 68 in San Francisco. DOE selected the project for funding in 2020. It's supposed to be completed in 2025 but there are important decision dates before then. So far, project activities have concentrated on planning and modeling. It's not clear when actual construction might start.
One important go/no-go decision is due at the end of 2023. The project exists within a larger NEPA (National Environmental Policy Act) context and process. The initial first phase design and safety work will be reviewed at year's end and that review will inform decisions about moving forward to implementation. Total Project funding is $16 million. DOE's share is $8 million.
Hornblower and its partners want the Waterfront Maritime Hydrogen Demonstration Project to demonstrate bunkering of fuel-cell vessels with green hydrogen. Hydroelectric power from the Hetch Hetchy Reservoir will provide "green power." The project seeks to establish a technical foundation for "maritime H2 production, compression, storage and over-the-water fueling." A larger goal is to catalyze a "green hydrogen ecosystem" (both marine and landside) in the SF Bay Area, and also pave the way to large-scale implementation across the United States. If successful, project leaders believe that local H2 production could substantially reduce costs.
Additionally, the project will develop a "new and novel hydrogen barge" for over-the-water vessel refueling. The barge is expected to be ready in 2025.
Project update
In June 2023 Hornblower presented its Annual Merit Review (AMR) update report to DOE. This complex project has four broad phases, starting with local permitting, buying equipment, technology demonstrations and, finally, Coast Guard inspection. One important concern in Phase II is to mitigate "inflation-driven budget impacts to ensure the project's economic viability." Inflation has increased almost all costs about 30% beyond budget and supply lead times are longer than expected.
The 2023 AMR does not present detailed budget numbers, but a 2022 report shows that project spending was just $34,770 from DOE and $45,530 from the partners. The biggest expenses lie ahead as work shifts from R&D to pier reconstruction, buying equipment, barge construction, installing or upgrading electrical systems and undertaking a pile driving project needed to secure the pier and the H2 infrastructure. The pier footprint is 160' x 40' x 7'.
Potential H2 customers could include: the new vessel Sea Change, slated to be the first H2 ferry; the Discover Zero, a Hornblower hybrid diesel battery-H2 vessel; land-based H2 gas tube trailers; and the San Francisco Airport. However, the AMR notes there are no commitments now from any vessel owners or gas companies for H2 offtake.
In summarizing work so far, the AMR states that "overall, the design is progressing well and on time." Various reports, for example, on barge design studies have been submitted to DOE. Most project reports, though, are not publicly available because of proprietary content. The initial barge design is complete as well as H2 flow diagrams for how the barge will work. Preliminary modeling is done for filling 250-bar tanks on H2 ferries ("bar" is term referencing a unit of pressure). Electrical systems at Pier 68 appear adequate, although some additional work is needed.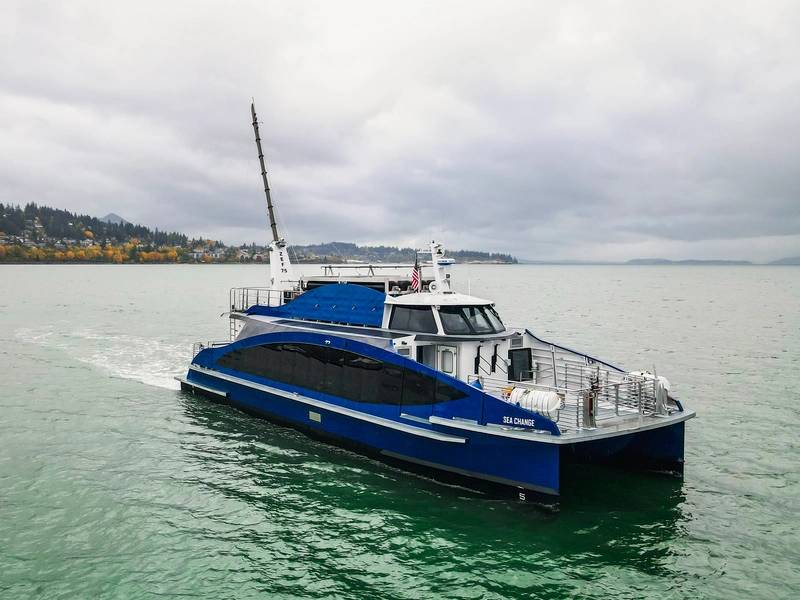 Sea Change, built by All American Marine, is slated to be the United States' first H2 ferry. (Photo: All American Marine)
H2 and safety
Hydrogen is extremely combustible and explosive. Safety is critical. The Hornblower project is being designed to comply with NFPA 2, that's the section of the National Fire Protection Association dealing with safeguards for the "generation, installation, storage, piping, use, and handling of hydrogen in compressed gas (GH2) form or cryogenic liquid (LH2) form."
Officials are confident that existing standards are adequate for safety. Richard Berman, an executive with the San Francisco Port, is on the project team. In an interview, Berman said that H2 has been used for decades. H2 is not novel, particularly in San Francisco and California where there are already a few public facilities used for hydrogen automobiles. Berman noted that the fire department will set safety criteria.
Berman noted further that the project site is in a heavily industrial area with a quarter-mile separation between the H2 site and other pier activities. He said that H2 is a material with risks similar to gasoline or compressed gas. "All fuels have accidents," he commented, adding that there are "natural gas fires, there are risks. But I'm comfortable with the science here, its use, codes and protocols to ensure safety."
Getting the permits
In a section referencing "Proposed Future Work," still for 2023, project managers will seek to finalize design and development and pursue permitting "from authorities having jurisdiction."
In the 2023 AMR a section under "Innovation" references "breaking new ground" with SF fire marshals. This is referenced further in a listing of project accomplishments: the installation of a test H2 refueling platform and receipt of a permit from "the local Fire Marshal." That permit reference, though, apparently isn't from SFFD. Rather, it's a reference to Air Liquide fueling tests at a facility in Delaware, research necessary for the SF project.
SFFD was asked about permits for the SF H2 work. To be clear, the permitting references in the AMR are to note the start of discussions with the Fire Department. No SFFD permits have been issued yet.
The status and clarity of permitting is important and permitting remains as one top challenge. One accomplishment cited is that project leaders have "formulated the regulatory path." Project approval requires engagement with 12 regulatory agencies, from the Port itself to the Army Corp to National Marine Fisheries.
Critically, the Coast Guard is one of those 12 agencies. The AMR states that the new fueling barge is a first for Coast Guard review. Project leaders are working with the Coast Guard to establish a regulatory basis. One project milestone references work on a Coast Guard Design Basis Letter (DBL), an effort that's "10% complete," according to the 2023 AMR. A DBL application was submitted to USCG in June 2022 and is under internal Coast Guard review.
In September the USCG was asked about its work on the project. A spokesperson wouldn't provide any specifics, only noting that "the Coast Guard is engaged with the customer at the local level and is in the early stages of reviewing the proposal. No decisions have been finalized and discussions are ongoing."
"Ecosystem development"
One task linked to a broader scope of regulatory and public officials is an effort to build out what the AMR calls "ecosystem development."
"Ecosystem" here is a reference to getting the word out. Ecosystem activities included meetings with the SF chamber of commerce, the California Air Resources Board and the Bay Area Air Quality Management Districts. Additionally, a report was prepared for the Governor's staff. And project personnel presented and described their work at a number of national energy conferences. Rich Berman provided the first public briefing at the SF Port's Southern Advisory Committee meeting on March 29. It should be noted, though, that public attendance at the Committee meeting was quite small (13 individuals, two from the H2 team) and may not be indicative of broader public support.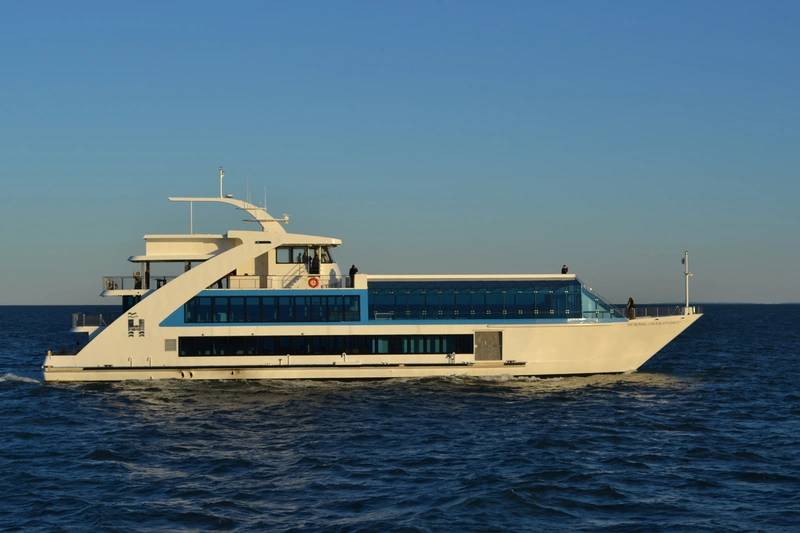 In addition to using solar power, wind power, and low-emission diesel, the New York Hornblower Hybrid—christened in 2012—runs on hydrogen fuel cells, making it the first hydrogen hybrid ferry in the world. (Photo: Cameron Clark / CC BY-SA 3.0)
For maritime: What demonstrates viability, feasibility?
Dave Lee is VP of Innovation & Technology with Maritime Partners, LLC, a maritime leasing and financing company based in Metairie, La. One of Maritime Partner's core focus areas is supporting the maritime industry's energy transition efforts.
Lee was asked: as you review H2 as a possible new fuel, what indicators are you looking for that would demonstrate a H2 project's feasibility and viability for the maritime industry?
For context, Lee suggests that new fuels will require a bit of a shakeup in traditional thinking among mariners. That's because alternative maritime fuels will not present as a single solution across the industry. Lee points out that power demands across the maritime sector are far more varied than land-based or air transport. Vessels – and power required – range from a tourist ship in downtown Chicago to a Panamax container ship to a push-boat barge combination moving upstream on the Ohio River.
"With the large variation in size and power," Lee commented, "we all wish that one solution solves all challenges and remains similar to what we have been doing with fuel oil and diesel. But we all know that isn't the path forward to a more sustainable planet." Lee said that among the various alt-fuels suggested for maritime – e.g., ammonia, methane or biofuels – it's his assessment that H2 "is definitely in the upper range as you see H2 technology and adoption are increasing daily."
With alt-fuels, Lee focuses on energy density, cost and availability, as well as ideas and technology that are commercially viable versus ideas "that are great on paper alone." He said fuel and power issues are layered across vessel types, presenting various impacts across different vessels.
Lee notes that many companies – including Maritime Partners – are focused on H2. Still, making H2 work within a vessel and its systems presents big challenges. For example, because H2 is less energy dense than diesel, greater volumes of H2 need to be carried on a vessel. That's problematic if H2 is a gas. Liquification presents its own set of challenges with temperature and pressure. Maritime Partners is pursuing an on-vessel H2 reforming process because it works almost as an on-demand process, producing fuel as needed. Lee said this technology is already used in industry, one that "really opens the door to easier and quicker adoption for H2 as a fuel compared to other (fuels)."
Lee commented favorably about DOE's R&D maritime focus, which, he said, helps balance attention given to other transportation modes. He said this R&D will energize new marine technologies and "help keep the U.S. at the energy technology forefront versus adopting technology developed outside the U.S."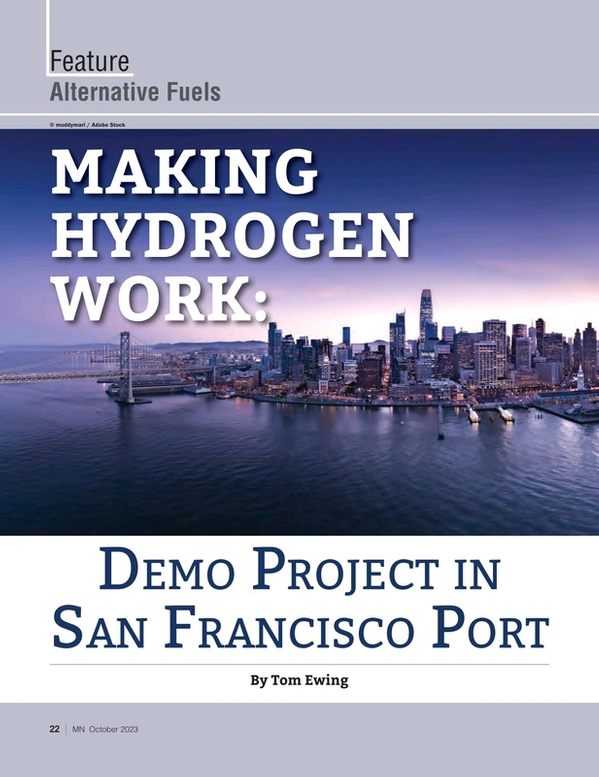 Read Making Hydrogen Work: Demo Project in San Francisco Port in Pdf, Flash or Html5 edition of October 2023 Marine News
Other stories from October 2023 issue
Content