The Arctic: Emerging Maritime Frontier
By Capt. Jonathan S. Spaner
The Commandant of the United States Coast Guard, Admiral Bob Papp, Jr. spoke of the Arctic as an emerging frontier during the 2013 State of the Coast Guard Address in February 2013. He said, "… one example of what our future holds can be seen in the emerging frontier of the Arctic, where there is a new ocean appearing. In September 2012, we observed the lowest sea ice extent in recorded history, and there are vast areas of open water where there used to be ice…As the receding ice increasingly gives way to commercial ventures, and human and economic presence increases, so do our responsibilities. We must continue to refine our ability to provide–and then support–a persistent operational presence during periods of increasing human activity and environmental risk."
The United States is an Arctic nation with significant equities in the future of the region. As with all U.S. waters, the Coast Guard is responsible for ensuring safe, secure, and environmentally responsible maritime activity in the Arctic. Our efforts are accomplished in close coordination with federal, state, local, tribal, and international partners to facilitate commerce, manage borders, and improve disaster resilience.

Increasing Traffic in Arctic Waters
The Arctic environment is changing. Satellite observations show decreasing multiyear ice and increasing open water during summer. Coastal villages are experiencing environmental changes that make their communities more prone to storm surges, diminishing permafrost, and coastal erosion. Although winter sea travel is still limited, maritime navigation is becoming more feasible during summer and early autumn. Economic development, in the forms of resource extraction, adventure tourism, and trans-Arctic shipping, are driving much of the current activity in the region.
The Arctic region is believed to contain an estimated 13 percent of the world's undiscovered oil and 30 percent of undiscovered gas (pre-shale). Decreasing sea ice and diminishing onshore oil production are creating incentives for exploration offshore. Concurrently, tourism is increasing rapidly in the Arctic. Due to undeveloped landside infrastructure, much of the increased tourism is expected to involve transportation via passenger vessel, which will further increase activity in Arctic waters. Each of these activities carries maritime risk, which must be managed through appropriate maritime governance.
The Arctic region presents numerous operational challenges including extreme weather, limited infrastructure, vast distances, and remote communities. The Coast Guard currently employs mobile command and control platforms such as the National Security Cutter, as well as air and communications capabilities to meet seasonal Arctic infrastructure requirements. Our approach assists in providing border security, environmental protection, community resilience, and other maritime governance priorities.
Overall, activities of economic growth and development are shaping the future of the Arctic. Indeed, there is a new and historic maritime frontier opening right before our eyes, and modern technology and capabilities are helping to ensure deliberate and responsible development. The Coast Guard will remain an important partner in the future of the region.

Strategic Objectives
The Coast Guard published an Arctic Strategy in May 2013. It is focused on three strategic objectives over the coming decade to ensure safe, secure, and environmentally responsible maritime activity in the Arctic:
improving awareness,
modernizing governance, and
broadening partnerships.

Improving awareness: Coast Guard operations require precise and ongoing awareness of the maritime domain. Awareness enables threat identification, information sharing with front-line partners, and improved risk management. Improving awareness also requires close collaboration within the Department of Homeland Security, as well as with the Departments of State, Defense, Interior, Commerce, and other stakeholders to enhance integration, innovation, and fielding of emerging technologies.
Modernizing governance: The concept of governance involves institutions, authority structures, and capabilities necessary to provide maritime governance. The Coast Guard will work within its authorities to foster collective efforts, domestically and internationally, and improve governance. In so doing, the Coast Guard will review its own institutions and regimes of governance to prepare for future Arctic missions. This could include efforts such as developing an Arctic Coast Guard Forum in the future to further implement Arctic Council search and rescue and pollution response agreements.
Broadening partnerships: Operating in the Arctic requires a collective effort among stakeholders, which includes domestic regulatory regimes; international collaborative forums such as the Arctic Council, the Inuit Circumpolar Council and the United Nations' International Maritime Organization; and local engagements in Arctic communities focusing on training and assistance. Success in the Arctic also depends upon close intergovernmental cooperation to support national interests, including working closely within DHS, as well as with the Departments of State and Interior, the National Science Foundation, and other federal, state, local and native partners, as the U.S. prepares to assume chairmanship of the Arctic Council in 2015.

On the Horizon
Beyond these three strategic objectives, there are a number of additional factors that will position the Coast Guard for long-term success, including building national awareness of the Arctic region and its opportunities, improving public/private relationships, and identifying requirements and resources to shape outcomes favorably.
Operating in the Arctic is not a new venture for the Coast Guard. However, adapting to changing conditions will require foresight, focus, and clear priorities. It will also require the closest of collaboration with our partners in Alaska. Improving awareness, modernizing governance, and broadening partnerships will best position our service for long-term success. We have published our strategy and are working on implementation to ensure safe, secure and environmentally responsible maritime activity in the future.

Access the Coast Guard's Arctic Strategy document here: http://www.uscg.mil/seniorleadership/DOCS/CG_Arctic_Strategy.pdf


(As published in the January 2014 edition of Marine News - www.marinelink.com)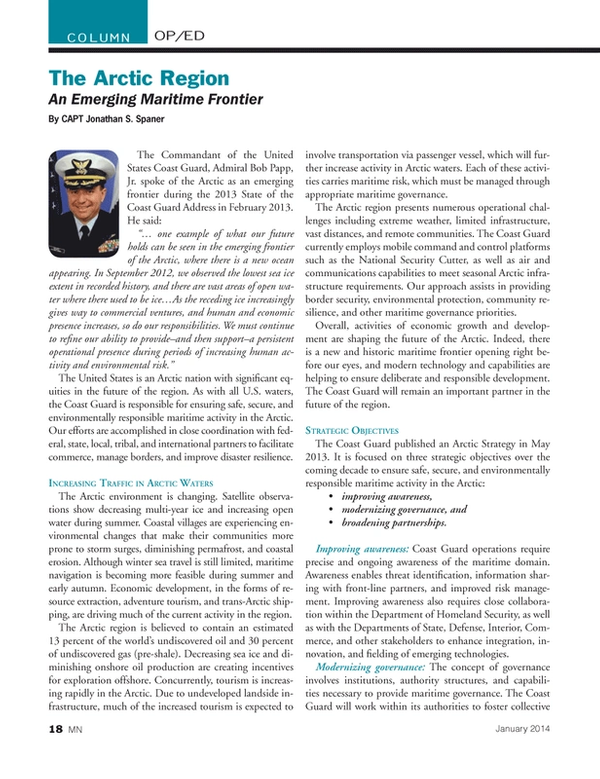 Read The Arctic: Emerging Maritime Frontier in Pdf, Flash or Html5 edition of January 2014 Marine News
Other stories from January 2014 issue
Content