New Tech & Tug Training
By Patricia Keefe
Mass. Maritime responds to industry demand, reloads with cutting edge Transas equipment, and moves to the head of the brown water training queue.
It was a dark and stormy night with choppy seas. I didn't hit anything, but I did run aground twice while at the helm of the tug boat simulator at the Massachusetts Maritime Academy (MMA) in Buzzards Bay. But then that's the point – to let students safely make mistakes and get the closest thing to the real-life experience they need – and would have a limited shot at otherwise on the equipment they'll be handling where the jobs are today; on tug boats, barges, ATBs and other inland and coastal vessels.
There was a time when young men seeking to make their mark in the world were told to "Go West," and then later, to think "Plastics." In the nautical world, oceangoing vessels gave the siren call.
Nowadays, those eying a marine career would be better advised to "go shallow and think small." As the blue water, deep-draft job market has dried up, brown water opportunities have surged to the point today where combined they make up the vast majority of the nation's merchant marine, with more than 4,000 tugs and 27,000 barges.
Seismic Shift
It used to be that MMA, like its sister academies, cranked out deckies and engineers primarily for ocean-going posts, back when there were hundreds or even thousands of U.S. flagged deep draft vessels. Not anymore. A quick glance at traffic on the Cape Cod Canal alongside MMA, where 90% of the boats going by are commercial tugs and barges, is telling, notes Capt. Bradley K. Lima, MMA's dean and vice president of academic affairs. His colleague, instructor Captain David Mackey, estimates that deep water U.S-flagged commercial vessels make up less than 1% of world tonnage today.
Brown water, conversely, has seen aggressive growth as tugs and barges replaced conventional cargo ships, and off-shore energy and liquid natural gas exploded. "There has been extreme growth in the offshore segment of the vessels of limited size, driven by offshore oil exploration," said Scott Craig, director of marine development and compliance at Crowley Maritime Corp. "Every one of those oil rigs has four support tugs commanding very high wages. [Yet] It's hard to find mariners to crew those vessels."
And then there are the environmental and marine regulatory bodies, which are forcing owners to update their fleets with new technologies and specific skill sets, and the impact of an aging workforce eyeing retirement. The increasingly stringent regulatory environment means that traditional sailors on these boats are being asked to do more and more, at a faster pace. It's driving people out of the industry, according to Timothy Park, sales manager, marine technologies for Transas USA, Inc., which supplies all of Mass Maritime's simulation systems. The boats are becoming so complex, he said, that "there is a renewed emphasis on getting very highly trained crews to run the equipment." What's more, "It requires a completely different level of training in the engine room and wheel house," emphasizes Crowley's Craig. And that means students are going to have to get more specialized training in order to get hired, Mackey said.
The market shift has dovetailed nicely with waning student interest in spending long months at sea, and the fact that the smaller crewed, shallow draft vessels afford new third mates the opportunity to take on more responsibility more quickly, and offer a shorter path to captaincy. "What appeals to me is that you are the one driving and making the maneuvers yourself. You are solely responsible for your vessel in your job," said MMA First-Class Cadet Michael Rezendes, a marine transportation major from Sandwich, MA. Piloting a vessel along narrow channels is more challenging than steaming across the ocean and just standing watch or keeping things on course, added Second-Class Cadet Justin Berendes of Lincoln, RI.

Driven by Demand
None of this has been lost on Mass. Maritime, where the change in job opportunities has triggered a corresponding shift in its educational offerings and tactics – some by choice, some mandated, for example, by the IMO treaty, the Standards for Certification and Watch keeping (STCW) program and or the U.S. Coast Guard, which lays out requirements for skills and knowledge in specific areas. This mix of tougher regulations and competency testing has upped the ante significantly for maritime educators and their students.
Even so, maritime schools are bursting at the seams these days, trying to accommodate student demand for their seemingly job-guaranteeing programs, such as MMA's elective, two-semester long Mate of Towing (MT) Program, specifically designed for upper-class cadets interested in becoming an officer on towing vessels. Students who successfully complete the coursework, which is divided between class lectures and practical training on the water and in the simulator, receive an MT endorsement on top of their Bachelor of Science degree.
The industry is desperate for these graduates. A fall job fair at the school featured 76 companies looking to fill 550 jobs, according to Mackey, who is the director for MMA's MT program. A list of 28 recent MT graduates shows 20 going to three companies in particular: Kirby Inland Marine (13), G&H Towing Co. (4) and Crowley (3). These inland companies are also taking the place of the blue water ships that used to provide internships for MAA students.
Incoming students have taken note. MMA's freshman and sophomore classes are showing a significant increase in selecting the USCG license programs, according to Mackey. The number of MT candidates stands at 94 for the fourth-class cadets, versus 65 for the seniors, while the number of freshman marine engineering majors (161) contrasts sharply with their senior counterparts (78), according to Dean Lima. Also, while 44% of the upperclassmen are on a Coast Guard licensing track for both deck and engineering officers, that same number is up 64% for the freshman and sophomores.
Along with the broader job opportunities, comes an increased workload for students and advanced educational techniques, chief among them, simulation training and stacks of "performance-based assessments.'' The latter refers to so-called "ghost credits," an additional layer of training said to be the equivalent of an extra semester of work without any academic credit. This includes passing 187 such tests to pass third mate muster. Completion of the Towing Officer Assessment Record required for MT endorsement involves passing another 55 performance assessments. These tests require students to competently perform or verbalize a check list of tasks or actions. Some of this is performed on the water, some in the tug simulator. It creates a staggering schedule, forcing some students into a fifth year of classes, Lima said.
The MT program is driven by the fact that a Third Mate's license no longer qualifies its holder to operate a towing vessel, and places a heavy emphasis on practical training. To meet that objective, the school had to do two things: install a tug simulation program and beef up its shallow draft fleet.
Installed in 2009, the $650,000 Transas USA Inc. Transas Operator Trainer Full Mission Towing Simulator provides what the school calls an "experiential learning process," by functioning as a kind of navigational reality show, taking students through a wide variety of ship handling scenarios on a wide range of vessels under an even wider range of conditions and locations. Simulation has become such an important part of the curriculum that the average Marine Transportation cadet will take about 20 percent of their credit load in simulation-based courses, according to Lima.

Simulation: Reality-based Training
On the Transas tug simulation bridge, students work with a variety of modern navigation, radar, charting (ECDIS) and propulsion systems, including conventional single-screw tugs, conventional twin-screw tugs, cycloid-drive (Voith-Schneider) tractor tugs and Z-drive reverse tractor drive. They all can be quickly swapped in and out. Instructors can take students from familiarization, standard operation and watch-keeping, to advanced operation, troubleshooting and vessel resource management.
The simulations are also designed to help them develop critical command, decision-making and communications skills.
The school further deepens the reality play by linking the simulated tug boat house to its Full Mission Bridge simulator counterpart. "So you have two different crews on two separate simulated bridges, in two separate buildings, communicating as if they were on different vessels. It brings them much closer to the real world,'' Mackey said. This is important because tugs have to be able to work out problems with their counterparts on the ships around them.
Team problem solving also gets a workout on the tug bridge as students observe each other at the helm under the watchful eye of Mackey, discuss possible strategies and review decisions and incidents. "This is one thing that separates kids from MMA versus the ones that come up from the deck: They know how to communicate with each other. That interaction is very valuable, you can't replace that," said John Moyle, manager of maritime licensing and upgrades at Kirby Corp, Houston. Kirby thinks this is so important it is putting its senior captains through simulated communications exercises on an ongoing basis.
The Transas Towing simulator is based on the Transas NTPRO 5000 navigational software and runs on a Microsoft Corp. Windows 8-based platform. Simulating a real tug bridge, students are provided with a 300° field of view and fairly life-like graphics on 12, 62" vertically mounted plasma screens providing vistas 225° forward and 75° aft. "It's definitely better than it was. We used to have an old bridge simulator with two TVs looking forward and one looking back," recalls MMA 2C Cadet Miles Farber of Chatham, MA, marveling at the 12-screen "virtually all the way around" visuals of the new simulator.
Simulators have indeed come a long way from three TV screens. In addition to the helm, with its interchangeable controls (to simulate different vessel types), MMA's modern tug simulator room contains a realistic electronic console, emergency override systems, three com systems and multiple tracking monitors.
Key to the simulator is its realism and adaptability. Out on the water, students are limited to specific bridges, a singular waterway and the weather of the day. The simulator can position students on waterways and in ports almost anywhere in the world, day or night, in all kinds of weather, speed and sea conditions, working with – or dodging as the case may be – a wide range in size and class of vessels and other objects and obstacles. Realistic visualization software brings water translucency and light refraction, white caps, foam and even splashes into view. You can almost feel the wind on the water; you can definitely feel the waves beneath the deck. As the MMA Simulation Department likes to say, "It's as real as it gets without getting wet."
A separate observation room for the instructor(s) includes a workstation equipped with everything needed to generate, edit, manage and assess training exercises. Instructors can adjust variables such as weather, speed, current, water conditions, etc., change ports or time of day. Other features include automatic competency assessment scenarios, and automatic recording of data in the course of the exercise, including main, audio and video log files; and the ability to display a track in the form of a succession of contours.

Realism and Real Value
It's that tracking that Farber, 20, finds even more helpful than a simulator exercise itself. Even more than real world experience, which cannot duplicate this particular ability to armchair pilot, so to speak. Example in point: After a training exercise, he explains, if the student has "messed up," the instructor can call him or her into the adjoining observation room for a review of what just happened. "You can see the whole tow evolution from a bird's eye view. You can see the barge, your track line, its track line, see if the barge is swinging, see the cable – everything. You can even go underwater and look back up. It's unbelievable. You would never see that if you were out on a boat. It gives you a perspective you'd never otherwise get, and it's definitely beneficial," Farber said.
Similarly, proving that sometimes there IS a substitute for real experience is another advantage offered by the simulator, which provides a digital complement to the academy's towing fleet, which includes two 26-foot model tugs (Hercules and Alert), a custom-built 48-ft barge, MMA 400, and M/V Ranger. As part of their MT class requirements, students learn the practical aspects of towing and pushing barges, as well as escort and ship assist towing procedures, on the water. But working with model-size vessels is akin to practicing on half a basketball court. It's the simulator that gives students the real feel and perspective of a scenario that comes from working on and with full-size vessels, said 2C Cadet Berendes.
As noted by former U.S. Coast Guard Commandant Admiral Thad Allen, while giving the commencement address at MMA's 2012 graduation, "Leaders are lifelong learners." In short, simulation today, simulation forever. This is all good news for the academies, where simulated training has been embraced and positioned as a vital part of a student's education.
For his part, Mackey succinctly summed up the value of the virtual training experience while musing about how even today, even with internships, many students never "get to touch anything." The simulators changed all that, and the resulting product – a well educated and broadly experienced and confident graduate – is going to help lay the foundation for the next growth cycle in American shipping.


(As published in the January 2014 edition of Marine News - www.marinelink.com)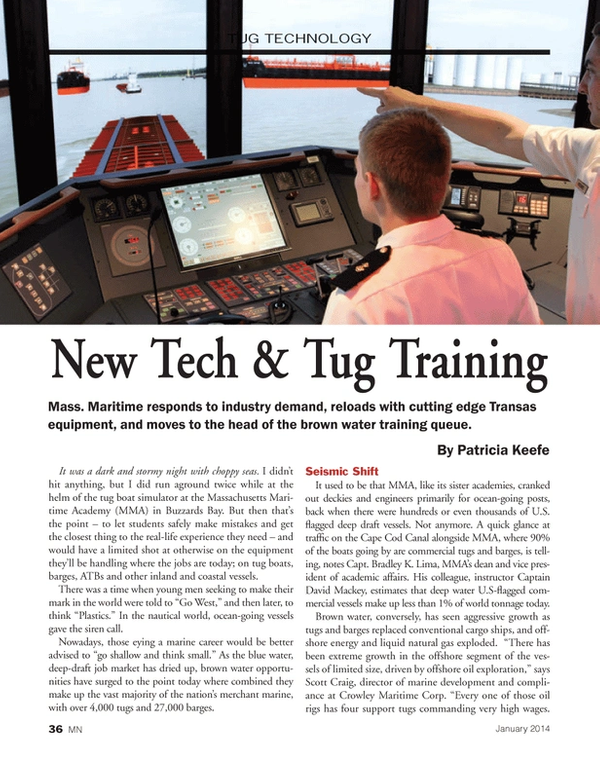 Read New Tech & Tug Training in Pdf, Flash or Html5 edition of January 2014 Marine News
Other stories from January 2014 issue
Content