SLM Winches: Commercial, On Deck and Heavy Duty
Marine News
Superior-Lidgerwood-Mundy's standardized commercial winches are tough, customizable and built to last.
For 150 years, Superior-Lidgerwood-Mundy (SLM) has been at the forefront of innovation for the Marine Sector. Focusing on the strict Navy and USACE standards for much of that time has given the firm a unique perspective upon which to build long lasting and reliable products in the marketplace. In 2010, SLM decided to split its resources into Commercial and Defense divisions. At that time, SLM's Commercial Division conducted a review of its history to see where their experience of designing and building Heavy Duty Deck machinery would fit in the Commercial Marketplace. Listening to customer feedback, and reviewing past successes, the SLM Commercial Team then developed 2 standardized styles of equipment for the Commercial Field; the S-Series Winch Line, and the M-Series Deck Machinery Line.

Listening to the Customer
Whether a customer application requires Carpuller Winches, Barge Haul Winches, or Loading Winches, the SLM Standard Winch can fit any system. Unlike other conventional winches, SLM utilizes the combination of today's modern technologies with 150 years of winch manufacturing experience to bring reliable, safe, and cost-effective winches to the market. But, it all starts with customer requirements. To determine the best fit for a particular system, SLM always asks specific questions. Variables to be considered are listed in below.

Service Variables for Marine Winches
What size rope do you anticipate using for your application?
Does your location require Explosion Proof equipment?
What are the loads that the winches are expected to pull?
What are the size restrictions for your site?
What is the environment (operating temperatures and moisture exposure) for your system?

The S-Series Winch
The S-Series Winch line offers heavy duty gear driven winches ranging from 10 HP 100+ HP. While base designs are available, they are fully customizable to the application requested, effectively eliminating the cookie cutter approaches to winching systems. The primary industry that the S-Series has served since its launch has been Barge Terminal applications. SLM's "Two Winch One Joystick" approach for operation improves safety by allowing precise and accurate positioning of a barge along the terminal wall. The specialized controls also significantly reduce the learning curve for training new operators. Combining modern technology with a customizable approach to Winch Systems has rapidly made SLM and its S-Series the brand of choice for any winch applications. All new S Series winches, tow haulage systems, and in-haul systems come with a 1 year new equipment warranty. Along with the equipment warranty, Superior-Lidgerwood-Mundy Corporation warranties any replacement part supplied by SLM for 120 days.

The M-Series Winch
The M-series line of equipment includes the highly successful M-2000 Capstan Design. Unlike conventional capstans, the SLM engineering team chose cutting edge right angle spiral bevel speed reducers that utilize cycloidal technology providing quiet reliable operation. The benefit of these gears is that they provide infinite life cycles while achieving 94% efficiency and 300% shock load capacity. Building off of the success of the M-2000 Capstan, SLM recently developed the M-Series Gypsy Winch/Anchor Windlass to provide the market with a high quality, low cost, more efficient anchor handling winch that is readily available. Available in double or single drum models, the M-Series Gypsy Winch is a versatile product that can be adapted for nearly any situation. As with the M-2000 Capstan, the Gypsy Winch is customizable as well, providing Explosion Proof and 50 Hz models when required. According to SLM, the M-Series line of equipment combines high performance and low cost. As with all SLM products, a Standard Marine Duty Paint System is applied, but custom paint schemes are available.

Made and Serviced in the USA
All manufacturing and administrative activities of Superior-Lidgerwood-Mundy are accomplished at Superior, Wisconsin, which has over 65,000 square feet of manufacturing and warehouse space. SLM provides Tech Rep service around the United States and in a handful of other countries which includes complete Engineering Evaluation services (analysis of present system, recommendations for repairs, custom system design). SLM recently developed new distribution channels to further The M-Series equipment expansion into the Commercial Field. These include Ace Marine & Rigging (Morehead City, NC), Byrne Rice and Turner (New Orleans), and Donovan Marine (Harahan, LA). www.lidgerwood.com


(As published in the January 2014 edition of Marine News - www.marinelink.com)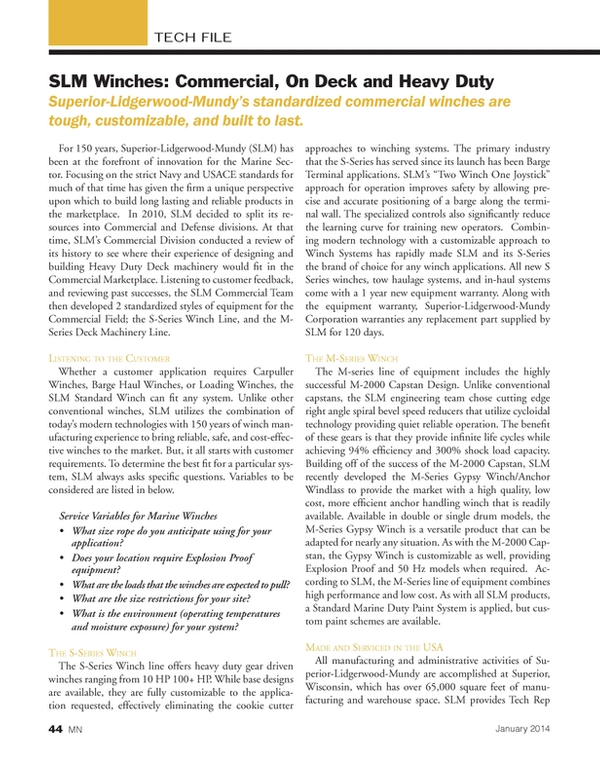 Read SLM Winches: Commercial, On Deck and Heavy Duty in Pdf, Flash or Html5 edition of January 2014 Marine News
Other stories from January 2014 issue
Content