Competition, Quality and Demand Come Together
By Susan Buchanan
Combat, Patrol and Law Enforcement Vessels Meet Multiple Missions with varied business plans.
U.S. firms building patrol, combat and law enforcement craft are weathering government budget cuts by strengthening ties with clients and public agencies. These unique boats remain in demand because of terrorism, crime, wars, piracy and fire, and most serve multiple missions. As maritime nations beef up their defense capabilities, U.S. Foreign Military Sales (FMS) and Direct Commercial Sales (DCS) programs help builders do business overseas. Some companies have successfully expanded sales through those channels.
At home, local counties and municipalities have limited funds, grants and matching grants to pay for waterborne assets. That said, sales and building for those entities hasn't gone away either. But, it will perhaps take a combination of all outlets for these niche builders to make a living in the coming year(s). It helps that U.S. builders can and do build series-style programs, economically and with better quality than what is typically found overseas in this sector. Indeed, U.S. builders today enjoy a surplus of trade for this type of vessel. The wide range of (domestic) companies involved in this business sector is impressive, varied in their approaches to obtain business, but commonly united in their success. How they make that happen is the real story.
Ribcraft Delivers for All Sectors 
Close to home, Marblehead, MA-based Ribcraft, a manufacturer of rigid inflatable boats (RIBs) has bagged a contract to build U.S. Navy Shipboard 7 meter RIBs over the next five years. The RIBs will be built to commercial standards and Government specified requirements focused on hoisting weight and ship compatibility constraints. It is estimated the base year requirements will be for (32) 7 meter RIBs across all builders awarded the contract. Eventually, Ribcraft could build as many as 80. That contract was split with West Coast manufacturer, Willard.
Ribcraft builds inflatables in 14 to 40' range with most boats in the 22' to 25' range. Its backorder split is spread nicely across all sectors – Navy, municipalities, private buyers (yacht clubs, tours, etc.), first responders and industry (50%). The rapidly growing firm has made the 7.8 meter rib their bread and butter for past 15 years. Specific output numbers weren't given but Ribcraft says that they've turned out several per month for the past 15 years.
According to ribcraft, the 7m RIB and its mission set has evolved over time. Initially used as a ready service life boat, but now, it is much more than that. Today, it is deployed for security, boarding, interdiction, perimeter guarding (preventing "Cole" style attacks). The vessel's engine selection, like that of many competitors, is driven by customer requirements, usually a function of which OEM is closest and can provide timely service. All Ribcraft models are manufactured domestically in New England.
Separately, Ribcraft recently announced the delivery of a specialized RIBCRAFT 7.8 for patrol and enforcement operations to the City of Decatur, Alabama. The 25' purpose built mission specific RIB will be used by the Decatur Police Department for tactical operations and on water patrols. Decatur's 7.8 also features CBRN capabilities (Chemical, Biological, Radiological, and Nuclear) for an advanced defense strategy.

Swiftships: Leveraging FMS, DCS programs
Morgan City, LA-based Swiftships has been in talks to provide Middle Eastern and North African navies with vessels ranging from 14 meters to 75 meters. "Interest in our 28-meter Coastal Patrol Craft (CPC), 35-meter Patrol Boats (PB), 45-meter Fast Missile Boat (FMB) and 75-meter Offshore Patrol Vessel (OPV), via U.S. Foreign Military Sales has been considerable," Shehraze Shah, the company's CEO, said last month. "Meanwhile, our Latin America team has focused on building customers in that region by offering co-production via U.S. Direct Commercial Sales for 15-meter to 28-meter vessels."
Two major avenues that exist for overseas business are Foreign Military Sales, with the U.S. Department of Defense as negotiator, and Direct Commercial Sales, Shah explained. DCS is arranged directly between a vendor and a customer, with an export license issued by the State Department to meet International Traffic in Arms Regulations or ITAR.
Swiftships' 75-meter OPVs are intended to join the Combined Task Force, a U.S.-led, anti-piracy coalition in the Horn of Africa. The company's PBs monitor the continental shelf in the Persian Gulf, and its CPCs are used to combat terrorism and militant threats. Both models are used for counterintelligence and drug seizures. OPVs perform counter-threat and rescue missions. Of note, Swiftships has leased and will move to 90 acres of yards in Morgan City, LA. The facilities will include 400-foot by 300-foot construction bays, with 30 acres of expansion space for future, composite-hull builds.

Silver Ships: military support craft
At Alabama-based Silver Ships, Inc. "We're mid-way through our second year in a five-year indefinite-delivery, indefinite-quantity IDIQ contract with the U.S. Navy for 11-meter cabin and center console, Surface Support Craft or SSC, for the Naval Special Warfare community," Scott Clanton, the company's special projects director, said. "In another IDIQ contract awarded last year, we're providing the U.S. Navy with 8-meter High Speed Maneuverable Seaborne Targets or HSMST's, outfitted for manned and unmanned configurations for training scenarios as designated enemy vessels and designated targets. We delivered over 100 HSMST's last year alone, and have supplied the Navy with this type of platform since 1997."
"We're also providing 11-meter and 12-meter security boats to the U.S. Air Force," Clanton said. "Our U.S. government contracts being executed now are all for Department of Defense support vessels. Silver Ships continues to execute its state, federal and other government work, and we've increased our Foreign Military Sales in our commitment to delivering mission-capable platforms." The company has no FMS contracts at this time, however.
"The 11-meter NSW Surface Support Craft was designed to assist in worldwide airborne and all types of maritime training operations," Clanton said. "It is uniquely designed and the bow door allows divers and equipment to enter easily into the craft. The aft area has dive-relief sections along the sponson to ease in retrieval of personnel."

MetalCraft: U.S. Navy and USCG Focus
Cape Vincent, NY-based MetalCraft Marine is building six 30-foot multi-mission boats for the U.S. Navy over the next year. Emily Roantree, the company's sales and marketing manager told MarineNews, "In conjunction with Brunswick Commercial and Government Products, we're constructing two 36-foot international military and police patrol craft, and four 36-foot U.S. Coast Guard Long Range Interceptor craft." In mid-2012, MetalCraft was awarded a design and production contract for new-generation, Long Range Interceptor IIs for the U.S. Coast Guard's National Security Cutter operations.

Willard Marine meets military and patrol needs
"We'll deliver fiberglass and aluminum boats this year and next, used in blue- and brown-water missions and ranging in size from 16 to 36 feet, "Karen Jacquelin, Willard's marking director, said. These vessels are intended for Department of Defense domestic and foreign military operations. "Willard is working on a variety of contracts that require continual production throughout this year," she said. The company also has operations in Virginia Beach, Va. Most of Willard's patrol, combat and law enforcement boats are designed for multiple missions. That's how you stay competitive in this sector, says Jacquelin.
USMI produces RIBS for navies
United States Marine, Inc., in Gulfport, MS has delivered, over time, 250 11-meter Naval Special Warfare Rigid Inflatable Boats, or NSWRIBs, to U.S. government agencies and friendly, foreign navies in Asia, the Middle East and Scandinavia since this craft was first manufactured in 1996," Barry Dreyfus, Jr., the company's CEO, said. He added, "Under a current U.S. contract, valued at up to $18 million with Naval Sea Systems Command, we'll provide these craft until August 2019. In addition, USMI continues to receive contracts for FMS sales of these boats to various foreign navies." The 11-meter NSWRIB is versatile, transportable and air deployable, Florane said. Its uses include insertion and interdiction missions and vessel boarding.

North River supplies local agencies, military
North River Boats in Roseburg, Oregon has also been busy "This year and next, we have orders for – or have delivered – 21 law-enforcement, patrol and military boats in various sizes and configurations," sales director Mike Blocher said. "Five of them are smaller, law-enforcement vessels in the 21 to 24 foot range. Eleven of them are primarily for law enforcement and patrol, and range from 26 to 38 feet in length." Most of these boats have twin or triple outboard propulsion, various electronics suites and law-enforcement-specific options. Nearly all the company's vessels perform several missions.
"We have completed or are building five boats under separate contracts for the U.S. military – including the Navy, the Air Force and one vessel for the Army – ranging in size from 36 to 38 feet," Blocher said. "The majority of them are part of our Valor (Force Protection) series, generally with twin or triple outboard propulsion systems. Our military boats are generally used for fleet protection in harbors or ports." Beyond this, the company's vessels are used by law enforcement units in city, county and state agencies. "Many of them are in support of port security or other grants for fire boats in counties in the Pacific Northwest," Blocher said. North River Boats reports a "healthy" backlog of boats to be built with deliveries stretching into the spring of 2016.

Euro Marine hopes to meet FMS rules
Euro Marine Ltd., based in Florida and the British Virgin Islands, produces 20-meter PI-65s – offshore and coastal patrol, interdiction and surveillance craft – in the Netherlands. The vessels are commonly used for fire and rescue and law enforcement. Bill Rigby of Euro Marine told MarineNews in May, "We're in discussions to build and equip them with U.S manufactured, marine gas-turbine engines to satisfy government contract requirements for domestic material content," He adds, "We're looking to build in the States, and we hope to meet FMS program and also U.S commercial requirements." PI-65s are designed to operate in severe offshore weather and sea conditions. "With their 3'10" draft, these boats can handle shallow waters, following the bad guys where others may fear to go," Rigby says. The company's vessel sales are forecast at roughly 60 million Euros for 2015 to 2017.

Tampa Yacht Manufacturing
Not to be outdone, Tampa Yacht Manufacturing recently announced the delivery of four (4) 50-FAC, Fast Attack Craft to South Asian Border Security Forces. The vessels are to be used in clandestine operations in remote areas of operation. The 50-FAC is a tactically sized (50 foot), reconfigurable, combatant craft capable of operating from land or maritime platforms. Well suited to provide Patrol, surveillance and interdiction in shallow coastal and riverine waters, its low draft, high maneuverability and 45-50 knot speed for day and night operations are all key features of the boat.
Separately, the Kuwaiti Ministry of the interior earlier this year placed an order with Tampa Yacht for as many as 29 Fast Coastal Interceptor craft for the Kuwaiti Coast Guard. The 14.42M craft are powered by Man R6-800 diesels rated at 1600hp, has a top speed of 55+ knots at full load and a range of over 300 nautical miles at 38 knots.

Outlook: Middle East, and Closer to Home
"2016 to 2025 looks great for boat builders and FMS clients because of tremendous demand from the Middle East – Saudi Arabia and others – for the U.S. Navy to deliver," Shah of Swiftships said, adding, "The Saudi Navy, for example, already has a fully-funded Letter of Request for Lockheed's Littoral Combat Ships, and that leaves 13 billion riyals in the Saudi budget for more naval ships and services." Lockheed Martin is based in Maryland and Texas. "Middle East needs will certainly increase opportunities for boat builders," Shah said.
Elsewhere, local municipalities and federal needs are keeping domestic builders busy. Multi-missioned, reliable and affordable boats capable of being customized to meet a wide range of tasks remain in demand, here and overseas. And, U.S. builders are happily supplying them. Neither scenario is expected to change, any time soon.


(As published in the June 2015 edition of Marine News - http://magazines.marinelink.com/Magazines/MaritimeNews)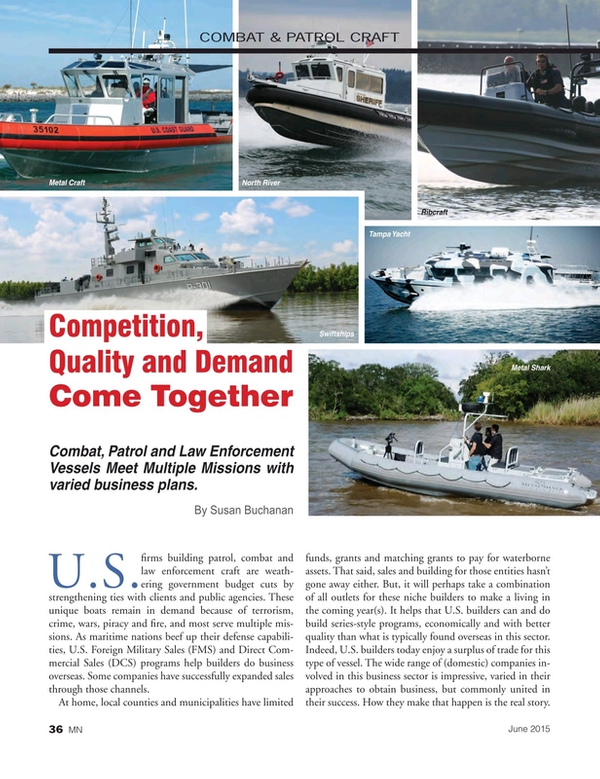 Read Competition, Quality and Demand Come Together in Pdf, Flash or Html5 edition of June 2015 Marine News
Other stories from June 2015 issue
Content